Patriots
Is Tom Brady planning to move on, or have the Patriots already done so in advance?
It's getting closer because Brady seems more prepared than ever to leave.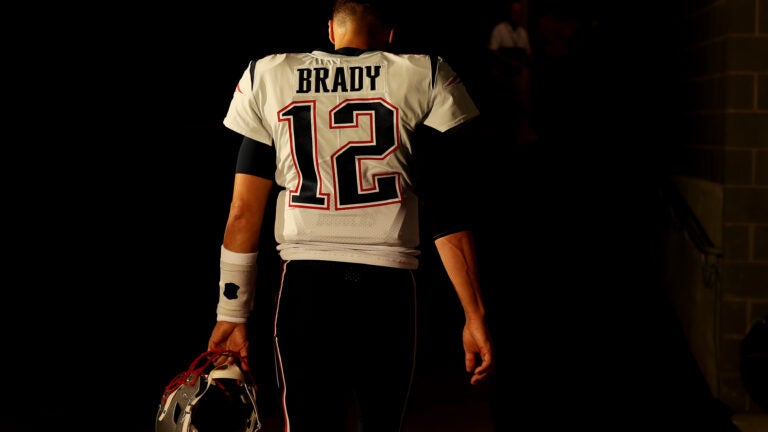 COMMENTARY
Constructing some sort of realistic timeline to determine just when the Patriots' intense stranglehold on the National Football League might finally end has become an exercise more based in futility than possibility.
For every scandal that seems to hint the end is near, there's another Lombardi Trophy just waiting to be polished in the offices at One Patriot Place. For every hiccup that suggests there's another team primed to overtake New England as the preeminent franchise in the AFC, there's an ensuing balance in the Force that wipes the fleeting contingency. For every proclamation that the Patriots just aren't good anymore (copyright, Trent Dilfer), have seemingly lost their way, or remain a product of sneaky-good espionage and tomfoolery, there's always a beaten crowd of onlookers, waiting for the eradication that never occurs.
Every sign fizzles into prattle. Every hint fades into a wall of forgotten whispers.
Which brings us to the latest slice of hope for a league of football fans forced to watch the Patriots soar their way to a 7-0 record. Because, in case you haven't noticed, the Patriots employ a quarterback who happens to be 42 years old. And 42-year-old quarterbacks can't play forever. Or, so they say.
Nevertheless, let's play the game of pinpointing the collapse for the sake of continuity. In this case, it was ESPN's Adam Schefter fanning the flames of hearsay by hinting Tom Brady's days as quarterback of the New England Patriots could be numbered, all by falling back on some recent facts that have transpired over the past few months.
"Let's boil this down to the basic facts once again," Schefter said during ESPN's pregame, prior to the Patriots' 33-0 undressing of the New York Jets. "Let's look at some simple things: Has he put his home for sale? Yes. Has his trainer put his home for sale? Yes. Has he set up his contract to void after this season to become a free agent? Yes. So, if he's selling his home and his trainer is selling his home and he's voiding his contract? What does that tell you? He's setting up to move on."
Now, had the likes of the aforementioned Dilfer uttered this laundry list of reasoning, the reaction would, presumably, be something akin to the revelation that apples were on sale at Big Y. But Schefter… well, he's a little different.
There's no reporter more plugged into the goings-on of the NFL than the ESPN nugget-master. When Schefter has a story, a scoop, or a tidbit of information, no matter how minute or major, there's a trust factor, based both on his dependable history as well as his inability to remove the cell phone from his ear with any sense of relaxation. So, if he's hinting at something, the reaction should probably be a little more than a demeaning snicker.
Brady's Brookline home is indeed on the market for a cool $33.9 million, a story that sparked a minor cause for concern over the summer. But the news of Brady's TB12 guru, Alex Guerrero, also putting his house on the market was probably a surprise to many in the ESPN audience. If you want to play Chutes and Ladders with the particulars, climb the rungs to supposing that Brady and Guerrero are plotting their ways out of town to launch the TB12 empire somewhere else.
Ah, but here is where we hit the slide. Guerrero and his wife apparently own a second home in Norfolk, which could mean they aren't actually going anywhere. And remember when Brady was supposedly moving to Los Angeles, where he and Gisele were building a manse to embarrass all other manses? Dr. Dre owns the thing now, forking over $40 million for the deed.
Has he set up his contract to void after this season? Yes. But, again — and we can't help but wonder if everyone doesn't quite grasp the reality of this situation — the man is 42 years old. As much as his training regimen and self-wellness have created a new niche in his business and personal life, Brady isn't going to (I repeat, he isn't going to) play football forever.
He even said as much Monday night.
"It's getting closer, we're closer to the end," Brady told former teammate Randy Moss during a pregame interview. "It's not going to go on forever, but I'm enjoying it."
Well, maybe. Because on that note, there even has to be some semblance of doubt to what level Brady is enjoying this season, even as the undefeated Patriots look as though they may have another shot at what they failed to accomplish 12 years ago. First, Bill Belichick went and traded away Demaryius Thomas, with whom Brady seemed to have a budding relationship. Then, he got rid of Antonio Brown, the guy who replaced Thomas in the first place, leaving Brady with Julian Edelman and a cast of baby receivers to throw to. Not only that, Brady is now on a team that is defined by its defense, not his ability to lead two-minute drives and bring his team back from the brink. It's not his team at the moment, and that has to give a guy like Brady a certain itch.
Remember the whole theory that said Belichick wants to prove he can win without Brady before he retires? As it turns out, he doesn't have to say goodbye to his quarterback in order to do it.
He's proving it now.
Meanwhile, Brady's normally iron-clad, self-public relations image has loosened a bit. The quarterback has been a bit more rogue on social media, approving of Brown's suspect digs at the rest of the NFL. He might have taken a shot at Bob Kraft with his cameo in Paul Rudd's new Netflix series, strolling out of a spa wearing a happy face. (Yes, yes, the show is about cloning. Got it.)
Indeed, what was he thinking?
Maybe there are a few too many signals this time around, predicting the end is near. Maybe we're, once again, just grasping at straws of futility. Is Brady prepping an exit from the Patriots to go prove he can still be the central figure elsewhere? Or, is this just the end, the final chapter before he develops the TB12 brand as a full-time gig?
Or, more likely, is this more of nothing?
It's getting closer, but not because of anything Schefter proposed.
It's getting closer because Brady seems more prepared than ever to move on.
And Belichick is only helping the matter by proving how well he can do with Brady playing the role of sidecar.