Patriots
Tom Brady on retirement talk, Mohamed Sanu, and what New York fans say to him
"One day I'll wake up and I'll feel like, 'Ok, that'll be enough,' and when that day comes, that day comes."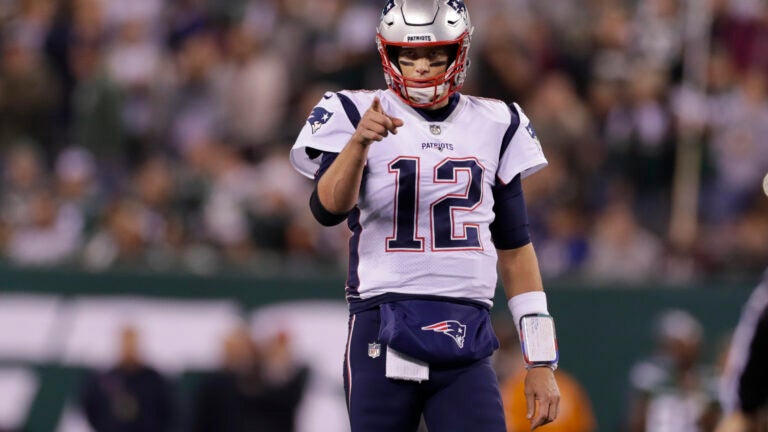 Tom Brady and the Patriots have a quick turnaround this week with a Sunday matchup at Gillette Stadium against the Browns (4:25 p.m.) after beating the Jets on Monday night.
Making his weekly appearance on WEEI's "The Greg Hill Show," Brady admitted that the late arrival home after the Monday night game had taken a little out of him.
"A little tired today," Brady said, acknowledging later that he didn't get to sleep until 4 a.m. "I got back pretty early in the morning yesterday, so going to try and catch up on sleep this week and get ready to go for Sunday."
New England extended its perfect record in the season (7-0) with a spotless 33-0 shutout of a divisional opponent on Monday. Brady praised the team performance.
"It was great to win down there," said Brady. "We got out to a fast start, and when you do that on the road, that's all we talk about. It's trying to silence the crowd, take a little momentum out of the opposing environment. Our guys did such a great job coming out ready to go."
Starting with the Browns, the Patriots now enter a part of the schedule that includes some more difficult opponents than earlier in the year.
With games against the Ravens, Cowboys, Texans, and Chiefs all still to come, Brady knows that the Patriots need to build on their momentum.
"I said last week this is kind of when things start to ramp up," Brady noted, "and we just have to start really taking all the things we've learned and try to improve and execute better, do all of the things we need to do to make ourselves a better football team."
Here's a glance at some of the other things Brady discussed in the interview:
His latest answer on the question of retirement
Brady was asked if he finds the speculation about his future interesting, given that no one except Brady himself knows what his future holds. WEEI host Greg Hill posited that even Brady might not know.
"I think that's the great part for me is I don't know," Brady answered. "And I think that's been a unique situation that I've been in because I think when you commit to a team for a certain amount of years, you kind of feel like your responsibility's to always fulfill the contract. For me it's been good because I'm just taking it day by day and I'm enjoying what I have.
"I don't know what the future holds and the great part is for me is football is all borrowed time," Brady continued. "I never expected to play 20 years, and I'm playing on a great team, and it's just been an incredible 20 years of my life. To play for Mr. Kraft, Jonathan [Kraft], the Kraft family and for Coach [Bill] Belichick, and to have so much success is a dream come true."
Brady offered a potential scenario where he decides to retire.
"One day I'll wake up and I'll feel like, 'Ok, that'll be enough,' and when that day comes, that day comes," he explained. "I don't know if it'll be after this year, I don't know if it'll be five years from now. But I don't have to determine those things right now either, so that's kind of a good part where I'm at. So I think just take advantage of the opportunity that I have this year and do the very best I can do, and then those decisions come at probably more appropriate times."
What he thinks about the acquisition of Mohamed Sanu
"I'm excited to have him," Brady said of wide receiver Mohamed Sanu, who was traded to the Patriots on Tuesday for a second-round pick. "I've watched him for a long time. I just heard great things from a lot of people who have been around him."
Asked how long it might take for Sanu to become familiar with the Patriots' offense, Brady emphasized patience.
"I'm not sure, I've never been around him or anything like that," said Brady. "We'll just have to see how it goes and try to improve day by day. I know that sounds like a cliche answer, but that's the truth. I mean [he's] been in a different offense for a long period of time, and it's not like you just come in and all of sudden you know everything. He certainly knows how to play pro football and has played at a very high level, so that obviously helps. But it's just learning our terminology and then it's just working at it together."
Much has been made over the years over receivers who have worked hard to gain Brady's trust. Some, like Josh Gordon, have succeeded, while others didn't prove as capable.
Brady offered his own take on how critical having trust between a quarterback and receiver can be.
"I've said for a long time that the quarterback-receiver relationship is very important, it's very unique," Brady began. "They can't get themselves the ball and I can't do their job. You have to see things the same way, you have to anticipate the same way. I think you see that with players I've played with for long periods of time, whether it's Deion Branch, Troy Brown, Wes Welker, Julian [Edelman]. The years and years that we accumulate together end up really paying off, because there are a lot of things that you could talk about maybe a year ago that come up on a Monday night game and then you're able to sort of react and play fast and anticipate. It leads to better execution."
He tends to let others be mic'd up
A major story in the aftermath of the Patriots-Jets game on Monday night was a comment made by Jets quarterback Sam Darnold as he was mic'd up on the New York sideline. Darnold admitted that the Patriots' defense had him "seeing ghosts," an honest though unflattering admission.
On Tuesday, the Jets — led by head coach Adam Gase — faulted NFL Films and ESPN for allowing the soundbite to be aired. Gase said the Jets are "going to be looking hard into our cooperation going forward."
Brady, who has been mic'd up for games on numerous occasions, shared his own thoughts on the concept.
"I'm not asked every week, but they've made requests and so forth," Brady said of being mic'd up. "It's not typically something that I do. I kind of leave that for other guys to have opportunities for them to get some of the things that quarterbacks usually get. So it's just one of those things."
In a follow-up question, Brady was asked if he consciously changes how he talks when he's mic'd up, or if he just focuses only on the game.
"I definitely think you're aware of it. Yeah, I think it's a little of both," Brady responded. "For the most part, you're focused on the game, but it is a little different, [with] the pack that they put on you can be a little cumbersome for me.
"I think for me and my view, I have a very intimate relationship with players you play with things that are said in the heat of the moment, and then again for people to take those out of context and not understanding the emotional part of the sport, they get taken the wrong way," Brady said. "That's just part of entertainment, that's what they're trying to do with those media types of things. I think for me during game day it's just best to focus on my job, what I need to do, not add anything extra to what my obligations already are, which is to go out there and be a great player for our team."
How he deals with New York fans
Unlike other Patriots games this season, the visit to MetLife Stadium didn't turn into a "home game" for New England. Jets fans held their ground even as their team was thoroughly beaten.
Brady was asked about if he wanted to say anything to the talkative Jets fans.
"Actually I hear that when I'm down [there]," Brady admitted. "We have a place in New York, so I hear that when I'm down there quite a bit when I'm walking the streets and there's a lot of people driving down the street and if they see me and go, 'Brady, you…' you know, whatever. Then I'm like, 'I'm with my kids, for God sakes.' Let me just, you know, they don't need to hear some of those things that are being said to me, so it's kind of what you hear in the [MetLife Stadium] parking lot is what I hear when I'm down there.
"They have a great way about them," Brady said of Jets fans, "and they cheer pretty hard for their team and believe me we cheer pretty hard for our team up here. For as much love as we get from our fans, I think there's a lot of opposing environments we go where it's not quite the same. That's to be expected, that's what good fans are all about."
His additional thoughts on the controversial Neflix cameo
After he appeared in a Netflix cameo that showed him leaving a day spa, Brady was asked by reporters last week if it was connected in any way to Robert Kraft being charged with soliciting a prostitute at a similar looking day spa in Florida.
Brady said the cameo was "taken out of context," and that it was "unfortunate people would choose to think I would ever do something like that about Mr. Kraft."
He was asked during Wednesday's interview if he had anything to add to what he'd said about the cameo previously.
"No, I appreciate you asking and I think I answered it last week," Brady said. "I think it's about publicity and I think that particular show got a lot of publicity and I'm not going to give them anymore than they've already gotten."
Brady then offered more about his relationship with Kraft, and why it's meant so much to him.
"But everyone knows, again, how I feel about Mr. Kraft and how much he's been one of the most important people in my life," Brady explained. "We have a relationship that is incredibly important to me, and he's been a part of the biggest moments of my life and a lot of the biggest decisions in my life. I have nothing by true love and respect for him. He does so much to help people out in our community and other communities, it's just a real blessing to have him in my life. To play for him for 20 years, to work for 15 has really been a dream come true."