Patriots
Morning sports update: Antonio Brown references Tom Brady, Robert Kraft, Patriots' equipment staff in Twitter storm
Brown appeared to offer an apology to Kraft.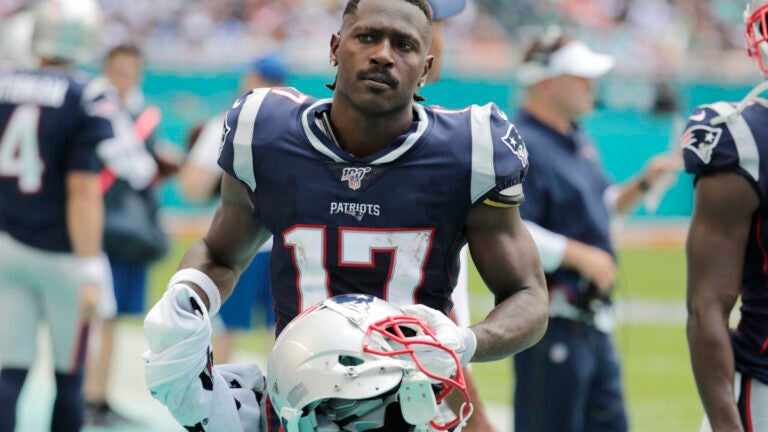 The Celtics make the team's home debut at TD Garden tonight against the Toronto Raptors. Tipoff is set for 7 p.m.
The Bruins are also at TD Garden (except on Saturday) as Boston faces the St. Louis Blues at 7 p.m.
On Thursday, the seemingly inevitable news broke that the Patriots had traded defensive end Michael Bennett to the Cowboys for a draft pick. This came after Bennett was suspended for a week due to a "philosophical disagreement" with a Patriots coach.
Antonio Brown tweeted a lot on Friday morning: Former Patriots wide receiver Antonio Brown woke up early on Friday and logged onto Twitter at 4:44 a.m.
What followed was a steady stream of tweets for several hours. Many of them referenced Brown's current situation — the 31-year-old is an NFL free agent after the Patriots released him on Sept. 20 — though a few directly mentioned his short time in New England.
Brown was asked if Tom Brady was better than Ben Roethlisberger, who he played alongside for nine season in Pittsburgh. Brown said Brady is on "another level."
Brady another level truly rare individual https://t.co/YrMGJ9zFLn

— AB (@AB84) October 25, 2019
On getting to play with Brady and catch a touchdown pass from the Patriots' quarterback, which Brown did for one game in Week 2 against the Dolphins, he called it a "never forget moment for life."
However, Brown faulted Patriots equipment staff for not giving him the football he caught for a touchdown:
Trainers from Pats stole ball so much jealousy never sent with my stuff https://t.co/8mgAJqZlSx

— AB (@AB84) October 25, 2019
Brown was reportedly cut due to the "insistence" of Patriots owner Robert Kraft. Shortly after his release in September, Brown criticized Kraft in now-deleted tweets, referencing Kraft being charged for soliciting prostitution in Florida.
On Friday morning, Brown appeared to offer a form of an apology to Kraft:
All love apology given just thought they cared about the substance true essence of a man not just create media hype to bring me down but history for us learn https://t.co/SLBAPu9fIK

— AB (@AB84) October 25, 2019
Yet Brown still maintained that his own actions were less responsible for his release from New England than the "price tag."
Wasn't the phone think it was the price tag ? https://t.co/W6t5WocEEZ

— AB (@AB84) October 25, 2019
Shortly before his release, Brown sent threatening text messages to a woman who is accusing him of making unwanted sexual advances.
Brown is currently awaiting an NFL decision following its investigation into the accusations against him that include sexual misconduct and rape.
Trivia: During Bill Belichick's time as coach of the Patriots, two running backs have rushed for more than 200 yards in a game against New England. Name those two running backs.
(Answer at the bottom).
Hint: One went to Texas Christian University, the other went to the University of Georgia.
More from Boston.com:
Julian Edelman's response regarding Sam Darnold after the Jets quarterback's "seeing ghosts" mic'd up comment was broadcast:
"I don't feel bad for him at all." Julian Edelman on the backlash Sam Darnold faced after being mic'd up Monday night.

— The Greg Hill Show (@TheGregHillShow) October 25, 2019
In 2013, the Patriots recovered an onside kick amid a dramatic comeback in the final 1:04 of the game:
Flashback to 2013 when the #Patriots scored two TDs in the final 1:04 to win vs. Cleveland. pic.twitter.com/CB8KI59Wjr

— New England Patriots (@Patriots) October 25, 2019
Despite losing 5-3 in the playoffs with the Galaxy, Zlatan Ibrahimovic wasn't holding back:
Zlatan wasn't holding back after potentially his last MLS game… pic.twitter.com/GFT0LXTyz2

— ESPN FC (@ESPNFC) October 25, 2019
On this day: In 1964, Vikings defensive end Jim Marshall recovered a fumble and took it back to the end zone. The only problem, as Marshall mortifyingly discovered, was that he had mistakenly run it back 66 yards to his own end zone. Luckily, the safety didn't cost his team a win, as Minnesota still beat the 49ers that day, 27-22.
In 1964, Jim Marshall of the Vikings recovered a @49ers fumble, and literally ran 60 yards the wrong way. ?‍♂️#SFvsMIN pic.twitter.com/gvOB3Y8KFa

— NFL Throwback (@nflthrowback) September 7, 2018
Daily highlight: Giannis Antetokounmpo spinning in slow-motion.
The Greek Freak works his way to the rim! #KiaTipOff19#FearTheDeer 91#OneMission 95

?: @NBAonTNT pic.twitter.com/WJz8Xkcfxe

— NBA (@NBA) October 25, 2019
Trivia answer: LaDainian Tomlinson and Knowshon Moreno