Patriots
Morning sports update: Tedy Bruschi theorized why N'Keal Harry hasn't played for the Patriots yet
"If you're fourth, fifth, or sixth on that list, and you can't play special teams, you will be the one that's deactivated for the game."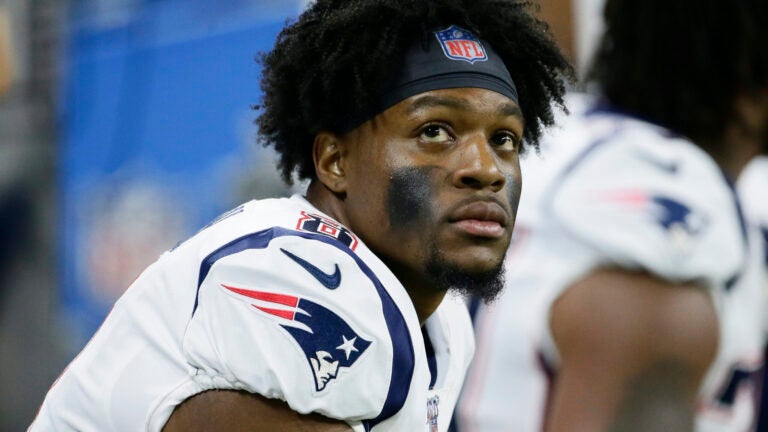 The Celtics are in Charlotte tonight to face the Hornets at 8 p.m. Boston is looking to extend its five-game winning streak.
The Bruins will play the Red Wings in Detroit on Friday night at 7:30 p.m.
Tedy Bruschi offered his take on N'Keal Harry: During the Patriots-Ravens game on Sunday night, one player was conspicuously absent: wide receiver N'Keal Harry. The Patriots' 2019 first-round pick hasn't played in the regular season, but was expected to make his NFL debut in Baltimore.
Instead, Harry — who missed the first eight games of the season on injured reserve with an ankle issue — was a healthy scratch from the team's active lineup. It was a move that raised questions about the Patriots' plan for the talented receiver.
After all, Harry plays a position where the Patriots need depth. Julian Edelman and Mohamed Sanu both played every offensive snap against the Ravens, and Phillip Dorsett only missed one.
During an interview with WEEI's "Ordway, Merloni & Fauria," former Patriots linebacker (and current ESPN analyst) Tedy Bruschi weighed in.
"Is it they just don't like him, they don't think he's ready, or they want to see him earn it?" asked fellow former Patriot (and show co-host) Christian Fauria. "What is it? Why isn't he playing?"
"It can be all of those things," Bruschi acknowledged, "or it can just be, 'Hey, we didn't have, or it wouldn't have even been worth you playing because you're not part of that plan.' When that's part of the equation, that's a negative also, to where you think that we don't even want to have your package of plays — those three to five plays for you — we can't worry about that right now, because we're just not sure you're going to produce. We would rather see [Mohamed] Sanu, we would rather get Sanu going, [Julian] Edelman, [James] White, or other options."
Bruschi noted that Harry's position on the depth chart, and possible lack of versatility, led to his status for the game.
"If you're fourth, fifth, or sixth on that list, and you can't play special teams, you will be the one that's deactivated for the game," said Bruschi.
Asked about if it's a trust factor with Tom Brady, Bruschi explained specifically how that shows up in the Patriots' offense. Harry, a 6-foot-4 target, could theoretically be useful in the red zone, as Bruschi noted.
"The trust, it would show up in the red area," said Bruschi, "to where I put it up in a place where I know you have to fight to be there off of that press coverage, you're big, you're strong enough, you're physical enough where I can either put it over the top, or I can give you a quick little back shoulder [throw], but I know you well enough to where you can read me based on what I want you to do, or I can read you. So if that's not there yet, that big advantage that a big receiver would have, which is red area targets, that if you can't even do that and have that type of trust, then there's still a long way to go in terms of relationship development with your quarterback."
The Patriots have a bye this weekend, but are back on Nov. 17 against the Eagles at 4:25 p.m.
Trivia: Only four Patriots rookie receivers have topped 400 receiving yards during the regular season since 2000. Can you name all of them?
(Answer at the bottom).
Hint: One debuted in 2002, two debuted in 2013, and the other debuted in 2016.
More from Boston.com:
Former Patriots defensive end Jake Bequette is now a lieutenant in the U.S. Army:
Former Patriots DE @JakeBequette91, now a 2nd Lieutenant, shares with @TimTebow how the @Patriots influenced his career in the US Army — more tonight on @SportsCenter
Veterans Day Special (8 p.m. ET on ESPN2). pic.twitter.com/725DKoryEQ

— Mike Reiss (@MikeReiss) November 7, 2019
Marcellus Wiley compared Dak Prescott and Tom Brady:
.@MarcellusWiley explains why Dak Prescott could be the next Tom Brady ?? pic.twitter.com/HfzpxdDkqG

— Speak For Yourself (@SFY) November 6, 2019
A Massachusetts ski area is planning to open next weekend:
Snowmaking update: The forecast has changed, and we will now be aiming for a Friday November 15th opening! pic.twitter.com/whCZvgurit

— Wachusett Mountain (@Wachusett) November 5, 2019
On this day: In 1987, Larry Bird led the Celtics to a dramatic double overtime win against the Washington Bullets, 140-139. Bird dominated with 47 points, but won the game in his own inimitable style.
With under 30 seconds remaining, Bird hit what he thought was the game-tying three. But it turned out that Celtics coach K.C. Jones had called a timeout just before, so the shot was waved off. A frustrated Bird sank to his knees before returning to the Boston bench and demanding he be given the ball again.
Sure enough, Bird received the inbounds pass before nailing a running three to send the game to overtime. The drama wasn't done, however, as Bird was again called upon to hit a big shot. After Moses Malone hit a runner to give Washington the lead with two seconds remaining, it fell to Bird to deliver for Boston.
As was his habit, Bird came through for the Celtics with yet another game-winner:
Daily highlight: It's time for another lowlight, and Eric Bledsoe provided the perfect opportunity.
Eric Bledsoe really just tried that ? #SCNotTop10 pic.twitter.com/c306zWPqGK

— SportsCenter (@SportsCenter) November 7, 2019
Trivia answer: Deion Branch, Aaron Dobson, Kenbrell Thompkins, and Malcolm Mitchell.