Patriots
What experts are predicting for Sunday's Patriots-Cowboys game
New England should win, but Tom Brady may not like the outcome.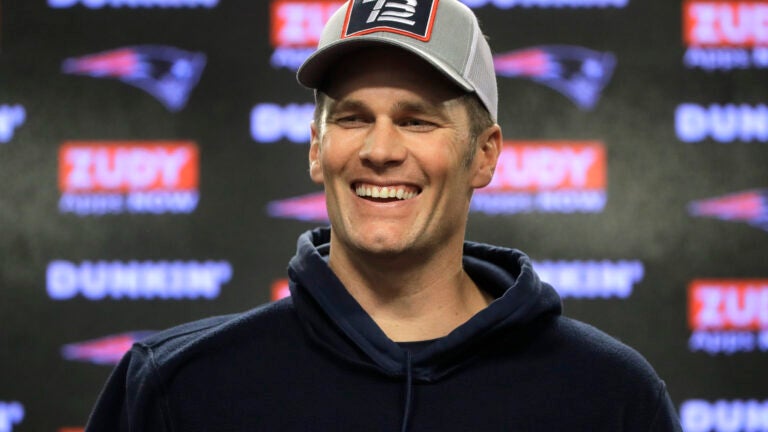 COMMENTARY
Antonio Brown posted a public apology to Patriots owner Bob Kraft this week on Instagram.
He also posted an image of him kicking a Cleveland Browns punter in the face while wearing a Steelers uniform, photos of a lion and a leopard, and video of him working out wearing a Raiders helmet.
I'd just assume any of those hold more meaning for Brown's future than a half-assed apology that his agent probably wrote.
Nevertheless, Brown's social media post got everybody into a tizzy this week, particularly after Tom Brady's hissy fit in the wake of a subpar offensive performance in Philadelphia last Sunday. Could he and the Patriots be laying the groundwork to a return to the team that signed and released him all in the matter of a two-week period back in September?
Are they that desperate?
Would it take more than a trite apology for Brown to win over Kraft after publicly humiliating the man who writes the checks? Would Kraft even consider bringing Brown back for firing missives about the whole massage parlor affair when his own quarterback was the one depicted walking out of an Asian spa (I know, cloning facility; got it) in Paul Rudd's Netflix series? That's the guy Kraft needs to make happy by bringing back his shiny toy?
Please.
Maybe Kraft should take the opportunity to introduce Brady to guys like N'Keal Harry and Jakobi Meyers, members of the Patriots receiving corps who could prove to be valuable assets if they were ever regarded in such fashion by the longtime quarterback, At least that's what he should try and manage before kowtowing to the pressure of the struggling offense and turning a blind eye all for a pair of guys who took their shots at him for his own off-field indiscretions.
That would be an embarrassing move for Kraft to have to make.
Gotta believe the 9-1 Patriots, with the No. 1 seed in the AFC and an historically good defense, just really aren't that desperate yet.
This week's predictions
Dallas Morning News staff: Five out of 10 pick the Patriots (-6). Nine out of 10 pick the Patriots straight-up.
Joe Giglio, NJ.com: Cowboys (+6.5). "You heard it here first: Don't be shocked if the Cowboys win this game outright. Dallas' offense is playing at a very high level, and the Patriots won't be able to take full advantage of a suspect Cowboys defense."
ESPN staff: All Patriots.
Pete Prisco, CBS Sports: Patriots 28, Cowboys 20. "The Cowboys are playing consecutive road games, and this is a tough one. The Patriots haven't been great on offense, but Tom Brady showed his frustration with it after the game. I think they get it rolling some here against a Dallas defense that hasn't been great. Brady will have a better day than Dak Prescott to win it."
CBS Sports staff: Split (New England -6.5). Seven of eight like the Patriots straight-up.
Jimmy Kempski, Philly Voice: Cowboys (+6.5). "The Cowboys have a game seemingly every year in which they beat some perceived great team, and then everyone talks about them as a Super Bowl frontrunner for a few weeks, until they lose to some other crap team. This will be that big win this year. #Analysis."
Vinnie Iyer, Sporting News: Cowboys 27, Patriots 24. "The Cowboys are built to beat the Patriots. They are loaded with downfield weapons and can be aggressive with a red-hot Dak Prescott, keeping New England's defense, which can struggle against the run, honest with a good dose of Ezekiel Elliott. The Patriots' offense is struggling to run the ball and push it deep, and Dallas is good at not giving up big plays. The only wild card in this game — and it's a big one — is Jason Garrett vs. Bill Belichick. The physical talent of the Cowboys and a fearless Kellen Moore are good upset elements, and they will make sure they start faster than Patriots. Tom Brady's team isn't set up to catch up."
Tadd Haislop, Sporting News: Cowboys 27, Patriots 23. "America's most popular team against the defending champs? Yes, please. Fox's game of the week is as good as it gets even though the Patriots are relatively heavy home favorites. New England's defense deserves the praise it's getting, but Dallas has the most diverse offense it will have seen all season. (Yes, that includes Baltimore.) The Cowboys don't have a singular offensive strength for the Pats to take away; rather, they have a handful of weapons ready to take advantage when presented favorable matchups."
Michael Hurley, CBS Boston: Dallas (+7). "Taking Jason Garrett, on the road, against Bill Belichick? Are you lost in BANANA LAND? Yes. But that has nothing to do with my picks, thank you very much. I recognize the risk here. It's very possible that the Cowboys completely and utterly beef this one, just like they did on the road against the Jets. The football world may be laughing and pointing at Jason Garrett come 6:30 p.m. on Sunday afternoon. I get it. But the Cowboys have a top-10 defense, and the Patriots have an offense that is currently stuck in the mud. I do think they'll figure things out offensively at some point, but I don't think this will be the week for it."
MassLive staff: All Pats. "How did Antonio Brown not end up on the Cowboys? Jerry Jones loves the troubled and talented. He'd have been a perfect fit."
Mike Florio, Pro Football Talk: Patriots 20, Cowboys 17. "Bill Belichick > Kellen Moore."
Michael David Smith, Pro Football Talk: Patriots 20, Cowboys 13. "Dak Prescott is playing outstanding football right now, but the Patriots' pass defense will give him fits."
USA Today staff: Pats across the board.
Five Thirty Eight: Patriots, 73 percent (-7).
Gregg Rosenthal, NFL.com: Patriots 24, Cowboys 13. "Tom Brady wasn't just playing damage control by saying the Patriots play to their defense. The 42-year-old throws passes away and clearly limits risk-taking, helping the team rank fourth in fewest turnovers. Ranked 30th in yards per carry, the Patriots call plays trying not to lose the game for their excellent defense. It's hard to expect that approach to change with Phillip Dorsett and Mohamed Sanu dealing with new injuries and rookie N'Keal Harry unlikely to be ready to be a true No. 2 receiver. The increased aggressiveness shown by Jason Garrett last week in leaning on the passing game was a welcome sign, and the Cowboys are smart to keep youngsters Michael Gallup and Tony Pollard heavily involved. The top-ranked Patriots defense is in the midst of playing the three best offenses in football (Baltimore, Dallas, Kansas City) over a five-game stretch, and I believe this secondary can be up to the challenge, especially if the Cowboys are without right tackle La'el Collins. In a game likely to be decided by situational football, I still trust the team coached by Bill Belichick over a Garrett-led squad in Foxborough. The talent disparity makes it tough, though."
It says here: Patriots 23, Cowboys 15. Tom Brady won't like it.
Video: Is Tom Brady right to be upset?