Patriots
4 expert takeaways on the Patriots' offensive struggles
The Patriots offense has struggled this season, but what's the reason why?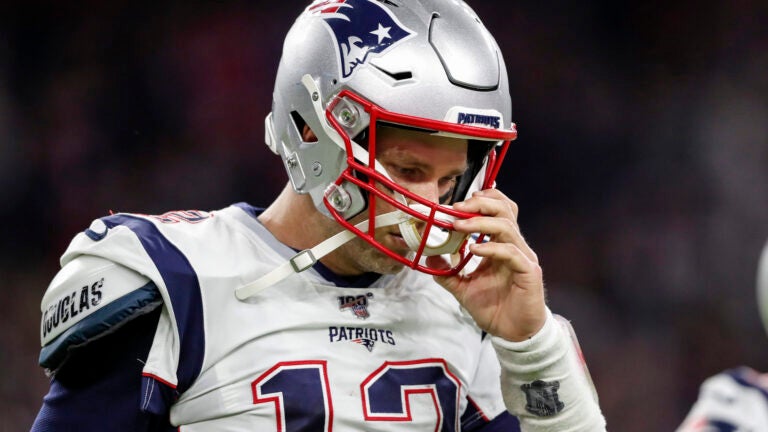 The Patriots have struggled over the course of the last four weeks, going 2-2 and leaving some to question if this team can truly contend for a Super Bowl. Many were quick to point fingers at the Patriots offense following their 28-22 loss to the Houston Texans this past Sunday, but what exactly is wrong with the offense? Here are four expert takeaways about the Patriots offensive struggles this season. 
'They don't scout receiver well.'
Tom Brady's receiving corps isn't one that has a lot of experience. While the Patriots' leading receiver, Julian Edelman, has been a favorite of Brady for multiple seasons, the rest of his wide receiver options are semi-new faces. The second-leading receiver for the Patriots this season is a running back in James White, and the third is Phillip Dorsett, who has been with the Patriots since 2017, but already has career highs in targets, yards, and touchdowns this season. Fourth on the list is undrafted rookie Jakobi Meyers, and fifth is Josh Gordon, who was cut earlier this season. 
Last week against the Texans, Brady was throwing passes to this group of players: Edelman, White, Dorsett, Meyers, Mohamed Sanu, N'Keal Harry, Matt LaCosse, and Ben Watson. Of those players, only Edelman, White, and Dorsett were on the roster for the Patriots last season. Everyone else, besides Ben Watson who played in New England from 2004 to 2009, is playing for the Patriots for the first time. 
Colin Cowherd believes that the lack of talent at wide receiver on the Patriots is a major reason behind their offensive struggles. 
"New England does one thing not very well, wide receiver, that's why they had to go get Josh Gordon, and had to roll the dice on Antonio Brown," Cowherd said. "They don't scout receiver well, they don't draft it well, they don't develop it very well." 
Nick Underhill of The Athletic points out the weapons the Patriots had, and who they have now. 
"This year has been hard. He had Antonio Brown, Demaryius Thomas, and Josh Gordon at various points this year," Underhill writes. "Now, he has Edelman and a bunch of guys trying to figure things out."
Tom Brady has been 'less impressive.'
While Brady has defied the odds thus far, the reality is that he's 42 years old. Father time is undefeated for a reason, and eventually, Brady's age has to catch up with him. Some believe this could finally be the season has shown that Brady's age has begun to show on the field, and in his stats. 
Bill Barnwell of ESPN put forward the potential idea that Brady could be seeing a decline, and unlike in recent years, he doesn't have the talent around him for success. 
"It's easier to see a less impressive Brady on tape," writes Barnwell. "There are reasons to be worried about both Brady and the players around him, and there aren't the sorts of obvious paths to improvement there were with Gronkowski still on the team."
Barnwell adds that "there are more reasons to be concerned about this Pats offense than there have been at any point in recent memory."
Brad Gagnon from Bleacher Report shares similar thoughts to Barnwell. 
"In the next 24 hours, you'll see and hear a lot of folks defend Brady because of his pitiful supporting cast. Those not in denial will also admit that the oldest position player in the NFL has hit a wall," Gagnon wrote. "Brady quite simply no longer has the arm to make splash plays as frequently as he'll need to with the personnel he has in place. He doesn't throw receivers open like he used to, and he certainly doesn't stretch the field like he did in his prime."
Tom E. Curran of NBC Sports, however, believes that Brady isn't done yet, and could even be back for an additional season. 
"Despite what his statistics say this season, his arm strength and pocket mobility are about where they've always been and his football IQ is unmatched," Curran said. "He's got more football in him. He once said he'd play until he sucks. He doesn't suck. Not by a long shot." 
The Patriots have been setting season highs in the wrong category.
The Patriots' offensive line has been decimated by injuries this season. Isaiah Wynn, Marcus Cannon, Shaq Mason, and most recently Ted Karras have all spent time injured. These injuries, as well as the starters themselves playing inconsistently, have led the Patriots to have massive offensive line issues. This rotating cast on the offensive line has caused problems for Brady in the pocket, and it doesn't seem to be heading in the right direction. 
The Athletic's Jeff Howe detailed some of the team's issues on the offensive line. 
"Guard Joe Thuney had an uncharacteristically, eye-opening tally with five QB hits and two pressures. The seven allowed disruptions were a career-high and the most by any Patriot this season," Howe said. "Here's a concerning trend: Thuney's seven disruptions exceeded Wynn's six from Week 12, which matched Cannon's six in Week 11. The Patriots have been setting season highs in the wrong category in each of the last three games."
Former NFL wide receiver Brandon Marshall explained how the offensive line struggles have impacted the passing game for the Patriots. 
"Their offensive line is struggling, which means their backs can't get out. And they've been really good over the years getting the ball to the running backs in the passing game," Marshall explains. "Now the backs have to stay in and chip and help out in protection. That's not their strength."
They need a better kicker.
The Patriots' kicking situation, similar to the rest of the NFL, has been a problem all season. The Patriots started the season with Stephen Gostkowski, who missed one field goal and four extra points in four games before he was placed on injured reserve. The Patriots have had to use Nick Folk, Mike Nugent, and Kai Forbath since Gostkowski's injury, and none of the three are on the roster anymore. 
The Patriots are still looking for a solution at kicker, according to Ian Rapoport of the NFL Network, the Patriots attempted to claim Chase McLaughlin, the former 49ers kicker, off waivers. However, the Indianapolis Colts were the ones who were able to claim him. As of this writing, the Patriots still do not have a kicker on their active roster.