Patriots
Tom Brady said it feels 'surreal' to be listed alongside Joe Montana on NFL All-Time list
"When I was four year old, I watched Joe play at Candlestick Park. ... I'm very honored and humbled."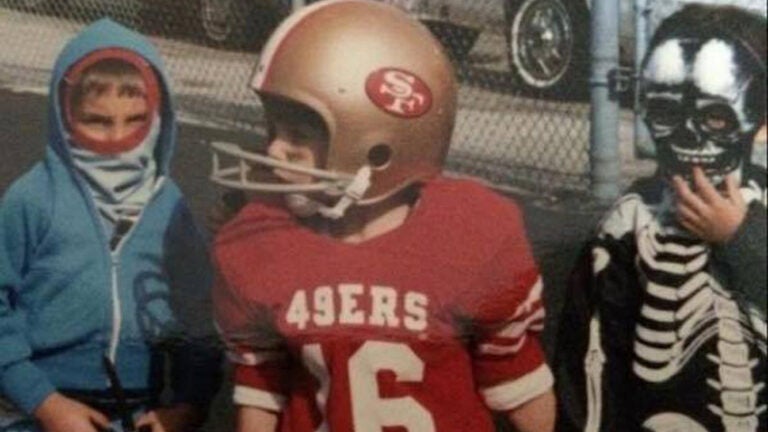 Tom Brady grew up idolizing Joe Montana. Now, he's considered one of the greatest quarterbacks alongside him.
On Tuesday, the Patriots quarterback reacted to being listed on the NFL Top 100 All-Time Team next to the former 49ers and Chiefs quarterback. In an Instagram post, Brady reflected on his childhood, watching Montana compete, and how they're both inspiring a new generation of quarterbacks.
"When I was 4 years old, I watched Joe play at Candlestick Park on Jan. 10, 1982, and saw 'The Catch,' one of the greatest plays in football history," Brady wrote in his caption. "It feels surreal today to be on the list alongside my idol. I'm very honored and humbled."
Growing up in San Mateo, Calif., Brady admired Montana, and his family held 49ers season tickets. According to Tom Brady Sr., the quarterback was "inspired" after watching Dwight Clark make "The Catch" in the NFC Championship game to defeat the Dallas Cowboys.
"He was inspired by it," Brady Sr. told The Boston Globe. "That was a time when he kind of fell in love with football. [Then] we'd come home and watch the replay of the game and we'd talk about the game."
Brady Sr. also revealed that his son was upset during that game because he could not have a 49ers foam finger. In 2015, Brady posted a photo of what appears to be from that moment at Candlestick Park.
Brady would even dress up as Montana as a child. In 2015, after the Patriots defeated the Ravens in the AFC Divisional Round — a game in which Brady passed Montana's record for the most postseason touchdown passes in NFL history — Brady shared a childhood photo of himself dressed up in a 49ers jersey and baseball cap.
"You prepare your whole life for games like this one #tbt," he wrote in the caption.
Then, before Super Bowl XLIX, he shared another photo of himself dressed up in Montana's jersey and helmet.
"I've been prepping for Sunday since 1983!," his caption read.
https://www.facebook.com/TomBrady/photos/a.655314961176324/857083207666164/?type=3&theater