Patriots
11 things we learned from Tom Brady and Bill Belichick on the 'NFL 100 All-Time Team' show
Brady and Belichick discussed the first Super Bowl winning season, the 2007 season, and how Peyton Manning helped the Patriots.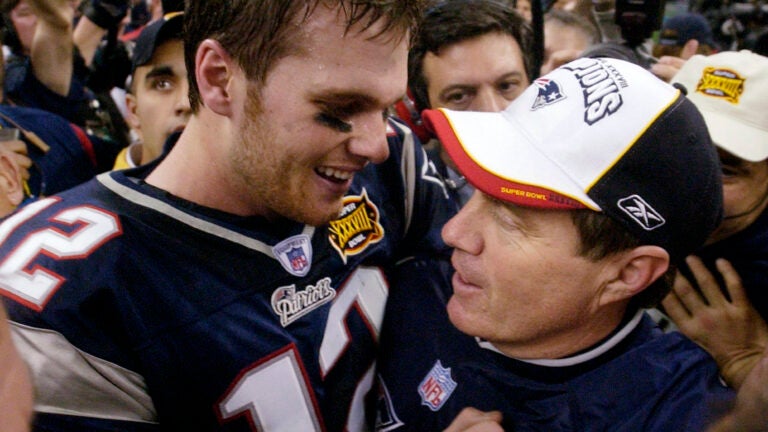 Tom Brady officially became a member of the NFL's 100 All-Time Team earlier this week.
On Friday, he joined the show on NFL Network that reveals the members on the team and includes Bill Belichick as a panelist. The two talked about Brady's career, and the conversation also drifted to what it's like to play under coach Belichick and to coach Brady. They also shared their thoughts on some of the most pivotal moments in Patriots history, including the 2007 team that went 18-1 and failed to win the Super Bowl.
Here are 11 things we learned from Brady and Belichick on Friday night's episode of the "NFL 100 All-Time Team."
Belichick thought Brady was special in his rookie year.
"Tom was special (in) his rookie year," the head coach said. "Even though he didn't play, his leadership with the other rookies in the class, and we had a big rookie class, Tom took them every day after practice and would run them up and down the field in their offensive plays and was clearly a leader on the field."
"He was clearly a leader on the field." – Bill Belichick

From day one, @TomBrady showed promise. After 20 seasons he's named to the #NFL100 All-Time Team ?

?: NFL 100 All-Time Team on NFL Network pic.twitter.com/Fi7AhT6mD2

— NFL Network (@nflnetwork) December 28, 2019
 Belichick called a 2001 game against the Saints a "turning point" in Brady's career.
"I didn't think (the loss to the Rams the week prior) was Tom's best game … You played very well (against the Saints). And I think that's one of the trademarks of Tom's career. There have been a couple of games along the way where he hasn't been his best, but the next game he's always come back and had an outstanding game. So, that was a real turning point, I would say, in that season and ultimately in the evolution of Tom's great career."
Brady never realized how hard it is to win the Super Bowl until well after he won his first three.
"I went to Michigan, there was 110,000 people in that stadium," he said. "In my fourth year in college, we played in the Citrus Bowl, we came back and we threw a touchdown pass to win the game. My fifth year, we played Alabama in the Orange Bowl and we won in overtime. So, I actually kind of felt that (Super Bowl XXXVI) was another bowl game that I get a chance to play in. I'm glad I didn't have the perspective of how hard it was to actually win the Super Bowl. I just thought that yeah, I won at Michigan and I got a chance to play for the Patriots and we're winning this year. It just kind of felt it was a continuation of a lot of things that I had done. But then like, I really realized how hard it was in 2010 and 2011 after we hadn't won in a lot of years."
Belichick gave Brady a simple compliment after Super Bowl XXXVI.
"I remember seeing coach the morning after the Super Bowl in New Orleans and we both got into the limousine," Brady said. "We were probably both working off of not any sleep at all, and he said, 'Tom, I just want to let you know you had a pretty good year.' And I said, 'Thanks, coach.' It's been pretty magical ever since. "
Belichick believes Brady's 60-yard touchdown pass to Deion Branch in the 2004 AFC Championship Game is one of his signature plays.
"There are a lot of them. One of the great early ones I think is the (2004) AFC Championship Game against Pittsburgh … Tom drew (safety Troy Polamalu) down, Deion got behind him and Tom put it over the top for a touchdown. That kind of got us started in that game."
Belichick also highlighted Brady's pass to Rob Gronkowski to set up the only touchdown in Super Bowl LIII.
"The seam pass to Gronkowski in the most recent Super Bowl was a great, great touch throw. I mean, there's a thousand of those, too. That was a special play."
Brady believes one of Belichick's signature coaching moments was Super Bowl LIII.
"There's been so many," Brady said. "I think this last Super Bowl summed it all up. We had two weeks to prepare for an offense that was as good as there was in the NFL last season. It was just an incredible defensive performance."
Brady thinks the greatest team to ever play was the 2007 Patriots.
"I think, probably the greatest team to ever play was our 2007 team. We dominated the entire season. We went to Dallas, the (Cowboys) were undefeated and we beat them pretty bad. We went to Indy, (the Colts) were undefeated and we beat them. We scored every time we touched the football in Buffalo late in the season."
Belichick was still hard on that team during its 16-0 quest, according to Brady.
"Coach would come in on Monday, and I swear to God that you thought we'd lost 50-0. And you're like, 'What the hell? We didn't even punt.'"
Belichick treated the Week 17 game against the Giants like it was any other regular-season game.
"I think every game is an important game if you're competing in it," Belichick said. "I think if you're a competitor, they all mean something. I was thinking more about beating the Giants (than going 16-0)."
Brady says Rob Gronkowski "probably has 50 percent of his offensive production" off of a play Peyton Manning taught him.
"One off-season, (Peyton and I) got together to talk football. Just the two of us. I took a lot of things from it … They had a protection, the counter hot protection (they ran in Indianapolis) … After this meeting that I had with him, down in Tennessee, I came back and Bill O'Brien was coordinator, and I said 'Billy, we got to put this protection in.' It was the lockout year (2011) and we ended up putting this protection in. Off of that action, we do a lot of things. We absolutely called that protection one or two times a game against them. And Rob Gronkowski probably has 50 percent of his offensive production on that play. So, to use that play against them as well as to have Rob to become a dominant player in the league off of that particular play is thanks to Peyton Manning."