Patriots
5 takeaways from the Patriots' disturbing loss to the Dolphins
The Patriots didn't deserve to win Sunday.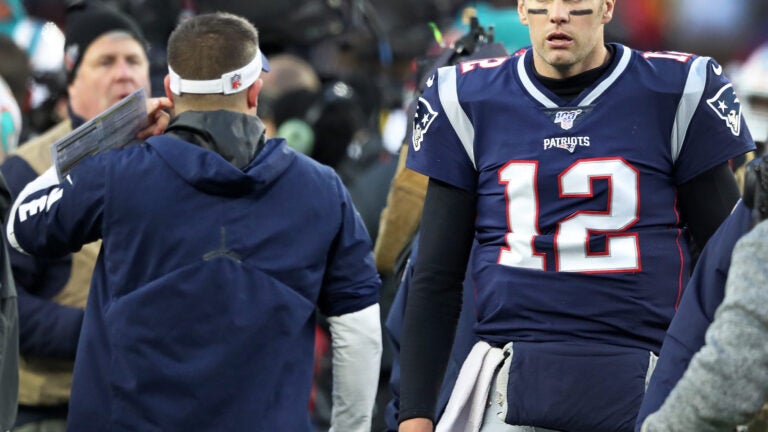 COMMENTARY
Five takeaways from the Patriots' hope-dashing, 27-24 loss to the Dolphins, which cost them the No. 2 seed in the AFC and might've ended Tom Brady's regular-season career in New England …
THEY DIDN'T DESERVE A BYE
Try to picture the look of lunacy you'd have given someone if, back on September 15, as the Patriots left Hard Rock Stadium having disembodied the Dolphins by a count of 43-0, they'd told you that three and a half months later Miami would keep New England from securing a first-round bye by beating the Pats in Foxborough.
Here we are, though. And that scenario is as real as the fact that Ryan Fitzpatrick and the NFL's 25th-ranked offense assembled a 13-play, 75-yard touchdown drive in the final four minutes against a unit that earlier this season had played its way into conversations about the best defenses in league history. And it's as real as the reality that now the Patriots will be forced to play on wild-card weekend for the first time in a decade.
Miami deserves credit, of course, with its performance a testament to first-year coach Brian Flores and the culture he's built with the Dolphins. A far cry from the way they started, they finished 5-4 in their final nine games of the season.
But this is about the Patriots — who also finished 5-4 over their final nine, and who, honestly, find themselves accepting a fate they deserve. Based on what they've been since early November they deserve to make no claim as the second-best team in the AFC, nor the round-skipping benefit that comes with such a boast.
Since an unbeaten start, they've lost to each of the three other AFC divisional champs. Then Sunday they were felled, at home, by a bunch of former Bill Belichick assistants and a team now seeking tee times. The offense has been inconsistent and dysfunctional for weeks (if not months), and Sunday the defense on which they've long hung their hopes was exposed by a sequence of slant passes slung by a journeyman quarterback.
That's the most damning part of Sunday. It was ugly and uninspired throughout, as Stephon Gilmore looked like a player who could be picked on, but in spite of it all they held a four-point lead with 3:53 to play. The Dolphins needed to go the length of the field. They then needed to cash in against what's supposedly a stout red-zone defense. Fifteen games had suggested this was a position the Patriots should be comfortable in; the defense had keyed everything all along. Get a lead, then entrust it to the defense. Seemed like a good spot.
Not anymore. If the defense can't stop Fitzpatrick in a four-minute drill with the whole field in front of him, there's no reasonable conclusion to reach other than that defense is not as good as we've long thought. And it's probably not built to get past Patrick Mahomes and Lamar Jackson, either.
The Patriots didn't deserve to win Sunday. They don't deserve a bye. And as the playoffs begin, they don't deserve to be considered in the same class as the Ravens, Chiefs, or any other team considered a legitimate contender.
BLAME THE BRAINTRUST
If this was indeed the last regular season game of Bill and Tom's Excellent Adventure, it's an end that would've been as difficult to envision as it is to swallow. Because a big chunk of the blame for Sunday falls on the coach and the quarterback.
The coach is culpable for the way the team answered the bell, and the woeful start that didn't speak well of the way New England prepared over a holiday week. The Dolphins dominated play at the start, dictating the time of possession, pushing the Pats around, and eventually opening up a 10-point lead. Throughout the day it was Miami, Flores, and offensive coordinator Chad O'Shea (another ex-Pat) who were more aggressive and calculated in their playcalling and in the play of their team. And as the head honcho on the defensive side of scrimmage, Belichick must bare major responsibility for what Fitzpatrick was allowed to score on three of their final four series.
Belichick's team didn't look ready at the start of either half. And Brady's play didn't help. He salvaged his overall numbers a bit with a 50-yard completion to Phillip Dorsett and a 38-yard run-and-catch connection with Elandon Roberts. But outside of that he was 14 of 27 for 133 yards, and this time his 51.8 percent completion rate wasn't the result of throwaways. Rather, Brady was consistently high on his throws in the first half, missing a few open targets.
His receivers didn't help him much, either, nor did what looked to be a limited Julian Edelman (three catches, 26 yards). But after what looked like a resurgent throwback performance against the Bills, Brady seemed to regress back to what he's been for much of the second half. This time without even falling back on the excuse that he was under duress most of the day.
In fact, Brady had all sorts of time on his most crippling pass of the day. It was either too long for Sony Michel or too lofted to reach Edelman, but in any case was intercepted by old friend Eric Rowe and returned for a touchdown.
The first pick-six against Brady since 2017 was pivotal in the outcome, and as a rarity it was equally emblematic. Sunday's failures were an exception among 18 seasons of success — most notably on the sidelines and behind center.
Unfortunately, for both posterity and the forthcoming postseason the timing couldn't have been much worse.
END OF THE FIRST HALF SAID SOMETHING — BUT WHAT?
Belichick's puzzling decision to willingly let an offensive opportunity pass at the end of the first half surely made a statement — but it's not so clear what exactly the coach's choice was a commentary on.
Had they opted to stop the clock, the Patriots could've taken possession with about 90 seconds and two timeouts to work with. Even after they didn't, they still could've left themselves about a minute with all three timeouts at their disposal and needing only about 40 yards for a realistic field goal try. In a 10-10 game, and having scored on each of their two previous possessions, there appears no logical excuse for surrendering such a chance.
So what was Belichick saying by opting for the path in which the Pats let the clock bleed before and after a couple of conventional running plays?
Was he telling us that he didn't trust his offense to take advantage of the time, or at least didn't trust them enough to protect whatever momentum the Patriots had begun to gain?
Was it a reaction to last week, when he chose to be aggressive before the half, and trust his offense — but their failure to convert on fourth down allowed the Bills a chance to score and swing the pendulum before intermission?
Was it in deference to the circumstances, and the fact that with the postseason looming part of the coach's responsibility in the regular-season finale is doing what he can to protect his roster, and keep it as healthy as possible for the playoffs? Ultimately, the only thing that mattered Sunday was that the Patriots won the game; perhaps Belichick figured he liked his chances starting square in what was then a 30-minute game.
Only Belichick and his coaches know the answer, and history suggests that none of them are likely to be forthcoming with the truth. But in a way, it really doesn't matter. Whatever the reason is, or even if it's a combination of the above, it's not an encouraging indicator of the way the game's best football mind feels about the state of his club as the most important part of the season approaches.
Then again, it might be hard for anybody to feel differently after what we witnessed Sunday.
TD TO ROBERTS WAS A GREAT CALL, BUT ANOTHER BAD SIGN
Another troubling sign coming from Gillette Stadium on Sunday came when Brady lofted a pass to a wide-open Elandon Roberts in the right flat. It was a good call from offensive coordinator Josh McDaniels that was made even better when the linebacker/fullback shed a tackle and scampered along the sideline for a 38-yard touchdown.
New England certainly needed it. But they may need it even more come January — and if they hadn't put themselves in such a desperate position against the Dolphins they could've saved the element of surprise for a do-or-die playoff scenario. It had the makings of a play they were saving for a special occasion, to use to blindside an unsuspecting foe, but instead they needed to pull it out of the playbook early because they couldn't sustain continued possessions against an opponent on the cusp of vacation.
McDaniels has shown a knack this season for knowing when to turn to trickery, with flea flickers, double-passes, and deception a significant factor in the Patriots conquering the AFC East. His creativity and his timing could well determine New England's fate moving forward — as it has in postseasons past.
Imagine, though, if the 2014 Ravens had seen a formation with offensive linemen split wide before being forced to face it with mass confusion in the divisional round. Or if the Patriots had been ready for the Philly Special in the Super Bowl a couple years ago. Yes, opponents will now need to spend practice time preparing for the possibility the Pats could throw to Roberts.
But that's the point: They'll now be prepared for it.
ANOTHER STEP FORWARD FOR THE OFFENSIVE LINE
If there's a positive to be gleaned from Sunday, it was that the Pats offensive line looked good for a second straight week.
Brady was protected well, being sacked only once and enjoying plenty of time to throw on most of his dropbacks. The also group did well in executing on screen passes, most notably on the late touchdown pass to James White.
And maybe most importantly they paved the way for another productive day for the running game. Michel ran hard, gaining 74 yards on 18 hauls. Rex Burkhead picked up 48 yards on his six totes. All totaled, the team carried it 27 times for 135 yards, good for an even five yards per carry.
They gathered eight first downs on the ground, and they were consistent enough to establish balance between the run and pass, again. Michel in particular finished the regular season strong, carrying it 58 times over the final three weeks, and gaining 259 yards with those opportunities. New England will gladly take 4.5 yards per carry from its lead back through its postseason run.
However long that happens to last.