Patriots
After Sunday, the season-long Tom Brady excuse machine just sounds tired
Do we have to be this protective of a 42-year-old, six-time champ?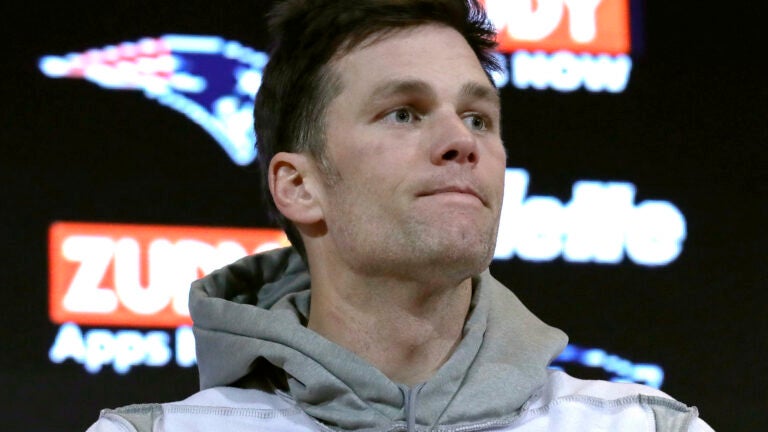 COMMENTARY
This shouldn't be that difficult.
Tom Brady was terrible Sunday.
Denial of the obvious is seemingly futile.
Yet, here are some us, still, bending over backward to safeguard the beloved, this despite all the truths laid out in front of us.
After Sunday's pathetic loss to the Miami Dolphins, the excuse-making that has endured all season long for Brady ultimately sounds tired and overexerted to the point of discomfiture.
Enough of blaming the offensive line and the wide receivers for every misstep Brady ever makes.
It's OK to put this one on him.
The Patriots quarterback turned in one of the worst performances of his illustrious career during New England's pathetic regular-season finale against the Miami Dolphins. Brady threw for 221 yards with two touchdowns and a wildly-uncharacteristic interception that turned into a pick-six for Eric Rowe. In fact, Brady's Jeff George impression was the difference in the 27-24 loss, one that cost New England a first-round bye in the AFC playoff picture.
Yes, it was the defense that garners some of the blame, particularly after allowing Ryan Fitzpatrick and the upstart Dolphins to drive the length of the field in the final minute for the winning score. Of course, Bill Belichick should be questioned for lazily closing out the first half with three timeouts in his back pocket. But if we're going to completely admonish the quarterback from being the bulk of the reason why the Patriots are hosting a wild card (a wild card) game Saturday night against the Tennessee Titans, then have fun with your folkloric analysis.
For all the talk about Brady's lack of wide receivers, rookie N'Keal Harry nearly killed himself while twisting and turning mid-air for a few of Brady's off-target missiles on Sunday. Philip Dorsett continued to have the dropsies, but he also needed rocket shoes in order to catch up with a couple of Brady's offerings. In fact, Dorsett had just as many catches from Brady on Sunday as did old friend Rowe.
The Patriots defense, once likened to the '86 Bears while it was feasting on a fall schedule that came straight from a cupcake recipe book, allowed 17 points to the Dolphins, which should have been good enough had it not gagged in the final minute. But to label this game indicative of a defensive breakdown entirely is bereft of rationality. Do we have to be this protective of a 42-year-old, six-time champ? I can't remember Brady throwing a worse pass over the past two decades than the one Rowe picked off. We're still going to whistle past the graveyard after that atrocity?
Brady was awful. Yet we still have to sift through the rubble, wary of any leftover defensive ammunition that might blast into our consciousness. This is how we end up with postgame analysis that declares Brady "wasn't great," that he "could have been better," that an injury is to blame, or some other combination of the justifications he's received all season long.
"Yesterday we had plays, I certainly did, that I should make and I didn't make them," Brady said during his weekly WEEI radio spot Monday morning. "We can certainly execute a lot better than we did yesterday. We had too many unforced errors, things that Miami didn't even have to do to stop us. That is when you know you're disappointed in the way you played. It's just self-inflicted errors which really were … I give them all the credit for winning, but there are things that we just shouldn't do and we have to tighten those things up."
The reality is though that there isn't much more time to do that. Whatever pass you might want to give the quarterback for his career here in New England, it's clear that it's coming to an end.
Brady had plenty of time to throw on Sunday. Brady had open receivers he couldn't hit.
But please, keep blaming the defense for losing the second seed.
And so, instead of sitting out the bye week and awaiting to see which overworked opponent would be coming to Gillette a week later, the Patriots have to play on wild card weekend, something they haven't had to do since the utter embarrassment against the Baltimore Ravens at the end of the 2009 season. That's the game in which Ray Rice took the first carry from scrimmage down the field for a touchdown, and the Jetson Patriots quit on the spot.
It's time now to find out whether these 2019 Patriots are more like that despicable bunch or if they have a little bit of the never-say-die that has defined them for much of this decade.
Does Tom Brady want to stick around for the party one more time? Or is he already past this whole playoff charade and ready to move on to whatever else is next?
Because he sure played like the latter on Sunday.
Saturday could be the Grand Goodbye for Tom Brady at Gillette Stadium. He doesn't have a contract for next season. He might retire. He might play elsewhere.
Games like Sunday should make us realize that maybe it's best that the end is imminent. For the longer we excuse these results, the longer the mediocrity will continue.