Patriots
New odds list Patriots as the favorite to be Tom Brady's team in 2020
Brady is scheduled to become a free agent on March 18.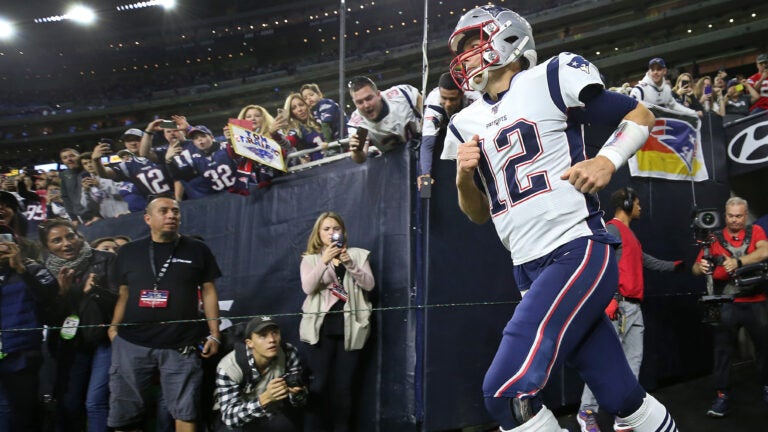 If betting odds mean anything, Patriots fans should feel pretty good about the likelihood of Tom Brady returning to New England.
The Patriots are the clear favorite to land Brady this off-season, according to odds released by DraftKings SportsBook on Wednesday. 
DraftKings posted odds for all 32 potential landing spots for Brady in 2020, with the Patriots listed as -335 favorites (meaning you would have to bet $335 to win a $100). Those odds say there is roughly a 77 percent chance that Brady returns to New England for 2020.
The Los Angeles Chargers (+400) and Indianapolis Colts (+900) have the second and third-best odds to land Brady this off-season.
The Chargers will likely be in play to acquire a quarterback this off-season. Los Angeles is reportedly likely to move on from veteran quarterback Philip Rivers after 16 seasons.
As for the Colts, they currently have former Patriots quarterback Jacoby Brissett under center and under contract for next season. Brissett became the starter after Andrew Luck suddenly retired prior to the 2019 season.
Brissett led the Colts to a 5-2 start to the season. However, after missing a Week 10 start against the Dolphins, Brissett struggled in the second half of the season and the Colts only won two of their final eight games to finish the season with a 7-9 record.
Here are the 10 teams with the best odds to sign Brady this off-season, according to DraftKings:
New England Patriots: -335
Los Angeles Chargers: +400
Indianapolis Colts: +900
Tennessee Titans: +1600
Carolina Panthers: +2000
Cleveland Browns: +2000
Denver Broncos: +2000
Las Vegas Raiders: +2000
Tampa Bay Buccaneers: +2000
Chicago Bears: +2500
DraftKings did not include Brady retiring in the odds listing. Brady, who will be 43 when next season begins, said earlier this month that it is "unlikely" that he will retire this off-season.