Patriots
What current and former Patriots are up to at the Super Bowl this weekend
The Pats may not be playing in the game, but were well-represented nonetheless.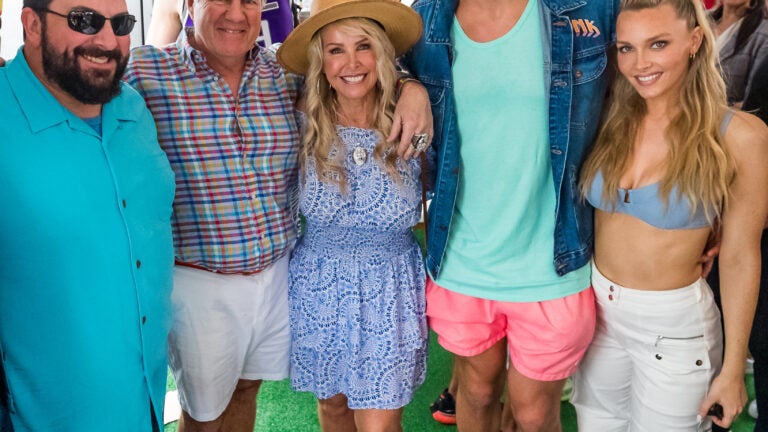 For the first time since 2015, the New England Patriots are not in the Super Bowl.
But that doesn't mean the team wasn't well-represented at Super Bowl LIV in Miami this weekend. Several current and former players, as well as head coach Bill Belichick, took in the festivities during the NFL's marquee weekend. Here are some highlights.
Tom Brady
Devin and Jason McCourty said this week that teammate and Patriots quarterback Tom Brady was hosting a Super Bowl party. Details to come on that, but on Thursday, prior to Super Bowl weekend, Brady and his wife Gisele Bündchen were spotted at a party celebrating the NFL100 all-time team.
Another beautiful couple I bumped into at the #NFL100 dinner party tonight in Miami. ?? pic.twitter.com/JbUeOARZbe

— Gil Brandt (@Gil_Brandt) January 31, 2020
Rob Gronkowski
Rob Gronkowski leaves no marketing opportunity behind. Saturday's Gronk Beach party was slotted into the line of notable pregame events in the host city, and Gronk was his usual self.
Bill Belichick
Patriots head coach Bill Belichick allowed himself to get loose with one of his former players Saturday.
Accompanied by longtime girlfriend Linda Holliday, Belichick attended Rob Gronkowski's beach party in his best cabana wear.
They say a picture is worth a thousand words, but Bill Belichick at Gronk's beach party is at least 150k pic.twitter.com/CwNwkJbGO4

— Charlotte Wilder (@TheWilderThings) February 1, 2020
Thanks for the invite to the Beach Party @RobGronkowski … maybe you should come to our party in Boston … heard it's the biggest of the summer. @StephMcMahon pic.twitter.com/eRQ8z0UmQI

— Triple H (@TripleH) February 1, 2020
Belichick also caught up with former Pittsburgh Steelers coach Bill Cowher, who is a member of the 2020 class for the Pro Football Hall of Fame.
Antonio Brown
Antonio Brown apologized to the NFL, then was spotted in Miami having dinner with Martha Stewart on Saturday night.
Stephon Gilmore
Gilmore won the NFL's Defensive Player of the Year award Saturday, earning congratulations from Brady and collecting much-earned accolades as the leader of the Patriots' stellar 2019 defense.
Kyle Van Noy
The Patriots' nominee for the Walter Payton Man of the Year Award, Van Noy was also in attendance at Saturday's NFL Honors ceremony. Van Noy is a free agent, and made that known in his hashtag.
Danny Amendola
The former Patriots wide receiver was in Miami for an, um, interesting promotional appearance.
Tedy Bruschi and Mike Vrabel
One former Patriot introduced another, as Bruschi interviewed the Tennessee Titans head coach on his successful season, and the Hall of Fame credentials of Richard Seymour.
https://www.instagram.com/p/B7-HxBlFWrT/