Patriots
10 questions facing the Patriots this offseason
Tom Brady, Devin McCourty, and the 2020 NFL Draft are all major factors in how the franchise moves forward.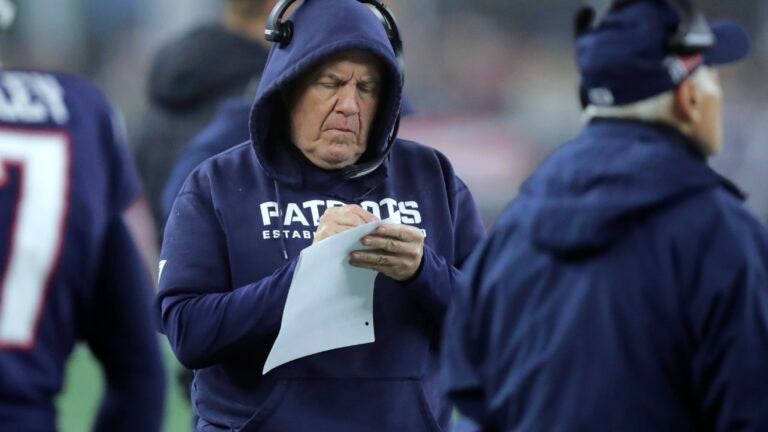 COMMENTARY
With a 31-20 victory over the 49ers Sunday night in Super Bowl LIV, the Kansas City Chiefs officially dethroned the Patriots — who have reigned as league champs on 1,099 of the 1,829 mornings since the first sunrise met by Malcolm Butler as a Super Bowl hero.
New England's dynasty has endured longer than that, of course, but the franchise is undeniably at a crossroads as pro football enters its offseason. Tom Brady is about to become a free agent. The team as a whole is aging. And poor drafts are starting to produce visible cracks in the castle.
Questions abound, and the answers will say a lot about the direction this is all headed. Here's a look at 10 of the most notable issues to be settled between now and when things kick off again next summer:
1. Do they want Tom Brady?
At this point, every real estate transaction, vacant suite, mural substitution, tabloid report, rumored school tour, and cryptic silhouette is being assigned value — and that's not likely to change until there's certainty, or at least some more clarity with Tom Brady's contract status. But if there's a message being sent by way of the gossip wire, it's that Brady is prepared to move on.
The question — amplified by the silence coming from the other side — is whether or not the Patriots would actually be OK with that.
Unless Brady's declaration that he has a lot still to prove is solely about showing the world he can win without Belichick and the Patriot Way, New England still makes the most sense for him. It gives him a chance to win. He's familiar with how things work. He wouldn't need to start over in a new system with unfamiliar teammates. And his legacy would risk no dents if he remains in Foxborough.
But is that something the team wants if Brady demands a multi-year commitment, or a significant pay raise? Even if they agree that the quarterback wasn't the issue for the offense this season, neither Brady's age nor his place among his positional peers entering 2020 suggests that a big-dollar deal that extends beyond his age-43 season would be a prudent decision.
If that's what it would take, the Patriots would be extending themselves. And based on last summer's negotiations, plus everything that's happened since, it's not clear they'd be willing to do that.
2. What's easier: filling in around Brady, or finding a QB who may fit better?
A corollary to the first question is whether Belichick and Josh McDaniels — after watching Lamar Jackson win the league's MVP award, and Super Bowl MVP Patrick Mahomes pull off some playoff magic — are ready to embrace the revolution toward a quarterback whose legs are a viable weapon.
Here would be some of the logic behind that way of thinking: the 2019 Pats lacked playmakers at the receiver position, were essentially without a tight end, and struggled along the offensive line. They have a lot of holes to fill if the offense they've been running for years is going to return to the elite level it formerly enjoyed.
But maybe it would be easier to find a passable quarterback who plays a different style, and fits better with the present personnel, than it would be to find a bunch of pieces that will work with Brady.
The most recent play that comes to mind is Mahomes' 27-yard touchdown run in the AFC title game. The Titans appeared to have both Travis Kelce and Tyreek Hill doubled. The coverage was good on the three others going down field, too. But Mahomes had enough in his legs to not only escape left, but to turn his scramble into a game-changing play. He does it regularly. Jackson did it all season, as the Ravens were racking up more points than any other team. DeShaun Watson and Josh Allen took their teams to the playoffs with similar dual-threat skills. Ryan Tannehill can run, too.
In the AFC postseason this year, Brady was the outlier among the quarterbacks. He was also the one whose offense looked the least-equipped. Maybe McDaniels and Belichick see a correlation.
3. What does the team look like before March 18?
The dominoes will officially start to fall on the first day of the new league year. But reshaping the team doesn't necessarily need to start then.
It was two years ago Thursday that the Chiefs agreed to trade Alex Smith to the Redskins. The past two years, the Browns have reached terms on trades for talented receivers — Jarvis Landry and Odell Beckham — before the start of free agency.
The point is, significant moves can be made before Brady and the rest of New England's free agents make it to the open market. If the Pats are aggressive in either direction, it could signal which way they're leaning at any number of in-flux places on the roster, or even whether they're committed to carrying things forward instead of potentially pushing the reset button.
4. How do they create cap space?
According to Spotrac, the Pats' available salary cap space ranks in the middle of the pack league-wide, which doesn't seem like a great place to be considering they're without a starting quarterback — and facing a $13.5 million cap hit if the incumbent goes elsewhere. Their most reliable offensive lineman and a number of defensive starters are all due for new deals, and even if they go elsewhere it's likely their replacements would need to come from beyond the current roster.
One way to create spending money could be reducing the capital dedicated to the kicking game, particularly with Stephen Gostkowski coming off an ineffective and injury-shortened season, and All-Pro Matthew Slater joined by the likes of Nate Ebner and Justin Bethel on the list of will-be free agents.
Dropping Gostkowski with a year left on his deal would save more than $3 million in cap space, while moving on from familiar names — such as Dont'a Hightower, Mohamed Sanu, and Duron Harmon — could create flexibility, too, if that's a direction the Pats opted to go as part of a retooling.
5. Do McCourty, Van Noy, or Collins return?
Devin McCourty, Kyle Van Noy, and Jamie Collins were all among the driving forces behind the performance of the Patriots' defense early this past season — back when it was drawing comparisons to some of the best units of all time — but all three are unrestricted free agents come March.
Between the three they played more than 2,500 defensive snaps last season, joining All-Pro cornerback Stephon Gilmore as the only Patriots defenders to be on the field more than 80 percent of the time.
McCourty made five interceptions, while Collins added three picks to his team-high seven sacks, and Van Noy had 6.5 sacks among his team-leading 15 hits on the quarterback.
That said, Collins's play trailed off after a blazing start. All of McCourty's interceptions came before Halloween. And, as an in-his-prime free agent, Van Noy could be in a position to double (or even triple) the $16 million he's made through age 28.
So, on one hand, losing any of the three would leave a significant hole on that side of scrimmage. But, on the other, there might be some trepidation from the Pats about just how much they're willing to commit to each of them. That sets the scene for some difficult decisions.
6. How does the offensive line settle?
The other big free agent for the Pats is offensive tackle Joe Thuney, who set the stage for his opportunity to cash in by playing his way onto the AP's All-Pro second team this past season. He was once again as consistent as they come, playing at least 99 percent of the team's offensive snaps for a fourth straight season, and will draw interest from any team looking for help on the interior.
That leaves the Patriots at risk of losing their best offensive lineman at a juncture when they're coming off a disappointing campaign and will be looking to rebound with a new positional coach. Longtime wizard Dante Scarnecchia revealed this week that he is retiring, which doesn't project to help a group that struggled to move bodies as run blockers and also left Brady under pressure far too often when he dropped back to pass.
If Thuney's gone, or if David Andrews can't make a full return from blood clots, or if Isaiah Wynn can't make it through a full season, or if Shaq Mason repeats an underwhelming 2019, the Pats' collective issues along the line could easily linger into a 2020 schedule that's loaded with challenges from talented pass rushers and dangerous defensive fronts.
7. How does the coaching staff come together?
Belichick will be back, and ultimately that's the most important thing. Josh McDaniels getting bypassed for head coaching jobs elsewhere is good news for New England, too.
But for the second straight offseason the Patriots' coaching staff has some holes to fill — and that works counter to the consistency preferred by Belichick, who has historically preferred to promote from within, and rely upon coaches who were reared in his system. Scarnecchia had decades of experience in New England, while new Giants head coach Joe Judge had spent eight seasons in Foxborough, with a hand in two of the game's three phases this past fall. Brett Bielema had only been around for a short time, but he had influence in a Pats setup that didn't include a traditional defensive coordinator.
That role still remains unfilled, as do Judge's vacated jobs as special teams coordinator and the coach charged with bringing along the Patriots' young receivers.
8. Can Belichick save the draft?
The Patriots would obviously prefer to have played in a fourth straight Super Bowl last week. But perhaps there's a silver lining to not extending a streak in which they played into February four times in five years.
Because their offseason began the night of January 4, the Pats will already be a month into their planning for 2020 by the time the Chiefs or 49ers recover from their hangovers early next week — and the hope for New England has to be that the additional time can help turn around the recent run of struggles with the draft.
Once almost automatic, even first-round picks have been spotty for the Pats in recent years, and the result now is a roster that lacks starter-level talent ready to step into more prominent roles. But Belichick and several of his coaches were able to join the team's contingent at the Senior Bowl this season, and that's presumably an indication that one of the game's best evaluators of talent will be more active in the scouting process this spring.
That should be big — and it's timely, because this sets up as a pivotal draft for the Pats. With a bunch of holes, they pick 23rd. But their second-round choice went to Atlanta in exchange for Sanu, so after the first round they won't pick again until they make three choices at the end of the third (assuming they get to keep all of those picks, pending the penalties from the NFL's ongoing sideline-filming investigation).
The pressure is on to get it right on those first two days of the draft. But at least this time it's on Belichick.
9. What happens at tight end?
By now it should be impossible to ignore. Travis Kelce and George Kittle, arguably the two biggest threats at the position, are both in the Super Bowl. Baltimore's passing game was based around its variety of weapons at that spot. The resurgence of Brady's late career correlates directly with the presence of Rob Gronkowski. And the failure to fill the vacancy he left was a killer this past season.
The Patriots need a tight end. A viable, capable, respect-commanding tight end. They don't need Kelce, or Kittle, or Gronk, necessarily. And maybe Matt Lacosse or Benjamin Watson can be part of a package at the position. But New England needs to correct its course by prioritizing that role, and addressing it with a player who can immediately become enough of a factor to alleviate some of the strain on the rest of the offense.
Good tight ends have become difference makers in today's NFL. The early actions of the Patriots' offseason need to acknowledge that.
10. What happens in Buffalo, New York, and Miami?
The balance of power in the AFC now appears to be tilted more toward the direction of the young quarterbacks in Kansas City and Baltimore than toward the dynasty that has dominated the conference for a couple of decades. But is supremacy in the AFC East up for grabs, too?
That probably depends on what happens with Brady, and how the Patriots answer the nine questions presented before this one. Either way, though, Pats fans may need to pay more attention to what's happening elsewhere in the division this offseason than they have in years past.
The Bills have reached the playoffs two of the past three seasons, and Sean McDermott seems to have something going in upstate New York. The Jets weren't the disaster they seemed to be on that Monday night when Sam Darnold was seeing ghosts, and actually went 7-6 in the games their second-year QB started. The Dolphins have a boatload of draft picks, and Brian Flores's cultural reset resulted in a 5-4 finish after an 0-7 start.
All three teams appear to be making progress at the same time the Patriots may be taking a step back. The next step is to keep the train moving forward, and sustaining what's been established — so it'll be quite interesting to see if any of those three use this offseason to make an attempt at asserting themselves as legitimate threats