Patriots
Martin Ortega, the man who stole Tom Brady's Super Bowl LI jersey, gives his first on-camera interview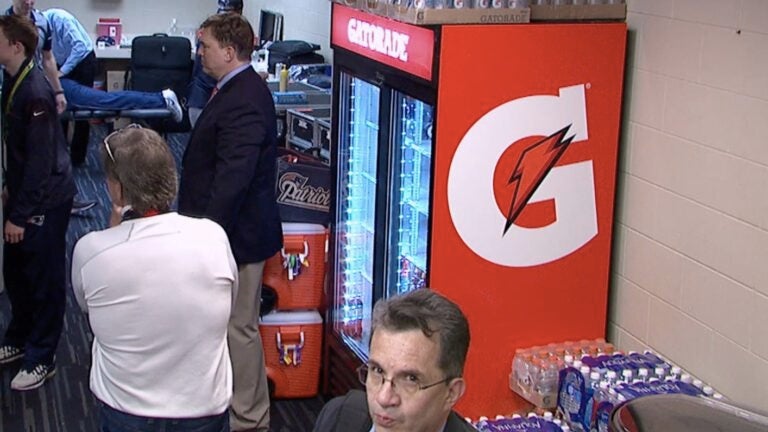 The man who stole quarterback Tom Brady's game jersey following the Patriots' historic Super Bowl Ll comeback has given his first on-camera interview. 
During FOX Sports Films' "The Great Brady Heist," an hour-long documentary chronicling the jersey's disappearance and eventual recovery, Martin Ortega expressed contrition and apologized for his illicit actions. Inside his Mexico City home, featuring walls clad with framed selfies of himself and several notable NFL players, Ortega called his behavior "an impulse from an uncontrolled fan." 
"I knew what I did was wrong," he said, via FOX's translation. "I'm quite embarrassed." 
Ortega elected not to share details regarding his decision to enter New England's locker room and snatch Brady's jersey from the bag at his locker, but he claims the theft wasn't planned. Ortega, who at the time was a credentialed reporter as the director of a tabloid called La Prensa, acknowledged he didn't use his time in Houston to work, but rather to "live this football experience." An avid sports memorabilia collector, Ortega was interested in obtaining more items — even through illicit means. 
"Now that I've analyzed what happened, I think this is very similar, or the same as an addiction," Ortega said. "I invested a lot in these items and that ultimately made me want to have more and more and to have what nobody else could have." 
Ortega said he knew immediately he would eventually be caught — not because of what transpired that night but because he already had Brady's Super Bowl XLIX jersey in his possession, too. (At the time, it wasn't known Brady's Super Bowl XLIX had also been stolen.) Ortega had previously emailed photos of his collection to another collector, who ultimately forwarded the pictures to help identify Ortega once the search for Brady's missing Super Bowl LI jersey began. 
Using security footage as well as never-before-seen interviews, "The Great Brady Heist" documents the process in which the FBI, NFL, Houston police, and Mexican authorities were able to track down the jersey and Ortega.
"The amazing part to me is everything that transpired from the time that it was taken," Brady said. "I got a call from the FBI. I was like, 'Man, this is really serious. The FBI's involved.'"
While Ortega admitted to taking Brady's Super Bowl LI jersey, he did not offer an explanation for Brady's Super Bowl XLIX jersey nor did he offer one for Denver Broncos linebacker Von Miller's Super Bowl 50 helmet, which were also found in his home. All items have been returned to their rightful owners. 
"Now I understand I idolized the game, the players," Ortega said. "I think it can be done sanely. In my case, it got out of control. Now I understand that." 
Brady opted not to press criminal charges against Ortega.
"I didn't want anyone's life to be changed because of something like that," Brady said. 
He hopes Ortega has used the events as a learning opportunity. 
"Everyone makes mistakes," Brady said. "We just hope that our mistakes don't leave permanent scars. I think mistakes that you learn from become real positives in your life. We do things with a lack of judgment sometimes, but when you learn from those, I think they can improve your life." 
"The Great Brady Heist" was produced by NFL Films in association with Religion of Sports, a media company founded by Brady, filmmaker Gotham Chopra, and former New York Giants defensive end Michael Strahan. According to Chopra, Ortega did make a request to FaceTime Brady, though it was denied.
"We collectively thought that wasn't appropriate," Chopra said. "It's almost rewarding."
As for the jersey's current whereabouts?
Brady keeps it in a silver top hat in his office.
"For me, it's a real point in time in life and it's something to be really happy about," he said. "But also, that moment and time has passed. Now there's other triumphs, like Martin said, there's other jerseys for me to try to make some history with."