Patriots
Morning sports update: Tre'Davious White thinks Tom Brady is 'still the best,' hopes he leaves the Patriots
"Anytime you've got to go against him, I guarantee a lot of guys are panicking."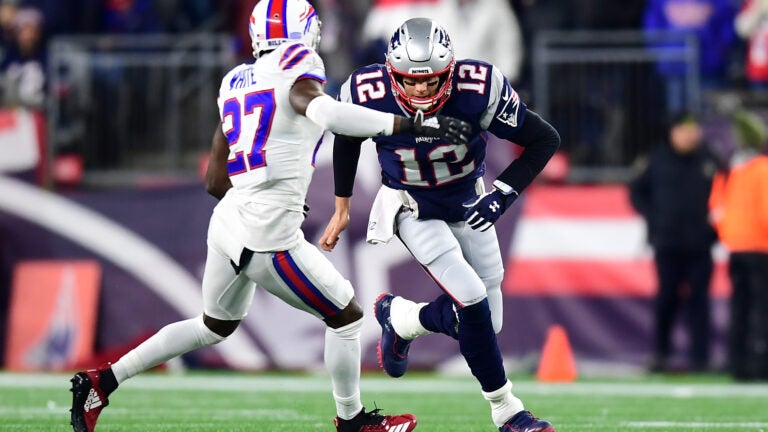 The Celtics defeated the Hawks in Atlanta on Monday, 123-115. Jayson Tatum led Boston with 28 points.
In the men's Beanpot, Northeastern beat Harvard 3-1 in the first of the two games on Monday night. Then, in a thrilling double-overtime encounter that saw Boston University rally from a 3-1 third period deficit against Boston College, the Terriers ultimately prevailed 5-4.
What. a. GAME.@TerrierHockey ? pic.twitter.com/VdTjNFPqK1

— NESN (@NESN) February 4, 2020
The men's final between Boston University and Northeastern will be played on Feb. 10 at 7:30 p.m.
The women's Beanpot gets underway today at Walter Brown Arena at 5 p.m. when Northeastern plays Harvard.
And the Bruins will also be in action today, facing the Canucks at TD Garden at 7 p.m.
Tre'Davious White's thoughts on Tom Brady: With Tom Brady eligible to become a free agent, the ripple effect on the rest of the AFC East is clear. Should Brady leave, it could signal a shift in the landscape of the division not seen in decades.
Yet even some of the fiercest Patriots opponents can appreciate the significance of Brady's position in New England.
According to All-Pro Bills cornerback Tre'Davious White, he has differing hopes for Brady's landing spot. White discussed Brady in a recent piece by Jeff Howe of The Athletic.
"For me, I hope he doesn't go back [to New England]," White admitted to Howe. "For football, it'd be great to see him stay a Patriot and continue to do it that way."
White also dismissed the notion that the 42-year-old Brady is in decline.
"He is still the best," said White. "Anytime you've got to go against him, I guarantee a lot of guys are panicking."
Trivia: The last men's Beanpot final to go to overtime was won by Boston College in 2016 (a 1-0 victory over Boston University). Who scored the winning goal?
(Answer at the bottom).
Hint: He currently plays in the NHL for the Vegas Golden Knights.
More from Boston.com:
A local institution didn't miss it's chance to make a Super Bowl meme:
You're welcome to join our roster, @tombrady ?! #RedCoatLife pic.twitter.com/Go4TIWbq2j

— Market Basket (@MarketBasket) February 3, 2020
Chiefs defensive lineman Derrick Nnadi paid for the adoption fees of every adoptable dog at the KC Pet Project after his Super Bowl win:
The perfect way to cap off this great season ‼️ https://t.co/k9KSt05gtt

— Derrick Nnadi ?? (@DerrickNnadi) February 3, 2020
Former Bruin Milan Lucic answered criticism regarding the perception that he wasn't more involved in defending teammates: Lucic said "it's not the '80s anymore."
On this day: In 1956, the Soviet Union won gold in Olympic hockey. It was the first of what would be a remarkable run for one of the greatest sports dynasties in history.
Hockey had only begun as a sport in the Soviet Union starting after World War II. Prior to that, bandy was the dominant winter game. Played on a larger field of ice, it lended to the free-flowing passing style that would become a Soviet trademark. The change to hockey occurred due to its growing popularity as an Olympic sport.
Within only a few years, a Soviet team debuted at the 1954 World Championships in Sweden. To the world's surprise, the Soviets won.
Two years later at the Olympics, the Soviet team was ready for its moment in the spotlight. In two pivotal games at the close of the final round, the Soviets defeated the U.S. 4-0 and Canada 2-0. The Canadians, who to that point had won six of seven hockey gold medals, finished third behind the U.S, and wouldn't win another men's hockey gold until 2002.
With the win in 1956, the Soviets began a streak of hockey golds that would be interrupted only twice (1960 and famously in 1980) until the collapse of the Soviet Union. Even afterward, the post-Soviet "Unified Team" — using many of the former Soviet players — would win another gold in Albertville in 1992.
Daily highlight: In a Rhode Island boy's high school basketball game between Narragansett and Pilgrim, Colby Corson hit a full-court buzzer-beater to force overtime. Corson's Narragansett Mariners went on to win, according to WPRI's Yianni Kourakis.
WATCH: another angle from Narragansett's Colby Corson's full court buzzer-beating heave to force OT in the Mariners game against Pilgrim they eventually won! @wpri12 @RIIL_sports pic.twitter.com/3hqQz5aq0P

— Yianni Kourakis (@YianniKourakis) February 4, 2020
One more view (with some strong language):
Say it ain't so AGAIN!!! Colby Corson with the full court baseball throw turn around shot to send this game into overtime!!! Gansett wins in OT!!! ⚓️??? EVERYONE TAG @SportsCenter @sctop10 !!!! pic.twitter.com/TYnkT5tPqW

— BallinRI (@BallinRi) February 4, 2020
Trivia answer: Alex Tuch