Patriots
Morning sports update: Bill Belichick reportedly still 'prefers' to keep Tom Brady with the Patriots
"I believe his first preference would be to have it work out for another season with Tom."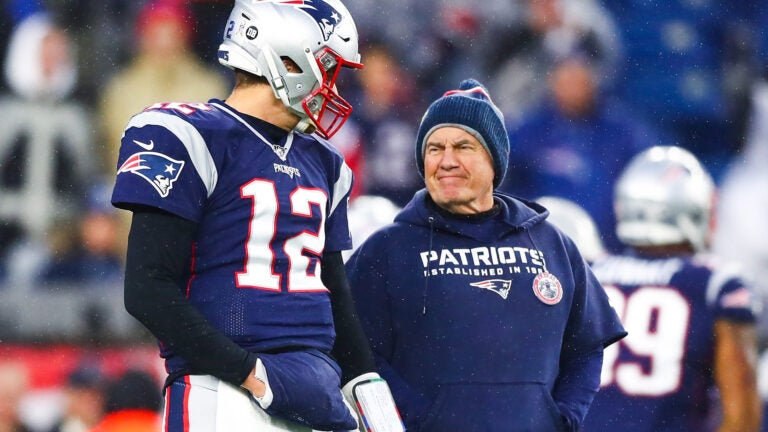 The Bruins defeated the Blackhawks 2-1 in overtime. Defenseman Charlie McAvoy scored his first goal of the season to win it for Boston.
McAvoy was joyously tackled afterward by teammate Jake Debrusk, who assisted the winning goal:
All the hugs???@JDebrusk | @CMcAvoy44 | #NHLBruins pic.twitter.com/Mb29ROQ2yX

— Boston Bruins (@NHLBruins) February 6, 2020
And the Celtics also won on Wednesday, beating the Magic 116-100 at TD Garden. Jayson Tatum led the team with 33 points.
The latest on the Patriots and Tom Brady: In an interview with WEEI's "Dale & Keefe" on Wednesday, NBC Sports Boston Patriots reporter Tom Curran was asked if Bill Belichick wants Tom Brady back in New England on a new contract.
"At a price, yeah," said Curran. Brady is eligible to become a free agent for the first time in his career.
"I think from all I have gathered, Bill would prefer to have Tom Brady playing quarterback in 2020 because it is a known quantity and it removes the doubt," Curran explained. "They aren't ready to have him leave. But, if he's going to leave and it is going to hamstring other portions, if it comes to a crossroads, I think Bill can easily get his mind around saying goodbye as well as he has with so many other players over the course of time. But, I believe his first preference would be to have it work out for another season with Tom."
If Brady doesn't agree to a new contract with the Patriots beforehand, he will become a free agent on March 18.
Trivia: What player did Danny Ainge reacquire at the 2005 trade deadline?
(Answer at the bottom).
Hint: The player, originally drafted by the Celtics in 1996, was traded by Ainge in 2003 prior to his reacquisition in 2005.
More from Boston.com:
The Revolution unveiled the club's 2020 jerseys, a design inspired as a throwback to the first season of Major League Soccer in 1996:
Celebrate your history.

Presenting: The Original.#NERevs // #FORWARD25 pic.twitter.com/rbgQi4Kj1u

— New England Revolution (@NERevolution) February 6, 2020
Simone Biles, preparing for the 2020 Olympics, teased an intriguing video: Biles, the 22-year-old defending gold medalist in vault (as well as three other gymnastics disciplines), shared a video earlier this week in which she was practicing an incredibly difficult — and dangerous — vault called the "Yurchenko" (named for Soviet gymnast Natalia Yurchenko).
Though Biles was practicing by landing in a foam pit, it's clear she could have completed the vault on a normal landing. Whether she does or doesn't actually attempt this in the Olympic stage, it's another example of how she's pushing the limits of her sport. Washington Post writer Emily Giambalvo explained what's so dangerous about the vault, and what it could mean for Biles.
2020 ??? ? pic.twitter.com/3QDjSOPYbH

— Simone Biles (@Simone_Biles) February 3, 2020
Nuggets center Nikola Jokic finished with an incredible stat line on Wednesday, finishing it off with a casual go-ahead fadeaway:
? 30 PTS, 21 REB, 10 AST for Joker ?#NBAAllStar Nikola Jokic becomes the first @nuggets player to average 30+ PPG, 10+ RPG and 10+ APG over a 3-game span! pic.twitter.com/NTHsdp4LT0

— NBA (@NBA) February 6, 2020
On this day: In 2005, the Patriots defeated the Eagles 24-21 in Super Bowl XXXIX, the team's third in four seasons.
February 6, 2005: Eagles vs. Patriots in Super Bowl XXXIX
February 4, 2018: Eagles vs. Patriots in #SuperBowl LII

Flashback: pic.twitter.com/7SEpNvg177

— New England Patriots (@Patriots) February 2, 2018
Daily highlight: Jaylen Brown with an emphatic dunk.
Jaylen B R ? W N pic.twitter.com/puW3KfAtTJ

— ESPN (@espn) February 6, 2020
Trivia answer: Antoine Walker