Patriots
Morning sports update: Chandler Jones explained how the Patriots 'taught me pro football'
"There's no other place where you would rather start your career than there, for sure."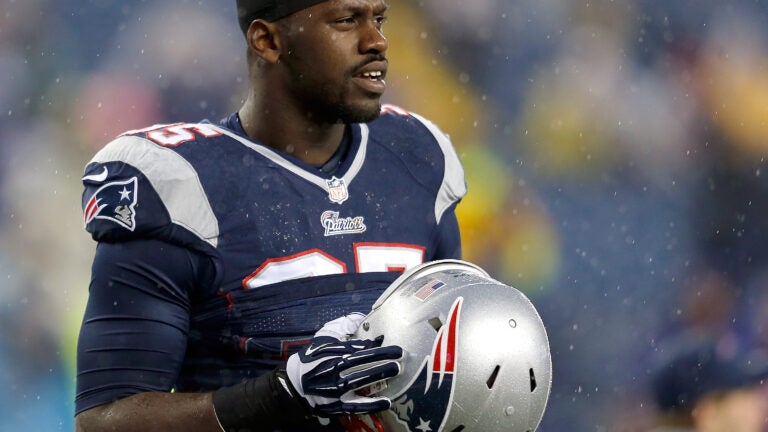 The Celtics face the Atlanta Hawks tonight at TD Garden. The game tips off at 7:30 p.m. as Boston looks to extend its five-game winning streak.
This weekend, the National Women's Hockey League is hosting its All-Star festivities at Warrior Ice Arena. The All-Star Skills Challenge will take place on Saturday night (8 p.m.), while the All-Star Game will be played at 2:30 p.m. on Sunday.
Also, the Bruins will play at home on Saturday with a 1 p.m. game against the Detroit Red Wings.
Chandler Jones reflects on his time with the Patriots: At 29, Chandler Jones is indisputably one of the best pass rushers in the NFL. Posting 19 sacks in 2019, he was selected as a first-team All-Pro for the second time in his career.
Jones was originally drafted (in the first round) by the Patriots in 2012, helping New England win Super Bowl XLIX. He was then traded to the Cardinals in 2016.
Looking back, he admitted in a recent interview with Jeff Howe of The Athletic that he was initially at a loss as to why he'd been traded.
"At the time, I didn't understand," Jones told Howe. "That next year, they won the Super Bowl, so I did understand that was best for the team — saved money, and they actually went and won. There were no hard feelings at all. I understood it's a business and it was what was best for the team."
Since then, Jones has grown as a player, totaling 60 sacks in four seasons. Yet he maintains that being drafted by Bill Belichick and the Patriots set the foundation for his career.
"The New England Patriots taught me pro football," Jones explained. "I feel like there's no other organization you would have to have those guidelines in order to step into the world of football. As a young player, you learn on and off the field how to be a pro. There's no other place where you would rather start your career than there, for sure."
Trivia: When the Patriots traded Chandler Jones, the return was a 2016 second-round pick and offensive lineman Jonathan Cooper. As is customary, New England traded the second-round pick, sending it to the Saints for 2016 picks in the third and fourth rounds. What wide receiver did the Patriots take with that 2016 fourth-round pick?
(Answer at the bottom).
Hint: He remains the only rookie wide receiver to catch a pass from Tom Brady in a Super Bowl.
More from Boston.com:
Andre Drummond had some candid thoughts about the way the Pistons handled his trade to the Cavaliers:
If there's one thing I learned about the NBA, there's no friends or loyalty. I've given my heart and soul to the Pistons , and to be have this happen with no heads up makes me realize even more that this is just a business! I love you Detroit…

— Andre Drummond (@AndreDrummond) February 6, 2020
Cont… you will always have a special place in my heart! But on to the next @cavs hope your ready! Let's finish the year off the right way ?

— Andre Drummond (@AndreDrummond) February 6, 2020
Carsen Edwards drove to the basket before throwing down a vicious dunk in the Red Claws' 122-98 win:
. @Cboogie_3 TOOK FLIGHT! ? #CrustaceanNation pic.twitter.com/sh0JGEqi5c

— Maine Red Claws (@maineredclaws) February 7, 2020
Lakers photographer Andrew D. Bernstein captured an iconic image of a LeBron James dunk Thursday night:
On this day: In 2009, Liverpool completed a wild 3-2 comeback against Portsmouth in the English Premier League, with Fernando Torres scoring a winning goal in stoppage time.
Late, late, drama ?#OnThisDay in 2009, @Torres netted a late winner at Fratton Park ?⚽️ pic.twitter.com/IEoFps3GJ5

— Liverpool FC (@LFC) February 7, 2020
Daily highlight: High school senior Tyler Beard, who has committed to play at Georgetown next year, threw down a dunk of the year candidate.
Dunk of the YEAR?! @tylerbeard24 pic.twitter.com/VxysplsGne

— Scott/Ballislife (@BallisLifeCHI) February 7, 2020
Trivia answer: Malcolm Mitchell