Patriots
Patriots mock drafts: 30 NFL experts project who the Patriots will pick
"The Patriots snap up the QB to begin the post-Brady era."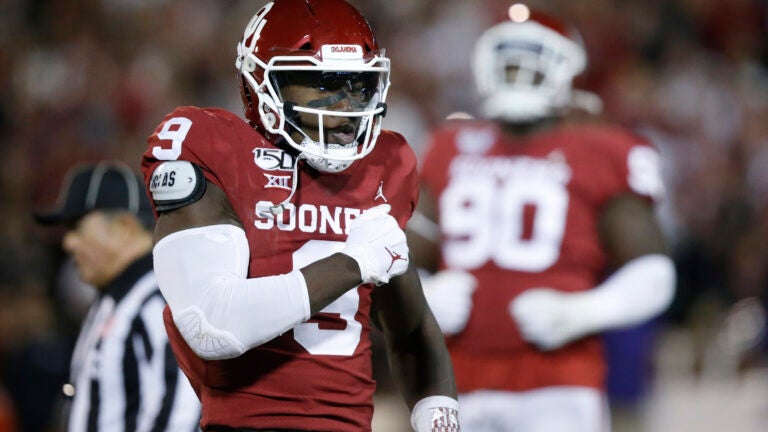 2020 NFL Draft will take place Thursday, April 23 through Saturday, April 26. Due to COVID-19, the league has canceled the live event in Las Vegas, but will still announce all picks during television broadcasts on ESPN and NFL Networks. The Patriots, who currently hold the No. 23 pick in the first round, have 11 additional picks that include three third-round picks, two in the fourth round, one in the fifth, four in the sixth, and two in the seventh.

With the departure of quarterback Tom Brady  — now a Buccaneer — many are trying to predict what the Patriots will do next. NFL insider Ian Rapoport speculates that the team will select a quarterback with their "premium pick," but will choose to start Brian Hoyer. (The team also reportedly "thinks well of" Jarrett Stidham).

Other NFL experts have looked beyond the QB position and strategized how the Patriots could fulfill other needs on the team, including at skill positions like wide receiver and tight end.

Here's a list of who experts are predicting the Patriots will pick:

Quarterbacks:

Tua Tagovailoa, Alabama
Jonathan Jones, CBS Sports: "Cowboys receive picks 23, 87 and 125 in exchange for No. 17. Madness! With his medicals, Tagovailoa sees his value drop to the middle of the first round. And whaddayaknow … it's Bill Belichick. New England has to get ahead of Miami, Jacksonville and Las Vegas for the 'Bama QB, and Jerry Jones is willing to slide back six spots to pick up an extra third and fourth-round pick."
Ben Volin, Boston Globe: "By my calculations, it's definitely possible. In fact, the stars seem to be aligning.
"If the NFL Draft goes according to projections, the Detroit Lions control Tua's future. LSU quarterback Joe Burrow should go No. 1 to Cincinnati, and Ohio State pass rusher Chase Young should go No. 2 to Washington, which would leave Tua's fate in the hands of Lions general manager Bob Quinn and coach Matt Patricia. The Lions are expected to be open for business with that No. 3 pick, with a coach and GM who are on the hottest of hot seats for 2020, and aren't in the market to use a top pick on a quarterback coming off a major injury.
"And that opens the door for the Patriots. Quinn spent 16 years in Foxborough, and Patricia 14. Since Quinn became Lions GM in 2016, the Patriots and Lions have made four player trades (including Kyle Van Noy in 2016 and Duron Harmon two weeks ago), and three draft-day trades. Belichick and Patricia still vacation together. And who knows? If Quinn and Patricia are fired after 2020, maybe they end up back in Foxborough."
Tyler Conway, Bleacher Report: "Even if Belichick thinks Tagovailoa is his quarterback of the future, he'd probably have to relinquish first-round picks this and next year, the Patriots' third-rounder in 2020 and a veteran player of the Lions' choosing to get them to even consider an offer…
"The Los Angeles Chargers and Miami Dolphins both already have top-10 picks and an obvious need at quarterback. The Dolphins would likely do anything in their power to prevent Tagovailoa from landing in New England, given their consistent links to the Alabama product dating back to the beginning of the 2019 regular season. The Patriots may wind up taking a quarterback in Round 1, but a name like Utah State's Jordan Love makes a lot more sense."
Daniel Jeremiah, NFL Network Analyst: "I just think in terms of fit, I actually love the Tua fit there," Jeremiah explained. "He doesn't have a huge arm, but he's got enough arm and just the way he can operate and be efficient and just get the ball out and be a distributor, that to me is a great fit for what they have traditionally done in New England for awhile now. I know the hip is a concern, but if your doctors are OK with that, I would be all for it."
Peter King, Yahoo Sports: "So Tagovailoa could drop, and Bill Belichick really doesn't want to take a quarterback now, with one draft pick in the top 85 this year and needs all over his roster. And truly: I have no indication, no inside information, that says he'd do this. It's simply a guess. But think if you're Belichick. Because your team never finishes 3-13, you never have a chance to get one of the best quarterbacks in the college game…
"Tough call for a franchise, but when would the Patriots ever get a shot at a potential superstar quarterback? Even if they had to throw in next year's first-rounder, I think this would be a risk worth taking for the Patriots."
Jalen Hurts, Oklahoma 
Chris Mason, MassLive: "While on the topic of undersized quarterbacks likely to go in the middle of the draft, Hurts is a fascinating prospect. Though Tagovailoa replaced him in the 2018 CFP National Championship, Hurts' reputation as a winner stuck. At Alabama, he was 27-2 as a starter, and in a new Oklahoma offense, he went 12-2 and finished as the Heisman runner-up to Burrow.
"With 3,851 passing yards and 1,298 on the ground, Hurts accounted for over 5,000 in his one season as a Sooner. The dual-threat could be an interesting project for Josh McDaniels, who drafted Tim Tebow and met with Baker Mayfield before he went No. 1 overall in 2018."
Jordan Love, Utah State
Chris Trapasso, CBS Sports: "The Patriots may have to trade up for Love, but with him falling into their lap here, they can't pass on him."
Charles Davis, NFL.com: "Yes, totally against the grain for New England to select a QB this high, but Love could easily be selected in the top 10. The Patriots snap up the QB to begin the post-Brady era."
Andy Hart, WEEI: "With Tom Brady taking his aging talents to Tampa Bay, New England is in the market for a starting quarterback for the first time in nearly three decades. Love may be a bit of a project, but there is no question he has physical potential and upside."
Justin Herbert, Oregon (19th pick via trade from Raiders)
Cody Benjamin, CBS Sports: "Patriots acquire No. 19 from Raiders for No. 23, No. 87. Surprise! Josh McDaniels bangs the table over Zoom as Herbert slides within reach, and New England gets a mentally sharp, physically gifted signal-caller for the post-Brady haul. Yes, they may have been fine rolling with Jarrett Stidham, but for this price, why not take the gamble?"
Dan Kadar, SBNation: "Let's try and figure out the logic if Bill Belichick did this in the actual draft. If Belichick is concerned about the future of his team, he could lean into what he knows best. That would be the defense. The long-running Patriots dynasty didn't start with Brady. It started with Belichick's defense. He could look to rebuild that defense in this draft. His secondary is arguably the NFL's best right now, but the front seven needs a lot of work. To me, [Kenneth] Murray is the best defensive player available in this mock draft.
"The trouble is, Herbert was literally the only player ahead of him in overall rankings. While I understand going defense, it's really hard to see New England passing on the Oregon quarterback."
Jake Fromm, Georgia
Henry McKenna, For the Win: "He's very accurate, he's a good decision-maker, he's cerebral and he's a hard worker. The Patriots have long valued those qualities more than athletic and freakish upside. Much has been made of Bill Belichick's relationship with Nick Saban, but the Patriots took two Bulldogs in the first round of the 2018 draft."
Safety:
Grant Delpit, LSU
Todd McShay, ESPN: "New England is a little more accustomed to picking at No. 31 or 32, but the bright side of not playing in the Super Bowl for the first time in four years is the opportunity to add a quality prospect with an earlier selection. Some might lean toward Tom Brady's heir – maybe (Utah State QB Jordan) Love.
"But I'm going with the rangy Delpit … Delpit didn't have the best season at LSU, but Bill Belichick and the Patriots would get the most out of him. The Pats need to keep that defense strong."
Chris Trapasso, CBS Sports: "The safety spot in New England is in a state of flux, and Delpit would stabilize that group going forward."
Michael Renner, Pro Football Focus:"Delpit is the sort of coverage chess piece the Patriots covet. He has special man coverage ability for a 6-foot-3, 203-pound safety and has all the tools to be a tight-end eraser type at the next level."
Wide Receiver:
Laviska Shenault Jr., Colorado
"Michael Dussault, Patriots.com: "With ideal size and versatility, Shenault is a beast with the ball in his hands and would give the Patriots offense just the kind of competitive boost it needs. There might be other receivers in this draft who are more explosive or better route runners, but Shenault is the full package and would be a valuable chess piece for Josh McDaniels to play with."
Also picked by Kristopher Knox, Bleacher Report.
Justin Jefferson, LSU
Henry McKenna: "My initial thought was for the Patriots to A) trade back (because they don't have a second-round pick) or B) take center Cesar Ruiz. But Jefferson is too perfect for their offense. He's versatile, athletic and productive. If Jefferson, N'Keal Harry and lesser-known receiver Jakobi Meyers continue to develop, the Patriots offense might have a group of strong wideouts."
Tight End:
Cole Kmet, Notre Dame
Phil Perry, NBC Sports Boston: "Kmet has been deemed the 'safest' tight end prospect in this year's class by multiple NFL sources. He has plenty of size. His 4.7-second 40 (80th percentile), 37-inch vertical (90th percentile) and 123-inch broad jump (92nd percentile) are very good numbers for someone with his frame. On his build and athleticism alone, he's an ideal Patriots fit."
Albert Breer, Sports Illustrated: "I had Ruiz here, and then I had Kmet, and then Ruiz, and then Kmet. I also believe that McKinney would be a consideration if he slips here, and that Murray or Patrick Queen are fits too. Bottom line? The bottom line is the Patriots need to get younger all over the place, so this could go any which way."
Offensive Tackle:
Tristan Wirfs, Iowa 
Jeff Howe, The Athletic: "Bill Belichick can tap into friend Kirk Ferentz's pro-ready system and capitalize on Wirfs' surprising tumble down the board."
Defensive backs:
Xavier McKinney, Alabama
Phil Perry: "That's where I could envision McKinney (6-foot-1, 200 pounds) sliding in. He's a do-it-all type for the Crimson Tide. He plays in the box. He blitzes. He covers tight ends, which has been a problem for the Patriots at times this year. He led Alabama in tackles this year, forced four fumbles, picked off three passes and broke up five more. With Patrick Chung closer to the end than the beginning, perhaps McKinney could someday fill that type of role."
Ryan Wilson, CBS Sports: "Devin McCourty had five interceptions last season … McKinney would be a natural fit to eventually move into the starting role. A versatile playmaker at Alabama, McKinney can line up just about anywhere."
Henry McKenna: "It sounds crazy that Murray might slip this far. But perceived first-round prospects always do. And in some cases, they sleep really, really far. The Patriots get into the first round to get a rare athlete, who needs work with his diagnostic abilities. But they'll be thrilled to work with him and make him the quarterback of the future on defense. That's why they give up Thuney to get Murray.
Defensive End: 
A.J. Epenesa, Iowa
Mike Dussault, Patriots.com: "Epenesa is arguably the most popular player to be mocked to the Patriots at 23rd overall. His combination of size (6'5", 275 pounds) and power, along with Bill Belichick's connection to the Iowa coaching staff, make it obvious why. Epenesa has drawn comparisons to Trey Flowers, though the Hawkeye is bigger and less athletic than Flowers.
"Games are largely won in the trenches and Epenesa has the tools to do win there, but his three-down value is likely the determining factor whether he's worth a first-round pick or not."
Micheal Middlehurst-Schwartz, USA Today: "Another value-based win for Bill Belichick, who would bolster his front seven with a massive edge defender from a Hawkeye program for which the coach has expressed his admiration."
Matt Miller, Bleacher Report: "A productive, versatile defender, Epenesa has ideal size (6'6″, 280 lbs) and strength to play multiple alignments along the Patriots front. He's been one of the Big Ten's best defenders the last two seasons and comes to the league ready to wreck offensive lines."
Jenny Vrentas, Sports Illustrated: "We are resisting the urge to assign a QB to the Patriots here and instead are going with a pick that feels very much in the B.B. wheelhouse: Epenesa is from a program led by a close Belichick friend, Kirk Ferentz; he pops on tape but didn't wow at the Combine; and plugs in nicely to the Patriots' scheme as a 5-technique."
Pete Prisco, CBS Sports: "There are questions about his athletic ability, but he can rush the passer. He would slide inside in passing downs and still hold up, which shows his versatility. The Patriots love that in their players."
Curtis Weaver, Boise State
Dan Kadar, SB Nation: "The Patriots tried to replace Trey Flowers last season with third-round pick Chase Winovich, third-year end Deatrich Wise, and veteran Michael Bennett. None of them were very effective. That could lead the Patriots to go after a productive edge rusher like Weaver in the first round."
Defensive tackle: 
Ross Blacklock, TCU
Chad Reuter, NFL.com: "Blacklock is an absolute disruptor in the middle of a defense. The Patriots' inability to stop the Titans' run game in the Wild Card Round will weigh heavily on Bill Belichick's mind this offseason."
Linebacker:
Zack Baun, Wisconsin
Doug Kyed, NESN: "He's undersized at 6-foot-2, 238 pounds, but if the Patriots are looking for a Kyle Van Noy or Jamie Collins replacement, then Baun is their guy. Baun was super productive as a senior, collecting 12.5 sacks, 19.5 tackles for loss, 75 tackles, an interception, two pass breakups and two forced fumbles with the Badgers. He also produced 12 quarterback hits and 27 hurries, per Pro Football Focus. He's also athletic enough to play off the ball and drop into coverage like Van Noy and Collins were asked to do. If the Patriots are looking for more of a traditional edge defender, then Penn State's Yetur Gross-Matos could be a first-round fit at 6-foot-5, 266 pounds."
Kenneth Murray, Oklahoma 
Bernd Buchmasser, Pats Pulpit: "The most realistic scenario from the Patriots' perspective might be a trade down to fill the 63-pick gap between their first- and third-round selections and to take advantage of the draft's general depth beyond Round 1. That said, Oklahoma's Kenneth Murray would be a quality addition to the NFL's top-ranked scoring defense — one that lost linebackers Kyle Van Noy, Jamie Collins, and Elandon Roberts in free agency — if the team does opt to make a pick at No. 23.
"New England's defensive scheme, after all, is largely built around its linebackers making impact plays either at the edge or from the second level behind the two-gapping defensive tackles…Murray's ability to play off the ball as a rangy middle/inside linebacker but also move down to hold the edge on the defensive line would make him a valuable chess piece — a Hightower 2.0, if you will, who offers a similar albeit not quite as versatile skill set."
Jim McBride, Boston Globe: "A natural leader, Murray has many of the qualities the Patriots covet when it comes to defenders at the second level, including two of the most important: intelligence and versatility.
"Though listed as an inside linebacker, this tackling machine (335 in 42 games for the Sooners) showed throughout his college time he could make an impact rushing the passer, defending the run, or dropping into coverage. He consistently forced his way onto the opponents' side of the line of scrimmage, making 17 tackles for loss in 2019 alone. Murray, who had a formal meeting with the Patriots at the NFL Combine, has elite instincts and the lateral quickness to get from sideline to sideline in a heartbeat."
Patrick Queen, LSU
Neal Driscoll, Pro Football Network: "LSU linebacker Patrick Queen busted onto the scene in 2019. He brings tremendous speed to the linebacker group, possessing exceptional lateral movement ability. Queen can quickly diagnose plays, trigger even faster, and has sideline-to-sideline speed, allowing him to make plays all over the field. One thing that will separate Queen from the pack when it comes to the 2020 linebacker group is that he is the best cover linebacker not named Isaiah Simmons in this class. He is absolutely brilliant against the run, as he does a great job of shedding blocks and filling gaps."