Patriots
The Patriots select a pair of tight ends in third round of 2020 NFL Draft
UCLA's Devin Asiasi and Virginia Tech's Dalton Keene are heading to New England.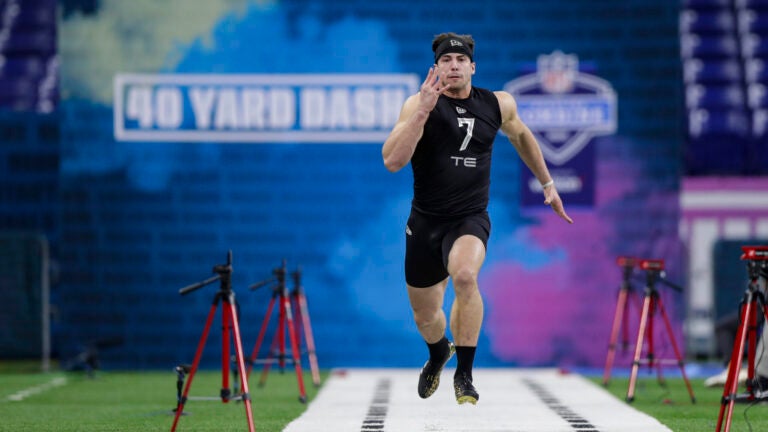 The Patriots selected a pair of tight ends — UCLA's Devin Asiasi and Virginia Tech's Dalton Keene — in the third round of the 2020 NFL Draft Friday night.
New England traded up to secure both players, Asiasi with the 91st overall pick and Keene with the 101st. The pair could help fill the void left by veteran Rob Gronkowski, who recently came out of retirement to join the Tampa Bay Buccaneers.
A 22-year-old California native, Asiasi started his college career at Michigan, where he appeared in all 13 of the team's games his freshman year. He caught two passes for 18 yards and a touchdown. After what would be his only season as a Wolverine, Asiasi decided to transfer to UCLA to be closer to home.
At UCLA, Asiasi played two seasons for coach Chip Kelly, whom Patriots director of player personnel Nick Caserio called "a good resource" in the draft process. Asiasi's most recent year was by far his best, as he started 12 games and logged 44 receptions for 641 yards and four touchdowns. Thirteen of his catches went for at least 20 yards.
"This was his first year where he had pretty substantial production," Caserio said. "This kid's got good size [6-foot-3, 257 pounds], runs well for his size, and is pretty tough. He's got some technique things that he can certainly work on, as an on-the-line scrimmage blocker."
Keene played three seasons at Virginia Tech, where he majored in building construction. He produced consistently and appeared in 13 games each of his three years. As a junior, he caught 21 passes for 240 yards and five touchdowns. He was also used in the rushing game, logging 11 attempts for 33 yards.
Caserio said Keene's catch-and-run plays stood out to the Patriots. Keene, who played multiple positions throughout high school, said he prides himself on his versatility and models his game after San Francisco 49ers tight end George Kittle.
As for why the Patriots decided to draft two tight ends?
"I don't think the intention is ever to double up," Caserio said. "On the surface, it might look like it's the same, but there could be some subtle differences in terms of how they're deployed. Ultimately, you're just trying to figure out what they do well and trying to accentuate the players' strengths. They could be used similarly or differently."
The pair were actually roommates during the NFL Scouting Combine.
"I got a chance to get to know [Devin] and he's an awesome guy," Keene said. "I couldn't be more excited to start to develop our relationship, and I think we're going to do a lot of really good things."
"Dalton was a great roommate," added Asiasi. "We were both there to do our thing and go out there and perform and perform to the best of our abilities. We definitely did that, and I felt like after the whole Combine went down, we kind of relaxed and had a good conversation about the whole thing."