NFL Draft
The Patriots select Kyle Dugger with 37th overall pick in 2020 NFL Draft
Dugger is a 24-year-old safety out of Lenoir-Rhyne.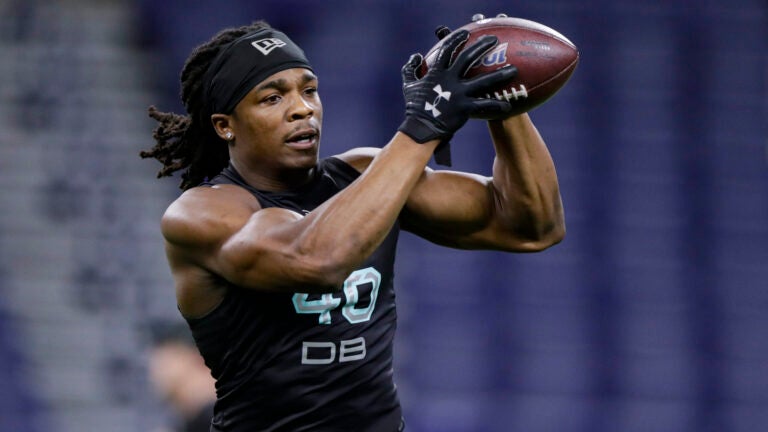 The Patriots selected safety Kyle Dugger with the 37th overall pick in the second round of the 2020 NFL Draft Friday night.
"It's really an unexplainable feeling," Dugger said in a conference call shortly after the selection was announced. "I'm still kind of shocked, honestly."
Dugger, a Division II product who spent six years in college, said he knew the Patriots were interested in him because he spoke to the team, specifically coaching assistant Brian Belichick, multiple times during the pre-draft process. During those conversations, according to Dugger, the team was interested in gaining more information about his character, his approach to the game, and "how [he learns] as a person."
"The way they talked about football is very detailed," Dugger said. "I definitely enjoyed that."
Dugger described himself as a "versatile" player with "a high IQ." The 24-year-old defensive back has experience both in the secondary and on special teams. His best college season came as a junior at Lenoir-Rhyne in 2018, when he played 14 games and recorded 50 solo tackles, three interceptions, and two forced fumbles. That year, he also returned 31 punts for 534 yards (17.2 average yards/return) and nine kickoffs for 180 yards (20 average yards/return).
Patriots director of player personnel Nick Caserio identified Dugger as one of the three players the team was targeting in the second round of the draft.
"He's big he's tough, he's fast, he's smart," Caserio said in a conference call at the conclusion of the third round. "He's a fairly mature kid. He's a little bit older at 24 years old."
Dugger's senior season was truncated by a hand injury, as he appeared in only seven games. Still, he earned second-team All-American and first-team All-South Atlantic honors. He also won the NCAA's Cliff Harris Award, which is presented to the nation's small college defensive player of the year, and was the only Division II player invited to the Senior Bowl.
"Division II football, it may be different in the way that the program wasn't made to produce an NFL player," Dugger said. "A lot of the things, if I wanted to get better, I would have to take it into my own hands, as far as my work ethic."
At the NFL Scouting Combine, the 6-foot-2, 220-pound Dugger ran the 40-yard dash in 4.49 seconds and registered a vertical leap of 42 inches. He is the first player drafted out of Lenoir-Rhyne since defensive end John Milem was selected 150th overall by the San Francisco 49ers in 2000.
A Georgia native, Dugger also played basketball in high school and did not start on the football team until his senior year. He did not receive any Division I offers, which he says created a chip that has grown into "a mountain" on his shoulder.
"I definitely feel that's going to be permanent and I'm going to carry that throughout my career as long as I have an opportunity to play the game," he said.
Added Caserio: "It's not really where about they come from or how they do it, it's what they do while they're here."
As for what Dugger knows about the Patriots' current situation?
"They're a professional, great organization," Dugger said. "They know how to win. They know the little details. They're detailed-oriented. They're all bought-in. They take it seriously."
Veteran safety Devin McCourty was one of the first players to welcome Dugger to the team.
https://twitter.com/McCourtyTwins/status/1253852817514692608