Patriots
How people are reacting to quarterback Cam Newton's one-year deal with the Patriots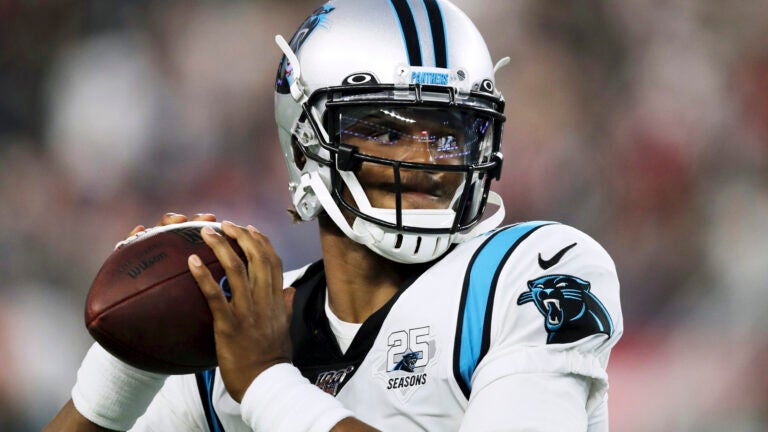 Former Carolina Panthers quarterback Cam Newton has agreed to a one-year contract with the Patriots — and NFL players, his future teammates, and even Boston officials are hyped.
Boston Mayor Martin J. Walsh was quick to give the former Carolina Panthers MVP a warm welcome Sunday evening.
.@CameronNewton, welcome to New England #PatriotsNation – MJW https://t.co/sTyPKx7Git

— Mayor Marty Walsh (@marty_walsh) June 29, 2020
There was a flurry of eyeball emojis, from New England's secondary, including Stephon Gilmore, Joejuan Williams, and the McCourty twins, as well as linebacker Ja'Whaun Bentley and running back James White.
👀

— The Gilly Lock (@BumpNrunGilm0re) June 29, 2020
Cam👀👀👀

— Joejuan Williams (@JoejuanW) June 29, 2020
— Devin&Jason McCourty (@McCourtyTwins) June 29, 2020
— Ja'Whaun Bentley🎈 (@NVBentley33) June 28, 2020
— James White (@SweetFeet_White) June 29, 2020
Safety Adrian Phillips offered a GIF when the news broke.
— Adrian Phillips (@Phillips_17) June 29, 2020
Brandon Copeland, a linebacker who signed with the Patriots this offseason, also offered his support. 
😂😂😂 … feels good to be on a different side of this for a change!! I see you @Patriots 🙌🏾🙌🏾 – Now let me hold up my end of the deal! #Hustle #Different https://t.co/etqM2CIydN

— Brandon Copeland (@bcope51) June 29, 2020
Same with Greg Olsen, tight end for the Seattle Seahawks and a former teammate of Newton's in Carolina. New York Jets safety Jamal Adams, Las Vegas Raiders linebacker Will Compton, San Francisco 49ers cornerback Richard Sherman, and free agent wide receiver Dez Bryant also reacted on Twitter.
Couldn't be happier for @CameronNewton! Patriots are getting a stud!! 👏👏👏

— Greg Olsen (@gregolsen88) June 29, 2020
I salute Coach Bill Belichick for that!
That's Real. Congratulations Cam!

— Jamal Adams (@Prez) June 29, 2020
Bill after getting off the phone with @CameronNewton pic.twitter.com/CD4nO1sGJm

— Will Compton (@_willcompton) June 29, 2020
How many former League MVPs have had to sign for the min? (Asking for a friend.) just ridiculous. A transcendent talent and less talented QBs are getting 15/16m a year. Disgusting https://t.co/eZycGL8qkZ

— Richard Sherman (@RSherman_25) June 29, 2020
Congratulations to @CameronNewton that's major 🙏🏿 https://t.co/ZGALliq0Me

— Dez Bryant (@DezBryant) June 29, 2020