Patriots
Cam Newton rushes for two touchdowns in Patriots' 21-11 win over Dolphins
The Patriots moved to 1-0 on the 2020 season with the win.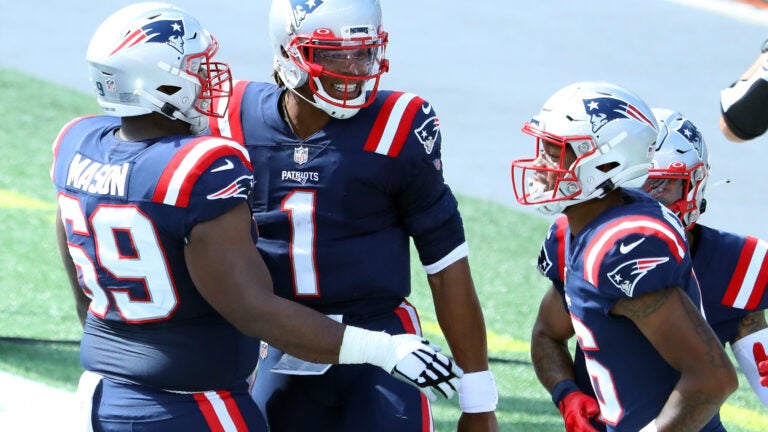 Final: Patriots 21, Dolphins 11
The Patriots got the post-Tom Brady Era started with a bang Sunday, with Cam Newton running for a pair of touchdowns and the defense forcing three turnovers on the way to a 21-11 win in an empty Gillette Stadium.
Newton was 15-for-19 for 155 yards passing and the New England running game dictated the tempo for much of the afternoon, as the Patriots ran the ball relatively easily.
The new Patriots quarterback had 15 carries for 75 yards and two TDs while Sony Michel added 10 carries for 37 yards and a touchdown. Rex Burkhead finished with seven carries for 32 yards.
In all, it was the most rushing yardage (217) in a game for the Patriots since they finished with 273 rushing yards in a December 2018 victory over the Bills.
New England took a 7-3 lead at the half, thanks in part to Newton's first touchdown as a Patriot, a four-yard burst around right end that made it 7-0 early in the second quarter. Miami answered with a field goal from Jason Sanders to cut the lead to 7-3.
The Patriots made it 14-3 early in the third on another drive that ended with a one-yard run from Newton. However, Miami answered – after forcing a fumble on New England receiver N'Keal Harry, they added a Jordan Howard touchdown and two-pointer to make it 14-11 with just over 10 minutes to go.
But Newton and the Patriots put the stamp on the game in the fourth with an impressive 10-play, 75-yard drive that included Newton picking up a fourth-and-inches, and was capped with a one-yard plunge from Michel.
A late Miami comeback attempt was foiled when J.C. Jackson picked off Ryan Fitzpatrick in the end zone with less than two minutes to go.
Here's how the game played out:
3:45 p.m.: A J.C. Jackson interception — the third of the day for the Patriots — gives New England the ball back with less than two minutes to go. That should do it.
3:31 p.m.: And they do. Michel finishes it off from the 1-yard line, and with the extra point, the Patriots go up 21-11. That should be enough for the win. Good, tough drive from New England that milked a lot of clock — it'll be a real challenge for the Dolphins to try and come back from this one, especially with the way the Patriots are moving the ball on the ground.
3:27 p.m.: Big play picking up that fourth-down conversion after the Dolphins' have a successful challenge. Newton gets the first down, and the Patriots are on the doorstep. Have to finish it off here.
3:20 p.m.: More of the same here from the Patriots on this fourth-quarter drive. Sometimes, it isn't hard — Miami can't stop New England's ground game. Why vary it too much? The Patriots are nearing 200 yards on the ground, the most since they had 273 rushing yards against the Bills in December 2018.
3:13 p.m.: Miami takes advantage with a red-zone touchdown, turning the turnover (and gift from Gilmore) into points. The Patriots are up 14-11 after the two-pointer (a run from Fitzpatrick). Suddenly, we go from the possibility of 21-3 to 14-11. New England had this thing put away before the Harry fumble, but now, the Pats will have to answer with a big drive. Going to be interested to see how Newton treats Harry on this drive — in year's past, we'd see Brady freeze out a youngster who made a similar sort of mistake in a big moment.
3:07 p.m.: That flag on Gilmore is the first penalty of the game on the Patriots, and on the heels of the Harry fumble, really stings. It keeps the Miami drive moving, and the Dolphins are nearing the New England end zone.
3rd quarter: Patriots 14, Dolphins 3
2:59 p.m.: N'Keal Harry fumbles the ball through the end zone at the end of that drive, and that ball goes back to Miami. Ouch. Harry had been enjoying a really nice drive at that point, but that fumble — the first turnover of the day for the New England offense — is a toughie. Let's see if Miami can recover.
2:54 p.m.:
Three straight plays for rookie J.J. Taylor go for 17 yards. A 5 foot 6, undrafted rookie free agent out of Arizona is getting good PT

— Ben Volin (@BenVolin) September 13, 2020
2:52 p.m.: Newton has now completed nine of his last 11 passes and first six attempts of the second half as the Patriots continue to march down the field. Really good stretch for him.
2:45 p.m.: Look, these are super-early, Dixville Notch-style returns. But the fact that Newton has started the game 10-for-13 has to be mentioned. There was a lot of talk this offseason about Newton's accuracy, but through two-plus quarters, it's been a very good start for him in that regard, particularly when it comes to his decision-making.
2:40 p.m.: Like we said, a good, statement drive for the Patriots there to open the second half, one that was punctuated by an 11-yard touchdown run on the part of Newton. Way to put his stamp on the game so far. Overall, lots of running, but a good mix of run and pass. Love the fact that Newton handed the ball to David Andrews to deliver the spike.
Halftime analysis
2:25 p.m.: A weird first half — no crowd means little energy, and while it feels like both teams are doing their best to try and give their team a spark, it's still a surreal atmosphere at Gillette. A few halftime takeaways:
-Some of it can no doubt be explained away by the fact that it's the first game of the season and they have a new offensive scheme, and they are facing a team that wasn't great against the run last year. But the New England running game is pretty impressive. They started strong and then tailed off a bit, but the Pats have 88 rushing yards as a team through the first two quarters. Burkhead has 29 yards and Newton has 24 — some of them out of designed carries and some from scrambles. Regardless, it's an interesting offensive wrinkle we haven't seen much from the Patriots in the past.
-The defense has been good, stiffening when needed while not allowing a touchdown and finishing the first half with two takeaways. Gilmore is just such a world-class talent at corner, and his early interception was another symbol of that. Nice drop into coverage and snag from Adrian Phillips as well to stop that late Miami drive. The Dolphins are moving a little too easily early in their drives (more the second quarter than the first), but all in all, a pretty good half for the New England defense.
-That 45-yard field-goal attempt that was missed by Folk at the end of the half is a toughie. (The Byrd bobble was a brief heart stopper as well.) In a close one like this, you hope that miss doesn't come back to haunt you. But on another special teams note, the Patriots got good coverage on their punts.
-No penalties and no turnovers for the Patriots in the first two quarters. They will get the ball to start the second half — important statement drive for them here. A good sustained ground attack to open the third quarter will set them on the right path to a win.
2nd quarter: Patriots 7, Dolphins 3
2:17 p.m.: Nick Folk missed on a 45-yarder just before the end of the half, which means it'll be a 7-3 score at the half.
2:13 p.m.: Annnnd, they did just that. Adrian Phillips with a nice job dropping into coverage and coming away with the ball. Nice stand for the New England defense to again blunt a Miami drive. Good half for the Patriots on the defensive side of the ball — two picks and no touchdowns allowed.
2:08 p.m.: Miami is going to have to throw to move it down the field in this two-minute situation. Let's see if the New England secondary can rise to the challenge.
1:57 p.m.: The Dolphins get a 46-yarder from Jason Sanders to cut New England's lead to 7-3. Pats were able to slow a pretty good sequence on the part of the Miami offense there and still maintain the lead. New England will get the ball back with 3:53 to go in the first half. Remember — the Patriots will get the ball to start the second half. Maybe aiming for one of those wraparound halftime scores here?
1:55 p.m.: All right, well Collins doesn't necessarily seem to be in the wrong here.
Jamie Collins just got kicked out of the game for this!!! pic.twitter.com/OdvsRc2IlR

— Jordan Dajani (@JordanDajani) September 13, 2020
1:54 p.m.: Miami is starting to get some offensive rhythm here in the second quarter, crossing into New England territory for the first time all afternoon. Nice sequence for the Dolphins' offense, which is getting a good mix of run and pass with Fitzpatrick back there.
1:49 p.m.: Interesting:
Jamie Collins just thrown out of the game for ramming his helmet into referee Alex Kemp

— Dave Birkett (@davebirkett) September 13, 2020
1:48 p.m.: Feels like the Patriots wasted an opportunity there — nice pick, decent field position, but ended up punting. We'll see if it comes back to haunt them, but the Dolphins get the ball back deep in their own territory close to the midway point of the second quarter, down 7-0.
1:44 p.m.: Typical Gilmore pick there — smart and savvy move that'll give the ball back to the Patriots here with just over 11 minutes to go in the first half. Really good sequence of complementary football here at the start of the second quarter for New England.
1:39 p.m.: An 11-play, 80-yard drive for the Patriots is capped by a relatively easy 4-yard run by Newton for his first career touchdown with New England. The Patriots are up 7-0 with 13:12 to go in the first half. Again … this offense is going to run the ball, and do it fairly well. An impressive sequence for Newton and the Patriots.
CAAAAAAAAAAAM!@CameronNewton scores his first touchdown with the @Patriots! #GoPats

📺: #MIAvsNE on CBS
📱: NFL app // Yahoo Sports app: https://t.co/DTlgEUZamw pic.twitter.com/Iy67tjNvO6

— NFL (@NFL) September 13, 2020
1st quarter: Patriots 0, Dolphins 0
1:33 p.m.: Stat check at the end of the first quarter: Burkhead, 4 carries, 23 yards; Newton, 2 carries, 15 yards; Newton 3-4, 41 yards.
1:29 p.m.: Look, you have to take things into account because it's the first game of the year. But if the first couple of series are any indication, this New England offense should really be able to move the ball on the ground. Newton and the return of David Andrews make a big difference. The Patriots have 53 rushing yards here late in the first quarter.
1:22 p.m.: Noteworthy personnel shift after that early bobble.
Julian Edelman back to fielding punts after Damiere Byrd's muff on his first attempt. #Patriots

— Jim McBride (@globejimmcbride) September 13, 2020
1:20 p.m.: Nice tackle from Winovich on that second down running play to stop the back in his tracks and set up third and long. Winning on first and second down sets you up for success, and that's what we saw on that sequence for the Patriots. Miami will punt the ball away for the second time on the afternoon — the Dolphins did get a first down on that drive, but it was a good sequence overall for the Patriots' defense.
1:12 p.m.: Patriots offensive starters — Newton, Michel, Harry, Byrd, Izzo, Onwenu, Wynn, Thuney, Andrews, Mason, Eluemunor. Bad drop on that ball for Edelman put the Patriots in a hole, and they'll punt it away.
1:09 p.m.: Newton in shotgun. Fakes handoff (or hands the ball off), run behind that offensive line. Going to see a lot of that this year. The New England offense is moving early with five straight running plays.
1:06 p.m.: Good three-and-out to start there for the New England defense, but all that good feeling was almost thrown out the window when Byrd juggled the punt return. New England starts on its own 20.
1:05 p.m.: Local favorite Teddy Karras opens as the center for Miami, working with Ryan Fitzpatrick.
Pregame
1:01 p.m.: Patriots win the toss and defer. Time for the foosball!
12:53 p.m.: Feels about right. We'll see how it all shakes out this afternoon.
You guys are saying #Patriots by single digits. pic.twitter.com/L6cAYjJAUG

— Boston Globe Sports (@BGlobeSports) September 13, 2020
12:42 p.m.: As they indicated in a video message earlier in the week, the Dolphins were not the field.
#Patriots, including coaches and owners Robert and Jonathan Kraft have assembled en masse in north end zone as video plays above. pic.twitter.com/JHWHcIHKKt

— Jim McBride (@globejimmcbride) September 13, 2020
12:37 p.m.: For the record, I'm taking the Patriots today, 24-20. James White and Julian Edelman have big days. Think it's going to be relatively close throughout, but the New England defense — a Gilmore pick or a sack from a handful of candidates, including Winovich — makes a play at the end to make the difference.
12:26 p.m.:
#Patriots owner Robert Kraft chats with Ernie Adams. pic.twitter.com/X1KPKtHrJ2

— Jim McBride (@globejimmcbride) September 13, 2020
12:22 p.m.: Jim Nantz, Tony Romo, and Tracy Wolfson on the call for Patriots-Dolphins. Overall, since the start of the 2017 season (including playoffs), New England is 15-4 with them at the mic.
12:12 p.m.:
Cam Newton's Week 1 look: pic.twitter.com/K60KxzEXCy

— Boston.com Patriots News (@BDCPatriots) September 13, 2020
11:58 a.m.:
Nick Folk just drilled a 45-yard field goal off a tee through the south end (no lighthouse) goal posts. Would have been good from 50. #Patriots

— Jim McBride (@globejimmcbride) September 13, 2020
11:52 a.m.: Said this before, but the more I consider it, the more it makes sense: For those of us — and I'm including myself in this conversation — who thought Uche would be the sort of guy who makes a sudden impact and were a little surprised he was inactive today, consider the Miami passing game. In all likelihood, this is a personnel move designed to get an extra defensive back on the field. I want to see how the defensive personnel packages look this afternoon, but that could be the reason he's not playing today. Just my two cents.
11:44 a.m.: Doesn't look like weather is going to be an issue this afternoon in Foxborough. According to weather.com, it should be in the low 70s, partly cloudy to mostly sunny, and a minimal chance of precipitation. Good day for football.
11:37 a.m.
Cam Newton's weapons vs. Dolphins today:

WR: Edelman, Harry, Meyers, Byrd

RB: Michel, White, Burkhead, Taylor

TE: Asiasi, Izzo

FB: Johnson

Doesn't look much different from what Brady had to work with last year.

— Ben Volin (@BenVolin) September 13, 2020
11:32 a.m.: Josh Uche, Cassh Maluia, Jarrett Stidham, Korey Cunningham and Dalton Keene are the Patriots inactives. No tremendous surprises here — the majority of those guys have either been banged up, or the victim of personnel battles. Two of the younger linebackers are down in Uche and Maluia, which should test their depth. And the tackle depth would still worry me, especially with Cunningham out. We'll see how it all shakes out this afternoon.
11:22 a.m.: Inactives should be along at the bottom of the hour. In the meantime, chime in on the pregame prediction poll:
Give us a final score for today's game:

— Boston Globe Sports (@BGlobeSports) September 13, 2020
11:20 a.m.: Last line we got from our pals at Odds Shark have the Patriots as a 6.5-point favorite this afternoon. Still feels about right. As of late this week, here's how they felt about the rest of the NFL slate:
#NFL Week 1 Spreads

HOU @ KC -9 ✅

MIA @ NE -6.5
CLE @ BAL -8
NYJ @ BUF -6.5
LV -3 @ CAR
SEA -2 @ ATL
PHI -6 @ WAS
CHI @ DET -3
IND -9.5 @ JAX
GB @ MIN -2.5

LAC -3 @ CIN
ARZ @ SF -7
TB @ NO -3.5

DAL -3 @ LAR

PIT -6 @ NYG
TEN -2.5 @ DEN

— BetOnline.ag (@betonline_ag) September 11, 2020
11 a.m. Welcome back to football! The 2020 regular season technically started Thursday night, but Sunday marks the beginning for most teams, including the Patriots. Keep it here all afternoon for the latest updates on the New England-Miami opener. Between now and kickoff, we'll have an inactive analysis, the final betting line, weather updates, and the latest updates from Foxborough.
Pregame reading
Get Boston.com's browser alerts:
Enable breaking news notifications straight to your internet browser.