Patriots
5 takeaways from the Patriots' 27-20 loss to the Texans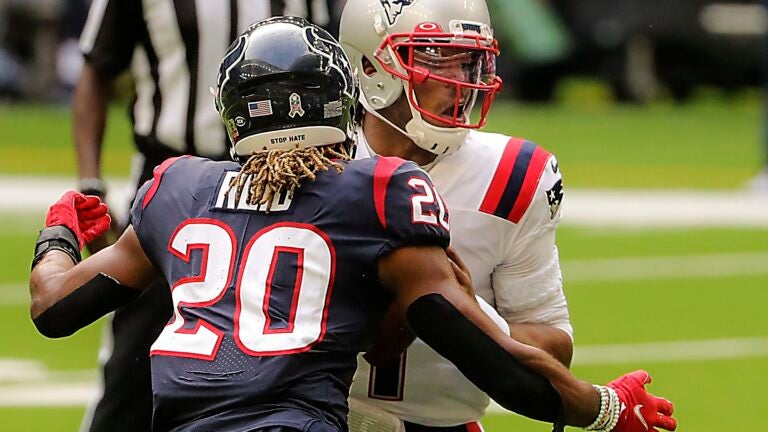 COMMENTARY
Five takeaways from the Patriots' 27-20 reality check of a loss to the Texans, which looks like the death knell for the fleeting playoff hopes of Bill Belichick and Cam Newton…
Bad teams find ways to lose.
After a couple of wins, optimism appeared to be growing about the Patriots' chances of making a run at the playoffs. Around New England, the hopeful began paying attention to the schedule and the matchups and the permutations of what might happen to help the Pats. Many crunching the numbers to determine what margin for error Bill Belichick's team had as it tried to navigate through the logjam ahead of them in the conference.
All that math and all those projections failed to account for one truth, though.
Bad teams find ways to lose games.
And once again Sunday — as they have over much of this season — the Patriots showed themselves to be a bad team.
"It's rough. That's what makes the difference in this league," said receiver Damiere Byrd. "You look across the league and it usually comes down to one possession, one play, two plays, to tie it up or to take the lead. That's the difference."
Sunday's game marked the fifth time this season that the Patriots had the ball in the final minute with a chance to win the game. It was the fourth time in those five games that they've failed to make the plays necessary to win.
The one exception came against the Jets, who are 2020's standard bearers of the title, "bad football team."
At different times there have been different troubles, but this latest loss reflected a collection of little mistakes. An ability to rush the passer. Bad tackling. Trouble picking up blitzers. Short-hopped throws. Ill-timed and uncharacteristic penalties. Questionable clock management.
Those happen to good teams, too — but bad teams incur them in such a volume that it's too difficult to overcome. Bad teams don't have the capability to seize the moment when presented with a chance to pull one from the fire.
Bad teams also don't close with six straight wins, which is realistically what the Patriots need to do at this point to get into the playoffs. The math and the path don't matter now, unless New England runs a table set with four more teams that began Week 11 with at least six wins.
It used to be said around here that football season started after Thanksgiving. We're not even there yet, and this season's already over.
Undone by a lack of pressure
Stephon Gilmore returned to the lineup, and with that the Patriots' starting secondary was intact for the first time this month. Logically, that would've equipped the Pats to prevent a performance like the one DeShaun Watson delivered in the first half — yet the Texans' quarterback went to intermission with 241 passing yards and a couple of touchdown tosses.
Certainly the New England secondary deserves some blame for that obliteration. However, the primary problem with the Pats' defense against the pass Sunday appeared to be the club's inability to get any sort of productive pressure on Watson, which is an issue that starts with the guys up front.
Too often, Houston's receivers and tight ends had the time they needed to not only get up the field, but to get into their routes and give their quarterback an open target. Watson is way too good to be afforded such opportunity, and even when the Patriots disrupted his pocket he was way-too-easily able to extend the play by sliding into space. Even when New England's defenders looked like they were close, it was clear Watson wasn't being rattled.
Part of the ineffectiveness appeared to be the scheme, with the Pats opting for lighter personnel packages that favored an extra safety at the expense of the front (six or) seven. But with the Texans missing the left side of their offensive line, including franchise tackle Laremy Tunsil, the Patriots' defensive line had to be better. They had to be more competitive. Even if they couldn't get home, or even if Watson was too athletic to sack, they had to at least cause him some trouble.
Because they couldn't, it didn't much matter who the Patriots were playing in the secondary.
The Pats are playing scared on 3rd down.
It's long since been apparent that these Patriots aren't built to chase — be it from behind on the scoreboard or behind the chains. They need to get a lead, or at least keep it close. Just as important is to avoid mistakes on the early downs, and get to third and manageable.
Those have been part of their reality since September. Sunday, though, the play-calling of Josh McDaniels and decisions of Cam Newton suggested that third-and-long isn't simply a tough task for the Patriots. Its a predicament they've come to fear.
The team's 0-for-October demonstrated how debilitating turnovers are for a team like the Patriots, and to their credit they've done a far better job protecting the football in recent weeks. But part of their improvement in that area has been a more conservative game plan, and an approach that asks the quarterback to take fewer risks.
Third down tends to be an inherently risky juncture, especially when there's a significant distance required to reset the markers and extend the drive. Many times it calls for a throw into traffic, or at least down the field.
That, though, appears to be a risk the Patriots aren't willing to take. Instead, their preference is to play it safe, and almost concede the possession.
Consider this: Prior to their final possession, when desperation levels left no room for timidness, the Patriots faced seven third-down situations needing at least seven yards. Five times, Newton's throw went to a target behind the line of scrimmage. Forget throwing down the field. Or even to the sticks. Until the scoreboard left them with no other choice, the Pats' opted to dump it into the flats.
Clearly, they were more willing to live with the consequences of a play with a slim chance on conversion than they were putting themselves in position to commit a turnover. Maybe that's just good, smart, conservative football.
Or maybe it's playing scared.
Questionable clock management
The Patriots took possession with four minutes and 11 seconds left in regulation, starting from their own 25 yard line with all three of their timeouts remaining. Trailing by seven, the urgency of that drive was apparent.
Or, at least it should've been.
Instead, the Patriots slow-played it. They huddled after picking up a first down on a throw to Jakobi Meyers. They walked back to the line after a four-yard pickup by N'Keal Harry on the next play. Between the 3:20 and 1:56 marks on the clock, those and a six-yard hookup with Harry were the only three plays they executed. The Texans couldn't have been upset to concede those 24 yards in exchange for 84 seconds of clock.
Coming out of the two-minute warning, there was another short pass, to James White. Again, New England was in no rush — to the extent that 24 seconds expired, and the clock only stopped because one of Houston's defenders was hurt.
The two ensuing plays were an incompletion and a White run. At that point the Pats finally spent its first timeout — perhaps only because they were forced into it, by rule, because tackle Isaiah Wynn needed the trainer.
At that point, the Pats were not in a bad spot. They had 1:20 on the clock, and were facing third and four from the Texans' 24. Convert there, and they're in business.
But the problem is that the approach to time management put all of the pressure, and all the Pats' eggs, in the basket being carried by that drive. If they'd acted more urgently, and hurried, or at least not huddled, maybe they could've taken the field goal try there. Maybe it would've happened before the two-minute warning. Maybe they could've at least extended the game to give themselves another legitimate possession.
Rather, when they turned it over on downs, the game was essentially over. In fact, Belichick took his headset off, and then let the Texans burn the play clock after a first-down run. The Pats could only stop it twice, so there's a good chance Houston was going to run that clock at some point. But why not call the timeouts on first and second downs, and at least leave Romeo Crennel with a decision to make about maybe throwing the ball on third down. Remember, Crennel went for two in an effort to put a game away earlier this year. Would he authorize a potential win-clinching throw, instead of simply running the ball to kill clock.
We'll never know. Instead, Belichick opted for the same slow-play, play-for-one-chance approach as he did earlier against the Bills and Jets — when he seemed similarly unconvinced his offense was capable of executing under expedited conditions.
There were some positives!
At 4-6, and on the verge of playing out the string, the Pats are fast-approaching the point when each week is about progress and pulling positives. And there were some positives to be taken out of Sunday afternoon.
Damiere Byrd was excellent, making a highlight-level adjustment for a 42-yard touchdown, and coming up big on several occasions en route to six catches for 132 yards. N'Keal Harry's five catches were nondescript, generally, but the Pats' receiving corps accounted for 15 catches in total. That's progress.
Damien Harris looked good early, dominating New England's opening series on his way to the end zone. His lack of usage from there was frustrating, but he continued to establish himself as New England's No. 1 back. It was also good to see White in the fold again, getting 11 touches after playing only 10 total snaps a week earlier.
The offense also went without a turnover for the third straight contest, and converted seven of 13 first downs.
After giving up 16 first downs on 33 plays in the first half, the Pats defense at least improved to the point it yielded only five first downs on 23 snaps in the second half, without allowing a touchdown. It's also a credit to the defense that the unit was effective against the run for a third straight week. At 2.9 yard per attempt, they surrendered only 55 yards on the ground. Rookie Kyle Dugger's ability to penetrate was a factor in that.
Unfortunately, though, the ratio of positive Sunday was aligned with their record for the season: more often than not, they weren't good enough.
Get Boston.com's browser alerts:
Enable breaking news notifications straight to your internet browser.