Patriots
NFL Draft 2021: Patriots double down on defense, pick Alabama's Christian Barmore, Oklahoma's Ronnie Perkins on Day 2
The Patriots will wait until deep into the third round to make their second pick of the evening.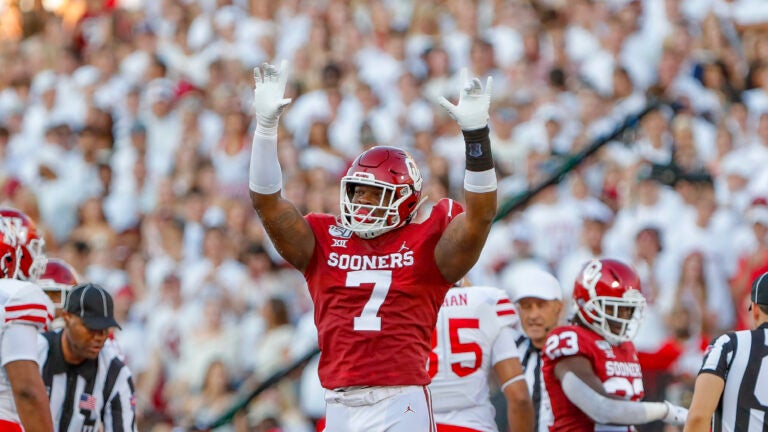 Day 2 of the 2021 NFL Draft is underway. 
The Patriots entered Friday with two picks, but now, after the trade up for defensive tackle Christian Barmore, have one more choice tonight at No. 96. They forfeited a second third-round pick because of the videotaping flap involving the Bengals.
Follow along for live updates. Click here to refresh this page.
OU's Riley talks Perkins — 11:36 p.m.
In the wake of the character questions that might come up around Perkins, thought this statement here that was released Friday night from his college coach after he was drafted was interesting. Calls Perkins a "leader."
Here's #Sooners head coach Lincoln Riley on Ronnie Perkins being drafted by the Patriots. pic.twitter.com/lfvMgU9lry

— Nate Feken (@TheGreat_Nate) May 1, 2021
Perkins' highlights show disruptive defender — 11:33 p.m.
Impressed by this package of Perkins' highlights while at Oklahoma. I know these are cherry picked, but the film shows a disruptive pass rusher off the edge, capable of creating havoc in the backfield. I'd like to see more of his work as an edge-setter, but when it comes to getting after the passer, the first impressions are solid.
A few quick thoughts on Perkins — 11:29 p.m.
Some initial thoughts on the selection of Ronnie Perkins with the 96th overall pick:
-The stats reveal a good edge defender who also carved out a niche as a quality pass rusher. He figures to jump in immediately when it comes to competition for action on the end of the line.
-Some off-field questions that have to be answered with Perkins, as he was suspended for a failed drug test while in college — as a result, he missed one game at the end of 2019, and failing the NCAA-administered test knocked Perkins out of the first half of the 2020 season as well. But when he's been healthy and on the field, he's been a dominant player, with 5.5 sacks and 10.5 tackles for loss in just six games in 2020.
-You want to know what Perkins' initial claim to fame in New England football lore might be? He was taken with the 96th selection overall, and was a compensatory pick for losing Tom Brady to the Buccaneers in free agency.
Patriots take Ronnie Perkins — 11:15 p.m.
The Patriots selected Oklahoma defensive end Ronnie Perkins with the 96th pick in the NFL Draft.
The 6-foot-3, 247-pounder had 32 tackles for loss and 16.5 sacks in three seasons with the Sooners.
The 21-year-old Perkins is the third player taken by New England, following quarterback Mac Jones (Alabama) and defensive tackle Christian Barmore (Alabama).
More from Barmore — 11:04 p.m.
What kind of player are the Patriots getting in Christian Barmore? 'I'm a dominant player'
Best available Alabama player? — 10:57 p.m.
This is only partly tongue-in-cheek, but the following Tide players are still on the board as we approach No. 96.
Linebacker Dylan Moses
Offensive line Deonte Brown
Tight ends Miller Forristall and Carl Tucker
Long snapper Thomas Fletcher
BC's Long to Miami— 10:26 p.m.
Miami coach Brian Flores — who starred at BC as a player — picked a fellow Eagle at No. 81, as the Dolphins plucked BC tight end Hunter Long early in the third round. The 6-foot-5, 253-pound Long had 89 catches for 1,297 yards and nine touchdowns in three seasons at The Heights.
We're 15 picks from the Patriots at No. 96.
Barmore: 'I like winners' — 10:07 p.m.
Christian Barmore just wrapped up a conference call with the New England media. Here are a few highlights:
What was your reaction when you got the call from Coach Bill Belichick and the Patriots?
"It was a dream come true, like a blessing from God. For Coach Belichick and Robert Kraft – it really is a blessing. Literally my favorite team growing up and it's a real blessing."
Did you play mostly at the three-technique spot or what were some of the techniques that they had you play at Alabama?
"I played everywhere where they put me at. Everybody told me I played – literally at Alabama, we move everywhere on the d-line. So, I played everywhere they wanted me to play."
What kind of relationship did you have with the other Alabama players on the roster like Mac Jones and Anfernee Jennings?
"Mac Jones, that's really my guy. Since really my freshman year, I've known this guy and always been with him every day. That's really my guy right there, you know?"
What was your contact like with the Patriots from after you started the draft process up until tonight?
"I can't give you that info, man. Literally, I can't give you that info [laughs]. You know Coach doesn't like that."
Were you surprised to be taken late and how does it feel to be joining a team with Alabama alumni Dont'a Hightower, Damien Harris and Anfernee Jennings?
"Yeah, I was a little surprised. But I'm really happy to be playing with the OG Dont'a Hightower, it's a blessing. Playing with guys like them – I played with Damian my first few years, it's really a blessing come true. Like a group coming back home."
You mentioned that the Patriots were your favorite team growing up. Were there any players in particular that you modeled your game after and what's it like going from that to being a part of the organization now?
"I don't model my game after anybody, I play like myself. But I'm really blessed to play for the Patriots really. Trust me, I'm going to be the player that I can be for the team."
Why is it that the Patriots were your favorite team growing up?
"One, because you know, my favorite college team was Alabama. So I loved dominance. It's like the same program, just in the NFL. And they're winners, I love winners."
Texans get a QB — 9:52 p.m.
Like the choice of Davis Mills by the Texans at No. 67, but he is walking into an awfully tough situation. A team that's starting from (almost) zero, and there's a ton of uncertainty around Deshaun Watson. I think Mills has a chance to be really good, and the expectations will likely be low for him if he's the starter, but he'll have a lot to overcome.
This struck me as weird — 9:46 p.m.
I'm glad I'm not the only one who thought this was odd.
Rams have a portrait of Rodger Goodell in the draft room lmao pic.twitter.com/3VuxbzbY1p

— Warren Sharp (@SharpFootball) May 1, 2021
QB Trask will back up Brady — 9:34 p.m.
Florida's Kyle Trask was taken by the Tampa Bay Buccaneers, and now assumes the role of Tom Brady's primary backup with the Bucs. Brady had had a long line of No. 2s in New England, but this feels a little like when the Patriots went after Jimmy Garoppolo in the second round of the 2014 draft. Going to be interesting to see how Brady relates to the youngster.
Pats' draft tidbits — 9:21 p.m.
A few Patriots-related draft nuggets as we sit and wait for a trade or No. 96.
-The Patriots drafted two players from Alabama in Mac Jones and Christian Barmore. It marks the 14th time under Bill Belichick that the Patriots selected at least two players from one school in a single draft. (Last year, they did it with Michigan's Josh Uche in the second round and Mike Onwenu in the sixth round.)
-With the Patriots trade up to get Barmore, it means that 2004 will remain the only draft where Bill Belichick did not make a single trade.
-With the Jones/Barmore combo, the Patriots' franchise has now taken 17 players out of Alabama in the current draft era (including the supplemental draft). Boston College is the most with 23, while Michigan is second with 20.
Bay State native goes to Pittsburgh — 8:55 p.m.
The Steelers took Massachusetts native Pat Freiermuth out of Penn State with the 55th overall choice. As a two-time captain at Penn State, the Newburyport native had 92 catches for 1,185 yards and 16 touchdowns in three seasons with the Nittany Lions. For more on Freiermuth, check out Nicole Yang's story here.
Big splash by the Browns — 8:40 p.m.
The #Browns traded up to No. 52 and take #ND LB Jeremiah Owusu-Koramoah. Compared to Shaq Thompson, he can play safety and LB.

— Ian Rapoport (@RapSheet) May 1, 2021
Checking out the rest of the AFC East — 8:37 p.m.
Late in the second round, here's a look at how the rest of the AFC East has fared when it comes to this year's draft:
Miami: WR Jaylen Waddle, DE Jaelan Phillips, S Jevon Holland, T Liam Eichenberg
Buffalo: DE Gregory Rousseau
New York Jets: QB Zach Wilson, G Alijah Vera-Tucker, WR Elijah Moore
Pats' remaining picks — 8:28 p.m.
Here's where we are at this moment when it comes to the remaining Patriots' picks.
3rd round – 96th overall
4th round -120th overall
5th round – 177th overall
6th round -188th overall
6th round -197th overall
7th round – 242nd overall
We are all officially old — 8:22 p.m.
The son of Asante Samuel — former Patriots cornerback — has been drafted by the Chargers.
ASANTE ‼️@godschild3_ | #BoltUp pic.twitter.com/LRoqunO1yI

— Los Angeles Chargers (@Chargers) May 1, 2021
Is Barmore a replacement for Butler? — 8:17 p.m.
Three more thoughts on Barmore:
-In Belichick's system, when one player leaves, you can occasionally make a one-for-one swap and immediately just plug a different player into the same scheme. With that in mind, I'm curious about the physical similarities between Barmore and recently departed defensive lineman Adam Butler, who signed with Miami in the offseason. Butler grew into an indispensable part of the defensive line, merging a growing stoutness against the run with a quick-twitch ability to get after the quarterback. Butler is 6-foot-5 and 300 pounds, while Barmore is 6-foot-5 and 310 pounds. Not saying it's going to show up right at the start of camp, but it certainly bears watching moving forward.
-I'm also trying to think of other truly disruptive interior rushers the Patriots have had over the last decade or so. Butler is one. Akiem Hicks is another. Not sure there are many others out there. Regardless, it's another interesting choice by the Patriots.
-We have advocated for the Patriots to shed some of their picks for a few reasons, not the least of which is the fact that there probably aren't a whole lot of rosters spots available. If you don't want to simply draft a bunch of tackling dummies like they did in 2007, this would seem to be the smart move — consider your depth and shed some picks. Subsequently, you get some value in return, and see where you stand at the end of the day come Sunday.
Playing catch-up — 8:10 p.m.
After the Barmore pick at No. 38, here's what's happened since:
No. 39: Chicago — T Teven Jenkins — Oklahoma State
No. 40: Atlanta — S Richie Grant — UCF
No. 41: Detroit — DT Levi Onwuzurike — Washington
No. 42: Miami — T Liam Eichenberg — Notre Dame
No. 43: Las Vegas — S Trevon Moehrig — TCU
No. 44: Dallas — CB Kelvin Joseph — Kentucky
Social media reacts to Barmore pick — 8:03 p.m.
A quick sampling of some of the reactions on Twitter to the Patriots' decision to trade up to take Christian Barmore at No. 38.
LBs for the @patriots are going to love the Christian Barmore selection. Great player.

— Tedy Bruschi (@TedyBruschi) April 30, 2021
Roll tide 😁

— Dont'a Hightower (@zeus30hightower) April 30, 2021
"I'm worried what you just heard was, "Give me a lot of Alabama players."

What I said was, 'Give me all the Alabama players you have.'" pic.twitter.com/QHJlgQ4voV

— Taylor Kyles (@tkyles39) April 30, 2021
Some Barmore highlights — 7:53 p.m.
You always take YouTube-generated highlights with a grain of salt. That being said, here's a look at some work from Barmore over the last year.
A few quick thoughts on Barmore — 7:47 p.m.
-The Patriots must have really loved this guy to swap out as much draft capital as they did and move up the board. The Bengals traded No. 38 to New England for Nos. 46, 122 and 139. Patriots aren't scheduled to pick again now until No. 96.
-A really disruptive presence who — at least at the college level — has shown a really impressive ability to pressure the passer and remain stout against the run. Those 15.5 tackles for loss in two years at Alabama really stand out.
-First time New England has gone back-to-back with the same school since they got Isaiah Wynn and Sony Michel in 2018.
Patriots draft DT Christian Barmore — 7:42 p.m.
After trading up, the Patriots take Alabama defensive tackle Christian Barmore.
Barmore is a 6-foot-5, 310-pounder who played 22 games at Alabama, and finished with 15.5 tackles for loss and 10 sacks.
He's the second straight Alabama player taken by the Patriots in this year's draft.
TRADE — 7:38 p.m.
The #Patriots have moved up to No. 38 in a trade with the Bengals.

— Jim McBride (@globejimmcbride) April 30, 2021
Miami makes its mark — 7:37 p.m.
The Dolphins take the first safety of the draft at No. 36, with Jevon Holland.
Broncos grab RB at No. 35 — 7:32 p.m.
The Broncos made a deal with the Dolphins for the No. 35 spot, and Denver takes Javonte Williams, a running back out of North Carolina. Pretty sure there wasn't much of a chance for him to drop, but if he fell for some reason — into the third round or so — I thought he would have been a possible Patriot. (Good pass catcher who might be able to step in for James White down the road.)
Jets add speedy WR Moore at No. 34 — 7:26 p.m.
The Jets take versatile Ole Miss receiver Elijah Moore at No. 34, a great choice. The guy can fly, he's tough, and has great hands—189 catches for 2,441 yards and 16 touchdowns in three years in college. New England will have its hands full facing this kid.
For what it's worth, the Patriots took Patrick Chung at No. 34 in 2009 and Steve Nelson at the same spot in 1974. Good pair of ballplayers.
Jags don't take a Clemson player — 7:20 p.m.
So the Jaguars didn't take the best available guy out of Clemson at 33. Huh. (If he had gotten a Clemson player, we would have posted the new SAT formula: Urban Meyer is to Clemson as ________ is to Rutgers.) Instead, Jacksonville went with Tyson Campbell, a defensive back out of Georgia.
Your semi-regular reminder that the Jaguars have won just 12 games since losing the 2017 AFC title game to the Patriots in Foxborough.
The Patriots pick at No. 46, which is a dozen picks away.
Wait, you said "forever"? — 6:52 p.m.
From NFL Draft Kickoff: #Patriots coach Bill Belichick is said to be excited about grooming a young QB again, which means that he'll probably now coach forever. pic.twitter.com/f9nWllRcFl

— Ian Rapoport (@RapSheet) April 30, 2021
Areas of need for Pats? — 6:15 p.m.
Lot of talk out there about perceived areas of need for the Patriots heading into tonight's second and third round. I have to believe that while wide receiver isn't an overwhelming need, they do need some depth at the position, and a Day 2 pickup would make some sense for this group. (Elijah Moorem?) I also believe that they need to come away with a cornerback at some point — J.C. Jackson will be unrestricted after the 2021 season, and it feels like things remain a little unstable when it comes to Stephon Gilmore's status. Not to say he's leaving town or anything soon, but that position just feels like it could use some reinforcements.
Two more darkhorse possibilities include running back and offensive line. We've talked a little about the fact that 2021 may have revealed the fact that some of the tread has come off James White's tires (his subpar season — for him — could also be attributed to dealing with an eventful year off the field)m, but if there's a third-down back they like at No. 96, that might be the move for New England.
Read more on Jones's blustery welcome in Foxborough from Jim McBride.
A few opening thoughts — 5:40 p.m.
-The guess here is the Patriots will trade into somewhere in the chasm between 46 and 96 for at least one more pick tonight. (You think New England might want a mulligan on that whole Bengals' videotaping flap? Sheesh.) That's an awful long time to go between picks. While the Patriots are always cognizant of building roster depth, there don't appear to be a lot of spots up for grabs at this point — maybe package a couple of Day 3 choices and move up into the 60s or 70s.
-The Patriots have made two selections at No. 46 overall in back-to-back years in 1999 and 2000. In 2000, the Patriots drafted offensive tackle Adrian Klemm, and in 1999, they drafted Patriots Hall of Fame running back Kevin Faulk. The two biggest names taken 46th overall were Hall of Famers Larry Allen (by Dallas in 1994 and Jack Lambert (by Pittsburgh in 1974).
-The 96th pick is a comp pick. The Patriots have made three selections at 96, selecting defensive tackle Vincent Valentine in 2016 out of Nebraska, offensive tackle Kenyatta Jones out of South Florida in 2001 and defensive back Maurice Hurst in 1989 out of Southern University. Hurst accumulated 27 interceptions and 95 passes defended in seven seasons with the Patriots. The most notable 96th overall pick across the league? Hall of Fame Charles Haley in 1986.
-Historically, the first round is when the Patriots take the guys they feel the most confident about — in their best years, that meant guys like Vince Wilfork and Logan Mankins. The second round is when they have gotten occasionally crazy and made some reaches. Reaches have varied, as prospects have dropped for a variety of reasons — health issues, character questions, small school prospects, or just guys who might have been position misfits in college. At their best it's landed them guys like Rob Gronkowski, Jimmy Garoppolo, Jamie Collins, Deion Branch, Sebastian Vollmer, Patrick Chung and Kyle Dugger. The flip side? It's meant fundamentally wasted picks on guys like Cyrus Jones, Jermaine Cunningham, Terrence Wheatley and Chad Jackson. So regardless of whose on the board, history says that it'll be an interesting pick from the Patriots in the second round.
Pre-draft reading list — 5:30 p.m.
We'll kick things off with a quick reading list to get you up-to-speed for tonight:
Khari Thompson: The best players the Patriots can target in Day 2 of the NFL Draft
Chad Finn: Do you want the Patriots to add offensive or defensive help in the second round?
Khari Thompson: Why Mac Jones is perfect for the Patriots – even if he's not a special talent
Nik DeCosta-Klipa: Charlie Baker draws parallels between Patriots draft pick Mac Jones and Tom Brady
Hayden Bird: NFL Draft analyst thinks Patriots' selection of Mac Jones was 'the best pick of this draft'
Chad Finn: Drafting Mac Jones was a fine decision by the Patriots, but why did it seem … boring?
Conor Roche: Tom Brady jokes that Julian Edelman was too 'scared' to tell Bill Belichick he wanted to join the Buccaneers
Khari Thompson: 'All of New England is happy with this pick': Watch as Robert Kraft, Bill Belichick welcome Mac Jones to Patriots
Check out the order for Rounds 2-7
Get Boston.com's browser alerts:
Enable breaking news notifications straight to your internet browser.