Patriots
Patriots' defense, running game bully Jets in grind-it-out win
The Patriots defense picked off Zach Wilson four times while running backs Damien Harris and James White led the way on offense.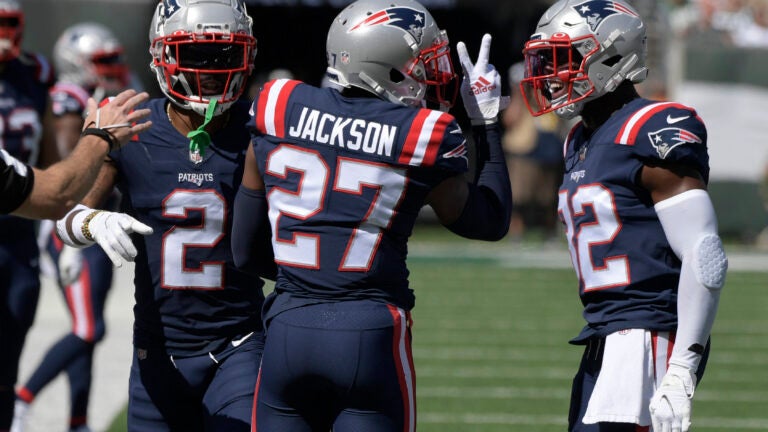 Make that 11 straight wins for the Patriots over the Jets.
New England's defense harassed Jets quarterback Zach Wilson into four interceptions, including two from J.C. Jackson, and Damien Harris bounced back from last year's devastating fumble with a tackle-breaking touchdown run that might be the team's best play of the season so far.

Rookie quarterback Mac Jones (22-for-30, 186 yards) gets his first NFL win with a careful but efficient performance while the defense and running game, led by Harris and James White, carried the day.

Here's a recap of the action.
Fourth quarter
4:02 p.m.: That's the ball game from East Rutherford. Patriots win 25-6.
Mac Jones gets his first NFL win. The Patriots pick Zach Wilson off four times and sack him four times for good measure.
Nothing particularly pretty about this contest, but wins are wins in the NFL.
4:00 p.m.: Josh Uche is unleashed right now. Two sacks on this drive with the Jets throwing on every play. When he can pin his ears back and get after the passer, he's a problem.
New York just playing out the string with 15 seconds left.
3:55 p.m.: There's your Nick Folk field goal from 26 yards. 25-6 Patriots. Jets have only one timeout remaining with 1:57 left in the game. That's just about it from here.
3:52 p.m.: That's the two-minute warning for the game.
Damien Harris just got blown up in the backfield for a five-yard loss, which should set up another field goal attempt for Nick Folk. Notably, Yasir Durant checked in to help block on the play — apparently, he's just bad luck.
3:49 p.m.: After the Patriots offense goes three-and-out again, the defense turns the Jets over on four straight plays.
The highlight was an excellent pass breakup on third down by Joejuan Williams, who's getting some run in the second half this afternoon. Wilson then had to throw it up for grabs on fourth down, but it fell incomplete.
New England now driving into the red zone with a big run from Damien Harris, plus a horse-collar tackle that will put them in business near the goal line. What a play by Harris to save a broken play after the defense hit Mac Jones in the backfield and dislodged the ball at the handoff point and then to run for a first down.
3:37 p.m.: A Matt Ammendola field goal makes the score 22-6. The Jets put together a 12-play, 66-yard drive but only gained two yards on their final two plays.
Judon brought down a scrambling Wilson on third down to kill the drive completely. The Patriots have generated fairly consistent pressure on the talented Jets rookie passer and have forced him to create plays out of nothing.
The Jets simply don't have enough skill on offense to make anything out of it.
3:29 p.m.: Three and out for the Patriots offense. Jones turfed it at Hunter Henry's feet after having to scramble on 3rd-and-10. The rookie was not happy with that throw; he probably could've completed it if he had been able to set his feet.
Patriots punt for the fourth time today.
3:22 p.m.: Cornerback Jonathan Jones shuts the door on the Jets, knocking down Zach Wilson's 4th-and-2 throw to force a turnover.
It's been a dominant performance for the Patriots' secondary, who have limited Wilson to 90 yards passing and have defended six passes.
The Patriots can send the fans to the exits with 12:42 left in the game if they score a touchdown here.
Third quarter
3:16 p.m.: The third quarter is in the books, with the Patriots firmly controlling this game with a 22-3 lead.
The play of the game to this point: Damien Harris's beastly touchdown run. He's leading the way with 50 yards on eight carries. Meanwhile, Jones is 21-of-26 passing for 185 yards — an efficient though not spectacular performance.
One downside for New England: they've given up 117 yards rushing to a bunch of guys you probably haven't heard of. It won't matter this week, but it could be a problem down the line against playoff-caliber teams.
3:09 p.m.: Jones checks it down on 3rd-and-long in the red zone to set up a gimme for Nick Folk, who makes the score 22-3 Patriots with his 31-yard field goal.
The Patriots wanted to get into the end zone there, but a Jets blitz forced Jones to throw the ball before he wanted to. That's been the nature of the beast where New England's offense has been concerned: you might want to push the ball down the field, but you can't do that if there's no time.
Also, there's no reason for Jones for force anything with the Patriots about to go up by three scores. He's taken care of the football (aside from that sack-fumble earlier), and that's all the Patriots need right now.
3:07 p.m.: Look at Mac Jones throwing a cut block on Shaw Lawson to help spring Kendrick Bourne for a 15-yard gain on a reverse.
It didn't look like much, but it got Lawson on the ground, and Bourne did the rest. The rookie quarterback is doing what it takes despite not having amazing numbers today.
3:01 p.m.: The Patriots defense bends a little but doesn't break. A Carl Davis sack of Zach Wilson leads to a miss by Jets kicker Matt Ammendola from 53 yards out.
New York had a few good plays that drive, and Wilson showed off his ability to create plays out of nothing with a few escapes from pressure. But every time the Jets look like they might make this a game, New England's defense buckles down and shuts the door.
The score is still 19-3 as the Patriots get the ball back with the third quarter more than half over.
2:46 p.m.: WOW. Damien Harris just scored an amazing 26-yard touchdown to put the Patriots up 19-3 (Nick Folk misses the extra point).
Harris burst up the middle on 2nd-and-1 and simply refused to go down, breaking seven tackles and willing himself into the end zone. That's a run you're going to be seeing all week on the highlight tapes.
What a redemption play after all the talk about Harris's game-breaking fumble last week.
2:43 p.m.: Devin McCourty receives another gift-wrapped interception from Zach Wilson, who seemingly overthrew two receivers and essentially "punted" the ball right into the safety's waiting arms.
That's the fourth INT of the day for the Patriots defense, who got lots of help from the sloppy Jets offense that drive.
Second quarter
2:24 p.m.: That's halftime. 13-3 Patriots.
The story of the game so far: the Patriots defense has tortured Jets rookie quarterback (three INTs), but the offense hasn't helped out its own young passer take advantage of them completely.
Mac Jones finishes the half with just four incompletions on 21 attempts, but he's been sacked three times and has taken two other hits. He's only managed 6.8 yards per completion.
Starting right tackle Yasir Durant has already been benched after giving up all three of the team's sacks, and backup Justin Herron got hurt on New England's last possession. The Patriots might be down to Yodny Cajuste, who has had hamstring issues of his own this week.
2:22 p.m.: Jones commits intentional grounding on 3rd-and-2, which pushes the Patriots' end-of-half field goal attempt back further. But Nick Folk drills the 49-yard attempt anyway, making the score 13-3 in favor of New England.
The rookie quarterback had to escape pressure in the pocket and spiked the ball at a defender's feet with a crossing route vaguely in the area. However, the receiver wasn't close enough to the ball, and the throw didn't make it back to the line of scrimmage.
That's a teachable moment for Jones, who has otherwise had a decent game (17-of-21 for 142 yards).
2:15 p.m.: Timeout taken by New England as they drive for a score with less than a minute left in the half.
Mac Jones is operating a solid two-minute drill here, getting the ball inside the Jets' 29-yard line. He completed a nice throw on 3rd-and-4 to Hunter Henry to keep the drive going.
2:10 p.m.: That's the two-minute warning after a short carry from Damien Harris.
It feels like the Patriots should be winning by a lot more than seven points here, but they've been unable to fully take advantage of the Jets' turnover woes.
2:04 p.m.: Nothing doing for the offense there.
After a big throw from Mac Jones to Jakobi Meyers down the sideline, things fizzled out: Damien Harris gets stopped for a short gain, James White got wrecked by linebacker Quincy Williams and Jones's deep sideline throw on 3rd-and-long for Meyers fell incomplete. There was a lot of contact on both sides but no call on either side.
New England's offense remains a work in progress despite multiple gifts from its team's defense.
2:00 p.m.: J.C. Jackson is loving playing against Zach Wilson so far.
The Patriots' top cover man just stepped in front of another Wilson throw for an interception. That's New England's third swipe of Wilson on five passing attempts today.
Mac Jones and the offense get it back once again.
1:53 p.m.: Brutal drive for the Patriots offense.
Jones got sacked twice on that drive, both given up by backup right tackle Yasir Durant, and the Patriots end up punting from their own 9-yard line. The rookie quarterback fumbled on the first one on a poor show of ball security, holding the ball in one hand away from his body as the pressure came.
Durant has now given up three sacks in this game. New England might have to see what Yodny Cajuste or Justin Herron has here soon, because this isn't working.
1:45 p.m.: Lawrence Guy makes a huge play to stuff Ty Johson for a loss on 3rd-and-goal, forcing the Jets to settle for a field goal. 10-3 New England.
Things didn't look good when Zach Wilson found rookie Elijah Moore all alone on a blown coverage for a 28-yard gain — the Jets' best play of the day. The explosive gain seemed to get the Patriots defense on its heels, as New York then marched the ball swiftly inside the 10-yard line.
But the unit stiffened, stopping three straight runs in goal-to-go situations.
First quarter
1:40 p.m.: That's a wrap for the first quarter.
New England had a lot of trouble offensively to start things off, but the Jets offense's inability to help out its defense opened the door for the Patriots to finally take advantage.
Among the stars so far: James White, who had his finger prints all over the last drive and scored a rushing touchdown as Damien Harris's primary backup; and the duo of J.C. Jackson and Adrian Phillips, who have picked off Zach Wilson's two pass attempts.
1:35 p.m.: A James White touchdown makes the Jets pay for their second turnover of the day, and the score is now 10-0 Patriots. White went in untouched off the left side thanks to some good blocks by Hunter Henry and Jakobi Meyers as well as the offensive line.
The Patriots nabbed a few chunk plays on that drive, starting with a White catch-and-run for 28 yards on a screen and a trick play to Jonnu Smith for 19 yards. Mac Jones took a throwback pass from (who else?) White and hit Smith on a short throw. The TV broadcast notes Jones could've thrown it to Nelson Agholor for a possible touchdown but checked it down with a safer play in front of him.
It's also worth noting Jones's first down-field throw of the day was ugly: a deep post to Kendrick Bourne in double coverage that almost got picked off. But the Jets had a defender lined up in the neutral zone, meaning the play wouldn't have counted even if the defender had held on.
1:25 p.m.: Two Zach Wilson throws, two Zach Wilson interceptions.
This one came as Wilson rolled out of the pocket and threw high for Corey Davis. The ball went throw Davis's hands and into the diving clutches of Adrian Phillips, who almost got the first pick that went to J.C. Jackson.
Once again, the Patriots get good field position from their own 35-yard line. Can they do anything with it this time?
1:21 p.m.: Mac Jones is under duress right now, and it's hurting the Patriots offense.
The Patriots have to settle for a 46-yard field goal from Nick Folk on a drive they started at New York's 35-yard line after J.C. Jackson's interception of Zach Wilson. New England now leads 3-0.
Jones took another hit on third down and floated a high throw over the middle Jonnu Smith couldn't haul in. Before that, the offense tried to run some quick throws to get the ball out of the rookie quarterback's hands quickly, but the Jets came up and limited the yards after catch.
To make things worse, Jake Bailey just sent the kickoff out of bounds to put the Jets at the 40-yard line to start.
1:15 p.m.: That didn't take long.
Zach Wilson's first pass is picked off by J.C. Jackson on an ill-advised throw over the middle. Jackson gets credit for both the pass defended and the pick, popping the ball up in the air and snagging it himself.
Patriots have excellent field position for their second drive.
1:11 p.m.: A big sack from Marcus Maye pushes the Patriots out of field goal range. Maye came from way off the right edge, and Yasir Durant couldn't get to him. Isaiah Wynn also surrendered a pressure on the play.
Jones went 6-for-6 for 26 yards on the drive and moved the chains twice through the air, but he had to take short throws against the Jets' zone defense. The rookie also took a big shot from Shaq Lawson that earned a flag for roughing the passer.
New England has to keep Jones clean if the offense is going to be more aggressive down the field.
1:04 p.m.: Patriots catch a break there as Kendrick Bourne gets the ball ripped out of his hands before the referees blew the whistle. But the play can't be reviewed because Bourne's forward progress was ruled to have stopped, so the offense keeps the ball.
Not a welcome sight for a New England team that fumbled four times last week.
Also, Yasir Durant is indeed starting at right tackle.
Pregame
1:03 p.m.: The Jets win the toss and defer until the second half. Mac Jones and the Patriots will start with the ball.
12:53 p.m.: The Patriots have taken the field before kickoff. Notably, Mac Jones has been among the first few players to lead them out of the tunnel for the second straight week — an interesting sign of respect for a rookie, even if he is the quarterback.
12:29 p.m.: CLNS Media's Evan Lazar reports Yasir Durant is manning the right tackle position with the starting offensive line in walkthroughs, indicating he will start in place of the injured Trent Brown against the Jets.
Durant took over for Justin Herron, who struggled in relief of Brown, late in the game last Sunday and didn't allow any pressures in his limited time on the field.
It's quite a leap for the second-year player who just came to the Patriots from the Chiefs via trade during roster cut-downs. Durant will likely get a lot of work against Jets edge rusher Jonathan Franklin-Myers today.
11:55 a.m.: Devin Asiasi not playing against the Jets also suggests Jonnu Smith, who was listed on the injury report late in the week, should be good to go this week.
Though the Patriots listed him as questionable after making him a limited participant in practice starting on Thursday, he seemed to be moving normally in the sessions media got to see.
Perhaps the designation was merely a precaution, especially after the big fall he took against the Dolphins when he got upended on a catch-and-run inside the red zone. Either way, the Patriots seem fine with relying solely on Smith and Henry as their tight ends for the moment.
11:45 p.m.: One notable name not on the Patriots' inactive list stands a good chance of seeing some action Sunday: backup tackle Yodny Cajuste.
The third-year swing tackle missed last Sunday's game with a hamstring injury but practiced (albeit with limited participation) all week ahead of the Jets game.
If not for that injury, it's possible Cajuste, not Justin Herron, could've been the first tackle off the bench when Trent Brown went down after the first series given how well Cajuste played during the preseason.
Yasir Durant was the one taking reps with the "first-team" offensive line during the media-access portions of practice this week, making him a strong candidate to start the game at right tackle in Brown's place. But don't sleep on Cajuste finally getting some run against the Jets.
11:36 a.m.: The Patriots officially released their list of inactives for Sunday's game, with big right tackle Trent Brown the biggest name (literally).
Both Brown (calf) and edge rusher Kyle Van Noy (throat) were ruled out of the Jets game early after Brown only practiced once this week and Van Noy missed practice entirely.
The other inactives: RB Rhamondre Stevenson, LB Ronnie Perkins, DB Shaun Wade, and TE Devin Asiasi.
Stevenson's redshirt was expected after his fumble and pass-protection troubles last week. J.J. Taylor will get a big chance to show what he can do against New York.
11:32 p.m.: Jets receivers Denzel Mims and Jamison Crowder will both be out today, headlining the team's inactive list. Mims, who had a big catch last week from Zach Wilson, would be a healthy scratch while Crowder will not play due to a groin injury.
The news could mean a lot more targets for Corey Davis, Keelan Cole and explosive rookie Elijah Moore, who struggled in his first NFL action last week.
Sign up for Patriots updates🏈
Get breaking news and analysis delivered to your inbox during football season.