Patriots
Final: Patriots clobbered 28-13 by Saints Sunday
Mac Jones threw three interceptions.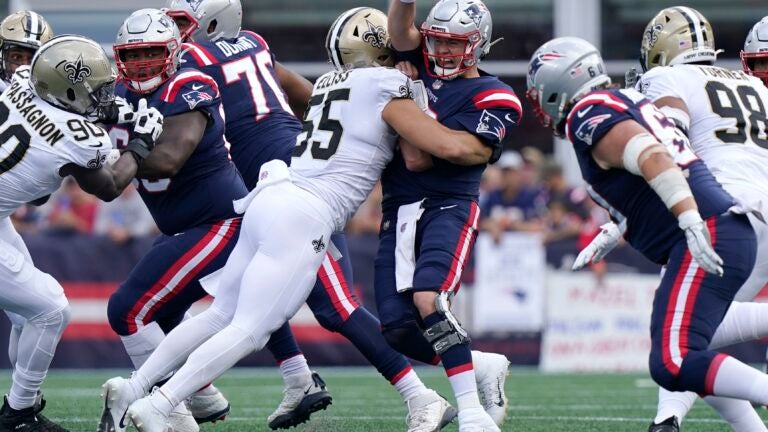 The Saints jumped to an early 14-0 lead and never looked back on the way to a 28-13 win over the Patriots on Sunday afternoon at Gillette Stadium.
Thanks in large part to a mostly punchless New England offense, New Orleans was able to maintain plenty of separation throughout the day on the way to their second win in three games. Jameis Winston finished 13-for-21 for 128 yards and a pair of touchdown passes, while Alvin Kamara added 89 yards rushing and 29 receiving yards.
It was the second defeat in three games to start the season for the Patriots. Mac Jones ended up throwing the first three picks of his NFL career. He finished 30-for-51 for 270 yards with one touchdown. The Patriots made several uncharacteristic mistakes on the afternoon, including a blocked punt in the second quarter that set New Orleans up for its second touchdown of the day.
Overall, the New England offense struggled to get any sort of offensive traction over the first two-plus quarters, and went down 21-3 early in the third quarter after Jones' second interception of the day was returned for a touchdown by Malcolm Jenkins.
After a Nick Folk field goal cut the lead to 21-6, New England added a fourth-quarter scoring drive, one that culminated with a 22-yard touchdown pass from Jones to Kendrick Bourne to make it 21-13 with 9:22 remaining in regulation.
But thanks large part to the quarterbacking tandem of Winston and Taysom Hill, the Saints put together their best drive of the second half to extend their lead to 28-13 late in the fourth.
Here's how the game unfolded:
4th quarter
Saints win — 4:04 p.m.
That'll do it. New Orleans will take a 28-13 win.
Saints respond with a TD — 3:51 p.m.
That drive was an absolute killer, as a combination of Taysom Hill and Jameis Winston guided the New Orleans offense on a scoring sequence that makes it 28-13 with 2:37 left in regulation.
Jones and Bourne finish with TD — 3:38 p.m.
That's just what the doctor ordered — signs of life from the New England offense. Mac Jones posted an impressive 12-yard scramble, the longest of his career, to set the table. Jones then delivered a nice ball for Bourne for a 22-yard touchdown. The extra point was good, and it's 21-13 with 9:22 to go in regulation. An impressive response from a beleaguered Patriots' offense.
Pats D is doing its' job — 3:31 p.m.
The New England defense has set the offense up nicely here, as the Judon sack forced a punt, putting the Patriots on the New Orleans 44-yard line. (Judon has 2.5 sacks on the day.) This is a two-score game with 10:28 left in regulation, but the New England offense has to make a stand right here if the Patriots are going to win this game.
Headed for the fourth quarter — 3:19 p.m.
Three quarters are done, and New England trails, 21-6. The Patriots' offense has to get a jumpstart here — a quick drive, some successful misdirection. Something.
3rd quarter
Folk makes it 21-6 — 3:16 p.m.
The drive took a lot of time, but the Patriots finally got some points on the board in the second half at the end of a 16-play, 72-yard series that took 9:05, and ended with a 26-yard field gain from Nick Folk. It's 21-6 with 1:32 left in the third quarter.
A few notes on that drive:
-The highlight of the sequence was probably an impressive 27-yard strike from Jones to Meyers down the middle of the field to get the Patriots into New Orleans territory.
-There was some sort of miscommunication between the quarterback and receiver on a deep ball intended for Agholor — interesting, because those two appeared to have a nice chemistry for much of the first two games. Agholor did have a four-yard catch on third down that helped move the sticks.
-Jones picked up a pair of first downs on his own on two third-down quarterback sneaks.
Can Pats get an offensive spark here? — 3:00 p.m.
The Patriots defense again played well on that series from Jameis Winston and New Orleans. It's important to note that the Saints' offense has only put together one extended scoring drive — New Orleans has done well to feast on the opportunities it's been given because of the special teams' and offensive mistakes by the Patriots. But none of that will mean anything for New England unless the Patriots can get any sort of offensive traction here. They need a spark. It's 21-3 with 10:37 to go in the third quarter.
Saints up, 21-3 — 2:47 p.m.
Not sure you could have scripted a worse start to the third quarter for the Patriots, as Mac Jones just delivered a pick-six to Malcolm Jenkins. It's 21-3 with 14:51 left in the third quarter. Yikes.
Halftime analysis — 2:35 p.m.
Two quarters are in the books in Foxborough, and it's 14-3, New Orleans. Here are a few quick notes:
-Mac Jones is 10-for-19 for 105 yards and an interception. Damien Harris has five carries for 13 yards, while Kendrick Bourne has two catches for 45 yards. Nick Folk has a 45-yard field goal.
-This was probably the worst two quarters of the season for New England, who failed to get any sort of offensive traction, lost sparkplug James White, and couldn't provide enough protection for Mac Jones. Jones was on the run for much of the first two quarters, and tossed the first interception of his NFL career near the end of the first half. Bottom line? He's being asked to do too much — the rookie need some of the veterans around him to step up. If not, the Patriots are going to lose this one.
-New England's best drive of the first half came with less than two minutes left in the second quarter. That's when Jones hit Bourne and Agholor to get the Patriots across midfield. After a New Orleans time out, Jones connected with Meyers, who was knocked out of bounds at the Saints' 22-yard line. On fourth-and-short, Hunter Henry was flagged for a false start, and the Patriots had to settle for a 45-yard field goal to make it 14-3. After a mostly sluggish first half, it was the lone bright spot of the afternoon for New England.
-It could have been worse if the New England defense hadn't done relatively well to rise to the occasion for much of the first two quarters. The Saints had one long extended scoring drive early, and took advantage of the Jones' interception to make it 14-0. But Matt Judon has 1.5 sacks and Deatrich Wise has a 0.5 sack. There's plenty of blame to go around here, but the bulk of it is on the offense, at least so far.
-Special teams took a pair of penalties early, and the blocked punt was the first of Jake Bailey's NFL career. Nick Folk provided some measure of redemption with a field goal before the end of the first half, but it wasn't a great two quarters for the special teamers here this afternoon.
-The Patriots get the ball to start the second half.
2nd quarter
New Orleans up 14-0 — 2:22 p.m.
The Saints doubled their lead after the interception, with Winston tossing up a prayer from the seven-yard line, one that was answered by Marquez Callaway. It's 14-0 with 1:44 to go in the first half. The New England defense very nearly rose to the occasion for the second consecutive series, but couldn't make it work.
Jones INT sets up Saints — 2:14 p.m.
A really ugly sequence for the Patriots' offense there, as P.J. Williams picked off a bad pass from Mac Jones (who was looking to unload the ball under pressure), and nearly took it all the way back. After Williams lost the handle, teammate Kaden Elliss picked it up and carried it into the end zone. The touchdown was later overturned, bu New Orleans will still get the ball at the New England nine-yard line with 2:39 to go in the first half. The New England offense has had issues all afternoon, and the loss of James White will only exacerbate those problems moving forward.
White ruled out (hip) — 2:08 p.m.
Patriots running back James White has been ruled out with a hip injury.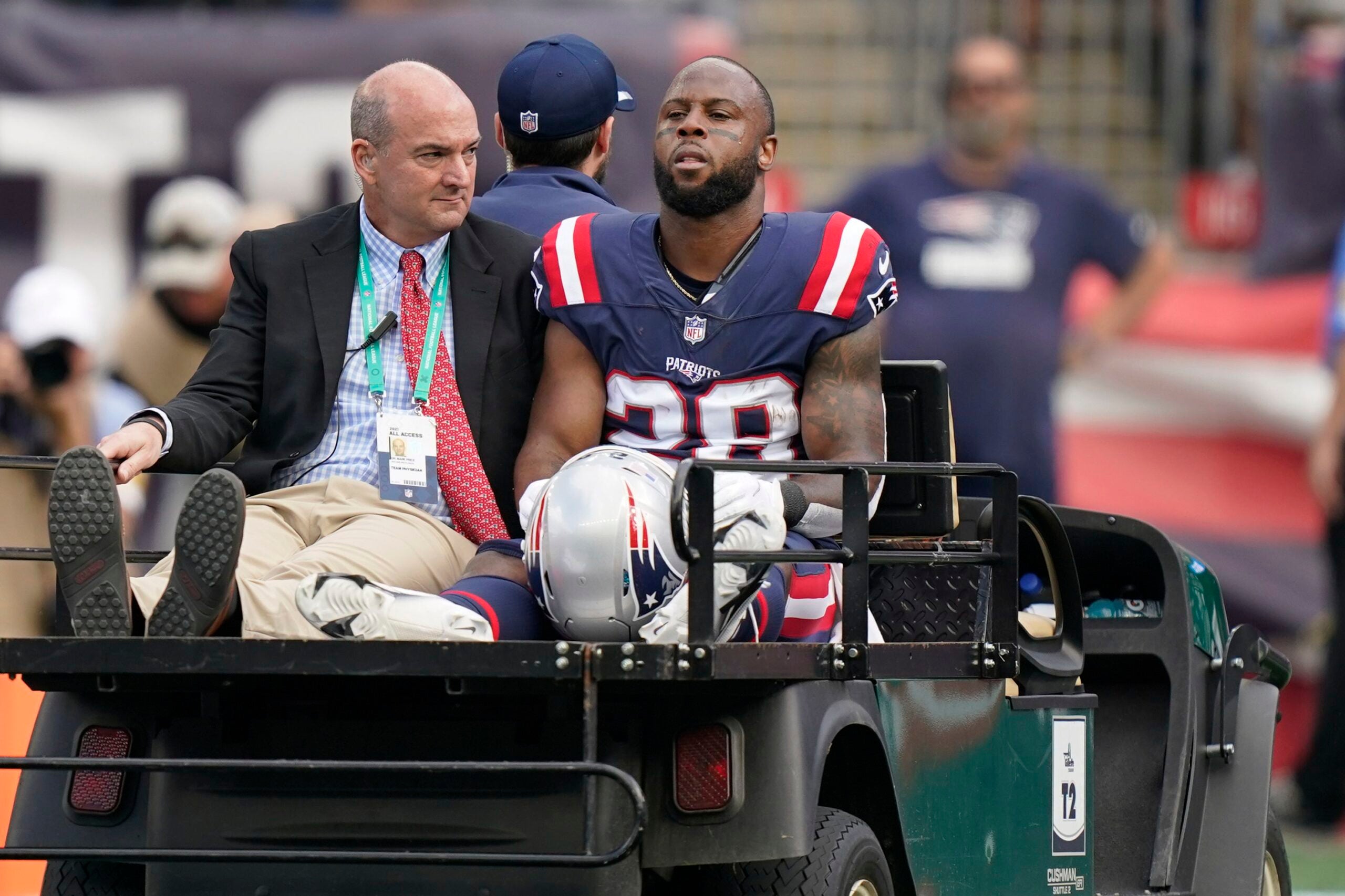 Pats' D with nice response — 2:07 p.m.
The Patriots defense was put in a dicey situation there after the blocked punt, but they did as well as could be expected, keeping the Saints out of the end zone, and keeping the score at 7-0 after Aldrick Rosas missed his second field-goal attempt of the afternoon. On that defensive series, the highlight for the Patriots was Matt Judon sniffing out an attempted bootleg and coming away with a nine-yard sack. New England regains possession at its own 26-yard line with 4:13 to go in the first half.
Saints block NE punt — 2:02 p.m.
Very little is going right here for the Patriots. James White has left with an injury, and New Orleans just blocked a punt from Jake Bailey — the first time Bailey has had a punt blocked in his NFL career. It's only 7-0, but the Saints have to be feeling pretty good about their chances here midway through the second quarter.
James White leaves with injury — 1:54 p.m.
James White went down with what appeared to be a knee injury after picking up the first first down of the game for the Patriots, and was just carted off. White has been New England's best offensive option through the first two-plus games — if the Patriots lose him for any length of time, it would be a sizable blow to that offense.
1st quarter
Pats down 7-0 after one quarter — 1:40 p.m.
Not much to like in that first quarter for the Patriots, who trail 7-0 after one. New England has no first downs, and hasn't had any sort of offensive traction. Mac Jones is 2-for-4 for 13 yards and Damien Harris has two carries for five yards. On the other side of the ball, New England isn't getting much pressure on Jameis Winston in the early going — the New Orleans quarterback had plenty of time to throw in the first quarter — he's 8-for-12 for 83 yards and a touchdown. Alvin Kamara has 27 rushing yards on eight carries, to go with two catches for 20 yards and the TD. The best news? Probably on special teams: New Orleans' Aldrick Rosas missed the 52-yard field goal at the end of the first quarter, and Jake Bailey has delivered a pair of booming puns for the Patriots.
Pats' offense struggling early — 1:29 p.m.
Two drives for the New England offense, and the Pats have no first downs. Mac Jones is 2-for-4 for 13 yards, and Damien Harris has one carry for seven yards. Not an ideal open to the game for the Patriots. New Orleans will get the ball on its own 15-yard line with 5:25 to go in the first quarter.
'Good Jameis' leads Saints to early lead — 1:23 p.m.
One of the things that stuck in my mind this week was a conversation Nick Underhill, who covers the Saints. He talked about the "Good Jameis" who made smart decisions during New Orleans training camp … but then, the QB reverted to "Tampa Jameis" in last week's blowout loss against the Panthers. So far, it's been more of the former against the Pats. On that drive, the 12-yard pass play from Winston to Harris allowed New Orleans to move the chains on third down. That was followed by a nice 17-yard pickup to Stills, and a seven-yard gain from Kamara. Kamara caught the 11-yard pass for a touchdown. It's 7-0 New Orleans with 7:35 to go in the first quarter.
Bad news for NO — 1:17 p.m.
Jones courting danger — 1:11 p.m.
On that third-down offering for James White, that was a dangerous throw from Jones, firing as he was backpedaling in the process. Not a wise move … unless it was a deliberate throwaway. (Have to go back and take a look at that one.) New England did take an early shot downfield, but failed to connect. The Saints get the ball back at their own 26-yard line.
Pats D solid to start — 1:06 p.m.
Excellent start for the Patriots' defense there, as they bottled up Kamara nicely on that first drive — he had a pair of carries and just one yard. If New England wants to win this thing, Kamara has to be limited in his production. After the punt, the Patriots will take over a their own 26.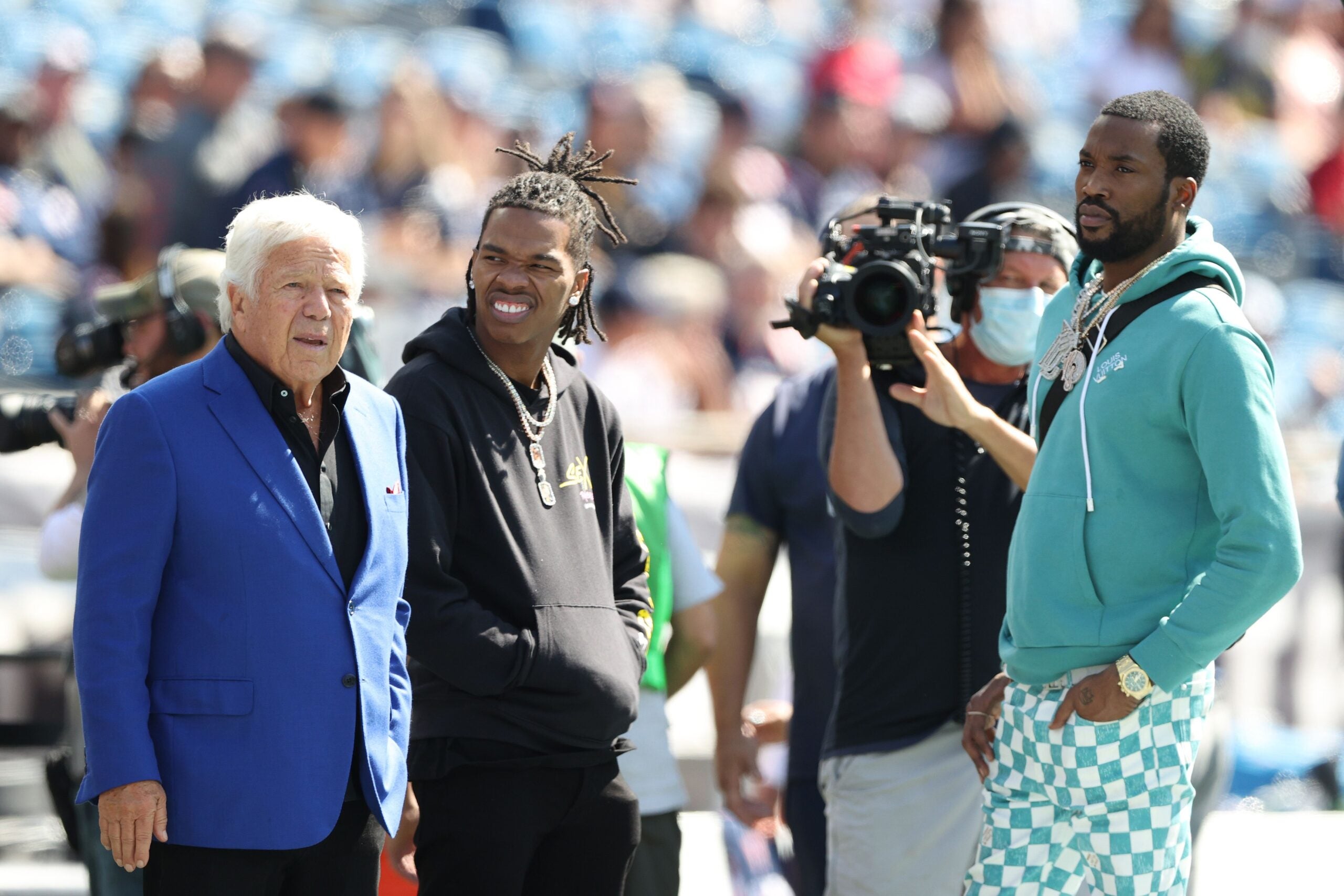 Pregame
Pas win the toss, defer — 1:01 p.m.
Time for some football.
Highlights from Belichick's pregame talk with Zolak — 12:55 p.m.
Here are a few of the notable moments from Bill Belichick's pregame chat with Scott Zolak on 98.5 The Sports Hub.
On Nick Folk and his work this year:
"Nick's done a great job,. Especially last week in New York. It's usually not a lot of wind in that stadium because it's so high, but there was kind of a swirling wind the whole game. It was tough kicking conditions, and I I thought Nick did a good job of banging the ball right down the middle. He's been very consistent for us — made some big kicks under pressure. He certainly kicked well against the Jets — all four of those field goals, they weren't easy kicks."
On run defense being better: "Stout is part of it, but also, part of it is having the right gap control and playing with proper technique and all that. Again, kind of like the Miami game, we gave up a couple fo runs we shouldn't have. We just have to coach and play it a little better. More consistency and make sure everybody knows exactly what they're doing and just execute it better. Hopefully, we'll continue to work on those and see if we can get it straightened out this week."
Physicality does't seem to be a problem in run defense: "Again, as we go through each week, hopefully, we'll be able to improve our fits, timing. and just discipline in the running game. That's really what it's all about. But like I said, we just have to coach it better and play it better and play with more consistency, and that's what we're working on, and hopefully, we'll be able to do that."
On the Saints and the respect he has for Sean Payton: "Sean does a great job, and he has an excellent staff there with Dennis Allen on defense and Darren Rizzi on special teams and Pete Carmichael, his offensive coordinator. Those guys all work well together. They're well-coached, and play very good situational football. Fundamentally, they're good and we know we're going to have our hands full today, I have all the respect in the world for Sean Payton and the job he and his staff do down there. They're always ready to go. We know we'll have to play our best game of the season today."
Preparing for two QBs and what New Orleans offers on offense: "What you usually don't face. You usually don't see a team that uses two guys like that, and they're quite different, as you mentioned. Although Winston is a pretty big, strong physical guy himself. Hill is fast, and they use him on some plays that require speed from the quarterback, like crack sweeps and things like that. They both throw a good deep ball, and I think the offense is just a little different with Hill in the game, when it comes to the quarterback runs that are a bigger part of their scheme with him. But it's definitely a little bit of a challenge and an alertness thing. Sometimes, they're both in there together, so you're not sure which guy will play quarterback. That's not a common problem, but one that the Saints will present to us, so it's one of many things that Sean does that keeps you on your toes defensively. He makes sure you think and work and prepare and gives you a lot of different personnel groups and a lot of different looks, so communication and awareness will be important for us today."
On Julian Edelman Day — is there one Edelman moment that stand out for you? The catch in Super Bowl LI? "That'll be up there. That'll be up there. But you know, Julian is such a competitive guy. I think he's one of the toughest players I've ever coached, in terms of mental toughness and physical toughness. He'd go in there and block anybody. He'd catch the ball and take a big hit. He could tackle he could block. He could return kicks. And he made a lot of big catches, either with his concentration or his skill and determination were just … he was just one of those throwback type of guys, Scott, like you guys have in Pittsburgh. I know he's from California, but he was just one of those old football guys who just gets out there and keeps hustling and makes plays to help you win. And Julian did that for us in all three phases of the game. The really interesting thing about Julian was that he never played receiver or returned punts until he got here, The two primary positions he excelled in in the NFL, he didn't even play them in college."
Checking out the rest of the AFC East action today — 12:10 p.m.
WFT at Bills: Buffalo is looking to get to 2-1 against a Washington team that is still sort of figuring things out, especially at the quarterback position. I like the Bills here, but it won't be easy for Josh Allen and Company.
Jets at Broncos: I have a feeling people are sort of sleeping on Denver here, if that's possible. New York is still a bit of a hot mess, so you take that into consideration. But if the Broncos can get to 3-0 to start the season, that should raise some eyebrows. (I think when you are talking long-term playoff chances for New England, it's going to be teams like Denver and the Los Angeles Chargers that the Patriots are going to have to be most concerned about when it comes to fighting for a postseason spot.)
Dolphins at Raiders: Like the Saints, I have to believe that the Dolphins aren't as bad as what we saw in Week 2 vs. the Bills, and not as good as what they looked like in Week 1 against the Patriots. That being said, they are starting as backup quarterback on the road against the 2-0 Raiders. I love Jacoby Brissett — he was one of the best guys to talk to when he was here in New England — but I think Miami falls to 1-2 on the season today.
Predict the score — 11:54 a.m.
What no Trent Brown means for Pats — 11:42 a.m.
The following players are inactive Sunday for the Patriots:
Right tackle Trent Brown (calf) will miss his second consecutive game, which is a big blow to New England's offensive line — the drop-off at the position from Brown to some of his backups is sizable. The Patriots could utilize another rotation at right tackle (more Yasir Durant?), and use extra bodies to help protect on that side as well. But it's going to be interesting to see how New England handles protection on that side of the line.
Josh Uche showed up on the injury report late in the week with a back issue — he was limited on Friday, and listed as questionable for Sunday's game. The Patriots are relatively deep at linebacker, but they will miss Uche's relentless motor when it comes to his pass-rushing skills.
Running back Rhamondre Stevenson is a healthy scratch for a second consecutive week after his struggles in the opener. More work for the rest of the backfield, including Damien Harris, James White and J.J. Taylor.
Cornerback Shaun Wade, who was acquired just before the start of the regular season, is a healthy scratch again for New England. Not sure if it's a numbers thing or the fact that he's lagging behind when it comes to scheme. But he'll sit this week, as Joejuan Williams and others will likely see time in his place.
Linebacker Ronnie Perkins is another healthy scratch — the rookie out of Oklahoma is part of a deep position, and based on what we've seen so far, he could be in for a redshirt rookie campaign. (Not that that's a bad thing — it's a path that several elite players took, including Trey Flowers and James White. Just part of being a talented but not-quite-ready youngster in New England.)
Wrapping up the healthy scratches is tight end Devin Asiasi. With Brown out, I would have thought that Asiasi had more of a chance to play in this one — they could certainly use some depth at tight end when it comes to pass protection. But the Patriots must feel confident in the health of Hunter Henry and Jonnu Smith here.
Among the notables who are playing: Kyle Van Noy, who missed last week with a throat issue, Matt Judos, who was out of Wednesday practice with a knee injury, and Harris, who was limited on Wednesday and Thursday with a finger issue. All are active this afternoon.
What do the lines say? — 11:21 a.m.
The Patriots have stayed a three-point favorite for much of the week, and the line has held this morning. I think New England covers this afternoon, even with the Jekyll and Hyde nature of the New Orleans team (big win, followed by a blowout loss). The bigger question? The over/under, which has dropped from 46 or 47 to 42.5 as of Sunday morning. Likely a case of showing little faith in either quarterback taking some shots down the field. I still like the under today — even with the great weather.
Great weather today — 11:12 a.m.
It's looking like it's going to be a picture-perfect afternoon for football in Foxborough. According to our pals at weather.com, temps will be in the low 70s with a slight breeze out of the Northwest, and almost no chance of precipitation. Third straight game where the Patriots are getting good weather.
Sign up for Patriots updates🏈
Get breaking news and analysis delivered to your inbox during football season.