Patriots
Buccaneers hold on for 19-17 win in Tom Brady's return
Nick Folk missed a 56-yard field goal that would have given the Patriots the lead, his attempt through driving rain clanging off the uprights.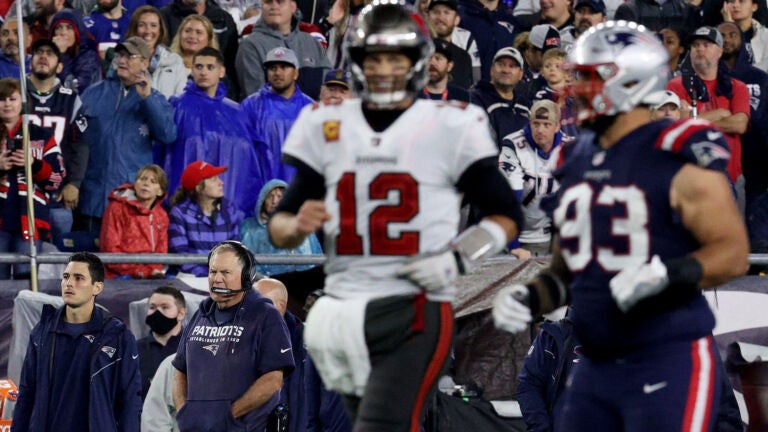 In the end, one of the most heavily hyped NFL games in recent history lived up to its billing.
Buccaneers quarterback Tom Brady, in his first game back at Gillette Stadium since leaving the Patriots, engineered a dramatic 19-17 win over New England on Sunday, one that was cemented when Nick Folk missed a 56-yard field goal attempt with less than a minute remaining.
Brady finished 22-for-43 for 269 yards, and Leonard Fournette added 20 carries for 91 yards. On the other side, Patriots quarterback Mac Jones was 31-for-40 for 265 yards with two touchdowns and an interception.
The Patriots fell to 1-3, while Tampa Bay improved to 3-1.
The Bucs got on the board first with a 29-yard field goal from Ryan Succop late in the first quarter. After Brady broke Drew Brees' record for most career passing yards, New England answered midway through the second quarter when Jones engineered a sharp-looking 11-play, 74-yard drive that was capped by an 11-yard touchdown pass to Hunter Henry.
The Bucs cut the lead to 7-6 just before the end of the half on Succop's second field-goal of the night, a 44-yarder with 15 second left in the second quarter. Tampa took the lead for the first time in the second half, going up 13-7 when Ronald Jones plunged in from eight yards out late in the third.
That set the stage for the wild finish, when Jones and Brady played a game of can-you-top-this. Early in the fourth, the rookie made it 14-13 with a touchdown pass to Jonnu Smith, but the veteran led the Bucs on a drive that ended with another Succop field goal to make it 16-14.
Nick Folk delivered his only field goal of the night with 4:34 left to allow the Patriots to retake the lead, but Succop blasted a 48-yarder with 2:02 left, giving the Buccaneers a 19-17 advantage. Jones set the Patriots up with a late drive, but Folk was no good from 56 yards out, hitting the upright.
4th quarter
Folk misses from 56 — 11:37 p.m.
Folk's 56-yard field goal attempt is no good. Tampa Bay holds on to the lead.
Bucs answer with two minutes left — 11:28 p.m.
Ryan Succop blasted a 48-yard field goal with 2:02 left. It's Tampa Bay 19-17.. The Patriots have 1:57 left and one timeout.
Pats retake the lead — 11:15 p.m.
Terrific drive, but one that stalled out in the red zone. Mac Jones hit Meyers and Agholor to get the drive started, but then, Jakobi Meyers delivered a strike to Nelson Agholor, a 30-yard play that put a charge into the crowd. Jones nearly threw a pick-six that would have lost the game, but the Pats recovered, and Nick Folk delivered a 27-yarder to make it 17-16 with 4:34 to go in regulation.
Bucs answer with a FG — 11:07 p.m.
The New England defense has done well all night to try and hold the Tampa Bay defense in check, but Brady just put together a tough drive, a series that was highlighted by a six-yard scramble from the quarterback and one that ended with a 27-yard field goal from Succop. Tampa's red-zone woes can be attributed in some part by the absence of Gronkowski, but the Patriots have also done well holding firm when it has mattered the most. Anyway, it's 16-14 with 7:58 left in regulation.
Pats regain the lead — 10:52 p.m.
If you're the Patriots, THAT'S the response you're looking for. Jones was really zipping the ball on that sequence; he hit Harris on a 21-yarder (a play where Harris did well to hang on to the ball), and followed that with a 13-yarder to Agholor to get across midfield. N'Keal Harry hauled in a 10-yarder shortly after that, and Jonnu Smith added a 12-yarder. Brandon Bolden (15 yards) got the Patriots into the Tampa Bay red zone, and a one-yard pass play to Smith put the capper on the drive. It's 14-13 with 14:57 left in regulation. Jones is 24-for-29 for 216 yards, two touchdowns and an interception. Let's get crazy, folks.
3rd quarter
Three quarters done — 10:48 p.m.
The Bucs hold a 13-7 lead at the end of the third, but New England is in the Tampa red zone.
Bucs break through — 10:41 p.m.
We saw some of this last week with the Saints, where the New England defense was able to do a lot to control things for the first two-plus quarters before they just sort of gave way. The Buccaneers have been pounding away and pounding away and pounding away, and they were able to break through on that drive, with Ronald Jones plunging over for the score on an eight-yard run. After an eight-play, 52-yard drive, it's 13-7 with 3:29 to go in the third quarter. New England needs an answer here.
Pats struggle with protection — 10:31 p.m.
I know that Vita Vea is a special case, but the Patriots really have to figure something out up front, especially on the right side of that line. That was a really ugly sack on Jones that led to the punt. I still maintain New England needs to think about putting Onwenu at right tackle and bringing Teddy Karras into the starting lineup at guard. Barring that, they need to make a trade, or adjust their protection schemes. Regardless, it's reached a crisis point. The Bucs get the ball with 7:17 left in the third quarter, but New England holds a 7-6 lead.
Pats fumble — 10:19 p.m.
Another running back fumble — this one from J.J. Taylor — gives the ball back to the Buccaneers. Great play to knock the ball away in wet and slippery conditions by Winfield, who has two takeaways on the night. Tampa gets the ball at its own 32-yard line with 11:11 to go in the third quarter.
Judon dominating — 10:13 p.m.
Judon's pressure draws the flag, which sets up the third-and-long, which leads to a punt. Not sure we can overstate the impact that Judon has had on this one so far. After a nice return from Olszewski, the Pats will get the ball a the Tampa 34-yard line with 12:46 left in the third quarter.
Anderson ruled out — 10:10 p.m.
Halftime analysis — 9:56 p.m.
Two quarters are in the books in Foxborough, and the Patriots hold a 7-6 lead.
Here are a few quick notes:
Mac Jones: 15-for-20, 130 yards, 1 TD, 1 INT
Tom Brady: 15-for-27, 182 yards
With the exception of the last drive of the first half — where Brady made a few ridiculous throws — not sure things could have gone much better for New England. The Patriots wanted to slow this thing down, and they achieved their goal for most of the first half, grinding out a scoring drive for the early lead. The Bucs tacked on a 44-yard field goal from Ryan Succop with 13 seconds left in the half. But all in all it's been a mostly good two quarters for New England.
Other than the one bad decision on the tipped ball on the interception — where he was backpedaling as he threw into coverage — Jones has had a good first half. He's been in command, made decisive throws, and stood in the pocket against a strong Tampa Bay pass rush. He's gotten great help from Bourne, Meyers and Henry. If the Patriots were able to run the ball at all (they have negative five rushing yards over the first two quarters), they'd be looking even better to start the second half.
Lots of credit to those three pass catchers — we came into the evening saying that New England would need an extraordinary offensive performance from someone relatively unexpected, and they have combined to give the Patriots the offensive boost that they needed to try and keep things manageable.
The Patriots' defense has risen to the occasion for much of the evening, with Matt Judon leading the way. The rusher has done his best to keep Brady on the run, delivering multiple pressures and a second-quarter sack. As we said before, he's far-and-away their most impactful free agent pickup, at least to this point in the offseason. Overall, the New England defense showed Brady a ton of different looks throughout the first two quarters. I'd expect more of the same in the second half.
No worries on special teams — the only eventful play came in the early going when Gunner Olszewski had trouble with a kick return that almost cost them. But other than that near-misstep, it's been all good. In fact, the Pats have looked good in comparison to the Bucs, who blew a chance to make it 6-0 early when Ryan Succop missed a field-goal attempt.
The Buccaneers will get the ball to start the second half.
Tampa cuts into Pats' lead — 9:53 p.m.
Ryan Succop delivers a 44-yard field goal with 13 seconds left in the half to cut the New England lead to 7-6.
Another Tampa CB down — 9:46 p.m.
Carlton Davis went down on that punt, which leaves the Bucs' perilously thin at the cornerback position. If Davis is out, it will be interesting to see how that impacts things in the second half.
Good example of Judon's impact — 9:39 p.m.
Pats can make a statement here — 9:32 p.m.
Feels like the Patriots have a real opportunity here. The defense made a terrific stand after that New England touchdown to force a punt, and the Patriots will get the ball at their own 31-yard line. Through a quarter-plus, New England has done well to keep this one very manageable. Another score here would really make a statement.
-Jones is 13-for-18 for 114 yards, one touchdown and one interception.
-Bourne has five catches for 56 yards
-Brady is 11-for-20 for 113 yards.
Judon gets first sack of the night on Brady — 9:29 p.m.
Matt Judon is all over the place. He's been getting great pressure, and just care away with the first sack of the night on Brady. Best free agent pickup of the offseason so far for New England.
Pats take the lead — 9:22 p.m.
Really good drive for the Patriots' offense — its most productive sequence of the evening, and one of the best of the season, considering the opponent. A 16-yarder to Bourne and a 15-yarder to Meyers (on third down) got the drive cranked up. While this was going on, the Tampa pass rush really started bringing the heat on Jones — kudos to him for standing in the pocket and taking some hits.
A DPI on Sherman, who was defending N'Keal Harry, gave them another first down. Shortly after that, another 16-yarder to Bourne got them into the high red area. The Patriots cashed in shortly after that with an 11-yard touchdown pass to Hunter Henry that gave the Pats a 7-6 lead with 8:28 to go in the first half.
Short term, it was an impressive series. Long term, I wonder if this sort of offensive imbalance is sustainable. The Patriots have shown absolutely no ability to run the ball on Tampa. Maybe some more shots downfield will loosen things up underneath. But New England has to find a way to get some traction on the ground.
Defense holds steady — 9:09 p.m.
Another red zone victory for the New England defense, which held the Bucs scoreless on that drive. Ryan Succop was no good from 36 yards to keep it 3-0 with 14:49 to go in the first half. Nice pressure by Judon on Brady to force the bad throw on third down.
1st quarter
First quarter is done — 9:04 p.m.
Bucs up 3-0 after one quarter. You toss out all the Brady/Belichick pregame hype, and the truth of the matter is that the Patriots have been OK here in the early going against the defending Super Bowl champions.
New England is going to want to try and slow this thing down as much as possible — the Pats are not going to win a shootout. Fournette (6 carries, 41 yards) is going to be a problem all night long, but if you are New England, you'd rather have Brady hand the ball off instead of throwing it. (It's not great, but it's better than the alternative.) Two biggest drawbacks? That 12-men-on-the-field penalty there on the third and long is just brutal. And that deep ball to Brown that went for 29 yards near the end of the first quarter was an absolute thing of beauty.
Offensively, the Patriots will have to find a way to run the football. You can try and replicate a run game with a series of short passes, which they have done in a limited fashion to this point in the game. But New England isn't built to beat the defending Super Bowl champions by having Mac Jones throw the ball 50-plus times a game. (Jones is 5-for-9 for 40 yards and an INT after one quarter.)
Jones picked, ball goes back to Bucs — 8:58 p.m.
Ugh. Devin White came flying up the middle on the blitz, and Jones fired as he was backpedaling. He tossed it into coverage, and the ball was picked by Winfield. The defense will have to figure out a way to hold Brady again. It's 3-0 Tampa with 3:39 left in the first quarter.
Bucs lead, 3-0 — 8:51 p.m.
Ryan Succop delivered a 29-yard field goal with 4:49 to go in the first quarter to give the Bucs a 3-0 lead. Brady is 6-for-11 for 71 yards to start the game. Good job by the New England defense stiffening in the red zone, and holding Tampa Bay to a field goal. Let's see how the Patriots' offense answers — New England is going to have to find a way to run the ball here against Tampa.
Brady breaks the record — 8:48 p.m.
Brady broke the all-time yardage record late in the first quarter on a 28-yard pass play to Mike Evans, passing Drew Brees.
Tampa punts — 8:33 p.m.
The Patriots forced a Tampa punt, and did well to corral the Bucs' passing attack in the early going. (Interesting to hear the fans react to Brady as just another enemy quarterback after the pregame ovation.) New England will get the ball at their own 20 with 9:55 to go in the first quarter.
Brady and Bucs take over — 8:27 p.m.
The Patriots had a good start, as the kickoff went out of bounds — New England started on the 40. A couple of early completions got the Patriots a little offensive traction, but couldn't convert a third-and-9, which led to a punt. Tom Brady and Tampa get the ball at their own 11-yard line.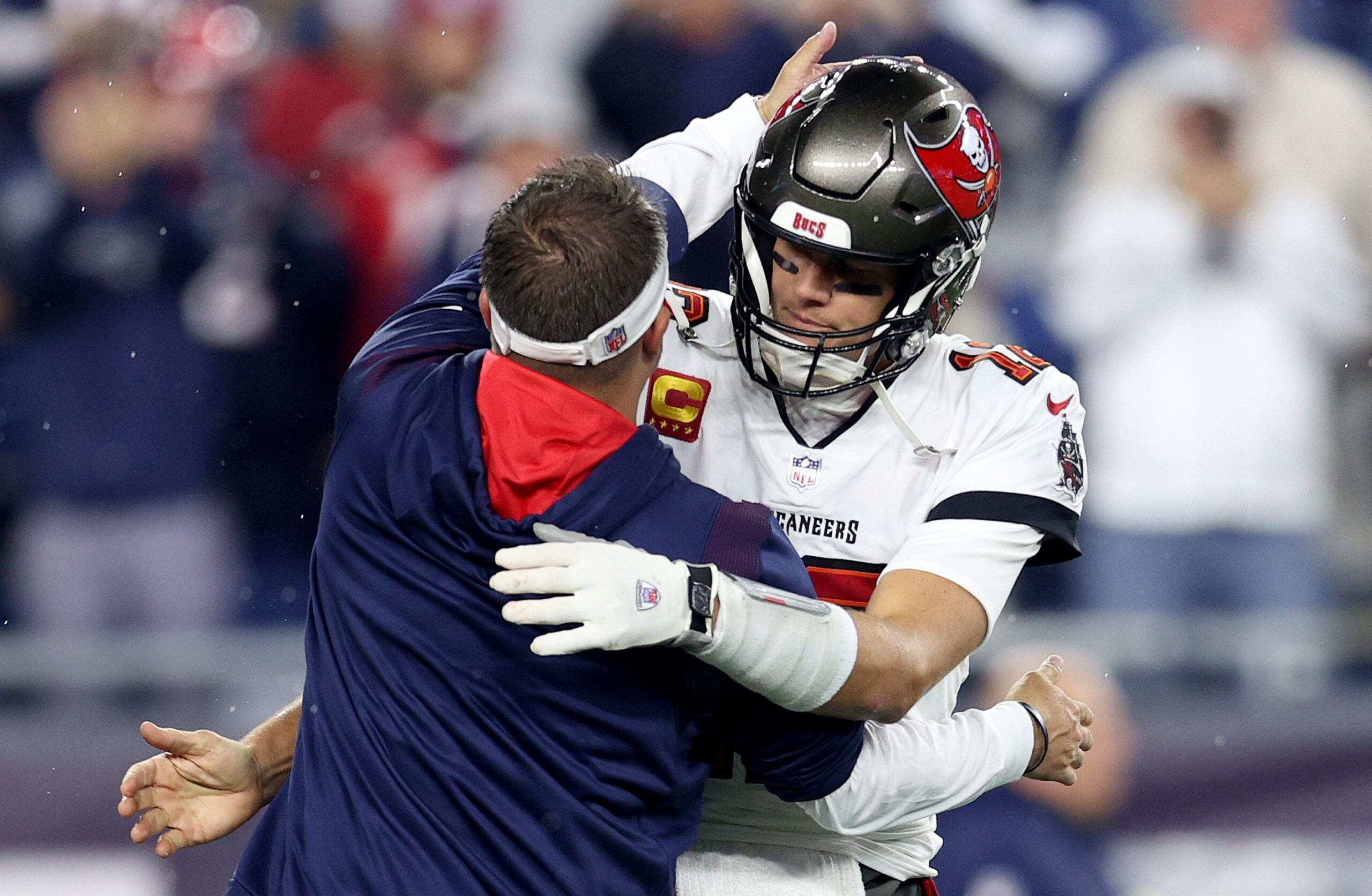 Pregame
Bucs win the toss, defer — 8:20 p.m.
Bucs win the toss and defer. Time for some football.
Official Price Prediction — 8:03 p.m.
Here's what's going to happen tonight:
The Bucs will turn the ball over early, and we're going to wonder how much of it is due to Brady being a little too jacked up. New England is going to hang around through the first half. Brady is going to break Drew Brees' record in the second quarter on a pass to Antonio Brown, but the Patriots will be able to keep it manageable through the first two-plus quarters. However, the Bucs will have too much on both sides of the ball down the stretch. I'll say Tampa Bay 28, New England 20.
Two keys for the Pats — 7:42 p.m.
Two keys for the Patriots tonight:
One, try and test the Bucs' secondary depth. To do that, of course, you're going to have to get a better-than-expected performance out of someone on offense. Hunter Henry? Jakobi Meyers? Who knows? But if you can keep the game manageable early and get down to Tampa's third and fourth corners and put pressure on them in the passing game, you might have something.
And two, try and exploit an edge on special teams. This group needs a big performance tonight, especially in the wake of how they played last week against the Saints. Whether it's a big return or a blocked punt (or kick), or something similar, a standout effort from their special teams would go a long way toward tilting the field and (possibly) winning this thing if you're the Patriots.
Tom Brady takes the field to cheers — 7:33 p.m.
Tom Brady took the field for warm-ups to cheers and chants of "Bra-dy!" "Bra-dy!" around 7:30 p.m. on Sunday.
Pats' inactives — 7:02 p.m.
The following players are inactive Sunday night against the Buccaneers:
Offensive tackle Trent Brown is down for the third straight game with a calf issue. The big fella has been hampered by the injury he sustained in Week 1 against the Dolphins — his absence has been palpable, as New England has struggled to find consistent help a his position. I'll be interested to see if the Patriots do some shuffling along the line and move Mike Onwenu from guard to right tackle and insert Teddy Karras at the right guard spot. But we shall see.
Defensive end Ronnie Perkins is a healthy scratch — the youngster wasn't on the injury report all week.
Linebacker Ja'Whaun Bentley is also out, which will put more on the shoulders of veterans Dont'a Hightower and Kyle Van Noy. Josh Uche is back after missing a week with a back issue, which is good news for New England.
Cornerback Joejuan Williams is another healthy scratch, but this could tell you more about the status of some of New England's other defensive backs who were on and off the injury report all week, like J.C. Jackson. The guess? The Patriots feel pretty good about their depth at the position coming into this one. I'd expect a lot of work for Jonathan Jones in this one.
Cornerback Shaun Wade is another healthy scratch. The Ohio State product, who was acquired from the Ravens this past offseason, has yet to play in the regular season for New England.
Rookie running back Rhamondre Stevenson is a healthy scratch for a third straight week. The youngster got off to a rocky start with a fumble and some blitz pickup issues in the opener — at this stage, it might be a question of trust. With no James White or Stevenson in the backfield, it'll mean a lot of work for Damien Harris and the rest of the remaining backs. (Maybe Brandon Bolden gets some more run this evening?)
Rounding out the healthy scratches is tight end Devin Asiasi. The youngster has yet to play in the regular season for New England. The thinking here is the Patriots feel good about the two vets at the position. It would be nice to see a true breakout game from one or both of them against the Buccaneers.
Among the notables who are active include Uche and wide receiver N'Keal Harry, who will be seeing his first regular-season action of the year.
Bucs' inactives — 6:55 p.m.
How have Pats done as home underdogs? — 6:41 p.m.
One of the biggest games of the year is here, and the bettors are ready. The Bucs have been a solid favorite all week, with a lot of outlets putting the line anywhere between 5 and 7 points, while the over/under has dropped from 50.5 to 49.5 over the week. Our pals at OddShark have a few good gambling stats, including the fact that New England is 5-1 straight-up in its last six as a home underdog, and Tampa is 1-4 straight up and against the spread in its last five "Sunday Night" contest. Makes you think that this game has the potential to be a little more competitive than many believe.
Rain in the forecast? — 6:32 p.m.
Tonight has the potential to be the first "weather game" of the season for the Patriots. Our pals at The Weather Channel are predicting a cool evening with temps in the upper 50s and lower 60s, with a slight breeze out of the east and a better than 70 percent chance of precipitation as the night wears on.
Countdown to Kickoff — 6:30 p.m.
Chris Price here — with the shift to pregame, I'll be steering the ship the rest of the way. Should be a fun one. We'll have our usual pregame slate, which includes inactive analysis, the latest updates from the stadium, a peek at the weather, betting news, and our official pregame prediction.
Where will this game rank among Brady's best at Gillette? — 6:21 p.m.
On to Cincinnati. Deflategate revenge. Tom Brady has had some epic nights at Gillette Stadium. Where might tonight's compare? Christopher Price ranks the five best so far.
Brady is in the building — 5:46 p.m.
Are you looking for tickets? — 4:22 p.m.
Patriots running back James White headed to the IR this week after suffering a hip injury in the loss to the Saints.
It looks like he's got a couple tickets to spare for tonight's game.
N'Keal Harry back from IR — 4:14 p.m.
The Patriots activated N'Keal Harry from injured reserve on Saturday and the receiver should be active for Sunday night's game against the Buccaneers. Harry missed the first three games of the season because of a shoulder ailment suffered in the second exhibition game in Philadelphia.
New England had an open roster spot after placing White on IR Friday.
Harry put together a solid training camp before being derailed, developing a nice chemistry with Mac Jones and making several highlight catches.
Receivers coach Mick Lombardi said this past week that the 2019 first-round pick came into the summer with a plan.
"He came into training camp and said, 'You know what? I'm gonna work, and I'm gonna grind, and I'm gonna do whatever is asked of me in this offense,' '' said Lombardi. "Whether that's block, whether that's be a threat down the field, whether that's be a threat intermediate or whether that's crack defensive ends. Whatever it may be."
In addition to Harry, the Patriots elevated defensive back Myles Bryant and linebacker Jahlani Tavai to the active roster.
— Jim McBride
Gronk reveals depth of injuries (including punctured lung) keeping him out Saturday — 12:25 p.m.
It takes a lot to keep Rob Gronkowski off the field, and the big tight end has more than a bruised rib; he revealed Sunday that he has "four cracked ribs, one broken rib, and a punctured lung," injuries far worse than previously reported.
Gronkowski suffered the rib injury against the Rams last week after a hit to the midsection from Terrell Lewis, and was previously ruled out for Week 4 on Friday.
'I wouldn't change any of it,' Brady says on NFL Countdown — 12:00 p.m.
Tom Brady sat down with "Sunday NFL Countdown" ahead of the game, and gave a little insight on his return to — and departure from — New England.
The seven-time Super Bowl champion told ESPN's Jeff Darlington that he didn't even know where New England was before he arrived in Foxborough, but the Patriots became his family.
"It was 20 incredible years that shaped me and taught me so much about who I was," Brady said, "what winning football, what a winning organization should look like."
"I wouldn't change any of it."
Brady was asked about Bill Belichick, as much of the discourse in recent weeks (and recent years) has centered around the two pillars of the sport's most successful dynasty.
"He's obviously a great mentor," Brady said. "Someone I learned so much from."
The social media games begin — 11:10 a.m.
Tom Brady has stepped up his social media game since his departure from New England, and had a little more fun on Sunday morning ahead of Sunday's showdown.
According to Brady, it's "Good to be back…" — even if the man is making the most out of music snippets to make his point.
Richard Sherman to start — 5:30 a.m.
Super Bowl champ Richard Sherman will reportedly start against the Patriots tonight after being signed by the Bucs earlier this week, NFL Network reports.
Tampa Bay needs help at cornerback after a slew of injuries.
The Bucs will be without Rob Gronkowski, according to ESPN, who did not make the trip to New England after suffering fractured ribs last week against the Rams in a loss.
Sign up for Patriots updates🏈
Get breaking news and analysis delivered to your inbox during football season.