Patriots
Patriots come back to defeat the Texans 25-22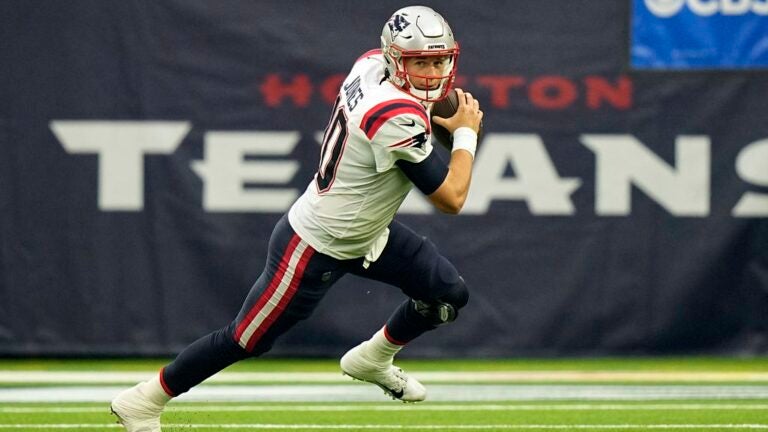 At the site of one of the greatest victories in franchise history, the Patriots pulled off another comeback win Sunday.
At NRG Stadium — which hosted New England's dramatic Super Bowl LI win — New England rebounded from a 22-9 deficit to post a 25-22 with over the Texans Sunday afternoon.
The Patriots, who scored on four straight possessions in the second half, were led by Mac Jones. The rookie, who was only sacked once behind a patchwork New England offensive line, engineered a game-winning drive that culminated with a 25-yard field goal from Nick Folk with 17 seconds left. It was Folk's fourth field goal of the afternoon.
In addition, Damien Harris had 14 carries for 58 yards and a touchdown. Hunter Henry added six catches for 75 yards and a touchdown for the Patriots, who improved to 2-3 on the season.
New England was sluggish out of the gate on both sides of the ball, as Davis Mills and an aggressive Houston offense took command in the early going. The Texans were helped by a key first-half turnover when Harris fumbled on the goal line, taking a touchdown off the board. Houston took advantage, turning the fumble into a touchdown on the way to an early 15-6 lead.
After a Folk field goal made it 15-9 before the end of the half, things got worse for the Patriots at the start of the third when Jones delivered his only interception of the afternoon, setting up the Texans with another score to make it 22-9.
That's when New England took control. Folk blasted a pair of third-quarter field goals to make it 22-15. As Matthew Judon (two sacks) and the rest of the Patriots' defense clamped down, New England tied the game with 9:31 to go when Jones hit Henry on a 13-yarder to make it 22-22.
Here's how the game unfolded:
Pats take the lead, 25-22 — 3:57 p.m.
Nick Folk connects on a 21-yard field goal to make it 25-22 with 17 seconds left to give New England its first lead of the game.
New England with a chance to take the lead — 3:38 p.m.
Patriots take over with a chance to take the lead here with 7:15 to go in regulation.
Pats tie it at 22 — 3:32 p.m.
Mac Jones connects with Hunter Henry on a 15-yard scoring strike, putting the capper on a sharp-looking drive that makes it 22-22 with 9:31 to go in regulation. The star of that series might have been Damien Harris, who returned to action after a brief locker room stay and put up some excellent yardage, powering the New England ground game and setting the stage for the game-tying touchdown.
Jones: 20-26, 194 yards, 1 TD, 1 INT
Harris: 13 carries, 54 yards, 1 TD
Henry: 5 catches, 65 yards, 1 TD
Houston misses FG — 3:24 p.m.
A 56-yard field-goal attempt was off the mark, opening the door a little wider here for the Patriots. New England will regain possession at its own 46-yard line with 13:25 to go in regulation. It's 22-15, Houston.
Three quarters are done — 3:18 p.m.
After three, the Texans lead the Patriots, 22-15.
Pats cut the lead to seven — 3:13 p.m.
Even though they only got three there — can you give a team offensive MVP to a kicker? — the Patriots kept the momentum in their direction with that last drive. After starting near midfield, Jones found Agholor over the middle for a 20-yard gain got the Patriots into the Houston red zone, which set the stage for a 32-yard field goal from Folk to make it 22-15 with 1:50 to go in the third. (Jones was 5-5 for 43 yards on that drive.) One offensive note: I'd expect Stevenson and Bolden to get the bulk of the running back reps moving forward for a few reasons, not the least of which is the fact that the Patriots simply don't have many available bodies at the position right now.
Harris is questionable to return — 3:08 p.m.
Pats on their way back? — 3:05 p.m.
Starting to sense a momentum shift; the Patriots have forced another punt, and after the return from Olszewski, New England will take over on its own 38-yard line. There's 5:48 to go in the third quarter, and the Patriots are looking to cut into Houston's 22-12 lead. This is still manageable for New England. The margin for error is growing slimmer, but there's still a lot of time left.
Folk delivers to make it 22-12 — 2:59 p.m.
The Patriots couldn't get much offensive traction off that goofy special teams turnover (you can't really call it a punt block), but Nick Folk still delivered a 52-yard field goal to make it 22-12 with 8:25 to go in the third quarter. Not the seven like you'd hope for, but if you're the Pats, you're in a better situation than you were a few minutes ago. (One more note: Damien Harris was back in the game for New England, while Brandon Bolden also got a few snaps. Going to be interesting to see how the running back snaps shake out the rest of the way.)
Signs of life — 2:55 p.m.
I'd call that a spark. The Houston punter just booted it off the head of one of his own players as part of an odd sequence — it looked like Houston was going to fake it, but decided to kick it away. New England will get the ball at the Houston 36-yard line.
Pats need a spark — 2:50 p.m.
The Patriots' offense failed to move the ball there, and New England punts for the first time all day. The Patriots' offense has to find some sort of spark here; a Meyers pass play or some sort of trickeration. It's 22-9 with 11:43 to go in the third. There's little life to that group right now.
Texans score again — 2:45 p.m.
Houston utilizes a flea flicker to go up 22-9 with 13:31 left in the third quarter. The Texans are rolling here — it looked like Joejuan Williams bit on the fake, leaving Conley open for the score.
Jones picked off, Texans take control — 2:41 p.m.
Mac Jones was intercepted on New England's opening drive here in the second half. The Texans will take over at the New England 44 with just over 14 minutes left in the third quarter.
Halftime analysis — 2:26 p.m.
Two quarters are in the books in Houston, and the Patriots trail 15-9.
Here are a few quick notes:
Mac Jones (completed his first nine passes): 10-15, 122 yards
Damien Harris: 8 carries, 27 yards, 1 TD, 1 fumble
Meyers: 3 catches, 32 yards
Davis Mills: 12-16, 202 yards, 2 TDs
-Ball security is job security. It's a simple phrase, but it cuts to the heart of what the Patriots' running game is all about. And it's something the current New England backs are struggled with through four-plus games this season. In the second quarter of Sunday's game against the Texans, Harris fumble the ball on the goal-line, the victim of an artfully designed punch out that led to a fumble and Houston taking possession. Just an absolutely brutal turnover. Harris and Rhamondre Stevenson fumbled against Miami, and J.J. Taylor fumbled last week against the Buccaneers. Going to be interesting to see how the Patriots deal with this situation moving forward.
-One other offensive note: It didn't look like Jones was under too much pressure there in the early going. The Patriots opened with an offensive line (from left to right) that was Herron, Ferentz, Andrews, Karras and Cajuste, and at first glance, it appeared they were pretty stout in the early going. We'll see if they can keep Jones clean the rest of the way.
-The Jakobi Meyers drop with less than a minute to go in the half was a HUGE play. Drops haven't been an issue for Meyers over the course of his career, but that was brutal, given the circumstances. The drop played a sizable role in forcing the Patriots to settle for a 52-yard field goal at the end of the first half.
-Houston is looking to take as much off Mills' plate as possible — the Texans are leaning heavily on the run, and mixing in some play action to loosen things up a bit underneath. That being said, the rookie has looked impressive through the first two quarters, making plenty of throws from the pocket as well as on the run. The New England secondary — particularly new No. 1 cornerback J.C. Jackson — had issues in coverage, as Mills had impressive connections of 67 yards and 40 yards that were the biggest highlights for Houston in the early going. The best defender for New England in the first half? Matt Judon, who had a pair of sacks in the second quarter. (One other thing? Lots of credit to Texans coach David Culley, who has been aggressive in his play-calling technique; Houston is 3-for-3 on fourth down.)
-Pats special teams has been a mixed bag in the first half, with the highlight coming when Folk hit a 52-yarder at the end of the first half. That was after a missed extra point earlier in the game, one of three missed extra points we saw here in the first half.
-The Patriots will get the ball to start the second half.
Texans take 15-6 lead — 2:21 p.m.
New England has few answers right now for a scrappy Houston team that has come to play this afternoon. There's little life from the Patriots' secondary, or their third-down defense, and as a result, Davis Mills is moving the Texans' offense up and down the field without much resistance. On that last drive, Houston was stopped in the red zone, thanks in large part to a pair of sacks from Matthew Judon (the best and most consistent defender the Patriots have had in the first half), but a 33-yard field goal made it 15-6 with 1:37 to go in the half.
For the Texans, the highlight was a Mills-to-Conley play for 40 yards that looked an awful lot like the 67-yard pass play from Mills to Moore earlier in the game; both came on a Mills rollout and connection with a receiver down the sideline, and both featured an impressive reception and a nice catch-and-run sequence.
Harris fumble gives the ball back to Houston — 1:53 p.m.
Another red-zone fumble for the Patriots there, as Damien Harris lost control of the ball — thanks in large part to a punch out — on the goal line. The touchdown was overturned, and the ball will go back to the Texans.
Have to wonder about Harris' situation a this point. (Can Bill Belichick trust Stevenson as the de facto lead back the rest of the way?) Anyway, Houston has the lead and the ball here midway through the second quarter.
Texans go up 12-6 — 1:40 p.m.
Yikes. A 67-yard scoring strike from Mills to Moore gives the Texans the lead back. The extra point was no good — it's 12-6 with 12:56 left in the first quarter.
That play was made when Moore outjumped Jackson along the sideline, coming down with it. He then had the presence of mind to stay in bounds and keep running for the end zone. A thunderbolt of a play that allows Houston to re-take the lead.
Pats tie things up — 1:33 p.m.
A little razzle-dazzle to finish off that drive for New England, as the Patriots — who were on the one-yard line — flexed out Mac Jones and Damien Harris took the direct snap. Harris then bulled his way into the end zone for New England's first score of the game.
The Patriots got a great start from Bourne on that series — he had a 15-yard catch to jumpstart the drive, and he followed that up with a 12-yard carry. Agholor was on the receiving end of a dart from Jones that got the Patriots down to the Houston seven, eventually setting up New England's first score. Nick Folk missed the extra point, and it's tied at six with 14:17 to go in the first half.
For what it's worth — and it's a small sample size because Houston dominated time of possession in the first quarter — it didn't look like Jones was under too much pressure there in the early going. The Patriots opened with an offensive line (from left to right) that was Herron, Ferentz, Andrews, Karras and Cajuste. We'll see if they can keep Jones clean the rest of the way.
First quarter done — 1:27 p.m.
First quarter is in the book, and the Pats trail 6-0, but they are driving.
Patriots offensive starters — 1:25 p.m.
Jones, Harris, Meyers, Agholor, Henry, Smith, Herron, Ferentz, Andrews, Karras, Cajuste.
Kickoff out of bounds — 1:23 p.m.
Odd — with Houston's kickoff going out of bounds, it's the second straight week a New England opponent has had a kickoff go out of bounds. The Pats will get the ball at their own 40.
Houston opens strong — 1:19 p.m.
That offensive series was probably a really good indicator of what we're going to see on offense today from the Texans. I'd look for Houston to do whatever it can to take some pressure off their young quarter — lots of running the football with an eye toward eventually setting up some play action. (Most of the pass attempts from Mills were quick outs, plays designed specifically for the quarterback to get the ball out as fast as possible.) In all, there were 11 rushing attempts and seven pass attempts. Regardless of how you get there, however, it worked in the early going for the Texans, who put together an absolutely epic drive that took 18 plays and ended with a Mills pass to Auclair. After the extra point was missed, New England is in a 6-0 hole early with 4:54 to go in the first quarter. (It was the longest Houston offensive drive in a decade.)
NE starting defense — 1:05 p.m.
Patriots defensive starters: Wise, Godchaux, Guy, Judon, Bentley, Hightower, Jackson, Williams, Phillips, Dugger, McCourty.
Pats kick things off — 1:03 p.m.
New England opens on D against Houston. Time for football.
OL lineup for today — 12:52 p.m.
Official Price Prediction — 12:42 p.m.
The Patriots win this one, 24-10. Mac Jones passes for a touchdown and Damien Harris runs for one more. It's not easy because of the state of the offensive line; Jones is again forced to operate under pressure. But Josh McDaniels runs at least one trick play as New England is able to scheme up enough offense to get some separation by the third quarter. And the Patriots run the ball better than it did last week against Tampa Bay. (After -1 yards on the ground against the Bucs, that's not hard, but you have to start somewhere.) The Texans do get a quality return, but they fail to get much going on offense.
What to watch for today — 12:24 p.m.
If Matt Judon has a sack today, he'll become the first Patriot with a sack in four straight games since Jamie Collins and Chas Winovich did it in 2019.
Nick Folk has 295 career field goals. If he gets five more, he'll be the 35th player in NFL history with 300 career field goals.
Jakobi Meyers has completed two passes for 45 yards this season. The Patriots have never had a wide receiver complete more than two passes in a single season. The most passes thrown by a non-quarterback in a single season for the Patriots were by Andy Johnson (nine attempts in 1981) and Dick Christy (who attempted 11 in 1960).
Devin McCourty needs one interception to become the third player in Patriots' history with 30 career interceptions. (Ty Law and Ray Clayborn had 36 each.)
Could we see Bailey kicking FGs today? — 12:09 p.m.
Interesting news out of the pregame in Houston:
Two things to keep in mind here: one, Folk was on the injury report all week with a knee issue. It's not ridiculous to think that he might not be able to go today, or at the very least, be limited in what he might be able to do. And two, I've been a longtime advocate to have Bailey at least try punting, kicking off and kicking field goals and extra points in a game for a long time now. I wrote this back in March of 2020 on the idea. Something to watch for this afternoon.
Can Pats cover the spread on the road? — 11:57 a.m.
This game has held fairly steady over the course of the week from a betting line, with the Patriots as heavy favorites. The current consensus seems to be that New England is anywhere between a seven- to 10-point favorite, with an over/under of about 39. My initial feeling is the Patriots will cover, but with two rookie QBs (even with Mac Jones playing well last week against Tampa), I'd still bet the under.
A few other quick betting notes, from our friends at Odds Shark:
-The under is 11-1 in New England's last 12 games.
-The total has gone under in 5 of New England's last 5 games on the road.
-Houston is 1-8 straight up in its last nine games.
-New England is 8-4 against the spread in their last 12 games against Houston.
Old friends Burkhead, Amendola unavailable for Houston — 11:49 a.m.
No Rex Burkhead, no Danny Amendola. And Marcus Cannon is on injured reserve. So much for a reunion with some old faces. (Funny thing was, given the Patriots' current health issues, the three of them might have been able to find a spot in the New England lineup this afternoon if they were with the Pats.) Brandin Cooks and Kamu Grugier-Hill are among the ex-New Englanders in the Houston lineup this afternoon.
Rhamondre Stevenson among actives for Pats — 11:35 a.m.
The following players have been listed as inactive by the Patriots for this week's game against the Texans:
Cornerback Jalen Mills won't play. The veteran has started the first four games of his career for the Patriots and has 12 tackles, but he'll sit because of a hamstring issue. Jonathan Jones should see plenty of time in his absence. In a week where they dealt Stephon Gilmore and saw a pair of cornerbacks ruled out early in the week, it has been a rough few days for the New England defensive backs.
Tight end Devin Asiasi is a healthy scratch for the fifth consecutive week to open the season, which should mean plenty of work for veterans Hunter Henry and Jonnu Smith.
Guard Shaq Mason, traditionally one of the sturdiest members of New England's offensive line, was ruled out earlier in the week because of what the team is calling an abdomen issue. The Patriots have a few possibilities there, but will likely lean on Ted Karras and the recently promoted James Ferentz to try and shore up the interior of the offensive line.
Cornerback Shaun Wade (concussion) was also ruled out earlier in the week. Wade has struggled to see the field since he first arrived via a trade with the Ravens this summer, and so the Patriots are used to not having him in the lineup, at least to this point. With Wade and Mills out, Williams, who was a healthy scratch in Week 4 against the Bucs, will likely get plenty of run this afternoon against the Texans,
Rookie linebacker Ronnie Perkins (ankle) was limited in practice this week, and was downgraded earlier in the week. The youngster has yet to make his NFL debut, and as we've said before, he could be headed for a rookie redshirt season.
Running back J.J. Taylor is a healthy scratch for the Patriots. (Could be related to last week's fumble against the Bucs.) This likely means some work for rookie Rhamondre Stevenson, who struggled in the opener against the Dolphins and has taken three straight healthy scratches since then. It could represent a big opportunity for the back out of Oklahoma — we'll see if he can take advantage of the chance.
Interesting to see Jamie Collins jumping right back into the fray in his first week back in Foxborough. It'll be interesting to see how much he plays in his return.
For the record, offensive tackle Trent Brown was placed on IR earlier this week with a calf injury, so he'll be out for the foreseeable future.
Belichick texts Cora — 11:30 a.m.
The fraternity of New England coaches is pretty tight — Bill Belichick has been a big supporter of guys like Brad Stevens, Doc Rivers, Terry Francona and others over the years. Still, it's pretty cool.
Predict the score — 11:25 a.m.
Pregame reading list — 11:05 a.m.
Best way to get you ready for this afternoon's game? A good cup of coffee and the pregame reading list. Let's dive right in.
Chad Finn: It seems like a golden opportunity to let Mac Jones take some chances when the Patriots face the Texans
Patriots' offensive linemen Isaiah Wynn, Michael Onwenu out vs. Texans, Trent Brown placed on IR
Patriots reportedly offered Stephon Gilmore a 'chance' to restructure contract prior to trade
Rookie QBs getting crash course in up-and-down life of NFL
What NFL experts are predicting for Sunday's Patriots-Texans game
Four Texans players to watch against the Patriots
Time for some football! — 11:00 a.m.
Welcome back to football! It's the Patriots and Texans this afternoon, live from NRG Stadium in Houston. Mac Jones and New England look to get back on track after last week's narrow loss to Tom Brady and the Buccaneers, while the Texans are eyeing their second win of the season. As usual, we'll have it all from start to finish, including a pregame check-in from Houston, the latest betting information, inactive analysis, and the official Price Prediction. Put on a pot of coffee, because we're about to kick off another wild day in Boston sports.
Sign up for Patriots updates🏈
Get breaking news and analysis delivered to your inbox during football season.