Patriots
Former Patriots star Patrick Chung pleads 'not guilty' to assault and vandalism
Chung, 34, was formally charged on Tuesday for allegedly assaulting a family member and damaging her property in Milton on Monday.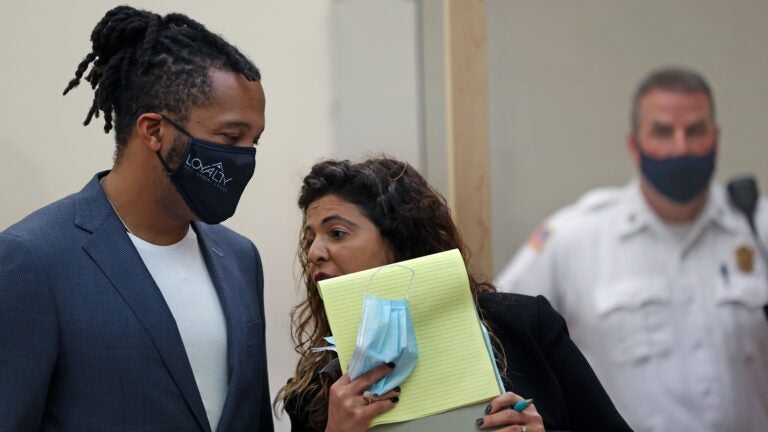 Former Patriots safety Patrick Chung pleaded not guilty to charges of domestic violence and vandalism at a Quincy court on Tuesday and was released on $10,000 bail after being arrested on Monday.
The reports allege Chung, 34, committed assault and battery against a family member, as well as vandalism, in Milton on Monday.
The victim's name is unknown at this time but has been identified as a woman family member whom Chung allegedly pushed to fall to the ground and struck in the face with an open hand, according to the police report of the incident.
He then allegedly threw the unknown family member's cell phone, causing the screen to shatter and triggering the vandalism charge of damaging "personal property" of the victim.
The assault charge reportedly carries a sentence of up to 2.5 years in prison and/or a fine of no more than $5,000, while the vandalism charge could involve a maximum sentence of three years in prison, fines or restitution for the damages.
The judge issued the $10,000 bail as a "personal surety," meaning Chung would have to pay the money if he violates the restraining order granted to the victim prior to the arraignment.
"[Chung] looks forward to being able to set the record straight with respect to what actually occurred. He's the victim, not the aggressor of this matter," the former Patriot's attorney said. "My client is a gentleman, and in no way would ever harm a woman. That as much I am sure about."
Chung lives in Norton and last played for the Patriots in 2019 before opting out of the 2020 season due to the COVID-19 pandemic.
The 11-year NFL veteran and three-time Super Bowl Champion was indicted previously on felony drug charges for cocaine possession in 2019, though those charges were dropped by New Hampshire prosecutors last year.
He will be due back in court on January 7.
Sign up for Patriots updates🏈
Get breaking news and analysis delivered to your inbox during football season.