Patriots
Patriots blast Panthers behind running game, aggressive defense
The Patriots picked Sam Darnold three times and put uptheir best rushing performance of the season in the rout of the Carolina Panthers.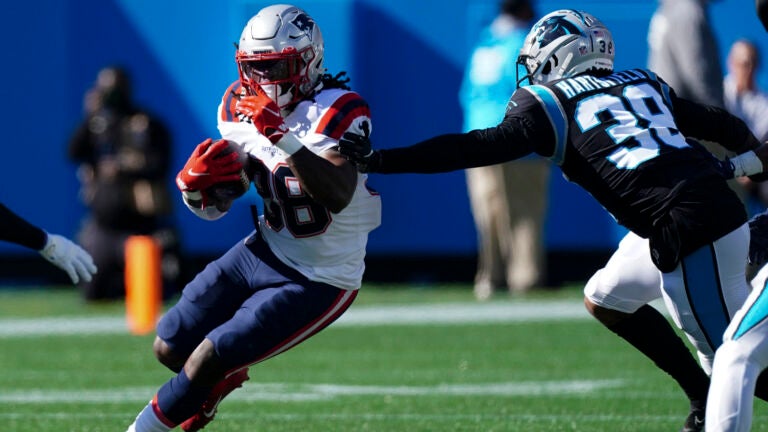 As rough as the Patriots' luck was at the beginning of the season at home, their fortunes on the road have been outstanding–one might even say playoff-worthy.
New England (5-4) notched its fourth straight road win to start the season, handling the Carolina Panthers in dominating fashion by a score of 24-6.
Mac Jones (139 passing yards, TD, INT) didn't do much in this game, and he didn't have to.
The Patriots' rushing attack put up 154 yards before Brian Hoyer's series of kneel-downs to end the game — the team's best total of the season so far. On the other side, the defense harassed Sam Darnold relentlessly in his return to the lineup, picking him off three times and taking one of those interceptions back to the house.
Just like that, the team that started 1-3 is making a sudden, aggressive push toward the AFC playoffs.
Here's how the action went down in Carolina on Sunday.
Fourth quarter
3:56 p.m.: This one is over as Brian Hoyer kneels three straight times and the Panthers go gently into that good afternoon.
That's now three wins in a row for the Patriots and four straight road wins to open the season.
3:51 p.m.: Two-minute warning with the Patriots leading 24-6.
Brian Hoyer is in at quarterback after the Panthers turn the ball over on downs. Matthew Judon's sack on second down all but killed any chance of Carolina pulling off a touchdown to cut the game to a one-score lead.
Mac Jones finishes with 139 yards passing with a touchdown and interception each.
He didn't have to do much in this one thanks to a strong running game and a brilliant defensive performance.
3:43 p.m.: After the Panthers jump offside, Bill Belichick gives Nick Folk a shot to hit a 54-yard field goal to all but ice the game. But the kick is never close, missing wide to the right.
Carolina gets the ball at its own 44-yard line and immediately commits a holding penalty to push them back to a 1st-and-20 situation.
3:39 p.m.: Right on cue, Bolden gets a carry on 3rd-and-14 and fumbles the ball backward. Mac Jones recovered it at the 41-yard line.
Brian Burns is down with an injury once again after the play. It looks like it might be the same ankle he injured on the strip-sack he had on Mac Jones earlier in the game, on which Jones dragged Burns to the ground by his ankle.
Once things resume, the Patriots will likely punt this one and hope to pin Carolina deep.
3:36 p.m.: That's not a good sign: Damien Harris gets walloped in the backfield by Brian Burns and is shaken up on the play. No one touched Burns, who got a full head of steam and nearly tackled Mac Jones and Harris at the handoff point.
With Rhamondre Stevenson currently in the locker room, an injury to Harris would leave the Patriots with only Brandon Bolden at running back.
3:33 p.m.: After a cutesy fake-punt formation (no play was run), the Patriots actually do go for it on 4th-and-2. Brandon Bolden picks it up by a nose for a new set of downs.
That's a bit of a rarity for the Patriots, but it pays off here.
3:27 p.m.: Rhamondre Stevenson goes down hard at the end of an 11-yard run and heads to the sideline. His return is probable.
He's had his best day as a pro this afternoon, totaling 106 yards (66 yards rushing, 44 yards receiving).
3:23 p.m.: Pick No. 2 for J.C. Jackson!
The Patriots' interceptor extraordinaire blankets D.J. Moore in the end zone and comes down with Sam Darnold's underthrown fade route. That's a back-breaker for the Panthers and yet another game-changing play for New England's defense.
Third quarter
3:18 p.m.: That's it for the third quarter. It's 24-6 New England.
The Panthers are driving again after a few first-down grabs by Christian McCaffrey, but they haven't had anything to show for their other drives. We'll see if this one is any different when the fourth quarter rolls around.
3:15 p.m.: Myles Bryant delivers a rib-rattling hit on D.J. Moore on a 6-yard catch, and Moore is down on the field.
Bryant isn't the biggest guy, but his physicality has been excellent in the slot. He's performing well with Jonathan Jones out of the lineup.
3:11 p.m.: For some reason, the Patriots throw the ball three straight times after Stevenson's consecutive runs of 6 and 5 yards and misfire on all three attempts.
New England settles for a 37-yard Nick Folk field goal to make the score 24-6.
It probably won't matter that much since the Panthers can't score, but it's still just a two-score game, for what it's worth. The way the Patriots have been running the football, it seems odd they didn't do it more to try and grind out another touchdown.
3:08 p.m.: Rhamondre Stevenson has the hot hand today, and the Patriots are playing him a lot. Two more good runs nets him another first down after a pass-interference penalty got the Patriots in business deep in Carolina territory.
He now leads the team with 46 yards rushing on seven carries.
3:04 p.m.: ANOTHER Patriots interception!
This one comes at the hands of Jamie Collins, who just smoked Christian McCaffrey on a screen pass on the play before. Collins leaps into Darnold's throwing lane and snatches the ball out of the air as it was heading toward Robby Anderson down the field.
Amazing, athletic play from the veteran linebacker.
The Patriots are simply squeezing the life out of this Panthers offense. One more touchdown might send the fans heading to the exits in the third quarter.
2:57 p.m.: Pick-six by J.C. Jackson!
The ball-hawking corner swiped a Sam Darnold overthrow down the left sideline as the quarterback looked for tight end Ian Thomas on a scramble. He then turned on the jets to outrun speedy Robby Anderson to the end zone for the 88-yard touchdown return.
That's two interception touchdowns in consecutive weeks for the Patriots after Adrian Phillips robbed Justin Herbert last week in Los Angeles.
Just when it looked like the Panthers might keep the game interesting, the Patriots slam their door in their faces.
2:53 p.m.: Carolina finally starting to find some traction offensively on their second drive of the second half.
A few runs from Christian McCaffrey got them an immediate first down, and then Chuba Hubbard gashes them up the middle, turning a check down into a 33-yard gain.
Darnold then hits D.J. Moore for a 13-yard gain, and the Panthers are in the red zone at New England's 20-yard line.
2:47 p.m.: Rare bad drive for the Patriots there as they go three-and-out for the first time in the game.
Damien Harris lost two yards on a first-down run. Then, Mac Jones had to throw a ball away against pressure. On 3rd-and-12, New England kept it safe and handed it to Brandon Bolden before punting it away.
The Patriots aren't going to take too many chances offensively in those situations knowing how their defense has throttled Carolina's offense so far.
2:41 p.m.: The Panthers take the ball to start the second half and do exactly what they did in the second half: absolutely nothing.
Darnold fires incomplete to Christian McCaffrey on third down, and Carolina goes three-and-out for the third time in this game. Christian Barmore came blasting in once again to pressure Darnold, who scrambled and couldn't make an accurate throw on the play.
Just a dismal showing for the Panthers' offense today.
Second quarter
2:28 p.m.: Carolina won't try too hard to force the issue, and the game goes to halftime 14-6.
New England's offense has overcome a rash of mistakes, including two turnovers, to cash in for two touchdowns. Mac Jones is 11-of-13 with 121 yards through the air, a touchdown, an interception and a fumble lost.
On the other side of the ball, the defense has held Darnold to just 32 yards passing. Carolina's longest play of the day: a 13-yard catch by D.J. Moore.
2:23 p.m.: Touchdown, Patriots. Mac Jones finds Hunter Henry (again) for a 7-yard score. That's Henry's fifth touchdown in the last six weeks.
Jones really set his feet and let that one rip to Henry, who was covered well on the play. When he drives the ball, his arm strength is solid.
Nick Folk's extra point makes the score 14-6 New England. The Panthers have just 24 seconds to score before the half but will get the ball back in the second half.
2:18 p.m.: Two-minute warning sees the Patriots driving thanks to a huge throw from Mac Jones to Brandon Bolden on third down to get New England set up in Panthers territory.
Jones floated the ball down the sideline to Bolden, who ran by linebacker Shaq Thompson and made a beautiful twisting grab to pull it in for 28 yards.
That's a good response from the interception Jones just threw on the previous possession. Meanwhile, the running backs have been huge both on the ground and in the receiving game today. Patriots backs have 71 of Mac Jones's 111 passing yards.
2:07 p.m.: Fortunately for New England, the Panthers don't seem interested in scoring touchdowns.
After making it down to the Patriots' 18-yard line, an unsportsmanlike conduct penalty on the Panthers' Ian Thomas pushes them back to the New England 31-yard line.
The drive goes nowhere from there, and Carolina has to settle for a 49-yard field goal from Zane Gonzalez. It's now 7-6 Patriots.
The Panthers' offense can't get anything done even when they're gift-wrapped great field position.
2:04 p.m.: Stephon Gilmore strikes. Unfortunately, he did it as a member of the Panthers.
The Pro Bowl corner stepped in front of a crossing route intended for Nelson Agholor like he heard the play call in the huddle. Mac Jones's throw never stood a chance.
That's Gilmore's second pick in two weeks since coming off the PUP list.
The Panthers now have an excellent opportunity to take the lead back from New England.
2:02 p.m.: Sam Darnold just can't get anything done against the Patriots. He's only completed 3-of-8 passes for 21 yards so far. A reminder: Darnold has yet to beat the Patriots in his career.
1:59 p.m.: Carolina's offense is stuck in the mud. A 3-yard run from Chuba Hubbard is all the Panthers manage on that drive, and they punt it back to New England.
Jakobi Meyers is now back to take punts with Gunner Olszewski out of the game after taking a hard shot to the head on his last return.
1:52 p.m.: The Patriots' running backs make a statement on the team's first touchdown drive, and New England is now up 7-3 after a 3-yard touchdown run by Damien Harris.
But that drive was mostly about rookie Rhamondre Stevenson.
The fourth-round pick dominated on the drive, ripping off a 41-yard catch-and-run after leaking out of the backfield and threw safety Sean Chandler off the field during a physical 13-yard run around the left end.
The kid isn't just a sledgehammer. He has quick feet and elusiveness in the open field, especially for a back who's about 250 pounds.
At this point, there's not much of a debate about who the second-best running back option on the team is. After shaking off an early-season fumble, Stevenson has balled out.
1:46 p.m.: A few reporters have noted a questionable play by Mac Jones on Brian Burns's strip-sack.
As Burns turned to run for the football lying on the ground, Jones grabbed Burns's ankle and tugged multiple times to stop him from making the fumble recovery.
Burns ended up hurt on the play as his ankle got twisted on his way down to the ground, and it seems like Jones might be part of the reason why.
1:44 p.m.: The Patriots stiffen up to stop Carolina's offense and force the Panthers to settle for a 39-yard field goal. The score is now 3-0 Carolina.
Christian Barmore had a very important pass deflection at the line of scrimmage that would've saved a touchdown pass to Christian McCaffrey if the ball had been allowed to travel down the field. Barmore's arguably New England's best interior defender right now.
First quarter
1:37 p.m.: First quarter ends with a bang and a bad play for the Patriots.
Caorlina edge rusher Brian Burns came screaming off the edge around Isaiah Wynn and laid into Mac Jones from behind, jarring the football loose. Frankie Luvu scoops it up, and the Panthers will have a prime scoring opportunity from the New England 29-yard line when the action resumes.
That's the offense's seventh lost fumble of the season and Jones's second.
1:34 p.m.: Patriots force the short completion on third down and make the tackle. Cornerback Jalen Mills fought hard to get that football out before Carolina's Tommy Tremble hit the ground and almost succeeded, but Tremble is ruled down by contact.
The Panthers punt it to Gunner Olszweski, who has a good return but fumbles before he can cross into Carolina territory. New England will still get good starting field position at their own 47-yard line.
1:29 p.m.: Ugly football so far.
Four penalties on the Patriots so far, plus a false start and a fumbled snap by Sam Darnold that leads to intentional grounding on Carolina in this drive. It's now 3rd-and-25 for the Panthers.
1:23 p.m.: So much for all that positive momentum.
A false start from Henry and a swing pass to Brandon Bolden that went nowhere set up an almost insurmountable 3rd-and-16. The screen pass to Jonnu Smith plays it safe and doesn't gain much, and the Patriots will punt again.
Better job this time by Bailey and the special teams unit as Bethel downs the ball at Carolina's 5-yard line.
1:21 p.m.: Things looked ugly on the Patriots' second drive after an immediate false start penalty and a sack of Mac Jones by Haason Reddick. But Mac Jones plays over the mistakes by nailing Hunter Henry over the middle on a 12-yard pass to earn another first down.
Credit also to Rhamondre Stevenson for a big run on 2nd-and-19 to set up a more manageable third down.
1:17 p.m.: Kyle Van Noy bats down Sam Darnold's pass on third down to end the Panthers' first drive. Great play for Van Noy, who looped around on a pass rush and put himself right in a throwing lane to take away what probably would've been a first down toss.
Panthers punt.
1:12 p.m.: Bad beat for Jakobi Meyers, who bobbles a good third-down throw from Mac Jones and ends up just short of the sticks. Meyers would have had the first down if he caught it cleanly but got tackled a yard short of the line to gain after collecting the bouncing ball.
Jake Bailey then punts the ball straight into the end zone for a touchback, and the Panthers get the ball on the 25-yard line to start their first possession.
Poor execution all around hurting New England after one drive.
1:07 p.m.: Two penalties had the Patriots moving backward after that initial first down. Isaiah Wynn false-starts on second down first, then Ted Karras gets caught holding on a screen to tight end Jonnu Smith that didn't go anywhere anyway.
But Brandon Bolden busts out a physical run on 2nd-and-25 to make it a manageable 3rd down with nine yards to go.
1:06 p.m.: Mac Jones getting into the running game early with a quarterback sneak to move the chains on 3rd-and-1.
Pregame
1:02 p.m.: The Patriots lose the toss but will get the ball first after Carolina defers. It's a windy day in Charlotte, and New England's offense will be heading right into the gust to start things off.
12:55 p.m.: That's one way to use your field advantage…
The Panthers played the children's song "I'm a Little Teapot" over the loudspeakers at Bank of America Stadium as the Patriots took the field a bit ago. There's certainly a logical reason for that.
12:44 p.m.: Looks like it's not all hard feelings between Stephon Gilmore and the Patriots–at least not where he and owner Robert Kraft are concerned.
Kraft found his way onto the field during warmups to embrace Gilmore before Kraft's Patriots play Gilmore and the Carolina Panthers and share a few private words.
New England traded Gilmore to Carolina for a sixth-round pick last month after a protracted injury/contract-related absence that landed the former Defensive Player of the Year on the PUP list to start the season.
12:18 p.m.: One interesting under-the-radar player in this week's game could be Patriots wide receiver Kristian Wilkerson, who was elevated from the practice squad this week to replace the injured N'Keal Harry.
Early in training camp, Wilkerson looked like he could really push Harry for a roster spot before a plague of drops struck him in practices and in games. The Patriots ended up releasing him during roster cut-downs and re-signing him to the practice squad.
Wilkerson won't replace Harry's blocking, but the second-year undrafted receiver is a more explosive target down the field and offers more potential with the ball in his hands. He racked up 147 yards on 13 catches during the preseason and seemed to have a notable connection with Mac Jones while the two worked with the second-team offense.
Jones might help Wilkerson register his first NFL catch at some point in this contest.
11:41 a.m.: N'Keal Harry (knee) is officially out for the Patriots today due to a knee injury as he headlines the team's inactives against the Panthers. The good news: J.C. Jackson (illness) is in after returning to practice Friday.
On the Panthers' side, both running back Christian McCaffrey and quarterback Sam Darnold are active and looking to play.
10:54 a.m.: Both teams got some welcome injury-related news toward the end of the week, though it remains to be seen how that will play out Sunday afternoon.
The Panthers cleared Sam Darnold from concussion protocol, a likely sign he'll start at quarterback against New England, and activated star running back Christian McCaffrey off of injured reserve.
The latter would be an especially huge boost for Carolina. McCaffrey is arguably the best player on the team and would be the toughest running back the Patriots have faced since the Saints' Alvin Kamara in Week 3. But the Panthers' back will need to go through a pregame workout to assess his readiness to play.
On the other side, the Patriots got J.C. Jackson back at practice on Friday after he missed a few days due to non-Covid illness. That should bode well for his chances to play against the dynamic receiver duo of D.J. Moore and Robby Anderson.
Sign up for Patriots updates🏈
Get breaking news and analysis delivered to your inbox during football season.