Patriots
Here's everything that happened in the Patriots' shutout win over the Falcons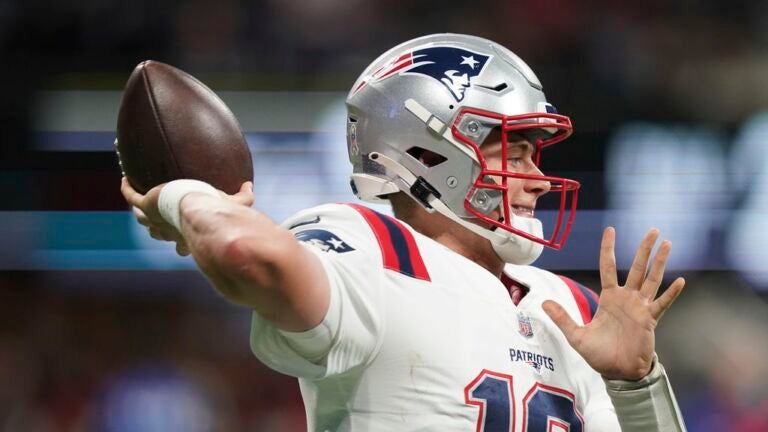 The Patriots put a capper on one of the toughest stretches of the season Thursday night, as they won for the third time in 12 days with a 25-0 victory over the Falcons in Atlanta.
New England (7-4), which has now won five straight overall, was led by Mac Jones (22-for-26, 207 yards, one touchdown, one interception) and a stout defense that finished with its first shutout of the season, punctuated by four sacks of Atlanta quarterback Matt Ryan to go along with interceptions from Devin McCourty, J.C. Jackson, and Kyle Van Noy.
The Patriots were in control of this one from start to finish, as a pair of first-half field goals from Nick Folk (32 and 44 yards) sandwiched New England's first touchdown drive of the night, a series that ended with a 19-yard pass play to Nelson Agholor with 13:44 to go in the first half.
The Patriots smothered the Falcons over the next two quarters, as Atlanta's only scoring chance came late in the third when it reached the New England red zone but turned the ball over on downs.Get Point AfterDelivering exclusive analysis and commentary on the Patriots and the NFL right to your inbox, three times a week during the season.
Meanwhile, over the last two quarters, the Patriots were content to mostly grind down the Falcons with a punishing running game that chewed up the clock. Folk connected on a pair of fourth-quarter field goals — a 53-yarder and a 33-yarder — to finish the scoring.
Below are updates posted as the game unfolded.
J.C. Jackson gets another one — 10:51 p.m.
Folk connects again — 10:46 p.m.
The Patriots' drive stalled there when Jones took a third-down sack, but Nick Folk delivered a 53-yard field goal — his longest of the season — to make it 16-0 with 6:39 to go in the game. Jones is 21-for-25 for 197 yards with one touchdown and one interception, while Damien Harris has 10 carries for 56 yards.
Milestone for McCourty — 10:39 p.m.
I know it's still just a 13-point lead, but after that pick by Devin McCourty should pretty much end things. That was the 30th career pick for McCourty; he joins Ty Law and Raymond Clayborn as the only Pats with 30 or more career interceptions.
End of the third quarter — 10:29 p.m.
Patriots hold a 13-0 lead heading to the fourth quarter after a scoreless third.
Falcons can't convert in the red zone … again — 10:25 p.m.
Buoyed by their best starting field position of the night — their own 48 — the Falcons were on the move and looked good early in the drive … but ended up turning the ball over on downs when they couldn't pick up a fourth-and-short. Two Atlanta misfires in the red zone could very well turn out to be the difference in this one. The Patriots will get the ball on their own 16 with 52 seconds left in the third quarter.
Terrell picks off Jones — 10:18 p.m.
Good play there by the Falcons' defense, as Terrell went up nicely and took that one away from Jonnu Smith. Atlanta gets the ball at its own 48 with 5:05 to go in the third quarter.
'Third down is where you make your money' — 10:12 p.m.
It's a Price Family philosophy. Dating back to the start of the Chargers' game, the New England opponents are 10-43 on third down.
Falcons take possession — 10:04 p.m.
Both Atlanta and New England couldn't do anything with their first possessions of the second half, and after a 60-yard punt from Jake Bailey, the Falcons will take control at their own 19-yard line with 11:01 to go in the third quarter.
Halftime analysis — 9:40 p.m.
Two quarters are in the books in Atlanta, and the Patriots have a 13-0 lead. Here are a few quick stats and notes:
Mac Jones: 14-15, 136 yards, 1 TD
Damien Harris: 6 carries, 36 yards
Rhamondre Stevenson: 3 carries, 26 yards
Jakobi Meyers: 3 catches, 33 yards
Nelson Agholor: 2 catches, 25 yards, 1 TD
•This game feels like New England is up by more than 13. The Falcons had one sustained drive, and that ended with a missed field goal. There's just no offensive rhythm. Part of that is likely because the Falcons are missing a pair of key pieces in Ridley and Patterson, but the Patriots' defense has just smothered them to this point in the contest.
•The defensive star of the first two quarters for New England is Kyle Van Noy, who has two sacks for the Patriots. (Matt Judon had one as well to break into double digits for the first time in his career.) Kyle Dugger has spent a sizable portion of the first half trailing Kyle Pitts; not exclusively, but he's been running with him for a lot of the first two quarters. (On Pitts, he's been running a lot of deep routes, which isn't really conducive to a situation where Ryan is facing a fierce pass rush. I'm also wondering why we aren't seeing a lot of presnap motion in hopes of getting Pitts some more chances, at least in shorter yardage situations.) And when he hasn't, he's been blowing up other guys. Good first two quarters for No. 23, and a good half of football for the New England defense as a whole.
•Welcome to the party, Rodney Harrison! There's a reason why the odds for Judon to win DPOY have decreased dramatically over the last month. After that performance over the first two quarters of a nationally televised game, look for those odds to continue to head in the right direction.
•There are some elements from the New England game plan in the blowout win of Carolina that the Patriots have carried over into this one, namely tilting the field and winning the time of possession. New England has done well to grind out some scoring drives throughout the first two quarters. For New England, they all haven't ended with points, but the Patriots have mostly controlled the tempo and done well to impose their will on this one. Atlanta just hasn't had the ball all that much, and as a result, the Falcons (like the Panthers) will have to become more of a one-dimensional team — pass first — if they want to stay competitive.
•One of the things that Atlanta defensive coordinator Dean Pees talked about this week was the physical nature of the New England ground game, and that has really come through over the first two quarters. The Patriots have done a lot of shuffling in the backfield — not sure if that's because they want to be cautious with the health of their banged-up backs or if it's scheme related. But it's working, as New England has run hard throughout the night.
•From a special teams perspective, it was a good couple of quarters. Jake Bailey's first punt was downed at the Atlanta 4-yard line, and his second was downed inside the Falcons' 20 as well. Nick Folk popped a 32-yard field goal to open the scoring in the first quarter, and added a 44-yarder at the end of the second quarter. And in his return, Gunner Olszewski has been mostly quiet as the return man.
•Not sure it's going to matter, but the Falcons will get the ball to start the second half.
Folk makes it 13-0 — 9:37 p.m.
Nick Folk bangs home his second field goal of the night to make it 13-0 at the half.
Falcons gaffe leaves them scoreless — 9:18 p.m.
Oof. The Falcons were sitting in the New England red zone with a third-and-manageable situation, but a 13-yard sack on Ryan by Kyle Van Noy, and a penalty on an initial 45-yard field goal forced them to settle for a 50-yard field goal attempt … and that was off the mark. An ugly sequence there for Atlanta. Meanwhile, the Patriots will take over on their own 40-yard line with a 10-0 lead and 6:19 left in the first half.
Pats make it 10-0 — 9:05 p.m.
A nice catch-and-run from Jones to Agholor makes it 10-0 with 13:44 left in the second quarter. Not sure if the Patriots are being careful with their running backs or its something scheme related, but New England is rotating all of its available backs to this point in the game. Harris has six carries for 37 yards, Stevenson has 3 carries for 26 yards, and Bolden has 1 carry for 1 yard. As for Mac Jones, he's 7-8 for 69 yards and a touchdown.
Pats up after one — 8:59 p.m.
New England has a 3-0 lead after one quarter, and is driving for (possibly) more here now.
A few early thoughts on Pats D/Atlanta O — 8:53 p.m.
•The stack-and-shed from Judon on the first second-down run from the Falcons was a classic tackle for loss, one that caused the Falcons to lose three yards. Such a great play.
•It looks like — for the most part — that Dugger is trailing Kyle Pitts. Not exclusively, but more often than not.
•Speaking of Pitts, the Falcons aren't moving Pitts around a lot pre-snap, at least in the early going. It's a curious move, to say the least — I'd be trying to do whatever I could go get Pitts open.
There's 2:13 to go in the first quarter, and the Patriots hold a 3-0 lead. They'll get their chance to add to it now.
Pats up early — 8:45 p.m.
The Patriots are on the board with a drive that started strongly, but fizzled in the red zone and ended with a field goal. Jonnu Smith's 17-yard reception — which included a sweet tiptoe move down the sideline — was the big gain right out of the gate for the Patriots early. The Patriots stacked a 21-yard run on top of that from Rhamondre Stevenson (who was sprung in part because of a nice block from Jakobi Meyers), and Jones delivered a Tom Brady-style sneak on a 3rd and short, which ultimately led to a 32-yard field goal from Nick Folk. It's 3-0 New England with 5:15 left in the first quarter.
Jones: 4-5, 33 yards
Stevenson: 3 carries, 26 yards
Smith: 1 catch, 17 yards
Dugger shines with PBU on Pitts — 8:36 p.m.
Very nice PBU on that third-down pass play by Kyle Dugger on Kyle Pitts … who didn't play the first two snaps of the game for some reason. Going to be interesting to seesaw the Falcons try and scheme up situations to get Pitts open. Motion? Trick plays? I would think that just about anything is in play for a shorthanded Atlanta offense and its best player. Anyway, Atlanta has punted the ball back to New England. It's scoreless with 9:52 left in the first quarter.
Quick releases for Jones early — 8:31 p.m.
Jones has always had a quick trigger, but there were a lot of quick outs, checkdowns and fast releases from the quarterback to start the game. However, New England's first drive stalled out short of the 50-yard line. The Patriots did get a DPI on a third-down pass play for Hunter Henry which helped them move the chains in the early going, but they ultimately ended up punting it away. Jones is 2-2 for 10 yards to this point in the action. Atlanta will get the ball at its own 4-yard line with 11:43 left in the first quarter.
Time for football — 8:21 p.m.
Atlanta wins the toss and defers. The Patriots will get the ball to start the game.
Official Price Prediction — 8:17 p.m.
New England wins this one relatively comfortably, 31-17. Mac Jones and the rest of the roster goes into the weekend at 7-4.
Love this story — 8:15 p.m.
Great piece here on Trent Brown from Nicole Yang.
The predictions are in, and you guys chose… — 8:09 p.m.
Why Karras instead of Onwenu? — 8:05 p.m.
Seeing a lot of questions on social media about why the Patriots are starting Ted Karras ahead of Mike Onwenu, especially when you consider Onwenu's overall excellence since he arrived prior to last season. It's important to remember — and it's something that has been borne out in my conversations with offensive linemen and coaches over the years — that the position is unique in that you prioritize finding the five players that play the best together. That doesn't mean that also can't be the five best players. It's just that from the perspective of the coaching staff, it's likely that Karras has become such a seamless part of the group that it makes sense to have him in the starting lineup with that combination. Again, like I said, Onwenu is there in case of emergency. But it's important to consider the state of how those five — Wynn, Karras, Andrews, Mason and Brown — all work together before you start thinking about making a switch.
Pats' protection plan? — 7:51 p.m.
According to multiple people watching pregame warmups, here's how the starting New England offensive line is shaping up this evening, from left to right: Isaiah Wynn, Ted Karras, David Andrews, Shaq Mason, and Trent Brown. Figure Mike Onwenu will be the first man off the bench (at either guard or tackle) if there's an emergency.
Throwback Thursday in Atlanta — 7:39 p.m.
Antonio Brown reportedly secured a fake COVID vaccination card — 7:31 p.m.
Antonio Brown obtained a fake COVID-19 vaccination card, according to his personal chef, the Tampa Bay Times reported Thursday.
Steven Ruiz said Brown's girlfriend contacted Ruiz over the summer to obtain a card saying he had received the Johnson & Johnson shot. According to text messages provided by Ruiz, Brown's girlfriend, Cydney Moreau, offered $500 for a fake card.
Ruiz said he was unable to acquire it but Brown revealed cards for him and Moreau he said he had purchased.
Brown's lawyer denied the claims.
Do you believe in coincidences? — 7:13 p.m.
Patterson out for Falcons — 7:01 p.m.
Cordarrelle Patterson is among the inactives tonight for Atlanta.
No big surprises among Pats' inactives — 7:01 p.m.
The following Patriots' players are inactive for tonight's game:
•Quarterback Jarrett Stidham is a healthy scratch in his second game back after being activated earlier this month. (Just a guess here but the long-term thinking with Stidham is that he is being groomed as the No. 2 quarterback for next year.)
•Running back J.J. Taylor has been on and off the game day roster all season, but he'll sit this evening against the Falcons. The fact that he's down for tonight's game suggests New England feels good about the health of some of their other running backs — namely, Damien Harris.
•Tight end Devin Asiasi was active for the first time this season last week against the Browns and played 12 snaps. Like Taylor, the fact that Asiasi is taking a healthy scratch suggests that the health of the other tight ends — particularly Jonnu Smith, who missed last week's game against Cleveland — has improved.
•Defensive end Ronnie Perkins maintains his healthy scratch streak, and becomes the clear leader for the Trey Flowers Rookie Redshirt Award.
•Offensive lineman Yasir Durant is another healthy scratch, but like tight end and running back, New England is feeling good enough at a pair of positions where they had health and depth issues earlier in the season. That means Durant will take a seat for tonight's game against the Falcons.
Coraderrelle Patterson was one of my favorite players to cover — 6:54 p.m.
Cordarrelle Patterson — who is questionable for tonight's game for the Falcons — was in New England for just one season (2018), but in that time, he became one of my all-time favorite quotes.
I remember asking him about his game against Green Bay when he ran for 61 yards–after rushing for 38 the week before.
Q: "Where do you think you've improved on from last week to this week as a running back?"
A: (waits a beat, considers the question) "Probably yards. Yards."
During a late-season win over the Jets that year, he got into it with New York defensive lineman Henry Anderson. (Check out my postgame exchange with him in the locker room here.) And after he told me, "We couldn't have done it without you" in the locker room after Super Bowl LIII, I asked him about Julian Edelman's MVP performance.
"Listen, nobody can [expletive] with Jules in the slot, man. Nobody."
In my experience, he's a pretty good guy as well, signing autographs and playing catch with kids in the stands before games. But yeah, every reporter should get a chance to cover a team that has someone like Patterson on the roster.
Predict the game — 6:36 p.m.
Can Pats cover against Atlanta? — 6:34 p.m.
Gambling-wise, this game is all over the map, as the Patriots have been favored by anywhere between 3.5 and 7 points over the course of the last few days. Thursday night games are always a tough call — home teams are usually a pretty solid straight-up bet — but given the state of the Falcons (no Ridley and maybe no Cordarrelle Patterson), I'm still willing to say New England wins and covers. It's not a blowout like the last two weeks, but it'll still be enough to get a win in a game where it'll be all about getting in, getting out, and not getting hurt. The over/under is set at 47, and on a fast track indoors with a New England offense that is really clicking right now, I'm willing to go over.
Here are a few quick notes, courtesy of our friends at Odds Shark:
New England is 4-1 against the spread in their last 5 games.
The total has gone over in 5 of New England's last 6 games.
New England is 4-2 against the spread in their last 6 games when playing on the road against Atlanta.
The total has gone over in 4 of Atlanta's last 6 games.
The total has gone over in 8 of Atlanta's last 11 games against an opponent in the AFC East.
Atlanta is 2-8 straight up in their last 10 games when playing as the underdog.
Our team is on the scene — 6:24 p.m.
Numbers to keep an eye on tonight — 6:16 p.m.
•J.C. Jackson is tied with Asante Samuel for 11th in team history with 22 career interceptions. With one more pick, he'll move into sole possession of 10th place on the Patriots all-time interception list.
•Mac Jones has a 4-0 road record to start his NFL career. He is the first rookie QB to win his first four road games since Dak Prescott in 2016. The most consecutive road wins to start a season by a rookie QB is six by Roethlisberger (2004) and Prescott.Get Point AfterDelivering exclusive analysis and commentary on the Patriots and the NFL right to your inbox, three times a week during the season.Enter EmailSign Up
Matthew Slater will play in his 200th career regular season game this week against Atlanta. He will be the fifth Patriots player to reach 200 regular season games, joining Tom Brady (285), Bruce Armstrong (212), Julius Adams (206) and Stephen Gostkowski (204).
•WR Jakobi Meyers completed two passes for 45 yards in Week 4 against Tampa Bay. The Patriots have never had a wide receiver complete more than two passes in a single season. The most passes thrown by a non quarterback in a single season for the Patriots were by RB Andy Johnson, who was 7-of-9 for 194 yards with four touchdowns in 1981 and RB Dick Christy, who was 6-of-11 for 94 yards with two touchdowns in 1960.
•Devin McCourty has 29 career regular season interceptions, tied for third all-time in team history, behind Ty Law and Raymond Clayborn, with 36 interceptions. He needs one more interception to become the third Patriots player with 30 career interceptions.
•Matthew Judon leads the Patriots with 9½ sacks, tying his record for most sacks in a season that he had in 2019 with Baltimore. The last time the Pats had a player reach double digits in sacks was Chandler Jones with 12½ in 2015.
Pregame reading list — 6:05 p.m.
The best way to get ready for tonight's action:
Khari Thompson: Kyler Dugger readying for full-time starting role at safety for the Patriots
Khari Thompson: 4 Falcons players to watch against the Patriots in Week 11
What experts are predicting for Thursday's Patriots-Falcons game
What NFL media has been saying about the Patriots' recent turnaround
Chad Finn: Patriots taking on a familiar shape, and the only repeat in Thursday's game against Falcons will be the score
Patriots get Damien Harris, Gunner Olszewski back but lose Josh Uche prior to facing Falcons
Patriots vs. Falcons — 6:00 p.m.
Welcome back to football, and a Thursday night showdown between the Patriots and Falcons. New England (6-4) is looking to win its fifth straight, while Atlanta (5-5) is hoping to distinguish itself in the NFC playoff race. We'll have all the updates you need, all night long, so keep it here. CUE THE BELLS.
Sign up for Patriots updates🏈
Get breaking news and analysis delivered to your inbox during football season.