Patriots
'Unfinished business': Tom Brady announces return to NFL for 23rd season
"These past two months I've realized my place is still on the field and not in the stands."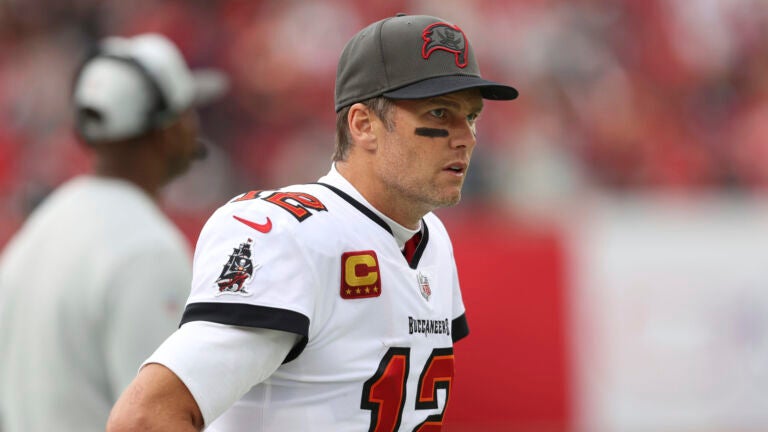 After weeks of speculation about a potential return, Tom Brady confirmed the rumors: He isn't quite done yet.
The Patriots great, who will be 45 when next season begins, will return to Tampa Bay to play for the Buccaneers in what will be his 23rd NFL season.
"These past two months I've realized my place is still on the field and not in the stands," Brady wrote. "That time will come. But it's not now. I love my teammates, and I love my supportive family. They make it all possible. I'm coming back for my 23rd season in Tampa."
Buccaneers coach Bruce Arians said his reaction was "total excitement," according to the NFL Network's Ian Rapaport.
Speculation about how committed Brady really was to retirement followed his announcement, spurred on by Brady himself who never seemed fully committed to the idea of hanging up his cleats.
"I'm just going to take things as they come," Brady said in response to a question about a return on his podcast with Jim Gray. "I think that's the best way to put it. You never say never."
In his announcement last month, Brady never actually used the word "retire." Brady wrote at the time that playing in the NFL requires an enormous commitment to every facet of the game.
"I am not going to make that competitive commitment anymore," Brady wrote. "I have loved my NFL career, and now it is time to focus my time and energy on other things that require my attention.
"I've done a lot of reflecting the past week and have asked myself difficult questions. And I am so proud of what we have achieved. My teammates, coaches, fellow competitors, and fans deserve 100% of me, but right now, it's best I leave the field of play to the next generation of dedicated and committed athletes."
Brady seemed to hint that he wasn't done earlier on Sunday when he posted a video of himself talking to Manchester United star Cristiano Ronaldo on Instagram.
"You're finished right?" Ronaldo said to Brady, who made a face that suggested he wasn't.
The Buccaneers lost in the Divisional Round to the eventual Super Bowl champion Los Angeles Rams in January. Brady helped lead a trademark rally from 14 points down with fewer than four minutes remaining and even tied the game at 27-27 before the Rams marched down the field and delivered the game-winning field goal.
"Physically, I feel great," Brady said after the game.
Sign up for Patriots updates🏈
Get breaking news and analysis delivered to your inbox during football season.