Patriots
Here's every move the Patriots made to get the roster down to 53
The Patriots cut 24 players and placed two on IR.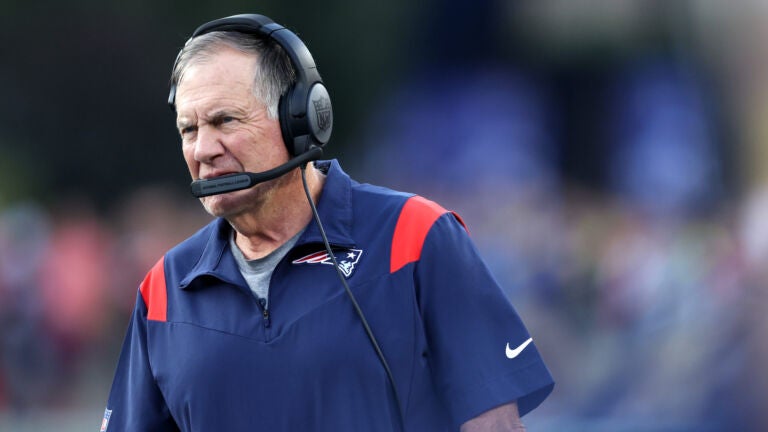 The Patriots trimmed the roster to 53 players on Tuesday.
With the roster beginning at 80 players as of Tuesday morning, New England made over two dozen moves to get the roster where it needed to be. They cut 24 players, while placing receiver Kristian Wilkerson and defensive lineman Henry Anderson on injured reserve.
Even though he's been in the business for a long time, roster cuts never get easier, Patriots head coach Bill Belichick said Tuesday morning.
"The actual process is very difficult for all of us," Belichick said. "Myself, certainly assistant coaches who have established a close relationship with their players and respect for their players because of their effort, work ethic and commitment that they make to the team."
Every move is listed right here.
Reserve lists
WR Kristian Wilkerson. Wilkerson was placed on the IR list, the Patriots announced. He sustained a concussion during joint practice with the Panthers, and the hit Kenny Robinson laid on him sparked a fight. The Southeast Missouri State product was having a solid camp before the injury.
DL Henry Anderson. The Patriots announced that they placed Anderson on IR. The veteran defensive end, whose past stops include the Jets and Colts, played in four games with the Patriots last season and recorded three tackles. Deatrich Wise and LaBryan Ray remain on the roster as left-defensive ends.
Released players
TE Devin Asiasi. According to NFL Network's Mike Giardi, the Patriots have parted ways with the 2020 third-round pick who had two catches during his time in New England. After releasing Asiasi and Dalton Keene, the Patriots are down to Hunter Henry and Jonnu Smith at tight-end.
CB Terrance Mitchell. According to ESPN's Mike Reiss, the Patriots have informed Mitchell he will be among Tuesday's cuts. Mitchell signed with the Patriots after starting 13 games for Houston last year. He was listed as a starter on the Patriots' unofficial depth chart, which makes this move more of a surprise, especially after season-ending injuries to Joejuan Williams and Malcolm Butler.
LB Harvey Langi. Reiss also reported that Langi has been informed of the Patriots' intent to release him. The Patriots signed Langi as an undrafted free agent in 2017 and brought him back after a stint with the Jets. Langi was listed as a backup behind Ja'Whaun Bentley.
OL Drew Desjarlais. Desjarlais, a former Canadian Football League all-star who signed with the Patriots in January, will be released according to Mark Daniels of the Providence Journal. The former CFL first-round pick was listed as a third-stringer at left-guard, where rookie Cole Strange has been getting first-team reps.
RB Kevin Harris. The rookie from South Carolina was a bright spot during the Patriots' preseason finale loss to the Raiders, but will be waived according to NFL Network's Tom Pellissero. With Damien Harris, Rhamondre Stevenson, and the eventual return of the injured Ty Montgomery, the Patriots have solid depth at running back.
OL Arlington Hambright. Hambright, who was drafted in the seventh round of the 2020 draft by Chicago, has been cut according to NFL Network's Ian Rapoport. Hambright had some first team reps at left guard during the preseason, but a strong showing from Strange put the rookie in the starting spot.
RB J.J. Taylor. Taylor, who was initially projected as a backup running back, has been waived according to ESPN's Field Yates. The third-year product from Arizona made the 53-man roster in 2020 after signing as an undrafted free agent, but the Patriots have now decided to move on.
DB Justin Bethel. After a pair of seasons in New England, defensive back and special teams standout Justin Bethel has been released according to Yates. Bethel was listed as a third-teamer at cornerback, and rookie DB Branden Schooler has emerged as an up-and-comer on special teams.
OL Will Sherman. Sherman, a 2021 sixth-round pick, is being released according to Mark Daniels of the Providence Journal. Sherman was listed as a third-teamer at left guard and spent most of last year on the practice squad.
WR Josh Hammond. According to Pro Football Focus' Doug Kyed, Hammond has been released. Hammond signed with Jacksonville in 2020 as an undrafted free agent and later signed with the Patriots in 2022. The Patriots have plenty of depth at receiver with Nelson Agholor, Jakobi Meyers, and DeVante Parker among others.
LB Cameron McGrone. Cameron McGrone, a 2021 fifth-round pick, has been waived according to Daniels. McGrone, who was listed behind Raekwon McMillan on the depth chart, was placed on the reserve list last August and has yet to see an NFL regular-season snap.
DL Jeremiah Phams Jr. Phams Jr., a product of Friends University in Kansas, who later played for the USFL's Pittsburgh Maulers, has been waived according to Daniels. Christian Barmore, one of the Patriots' rising stars, is listed as the starter at his position. Daniel Ekuale, who recorded a sack during the Raiders game, is the backup.
LB Nate Weiland. Weiland, a rookie linebacker who signed as an undrafted free agent out of Grand View University, has been waived according to Kyed. Last year Weiland helped lead Grand View to a 14-1 record and a berth in the NAIA FCS championship game.
DL Bill Murray. Kyed reported that the Patriots waived Murray, who got some reps at offensive guard during the preseason but primarily played defensive tackle before. Murray spent last season on the practice squad.
WR Tre Nixon. Nixon, a 2021 seventh round pick who spent last year on the practice squad was released according to Andrew Callahan of the Boston Herald. A player who likely will end up back on the practice squad after missing the cut with a deep receiver group.
WR Lil'Jordan Humphrey. Humphrey, a big receiver who made some noise during the season with his pass-catching ability and hustle on special teams, has been released according to Callahan. Humphrey spent a coulple of years on the practice squad at New Orleans before signing with New England.
OL Kody Russey. Interior offensive lineman Kody Russey was released according to Aaron Wilson of Pro Football Network. Wilson reported that the Patriots would like to have Russey back for the practice squad if he clears waivers. The rookie started his college career at Louisiana Tech before transferring to Houston.
DT LaBryan Ray. Ray was among Tuesday's cuts according to Reiss. The rookie defensive end struggled with injuries in college before finishing strong at Alabama. The Patriots signed him as an undrafted free agent earlier this year.
OL Yasir Durant. The Patriots cut Durant according to Reiss. Durant made a pair of starts in 19 NFL games over two years with the Patriots and Chiefs. He was listed on the second spot on the depth chart behind Isaiah Wynn, but that's no longer the case.
OL James Ferentz. Ferentz, who made four starts in ten games over two years with the Patriots has been cut according to Reiss. The Iowa product began his career with the Broncos in 2015.
DB Brad Hawkins. Hawkins, who signed as an undrafted rookie this summer, was cut according to Reiss. He holds the Michigan record for most games played (56) during his five-year college career.
TE Matt Sokol. The Patriots are carrying just two tight-ends after Sokol was cut according to Reiss. Sokol played in a pair of games with the Los Angeles Chargers last year but wasn't projected to get much playing time behind Hunter Henry and Jonnu Smith.
K Tristan Vizcaino. Viazcaino, who is 9 for 10 on field goals in his career with a long of 47, was cut according to Reiss. Nick Folk, who Belichick praised during his Tuesday morning press conference, is the only kicker for now.
TE Jalen Wydermyer. Wydermyer was only in New England for a few weeks after being cut by the Bills. The Patriots are also releasing him according to Reiss. The Texas A&M product was a three-time all-SEC second team selection.
Sign up for Patriots updates🏈
Get breaking news and analysis delivered to your inbox during football season.