Patriots
Lamar Jackson scores 5 touchdowns as the Ravens beat the Patriots 37-26
Jackson went 5-for-5 in the red zone, picking apart the Patriots defense when it mattered most.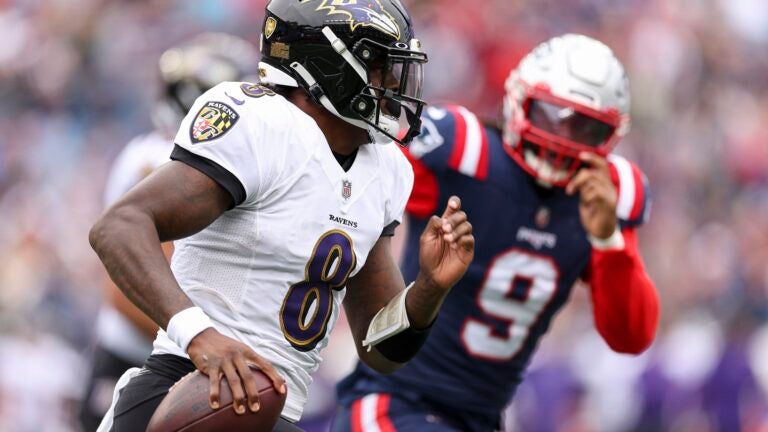 FOXBOROUGH – Despite being sacked four times in the first half, Lamar Jackson threw four touchdown passes, coming just short of tying his career high.
And of course, he made plays with his legs, leading the Ravens in rushing with 107 yards and a touchdown.
It was enough for Baltimore to defeat New England 37-26 in the Patriots' home opener.
It wasn't Jackson's most explosive game. He only threw for 218 yards. But, he went 5-for-5 in the red zone with five touchdowns. He found tight-end Mark Andrews early and often, and the big tight-end delivered with a pair of touchdown catches.
Mac Jones threw for more yards than Jackson and got sacked less, but wasn't able to find the end zone through the air. He threw two interceptions with no touchdowns. He was also being looked at for a leg injury at the end of the game.
After a sluggish start over his first two games, DeVante Parker exploded for 156 yards, three yards short of his career high.
Nick Folk set the NFL record for most consecutive made field-goals under 50 yards.
Deatrich Wise sacked Jackson three times before the second-quarter was halfway over. Jonathan Jones generated a pair of big takeaways, picking off Jackson and forcing a fumble.
But, the Patriots fell short on seven of their nine third-downs, and the Ravens took advantage of too many red zone opportunities, allowing Baltimore to escape with the win.
Here's how it happened:
Fourth quarter
0:00: Patriots lose and Mac Jones is being evaluated for a leg injury.
1:07: Ravens kneel and run out the clock.
3:07: Lamar Jackson runs the ball in for a touchdown. Tucker misses the extra point. Ravens 37, Patriots 26.
5:35: A big gain by Nelson Agholor is erased after the ball is punched out by Kyle Hamilton for a fumble. Marcus Peters recovers for Baltimore. Lamar has the ball, the lead, and just over five minutes to go in the game.
9:06: An overthrown Mac Jones pass intended for Parker is intercepted by Marlon Humphrey for a touchback. A blown red zone opportunity at the worst time results in no points. Patriots trail by 5, Ravens have the ball. Clock is ticking.
12:25: Jonathan Jones, who had an interception earlier, makes another huge play, jarring the ball loose for a fumble which Jabrill Pappers recovered. Patriots take over on the Ravens' side of the field.
13:19: First Mac Jones scrambled to extend the drive, then he used his legs to escape a collapsing pocket to hit Jonnu Smith for a nine yard gain. Rhamondre Stevenson finishes off the drive with a 1-yard touchdown. Patriots go for two and fail. Ravens 31, Patriots 26.
Third Quarter
1:06: Mac Jones hits a wide-open Devante Parker near the sideline for a 24-yard catch. Parker has 156 receiving yards, and is a few yards short of his career high of 159.
2:38: Justin Tucker nailed a 56-yard field goal and made it look ridiculously easy. It's his 50th career 50-plus yard field goal. Ravens 31, Patriots 20.
4:04: An ill-advised Mac Jones throw results in an interception. He was trying to hit DeVante Parker, but Josh Burns was waiting for it with position in front of Parker. Ravens take over at about midfield.
4:41: Lamar Jackson finds Devin Duvernay in the back corner of the end zone for a four-yard touchdown pass. That's four TD passes for Lamar. He's one away from tying his career high. Ravens 28, Patriots 20
6:08: Lamar Jackson keeps it on an option play, carrying the ball 38 yards down to the Patriots six yard line.
6:41: Patriots drive doesn't go very far, Mac Jones is sacked, Bailey comes out to punt.
8:39: Lamar Jackson gets touchdown pass No. 3, a 1-yard pass to tight-end Josh Oliver. Ravens 21, Patriots 20.
8:43: Patriots defensive Lawrence Guy is questionable to return with a shoulder injury.
9:49: Ravens get a 34-yard run from Justice Hill, their first big offensive play of the day by someone not named Lamar Jackson or Mark Andrews.
12:22: Damien Harris punches it in for a two yard touchdown run. 7 plays, 75 yards. After a slow start, New England's offense is on a roll. Patriots 20, Ravens 14.
12:45: Jones to Parker again, this time down the sideline a few yards shy of the end zone. 25-yard completion. First and goal, with momentum. Ravens call timeout.
14:25: Mac Jones takes his time, steps up in the pocket, hits DeVante Parker in stride for a 36-yard completion. Looking comfortable. Parker now has more than 100 yards receiving.
Second Quarter
0:00: Mac Jones hits Kendrick Bourne for back to back completions. Bourne makes a heads-up play and gets out of bounds, stopping the clock with one second to go, setting up Folk for a 50-yard field goal. 5 plays, 43 yards, in 30 seconds. Way to steal three points. Could be big later. Ravens 14, Patriots 13.
0:30: Lamar Jackson lofts a 16-yard touchdown pass to Mark Andrews who high-pointed the ball and made a strong leaping catch over a pair of Patriots defenders. Ravens 14, Patriots 10.
3:02: The first half is almost over, and the Ravens have only handed the ball off five times. Patriots have taken advantage of a team that hasn't shown much of a run game outside of Lamar Jackson by dialing up the pass rush and generating four first-half sacks. Lamar has 30 of Baltimore's 48 rushing yards.
6:37: A Rhamondre Stevenson gain gives the Patriots 1st and goal from the 5. Jones drops back to pass, reads the coverage, scrambles into the end zone. That brought a smile and a dance out of Mac, who is looking like he's having a little fun out there. Patriots 10, Ravens 7.
7:27: Deatrich Wise already has three sacks, which makes him the first Patriot to have three sacks in a game since Chandler Jones in 2015. He's straight up dominating at this point.
8:12: A Lamar Jackson throw falls short of its intended target Rashod Bateman and into the hands of a diving Jonathan Jones for an interception. Patriots take over with favorable field position.
9:31: Patriots go for it on 4th and 3 from the 33. Mac Jones makes a short completion for no gain to Kendrick Bourne. Mac is 6 for 7 for 94 yards, using the short passing game effectively for the most part. But when the field gets short, the Ravens defense has been able to key in and make plays. Ravens take over.
11:37: Mac Jones connects with Nelson Agholor for a 13-yard completion, moving the Patriots to the Ravens 30 yard line.
14:06: Make that two sacks for Deatrich Wise. He's having quite a game, wreaking havoc up front. After an incomplete pass to Andrews, the Ravens punt.
14:57: Nick Folk sets the NFL record for most consecutive made field-goals under 50 yards. Ravens 7, Patriots 3.
First quarter
0:29: Jones hits Rhamondre Stevenson for a short gain, but it isn't enough to dig the Patriots out of 3rd and 12. Patriots will settle for a field-goal attempt at the start of the second quarter.
2:45: Mac Jones finds DeVante Parker on a play action pass that fooled the Ravens. Parker races downfield to the 20, putting the Patriots in the redzone. Nice play-call, well placed throw, yards after the catch. Big play.
4:09: Lamar Jackson completes the Ravens' opening drive with a 5-yard shovel pass to Andrews for a touchdown. So far, the Ravens' best players are taking care of business. Patriots are getting a good pass rush, but Jackson's ability to extend plays and find Andrews has been big for Baltimore. Ravens 7, Patriots 0.
6:06: Lamar Jackson is dragged down from behind by Dietrich Wise for a sack.
8:08: Lamar Jackson hits Mark Andrews, who Bill Belichick said earlier this week is one of the best tight ends in the game, for a 17-yard completion followed by an 11-yard completion.
9:33: Lamar Jackson splits a pair of Patriots and scrambles for the first down.
9:42: Lamar Jackson escapes what should've been a sack, whirls around and finds Mark Andrews but Andrews drops the ball.
10:32: Mac Jones is sacked on 3rd and 7 after a pair of incomplete passes. That's three dropbacks against one running play on the opening drive. Patriots punt, Ravens take over at their 31.
13:23: A strong start for former Raven Matthew Judon who opens the game by sacking Lamar Jackson. After an pair of incomplete passes, the Ravens opt to punt.
Inactives 11:30 am.
Patriots
FS Kyle Dugger
LB Raekwon McMillan
WR Jakobi Meyers
DT Sam Roberts
CB Shaun Wade
Ravens
RB Kenyan Drake
WR James Proche
OT Ronnie Stanley
DE Brent Urban
CB Daryl Worley
Pregame notes 11 a.m.
The news of the day so far is that Patriots wide receiver Jakobi Meyers is not expected to play after being listed as questionable with a knee injury, according to multiple reports.
Meyers has 13 catches on 19 targets for 150 yards through two games this season. He leads the Patriots in all three of those categories.
That means Mac Jones will be without his top target. Fortunately for the Patriots, the Ravens have given up more passing yards than any other team in the league so far.
Jones has some momentum with Nelson Agholor, who made an impressive 44-yard catch to help secure last week's win in Pittsburgh.
As for the defense, the question of the day is how the Patriots go about stopping Ravens QB Lamar Jackson. The former MVP has accounted for 667 of Baltimore's 749 total yards. That's 89 percent of the offense right there.
But, the Ravens are getting running back J.K Dobbins back this week. After tearing his ACL and LCL last year, Dobbins is set to make his 2022 season debut in hopes of bolstering Baltimore's rushing attack.
Get the latest Boston sports news
Receive updates on your favorite Boston teams, straight from our newsroom to your inbox.