Patriots
Patriots lose to Packers on last-minute field goal in Bailey Zappe's debut
The Patriots took the Packers to overtime, but Aaron Rodgers orchestrated a game-winning drive.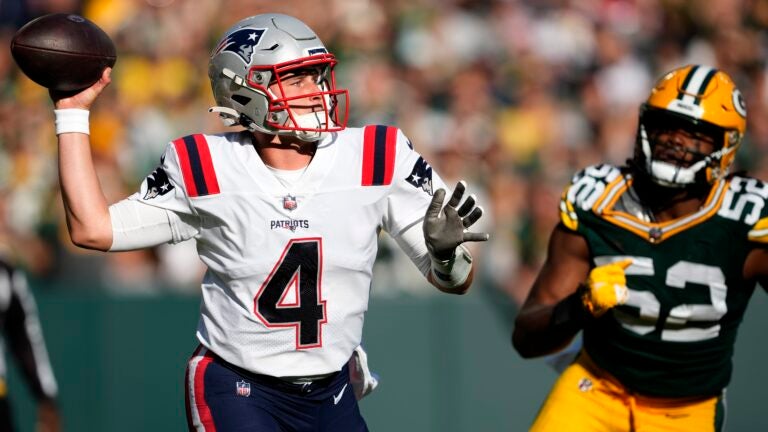 It took overtime for Aaron Rodgers to get past Bailey Zappe and the Patriots, but the four-time MVP got the job done.
The Packers picked up a 27-24 win over New England at Lambeau Field.
With first-string quarterback Mac Jones sidelined due to a high-ankle sprain, and backup Brian Hoyer knocked out of the game during the second drive, it was up to Bailey Zappe rookie to finish the game for the Patriots.
He played reasonably well, going 10 of 15 for 99 yards and a touchdown against no interceptions. He kept the Patriots in the game until the very end.
Zappe wasn't the only rookie with a big game for New England. Jack Jones had a pair of takeaways during the first half that were instrumental in keeping New England in the game.
But, in the end it wasn't enough to outduel Rodgers, who put Mason Crosby in position for a 31-yard game-winning field goal. Here's how it happened:
Overtime
0:04: Mason Crosby nails a 31-yard field-goal for the game winner. Green Bay 27, New England 24.
3:06: A pair of quick tosses put Green Bay in field-goal range.
3:55: Rodgers completes a pass to Cobb over the middle. First down Packers.
5:56: Rodgers finds Lazar for a big gain, putting the receiver over 100 yards.
6:54: Zappe's pass is almost picked. Ruled incomplete. 4th down. Patriots punt.
7:33: Similar situation for New England's offense. 3rd and 5. Need play to put them in field-goal position.
8:26: A stumbling Rodgers throws the ball out of bounds. Huge stop for the Pats. Packers punt.
8:33: Green Bay calls time out, facing a 3rd-and-7 to kick off the overtime period.
Fourth Quarter
0:04: Packers don't try anything deep. This game is going to overtime.
0:14: Bailey's punt takes 10 seconds off the clock. Packers get called for illegal block in the back. Packers take over with 4 seconds and behind midfield.
0:54: Stevenson is stuffed on third down, Patriots opt run the clock down as far as they can and punt.
1:01: New England calls time-out It's 3rd and 3 with the Patriots pinned back against their own end zone.
1:40: Outside run from Stevenson makes it third-and-short.
1:47: Damien Harris gets a short gain and the Packers call time-out.
2:08: Rodgers does for the deep ball, and at first glance it looks like Doubs caught a touchdown, but it's ruled an incomplete pass setting up 4th and long. Green Bay punts. Time for Bailey Zappe's first 4th quarter 2-minute drill in the NFL.
4:44: Zappe gets a short completion to Henry, but it's far short of the first down. Patriots punt, giving Aaron Rodgers nearly 4 minutes for a drive with decent field position.
6:14: Doubs makes up for his fumble, beating Jones for a touchdown to tie the game. It's the 500th career touchdown pass for Aaron Rodgers. New England 24, Green Bay 24.
10:18: A backpedaling Aaron Rodgers finds Randall Cobb on 3rd and 6 for a huge 1st down. Another completion to Dillon brings the ball past midfield.
11:14: Damien Harris scampers into the endzone for a 7-yard touchdown. 7 play, 66 yard drive. New England 24, Green Bay 17.
12:00: Another play-action completion from Zappe – this time to Agholor. Patriots are in the redzone. Offense is moving. Zappe starting to settle in and look more comfortable.
13:39: A powerful run from Stevenson puts the Patriots in the Packers' territory. patriots have been funding the run, and it's been working.
Third Quarter
0:09: Bill Belichick sprints over to the referee to call a time out because the Patriots had too many men on the field on 4th-and-3. Packers bring out Mason Crosby for a 38-yard field-goal attempt. It's good for the tie. Green Bay 17, New England 17.
2:47: Rodgers fires a dart to Lazard over the middle for a big gain. Packers have it at the Patriots' 27 with a first-down.
5:27: Zappe hits a wide-open DeVante Parker on a smooth-looking play action pass for a 25-yard touchdown. It's Zappe's first NFL touchdown, and a much needed bit of momentum for the Patriots offense. New England 17, Green Bay 14.
7:23: Cole Strange pulls and clears some space for Damien Harris who gets a 14-yard gain for a 1st down.
8:48: Zappe hits Bourne for a 16-yard completion, but Green Bay recovers and gets a sack on the next play. An unnecessary roughness call gives the Patriots 1st down and brings the ball to the 50.
9:52: The Packers' first penalty is a holding call that makes it 2nd and 19 from the 20. But it doesn't matter. Aaron Rodgers hits Tonyan for a 20-yard TD pass over the middle. Green Bay 14, New England 10.
11:16: Packers go for it on 4th and 1 and convert. Toss play to Jones, who gets way past the first down marker.
Second Quarter
0:00: Patriots take a halftime lead into the locker room, thanks to a pair of takeaways from Jones. The rookie is making a major impact in his first start. However, big questions remain on the offensive end as Zappe takes over for the injured Brian Hoyer.
0:22: Jack Jones makes another huge play, jumping a route and taking a pick-6 to the house. Potential game-changing play right there. Patriots 10, Green Bay 7.
1:03: Another ferocious hit from Gary. Zappe fumbles and Green Bay recovers. Isaiah Wynn barely got a hand on Gary on the speed rush. Zappe got clobbered.
1:34: It's a right-ankle injury for Smith, he's questionable to return.
3:45: Jonnu Smith heads to the locker room with an injury.
6:30: Zappe completes a pass to Hunter Henry on 3rd and 9, and Henry gets stopped two yards short of the first down. Patriots Punt.
8:00: A Kendrick Bourne sighting! An end around reverse to Bourne goes for a first down. He has one catch on two targets so far on the receiving end.
10:29: Patriots punt after 4th and 10, it's a touchback. Green Bay will take over at the 20.
12:07: Stevenson rumbles forward for a Patriots first down.
13:00: A 15-yard touchdown run from Christian Watson puts the Packers on the board. It's the first Lambeau Leap for the rookie. Green Bay 7, New England 3.
13:30: Brian Hoyer is officially ruled out with a head injury. Bailey Zappe, the only active quarterback left on the roster, will remain in the game.
14:15: Looked like the Patriots were about to get a stop on 3rd and 2, but Jones is able to bounce it to the outside and win a footrace to the first down marker.
First Quarter
0:00: After a pair of solid rushing gains, the Packers let the clock run out heading into the second quarter.
1:45: Zappe's first pass attempt hits a diving Rhamondre Stevenson in one of his red gloves. The Packers forced the rookie QB to scramble, and an off target throw ends the drive. A 59-yard punt initially the Patriots some decent field position, but a horse collar tackle penalty moves the ball to midfield.
2:25: Zappe's first snap, inside the five yard line at Lambeau field, is a handoff to Damien Harris. Hoyer is being evaluated for a head injury.
3:07: Matthew Judon sacks Aaron Rodgers, forcing the Packers to punt, setting up Zappe's first drive.
3:07: Brian Hoyer leaves the game with an injury. Rookie QB Bailey Zappe will take over.
4:16: Green Bay's Jones gets a 20-yard gain.
5:37: Brian Hoyer gets crushed on a blindside sack from Rashan Gary, taking the Patriots out of field-goal position and cutting drive No. 2 short. New England punts.
8:52: Some early luck for the Patriots. Packers rookie receiver Romeo Doubs, who caught all eight of his targets last week, loses a fumble. Patriots cornerback Jack Jones, who is also a rookie, recovers the ball for New England.
9:49: A strong opening drive from Brian Hoyer gets the Patriots within field-goal range, and Nick Folk delivers. Hoyer starts 3-4, including a 27-yard completion to Nelson Agholor. Patriots take the early lead 3-0.
Inactives: 3:00 p.m.
Patriots: S Joshuah Bledsoe, DT Lawrence Guy QB Mac Jones CB Jalen Mills, WR Jakobi Meyers.
Packers: CB Jaire Alexander, DL Jonathan Ford, OL Sean Rhyan, WR Samori Toure, OL Rasheed Walker.
Pregame notes: 2:30 p.m.
Filling in for an injured Mac Jones, Brian Hoyer is looking to snap the NFL's longest losing streak among active quarterbacks. He's lost 11 in a row.
But, the Patriots are trusting him with the start against the Packers at Lambeau Field. Jones was at practice on Friday, but did not participate this week due to a high-ankle sprain.
Jakobi Meyers, who was the Patriots' leading receiver though the first two games, has been ruled out for this week with a knee injury according to ESPN. He also missed last week's loss 37-26 home loss to Baltimore.
Offensive lineman Marcus Cannon was elevated from the practice squad for today's game after offensive lineman Yodny Cajuste was placed on injured reserve.
The Patriots have split their last two matchups with the Packers and are 6-6 in the all-time series. The Packers won the only postseason matchup in Super Bowl XXXI.
A win would bring the Patriots back to .500, setting them up with momentum as they take on the Lions, Bears, and Jets in coming weeks. A loss would drop the Patriots to the same record they began last year with, 1-3.
Sign up for Patriots updates🏈
Get breaking news and analysis delivered to your inbox during football season.