Patriots
Kyle Dugger's scoop-and-score leads Patriots to shutout win over Lions
After a 59-yard scoop and score from Kyle Dugger, the Patriots dominated the Lions for a shutout win.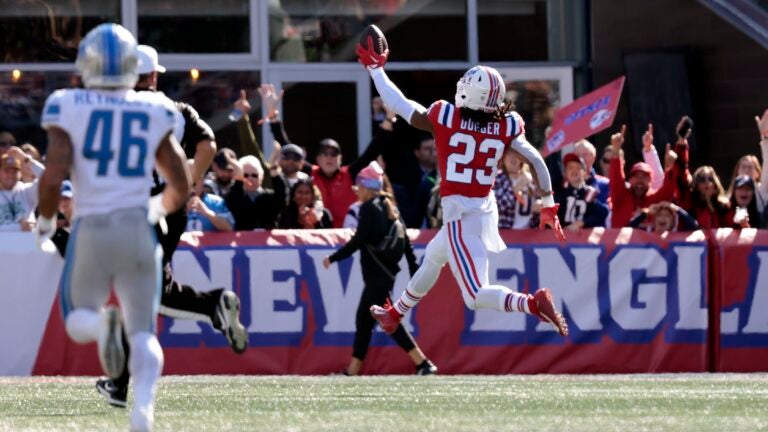 Matthew Judon paired his Patriots' throwback red Pat Patriot jersey with a pair of bright red sleeves.
That wasn't the only thing that made Judon stand out on Sunday. He posted a pair of sacks, becoming the first Patriots player to record at least one sack through each of the first five games of a season.
With Judon's pressure, a timely scoop-and-score by Kyle Dugger, and a pick from rookie cornerback Jack Jones, the Patriots defense dominated the Detroit Lions for a 29-0 shutout victory at Gillette Stadium in Foxborough.
The game opened with a scary moment, as Lions defensive back Savion Smith was carted off the field by an ambulance and taken to a local hospital to be evaluated for a neck injury. His father joined him in the ambulance as the entire Lions team crowded around it.
Later on the TV broadcast, announcers on Fox said that Smith was conscious and had movement in his lower extremities, a good sign after an injury that initially looked bad.
Bailey Zappe made his first career NFL start for New England in place of injured quarterbacks Mac Jones and Brian Hoyer. Zappe completed 16 of his first 19 passes and threw a 24-yard touchdown pass to Jakobi Meyers.
Zappe technically threw an interception, but that's because Nelson Agholor bobbled the ball and let it leave his hands in the air while he got hit. A Lions defender was there to snatch it and complete the takeaway.
Running back Damien Harris left the game with a hamstring injury. Rhamondre Stevenson responded, topping 100 yards for the first time this season.
The Patriots improved to 2-3, with a chance to climb back to .500 next week against the Browns. Here's how it happened.
Fourth Quarter
0:00: Patriots win.
3:02: Patriots takeover at the 18 after Goff's 4th down pass is broken up by Jones.
5:12: Nick Folk's fifth field-goal is good from 29-yards out. Patriots 29, Lions 0.
9:20: Lions go for it on 4th-and-1 and are stopped for a loss on a run. They've missed on five consecutive fourth down conversions.
11:00: Goff hits Reynolds down the sideline for a 25-yard completion, making it 1st and 10 at the Patriots 40.
Third Quarter
0:55: Screen pass to Reynolds goes 36 yards, bringing the Lions to the Patriots' 24.
1:51: Zappe threads the needle and hits Meyers for a 24-yard touchdown pass. It's Zappe's second career touchdown pass. Patriots 26, Lions 0.
3:57: A ten-yard completion from Zappe to Jakobi Meyers moves the Patriots past midfield. That's 5 catches for 64 yards for Meyers so far.
5:25: Tyquan Thornton makes his first NFL catch.
6:34: Lions go for it on 4th and 2. Receiver is stopped short. Lions are now 0-3 on 4th down conversion attempts. Patriots take over at their 34.
10:09: Nick Folk hits his fourth field-goal of the game. Patriots are up by three scores. Folk has scored all of New England's points, except for Dugger's fumble return for touchdown so far. Patriots 19, Lions 0.
12:52: Zappe finds Henry again for a 17-yard completion that gives the Patriots 1st-and-10 in the redzone.
14:53: Patriots RB Damien Harris has been downgraded to out with a hamstring injury.
Second Quarter
0:05: Nick Folk nails a field-goal to give the Patriots a 16-point lead heading into halftime. Patriots 16, Lions 0.
0:47: A Zappe pass intended for DeVante Parker ends with a defensive pass interference flag. It's a 22-yard penalty that moves New England up to midfield.A screen pass to Rhamondre Stevenson brings the ball to Detriot's 24.
3:55: Judon sacks Goff, forcing a fumble Kyle Dugger scoops it up and wins the footrace to the end zone for a Patriots touchdown. Huge takeaway. 59-yard scoop-and-score for Dugger. Patriots 13, Lions 0.
7:33: Nelson Agholor bobbles a ball that leaves his hands as he's hit, Detroit's Deshaun Elliott is there to make the interception. And that's right after the Patriots were fortunate enough to recover their own fumble. Lions ball.
8:26: Tyquan Thornton, who was activated from injured reserve after recovering from a broke collarbone, makes an appearance. First NFL regular-season drive for the rookie, who was injured during the preseason.
10:58: Goff looks to pass from the shotgun on 3rd and 7 but gets swarmed by the Patriots d-line. Matthew Judon gets credited for the sack. He becomes the first Patriots player to record a sack in each of the first five games. Lions punt.
14:05: A 47-yard kickoff return puts the Lions at their 47 to start the drive. A big cutback leads to a big gain for Detroit.
14:26: Patriots run the ball three straight times and Detroit's redzone defense holds up. Nick Folk makes another field-goal. Patriots 6, Lions 0.
First Quarter
0:00: Patriots close out the quarter in the redzone.
3:29: Rhamondre Stevenson breaks several tackles breaks a couple tackles for a 49-yard run. Patriots have 1st and 10 from Detroit's 29. Savion Smith has been taken to a local hospital to be evaluated for a neck injury.
5:54: Jack Jones picks off Goff, who was trying to find the big tight-end TJ Hockenson near the front corner of the end zone at the 3 yard line. Patriots ball.
8:47: The Patriots' drive stalls, but Nick Folk drills a field-goal. It's his 59th consecutive field-goal under 50 yards, which extends his NFL record. Patriots 3, Lions 0.
10:37: Shotgun play-action pass from Zappe to an open Hunter Henry results in a 23-yard catch that puts the Patriots on the Lions 21 with 1st and 10. Detroit defensive back Savion Smith was injured on the play and carted off the field in an ambulance.
11:09: The Patriots take over at the Lions 45. Strong field position to start drive No. 1.
12:00: Jared Goff scrambles and gets 5-and-a-half of the 6 yards he needs for a first down. Lions go for it on 4th-and-1 and get stuffed for no gain. Nice push from the Pats d-line. Time for Bailey Zappe and the offense to take the field.
15:00: Patriots kick off, and will defend the south goal. Jake Bailey's kick goes for a touchback.
Inactives: 11:30: a.m.
Patriots: QB Mac Jones, TE Jonnu Smith, DL Lawrence Guy, DL DaMarcus Mitchell, DB Joshuah Bledsoe, DB Shaun Wade, RB Pierre Strong.
Lions: WR DJ Chark, DL John Cominsky, DL Charles Harris, DB JuJu Hughes, OL Matt Nelson, DB Armani Oruwariye, RB D'Andre Swift.
Pregame notes: 11:00 a.m.
Welcome to Week 5, where the Patriots are set to host the Lions in what will likely be Bailey Zappe's first NFL start.
The rookie quarterback took over for Brian Hoyer last week and helped the Patriots take Aaron Rodgers and the Packers to overtime.
Mac Jones reportedly made a push to play, but was ruled doubtful prior to the game. ESPN's Adam Schefter reported that Jones is not expected to play.
Through four games, the Lions have racked up more yards per game than any other team in the NFL. They've also given up the most yards per game.
The Patriots had a more run-heavy approach last week with Zappe in the game.
Will that continue the Patriots face the Lions defense?
Follow along here for live updates.
Sign up for Patriots updates🏈
Get breaking news and analysis delivered to your inbox during football season.