Patriots
Bailey Zappe's first 300-yard passing game leads Patriots to rout of Browns
The rookie quarterback had his best game yet, and the Patriots routed the Browns.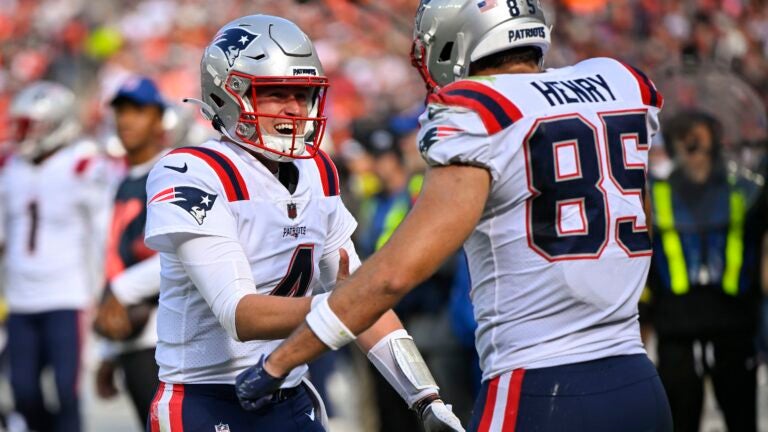 The Patriots held the NFL's top rushing offense in check, and Bailey Zappe posted his first career 300-yard passing game.
New England rolled to a 38-15 road victory over the Browns in Cleveland on Sunday. Cleveland's running backs only mustered 70 yards on 18 carries.
Cleveland's passing game didn't fare much better. Former Patriots quarterback Jacoby Brissett was a dreadful 21-for-45 with two interceptions and a touchdown.
New England quarterback Mac Jones participated in pregame warmups with the team, signaling that his recovery from a high-ankle sprain is coming along and his return to action could come soon.
But, in his absence, Zappe continued to take care of business. He went 24-for-34 with 309 yards and a pair of touchdowns with no interceptions.
Rookie wideout Tyquan Thornton caught his first career touchdown pass and scored his first career rushing touchdown. Zappe found a wide-open Hunter Henry for a 31-yard touchdown catch. Jonnu Smith gained 53-yards on a catch and run.
Zappe spread the ball around efficiently and took care of the football. Sunday was easily his best statistical performance of the year after taking over for an injured Brian Hoyer against Green Bay.
Running back Rhamondre Stevenson had a timely 31-yard touchdown that gave the Patriots momentum.
New England was able to overcome mistakes, such as when Isaiah Wynn let Myles Garrett blow right by him on a speed rush for a strip sack on Zappe.
Nick Folk missed a field-goal under 50-yards for the first time since 2020, snapping the longest streak of its kind in NFL history.
The Patriots improved to 3-3 ahead of next week's Monday Night Football matchup against Chicago, and Bill Belichick tied George Halas for the second-most wins among NFL head coaches. Here's how it happened.
Fourth Quarter
0:00: Patriots take a knee and win the game.
1:50: Browns go for it on 4th down and the pass is dropped. Patriots take over.
3:40: Rhamondre Stevenson rumbles in for a touchdown. Patriots 38, Browns 15.
3:56: Carl Davis recovers a fumble and rubs his belly in celebration. Patriots take over with 1st and goal.
4:28: Tyquan Thornton gets touchdown No. 2 on a 19-yard jet sweep. Made it look easy. Patriots 31, Browns 15.
5:00: Cleveland muffs a punt, and Brendan Schooler is in position to recover. Big break for the Pats. New England Ball with less than 5 minutes to go.
5:02: Zappe bounces a pass off of David Andrews's helmet but catches it before any Browns can get to it.
5:30: Myles Garrett gets his second sack of the day, but is injured after the play.
6:15: The Browns recover an onside kick, but New England wins the challenge. #38 touched the ball while he was out of bounds, giving the Patriots the ball. Patriots dodge a bullet.
6:17: Amari Cooper catches a well-placed ball for a 15-yard touchdown in the corner of the endzone. 2-pt conversion is no good. Patriots 24, Browns 15.
9:04: Nick Folk misses a 46-yard field-goal, snapping the NFL record-setting streak of most consecutive made field-goals under 50 yards.
14:05: Cade York hits his third field-goal of the game. Patriots 24, Browns 9.
14:53: More pressure from Deatrich Wise who bats down a Brissett pass to force a fourth down.
Third Quarter
1:38: An Njoku catch brings the Browns near midfield.
2:23: Patriots punt after going 3-and-out.
5:02: Former Brown Mack Wilson sacks Brissett, setting up a Browns punt.
5:32: The Patriots continue to have success going to their tight-ends. A wide-open Hunter Henry hauls in a 31-yard touchdown catch. Patriots 24, Browns 6.
6:15: Another completion to Smith. He's making plays in the second-half.
9:18: Cleveland punts after going 7 yards on six plays.
11:21: Zappe finds Tyquan Thornton for a 2-yard touchdown. Rookie to rookie connection right there. Patriots 17, Browns 6.
14:21: Zappe hits Jonnu Smith for a 53-yard gain. A big play as the big tight-end returns to action after missing time with an injury.
Halftime Thoughts
The Patriots are keeping the Browns' running backs in check. Cleveland has 43 rushing yards on 13 carries. If New England can keep bottling up the run like this, the odds are in their favor.
Bailey Zappe has looked comfortable in the pocket for the most part. His throws started getting a little high in the second quarter, but he had some plays like the big play-action gain that looked very smooth.
Isaiah Wynn got benched after giving up a strip sack to Myles Garrett. The Patriots are lucky that turnover didn't turn into points for Cleveland. That was the only sack New England gave up in the first half.
Patriots should keep feeding Rhamondre Stevenson, who has 52 yards and a touchdown on 10 carries.
New England was literally a step away from a touchdown on its opening drive. Hunter Henry's touchdown was negated after he stepped out of bounds. But, with 1st-and-goal from the 1 yard line, the Patriots have to find a way to punch the ball in for a touchdown instead of settling for a field goal.
Second Quarter
0:31: Deatrich Wise pressures Brissett into an incompletion on third down. Browns get a 48-yard field-goal from Cade York. Patriots 10, Browns 6.
1:54: Amari Cooper makes his first catch of the day.
3:31: Rhamondre Stevenson explodes through a big hole and wins a footrace to the endzone for a 31-yard touchdown. Patriots 10, Browns 3.
5:24: DeVante Parker gets open on a slant route, resulting in a 14-yard catch on a Zappe pass.
6:56: New England's offensive line gave Zappe a great amount of time and space on a play action play and he delivers by finding Jakobi Meyers for a first down.
7:58: Christian Barmore is down with an injury, laying on his back while trainers attend to him.
11:41: Back-to-back Zappe incompletions and a failed reverse leads New England to punt. Browns ball. Kendrick Bourne is questionable to return with a toe injury, the Patriots report.
12:32: Zappe overthrows Jakobi Meyers, and a late flag shows up after the play. Browns get called for pass interference, giving New England a fresh set of downs just short of midfield.
14:01: Brissett's QB sneak attempt on 4th-and-1 comes up short. Matthew Judon stacked him up and led the charge on pushing him back. Huge stop after turning it over and sacrificing prime field position.
First Quarter
0:47: Myles Garrett comes crashing in off the edge on a speed rush and knocks the ball out of Bailey Zappe's hand. The Browns recover. Garrett's speed was just too much for Isaiah Wynn on that play.
3:39: A shotgun draw on 3rd-and-4 to Kareem Hunt is stuffed behind the line of scrimmage. Cade York hits a 39-yard field-goal on the next play. Patriots 3, Browns 3.
5:14: Brissett hits an open David Njoku for a decent-sized gain for a first-down. Browns had been running the ball heavy with Chubb, and the switch up proves productive.
7:31: Nick Folk hits a 19-yard field-goal. Patriots 3, Browns 0.
7:40: A 1-yard touchdown pass from Zappe to Henry is negated by a penalty.
11:21: A diving DeVante Parker makes a spectacular catch down the sideline, bringing the Patriots to Cleveland's 29.
13:41: Zappe hits Kendrick Bourne on a 17 yard gain, converting a 3rd-and-7 to a first down.
14:28: Two plays into the game, Cleveland's Jacoby Brissett is intercepted by New England's Kyle Dugger. Patriots get their first takeaway less than a minute into the game. They'll also receive the ball in the second half.
Analyzing the Patriots' inactives, 12:20 p.m.
QB Mac Jones: Jones will miss his third-straight game with a high-ankle sprain. The Patriots are 1-1 without him, but look like they have a new energy under rookie third-stringer Bailey Zappe. The offense has been simpler, there have been much fewer costly turnovers. Jones will likely remain the starter when he returns, but Zappe is pushing him enough to make things interesting.
WR Nelson Agholor: Agholor's production has dropped off significantly since the Pittsburgh game, when he made six-catches for 110 yards and helped New England escape with a big road win. He was only targeted once last week, and it resulted in a drop that bounced into the hands of a Lions defender for an interception. His absence could mean a bigger role for rookie Tyquan Thornton, who is back after recovering from a broken collarbone.
DL Lawrence Guy: Guy, who started all 17 games for New England last year, is out for his third-straight game. The Patriots' d-line has played well in his absence, with Matthew Judon and Deatrich Wise getting plenty of pressure off the edges. But this week is about stuffing the run, and the Patriots will miss Guy's 6-4, 315-pound frame in the middle.
LB Josh Uche: Uche has three tackles in three games this season. He showed some flashes of pass-rush ability during the preseason. But this year, as he's battled injuries, Uche hasn't had enough snaps to be much of a difference maker.
DB Josh Bledsoe: The 2021 6th-round pick out of Missouri has missed every game this season.
DB Jonathan Jones: Jones has been playing as well as pretty much any other cornerback in the league so far. He's third in the NFL in pass deflections, fourth in the league in forced fumbles, and has an interception along with 16 tackles. His absence will test New England's secondary. Fortunately rookie Jack Jones is off to a strong start. Also, it should be noted that Cleveland is missing top corner Denzel Ward.
RB Damien Harris: Harris is out for the second straight week. Rhamondre Stevenson had a big game against Detroit, and will probably get a fair amount of touches this week again without Harris. Harris was seen on the field jogging during warmups.
Details on Mac Jones's appearance in warmups, 11:55 a.m.
Now we know that Mac Jones won't play today. It's his third consecutive absence after suffering a high-ankle sprain at the end of the Ravens game.
But, the Patriots waited until the last minute, 11:30 a.m when the inactive report is due, to officially rule Jones out.
Jones was on the field in Cleveland and participated in pregame warmups. He walked around and threw a few passes to Bailey Zappe. It doesn't appear like he did much else outside of that.
But, the fact that he was out there shows that he's made another step in his recovery, and that he is drawing closer to playing than he has been over the past few weeks.
Inactives, 11:30 a.m.
Patriots: QB Mac Jones, WR Nelson Agholor, DL Lawrence Guy, LB Josh Uche, DB Josh Bledsoe, DB Jonathan Jones, RB Damien Harris.
Browns: QB Kellen Mond, CB Denzel Ward, RB Demetric Felton, OL Joe Haeg, OL Drew Forbes, OL Christopher Hubbard, DL Jadeveon Clowney.
Pregame Notes, 11:00 am.
Welcome to Week 6, where the Patriots travel to Cleveland to take on the Browns.
Cleveland, led by Nick Chubb and Kareem Hunt, has the No. 1 rushing attack in the NFL. Former Patriot Jacoby Brissett gets the start at quarterback.
As for the Patriots' quarterback situation, Mac Jones hasn't been ruled out yet. He's missed two weeks in a row as he recovers from a high-ankle sprain and is listed as questionable. Still, it's highly unlikely that Jones will play according to NFL Network's Ian Rapoport.
That means rookie Bailey Zappe is expected to start again. The Patriots also elevated quarterback Garrett Gilbert from the practice squad.
All eyes will be on the Patriots' run defense as it tries to contain Cleveland's running backs. The Patriots looked dominant against Detroit, shutting out the Lions without allowing any fourth down conversions.
In the secondary, the Patriots will be without Jonathan Jones. Jones was the leagues top-ranked corner heading into the game, according to Pro Football Focus.
With a win, the Patriots could improve to 3-3 and lift their record back to .500.
Follow along here for updates and analysis.
Sign up for Patriots updates🏈
Get breaking news and analysis delivered to your inbox during football season.