Patriots
Devin McCourty gets two interceptions as Patriots beat Jets for 13th time in a row
In Mac Jones's return as the starter, the Patriots wrapped up a 13th-straight win against the Jets.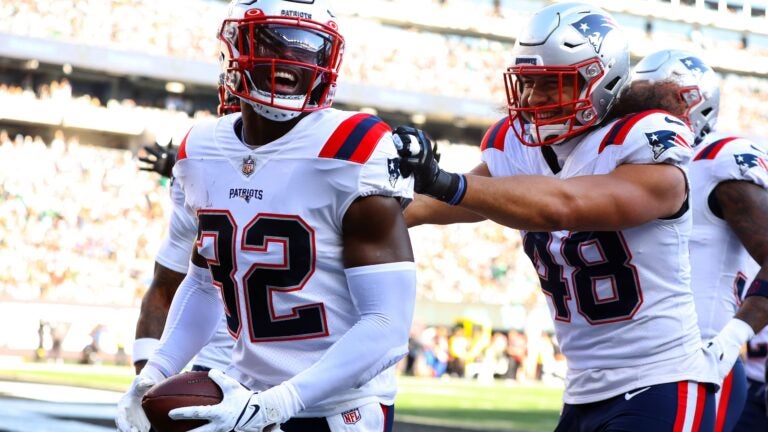 Right when it looked like Mac Jones and the Patriots were doomed to repeat Monday night's lackluster performance, a penalty flag saved the day.
New England was able to take advantage of the lucky break, securing a 22-17 win over the Jets.
Jones threw what should have been an 80-plus yard interception return for touchdown, but a roughing the passer call erased the score.
What could have been a 17-3 deficit instead resulted in the Patriots getting the ball in the red zone, kicking a field goal, and heading into the half trailing by only four.
Things began to unravel for the Jets in the second half. A rattled Zach Wilson threw two of his three interceptions to Devin McCourty. Rhamondre Stevenson broke free for several big runs. Marcus Jones had a 32-yard punt return that set up a field-goal.
Speaking of field goals, Nick Folk made five of them and bailed out the Patriots offense when it stalled several times.
All of this bought enough time and cushion for Mac Jones to find his footing and throw his first touchdown pass since he got hurt back in September, a quick strike to Jakobi Meyers from the five=yard line.
With the win, the Patriots have 13 consecutive victories over the Jets, and they did it without Christian Barmore, Kyle Dugger, and David Andrews. Bill Belichick passed George Halas for second place on the NFL's all-time coaching wins list.
Here's how it happened.
Fourth quarter
0:00: Patriots take a knee and run out the clock. New England wins.
1:51: Tyler Conklin grabs a short touchdown catch. New England recovers the onside kick attempt. New England 22, New York 17.
3:25: Denzel Mims bounces off of a Patriots defensive back for a large gain.
6:41: Patriots turn the ball over on downs. Lawrence Guy sacks Zach Wilson on the Jets' second down. Jabrill Peppers gets a stop on third down and the Jets punt.
8:45: The Jets go for it on 4th down and Wilson overthrows the receiver on a deep pass. Patriots get the ball back.
10:17: Nick Folk hits field-goal No. 5. New England 22, New York 10.
11:58: Zach Wilson throws an interception No. 3 to Devin McCourty. It's McCourty's second interception of the half. Patriots take over.
Third quarter
2:29: Devin McCourty gets an interception after Zach Wilson keeps a throw that should have went out of bounds in play.
2:43: The Patriots fail to gain a single yard and get a fourth field goal from Nick Folk. New England 19, New York 10.
4:21: Patriots defense is rolling. Big stop sets up a big punt return from Marcus Jones. The Patriots are in scoring position.
6:02: Quinnen Williams bursts through the middle for a sack on 3rd and 4. Patriots take a field-goal attempt with Nick Folk, who makes it. New England 16, New York 10.
9:34: The Patriots defense holds up and the Jets miss a field-goal wide right. Patriots preserve the lead and get the ball back.
10:50: Back-to-back completions to Conklin and Garrett Wilson bring the Jets to the New England 30.
12:12: A quick-out to Jakobi Meyers goes for a touchdown and gives the Patriots the lead. It's Mac Jones's first touchdown pass since he got hurt against Baltimore back in September. New England 13, New York 10.
14:13: Stevenson has more than 100 yards after another big gain.
Second quarter
0:05: After a penalty of their own, the Patriots run the clock down and go to Folk for a field goal. New York 10, New England 6.
0:23: Mac Jones throws what should've been a pick-6, but a roughing the passer call bails the Patriots out and gives New England a first down at the Jets 13. An 84-yard interception return is wiped off the board.
0:42: Ja'Whaun Bentley intercepts a Zach Wilson pass that floated a little bit too high. Big play for the Pats, and a chance to reclaim a few points lost on the last drive.
2:00: The Patriots go for it on 4th-and-1 and tried to hit Jakobi Meyers on a play action pass. Jones' throw goes past Meyers' outstretched arms. Pats lose an opportunity to snag a field goal. Jets ball.
2:50: Rhamondre Stevenson with another catch, this time for 13 yards.
3:51: The tight-ends are getting involved now. A first down catch by Hunter Henry puts New England in scoring position.
5:11: Mac Jones finds Jonnu Smith when he needs him, on 3rd-and-7 under pressure. First down New England.
6:16: Mac Jones takes off and runs for a first down and catches a shoulder pad to the head as he tries to slide. A 15-yard unnecessary roughness penalty on CJ Mosley moves the Patriots forward for a first down.
8:00: Jets punt after Deatrich Wise gets a hand on a Zach Wilson pass. Patriots ball.
9:24: A throw from Mac Jones, which the announcers described as a "pop fly" because of how high it went, is intercepted by the Jets. Looked like the ball was tipped by a Jets d-lineman that made it move that way. Either way, it's Jones' seventh interception of the season.
10:41: Stevenson takes a short pas from Jones a long way for a first down.
12:00: Zach Wilson zips a pass to the tight-end Conklin for a red zone touchdown. New York 10, New England 3.
14:52: Shovel pass to a streaking Garrett Wilson goes for 24 yards, a tricky look from the Jets that results in a big gain.
First quarter
0:52: Nick Folk nails a field-goal, and the Patriots tie the game. New York 3, New England 3.
1:56: Jones takes too long to make a decision and is sacked on first down in the red zone.
3:13: Mac Jones sprints for a first down after initially dropping back on 3rd-and-5. Smooth run, ankle looks very healthy.
5:14: Another first down from Jones to Meyers, a 13-yard gain, featuring a solid block from Stevenson at the second level.
5:55: The Patriots cross mid-field as Jones hits Jakobi Meyers for a catch that leads to a first down.
8:09: Rhamondre Stevenson dances past a Jets defender for a 14-yard run.
8:17: Matthew Judon pressures Wilson on third-down, forcing the quarterback to throw the ball out of bounds. Jets settle for a field-goal. New York 3, New England 0.
9:51: A Wilson-to-Wilson connection. Quarterback Zach finds receiver Garrett for a 54-yard completion. Blown coverage by the Pats. Wide open for the Jets, who are suddenly in the red zone.
11:16: Zach Wilson scrambles and creates extra time to find Tyler Conklin for a 16-yard gain on third-and-5. First down Jets.
13:16: Jones gets a pair drop backs on his first drive, resulting in an incomplete pass and a sack. Damien Harris gets stuffed for negative yardage on his first carry. There-and-out. Patriots punt.
14:16: The Jets go three-and-out on their opening series, setting the stage for Mac Jones's first drive.
Inactives, 11:30 a.m.
Patriots: OL David Andrews, DB Kyle Dugger, DL Christian Barmore, DL Sam Roberts, RB Kevin Harris, DB Shaun Wade.
Jets: WR Corey Davis, QB Joe Flacco, DB Tony Adams, RB Zonovan Knight, DB Bryce Hall, DL Jermaine Johnson, QB Chris Streveler.
Pregame notes, 11 a.m.
Welcome to Week 8, where the Patriots are set to take on the Jets at MetLife Stadium in East Rutherford, N.J.
Quarterback Mac Jones will get the start for New England, coach Bill Belichick announced earlier this week.
But, as the Patriots continue to work Jones, who played just three drives last week, back into the lineup, several players are out with injuries.
The Patriots will miss two of their biggest interior linemen. David Andrews, who suffered a concussion on an illegal blindside hit against the Bears last week, has been ruled out. Defensive tackle Christian Barmore will miss his second-straight game with a knee injury.
The Patriots will also miss safety Kyle Dugger, who is out with an ankle injury.
The Jets have had some bad injury news too. Running back Breece Hall has been ruled out for the season with an ACL tear. Aalaijah Vera-Tucker, one on New York's key offensive linemen, will also miss the season following triceps surgery.
For the first time in a long time, the Jets (5-2) enter a game against the Patriots (3-4) with a better record. The Patriots are still favored slightly, according to oddsmakers.
Follow along here for updates, scores, and analysis throughout the game.
Sign up for Patriots updates🏈
Get breaking news and analysis delivered to your inbox during football season.