Patriots
Bills stomp the Patriots in Foxborough while missing two Pro Bowlers
The Patriots turned in another dull offensive performance, and the Bills capitalized on it.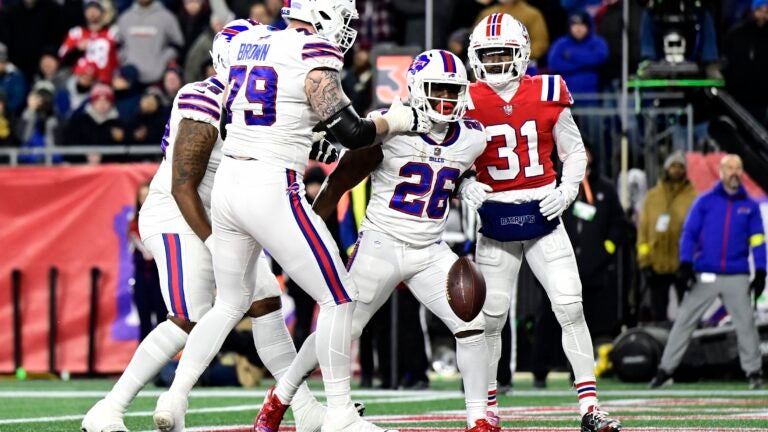 FOXBOROUGH– Buffalo Bills quarterback Josh Allen planted his feet just short of the sideline and fired a pass to the end zone, where three Patriots defenders were near Gabe Wilson.
It didn't matter. Allen threaded the needle effortlessly and connected for an eight-yard touchdown that gave Buffalo a 10-point lead over New England that they carried into halftime.
The Bills held firm control of the game from there, beating the Patriots 24-10 on Thursday night at Gillette Stadium.
Buffalo's defense handled the Patriots' offense with ease, even without eight-time Pro Bowler Von Miller, who missed the game with a knee injury. Offensive tackle Dion Dawkins, who was a 2021 Pro Bowl selection, also missed the game with an injury.
There was an early glimmer of hope for New England, who caught Buffalo by surprise with a slick screen pass to return specialist Marcus Jones, who won a 48-yard foot race to the end zone for a touchdown.
But outside of that, the same woes that have been plaguing the Patriots' offense all season bubbled up and rose to the forefront.
The offensive line was unable to create much running room for Rhamondre Stevenson, who finished with 54 yard on 10 carries. They kept Mac Jones from getting sacked for the first three quarters of the game, which was a good thing.
But the Patriots failed to reach the red-zone until late in the fourth quarter.
Surprisingly, New England didn't commit any turnovers. Jones made a questionable decision on a throw that should have been intercepted, but the same "survive the ground" concept that took away Hunter Henry's catch last week negated what could have been a costly mistake for the Patriots this week.
In the end, the Patriots simply weren't able to move the ball very far. They'll need more than 195 passing yards to keep pace in the AFC playoff race. The Bills were playing without two Pro Bowlers, and Allen didn't have a spectacular performance.
Still, this game wasn't very close. Here's how the loss unfolded:
Fourth quarter
1:53: Nick Folk makes a 39-yard field goal after the Bills sack Jones and press him to throw the ball away. Buffalo 24, New England 10.
3:37: Mac Jones completes a pass to Tyquan Thornton, giving New England it's first red-zone opportunity of the game at the 10-yard line.
7:38: The Patriots get the ball back after forcing the Bills to turn the ball over on downs.
12:10: The Patriots punt at the end of a 4-play, 16 yard drive.
14:31: Devin Singletary gets a 1-yard touchdown run for Buffalo. Buffalo 24, New England 7.
Third quarter
0:38: The Bills march down to the Patriots' 8 yard-line.
4:15: A 19-yard completion to Diggs brings Buffalo to the New England 36.
9:09: Jones is nearly picked off, but the survive the ground rule that negated Hunter Henry's catch last week took an interception off the board from Buffalo.
9:45: An 11-yard run from Rhamondre Stevenson gets the Patriots a first down.
11:53: Stefon Diggs was open on a curl route, but the throw was a little bit behind him. Diggs drops it and the Bills punt the ball.
Second quarter
0:00: The Patriots head to the locker room trailing by double-digits. Josh Allen is only 12 of 21 for 118 yards, but he's been good when it counts, netting a pair of touchdowns. Meanwhile, New England has yet to even make it to the red zone. Buffalo 17, New England 7.
0:15: Jones, sprinting out of the pocket, throws the ball out-of-bounds on third down. Nick Folk misses a 48-yard field-goal .
0:34: Mac Jones completes a pass to Jakobi Meyers and dives forward for the first down on a QB sneak.
1:20: Patriots bring the heat. Josh Uche lands a blindside hit on Allen, and the fumble is recovered by Matthew Judon.
2:03: Bills get the ball back with just enough time for a two minute drill after another three-and-out from New England.
3:04: Kyle Dugger drops a pass from Allen that should have been an interception. Still, the Patriots' defense holds and the Bills line up to punt.
4:34: Pass to Jonnu Smith. No gain. Off tackle run from Rhamondre Stevenson. No Gain. Jones's throw to Hunter Henry near the sideline is ruled incomplete. Pats go three-and-out.
5:27: Sprinting towards the sideline, Allen stays inbounds long enough to rifle an 8-yard touchdown pass to Gabe Davis. Buffalo 17, New England 7.
9:39: Buffalo returns to the New England red zone on a rush from James Cook.
13:56: A strong carry from Rhamondre Stevenson gets the Patriots out of their own end zone, but stops short of the first down. The Patriots choose to punt.
14:50: The Patriots take over at their own nine yard line. Mac Jones got blasted by Shaq Lawson and threw the ball away. The refs called Jones for intentional grounding, making it third and long from the Patriots 1-yuard line.
14:56: Four seconds into the new quarter, Allen connects with Diggs for an 8-yard touchdown capping an 82 yard drive. Buffalo 10, New England 7.
First quarter
0:00: Jack Jones bursts in and stuffs Nyheim Hines behind the line for a 3-yard loss.
0:55: Josh Allen keeps the ball on an option play and leaps forward for an eight yard gain. Ball on Patriots 5 yard line.
1:37: James Cook rumbles 28 yards to bring the ball into New England's red zone.
2:29: Jack Jones gets whistled for pass interference, turning a third-and-9 into a first down in Patriots territory for Buffalo.
4:46: Patriots get creative and bring Marcus Jones in on offense. The speedy return specialist caught a screen pass from Jones and took it 48-yards to the endzone for a touchdown. New England 7, Buffalo 3.
9:28: The pocket collapses on Allen after a play-fake, and Josh Uche storms in for a sack. On third and long, Allen dumps a pass off to running back James Cook for 8 yards. Not enough for the first down. Buffalo takes and makes a 48-yard field-goal. Buffalo 3, New England 0.
11:12: It appeared that Bufflo's drive was ready to fizzle out after back-to-back imcompletions, but Allen deftly flipped a shovel pass to an open receiver and kept it alive.
12:30: Josh Allen brings the Bills into Patriots territory in a hurry. He completes 19-yard strike to Stefon Diggs which takes Buffalo just past midfield.
13:25: Mac Jones hits DeVante Parker on a quick slant for a short gain. Two plays later, he fumbles. The Patriots recover the ball, but drive No. 1 is a three-and-out.
15:00: The Patriots receive the opening kickoff and take over at the 20.
Pregame notes
December is here, and so are the Buffalo Bills who are set for a divisional battle against the New England Patriots.
Both teams have been dealing with illnesses that may prove impactful.
For New England, offensive tackle Trent Brown has been ruled questionable but is expected to play, according to NFL Network's Mike Giardi. Defensive back Jabrill Peppers is also questionable.
The Patriots have called up offensive lineman Bill Murray and kicker Tristan Vizcaino from the practice squad.
Buffalo had eight players miss practice during this week after feeling sick, according to The Buffalo News.
The Bills will be without one Pro Bowler on each side of the ball. Linebacker Von Miller is out after damaging his meniscus on Thanksgiving. Offensive tackle Dion Dawkins will miss the game with an ankle injury.
The Patriots have ruled out running back Damien Harris, which likely means a heavy workload for Rhamondre Stevenson tonight. Offensive tackle Isaiah Wynn is also out.
Patriots center David Andrews, who returned to practice after suffering a thigh injury, is questionable.
The Patriots are coming off of a 33-26 loss to Minnesota on Thanksgiving. Mac Jones turned in his best performance of the season, but the Patriots' defense were unable to hold Kirk Cousins, Justin Jefferson, and Adam Theilen in check.
As the Patriots continue to search for a signature win, they'll have an opportunity to make a statement against the team that demolished them in last year's Wild Card round.
Can the Patriots slow down Josh Allen, Stefan Diggs, and the rest of the Bills long enough to gain much needed ground in the AFC East standings?
Follow along here for live updates, scores, and analysis.
Pregame
Inactives, 6:57 p.m.
David Andrews is officially in for the Patriots.
Get the latest Boston sports news
Receive updates on your favorite Boston teams, straight from our newsroom to your inbox.