Patriots
Patriots keep playoff hopes alive with win over Miami, set franchise record for defensive TDs
Kyle Dugger's pick-six gave New England a single-season franchise-record seventh defensive touchdown.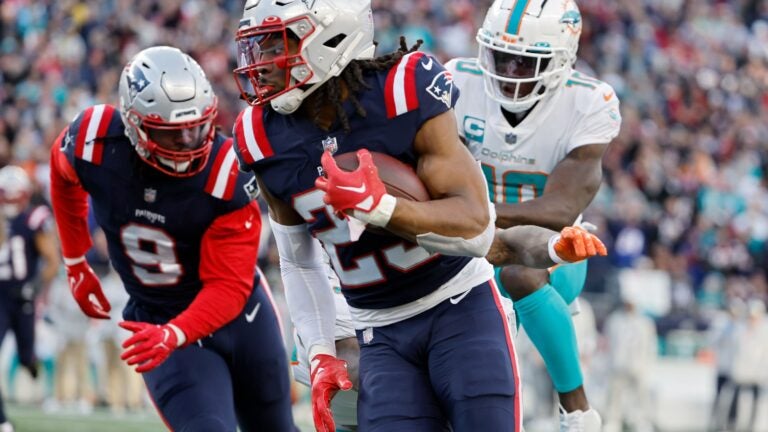 FOXBOROUGH — Kyle Dugger darted in front of Miami's Hunter Long just in time.
Dugger caught the ball near the 40-yard line, sprinted down the sideline, and made a well-timed cut that put him in position to stiff-arm Dolphins quarterback Teddy Bridgewater and rumble into the end zone.
It was the second time Dugger returned an interception for a touchdown in three weeks.
Instead of melting down like they did after Dugger scored against the Raiders, New England capitalized and hung on for a 23-21 win over Miami Sunday at Gillette Stadium.
The Patriots' playoff hopes are alive for at least another week, as they head into a regular-season finale matchup against Buffalo.
New England's defense came to the rescue at the right time, and it set a new franchise record in the process.
With Dugger's interception, the Patriots have seven defensive touchdowns, which is more than any other team in Patriots history. Dugger is the first Patriots player since 1970 to record three defensive touchdowns in a season.
The absence of quarterback Tua Tagovailoa, who is 4-0 against the Patriots and missed the game with a concussion, caught up with the Dolphins.
Bridgewater kept Miami afloat until the interception return for touchdown, but left with a finger injury shortly after. Third-string quarterback Skylar Thompson entered the game in the third quarter and was unable to spark a comeback.
For the second time this season, Mac Jones has gone three weeks in a row without an interception. The Patriots still struggled to move the ball, but Jones was able to protect the football and make a few nice throws to Hunter Henry, Jakobi Meyers, and Tyquan Thornton.
Despite their offensive issues, this Patriots team is still in the playoff hunt heading into the final week of the regular season.
Here's how Sunday's win against Miami unfolded:
Fourth Quarter
0:00: Patriots win.
0:55: Jones takes a knee.
1:04: Patriots recover Miami's onside kick attempt. Jakobi Meyers has been downgraded to out with a shoulder injury.
1:11: Thompson scrambles, hits tight end Mike Gesicki for a four-yard touchdown pass. Patriots 23, Dolphins 21.
1:16: Thompson completes a pass to Sherfield. Jonathan Jones makes the stop, but is injured on the play.
1:36: Jabrill Peppers breaks up a pass that nearly resulted in an interception.
2:39: The Patriots get the ball back and hand the ball off to Damien Harris. Dolphins call timeout to stop the clock.
4:02: Make that two sacks for defensive tackle Christian Barmore, who recently returned from injured reserve.
4:37: Jakobi Meyers elevates for a two-yard touchdown pass and is slow to get up after the play. He landed on his back. Patriots 23, Dolphins 14.
5:00: The Patriots inch their way through red zone after a Damien Harris run gives them 3rd-and-1 on the 2 yard line.
8:12: Mac Jones hits Jakobi Meyers for a 25-yard gain.
9:43: The Patriots and Dolphins each punt the ball after short drives.
14:18: Jonathan Jones intercepts Thompson to give the Patriots the ball back.
Third quarter
0:00: Dolphins QB Teddy Bridgewater is questionable to return with a finger injury.
0:55: Ja'Whaun Bentley is called for roughing the passer, giving Miami an automatic first-down. First and 10 at New England's 38.
2:51: Skylar Thompson makes an appearance at quarterback for Miami.
2:51: The Patriots score their franchise record seventh defensive touchdown of the season on a pick-6 from Kyle Dugger. It's the second time in three weeks where Dugger has scored on an interception return. PAT is no good after hitting the right-upright. Patriots 16, Dolphins 14.
3:38: Christian Barmore wrestles Wilson to the ground for no gain.
4:10: Nick Folk makes a 49-yard field-goal after short passes to Stevenson and Henry aren't enough for the first down. Dolphins 14, Patriots 10
6:27: A wide-open Tyquan Thornton makes a leaping grab for a big gain.
9:17: Bridgewater, falling forward, tosses the ball to an open Mostert in the end zone for a two-yard touchdown. Dolphins 14, Patriots 7.
12:02: Starting with strong field-position on the Patriots side of the field, Teddy Bridgewater finds Waddle for a 23-yard gain bringing Miami to the red zone.
12:12: Jones hits Stevenson in the hands with a pass, but it's dropped on third down forcing a punt.
13:01: Dolphins punt after a pair of incompletions from Bridgewater and a short run from Wilson.
14:05: Palardy punts less than a minute into the new half. Dolphins take over on their own 40.
Second-quarter
0:00: The Patriots let the clock run out on third down and head to the locker room tied with Miami.
1:52: Miami punts after Waddle is pushed out of bounds short of the first-down marker.
5:28: Following a pair of incompletions, a short run from Stevenson, and a penalty from Trent Brown, the Patriots elect to punt.
6:21: The Dolphins' first field-goal attempt of the game is a miss. Jeff Sanders's kick goes wide-right from 51-yards out.
8:23: Mostert runs through several New England tackle attempts and breaks free for a 25-yard gain.
11:38: Elandon Roberts bursts up the middle and sacks a stumbling Mac Jones for a 12-yard loss. Patriots punt.
12:35: Rhamondre Stevenson hits the hole aggressively and bounces off a would-be-tackler to advance New England to the Miami 33.
13:32: Mac Jones hits Hunter Henry on a play-action pass for a 29-yard completion bringing New England to Miami's 42.
14:00: A WR screen to Jakobi Meyers gets stuffed in the backfield for a 1-yard loss.
15:00: Tyreek Hill cartwheels in the New England end zone after scoring a touchdown on a two-yard rush to the outside. Patriots 7, Dolphins 7.
First quarter
0:00: Lawrence Guy wraps up Raheem Mostert. Dolphins will begin the second quarter with second-and-goal from the New England 2-yard line.
1:11: After a five-yard run, the Dolphins are officially in the red zone.
1:58: Tyreek Hill grabs his second catch of the day for 19-yards near the Miami sideline.
3:05: Bridgewater hits Cedrick Wilson over the middle for a 13-yard gain, bringing the Dolphins past midfield into Patriots territory.
5:32: Patriots are whistled for running into the kicker on a Dolphins punt attempt, extending a drive that looked dead.
7:47: The Patriots close their opening drive with a 7-yard touchdown pass from Jones to Thornton. 10-play, 81-yard drive to open the game. Patriots 7, Dolphins 0.
10:13: Mac Jones connects with Tyquan Thornton for a 24-yard gain. Then he finds Jakobi Meyers for a 17-yard first down pickup.
11:43: Miami's opening drive stalls after a penalty and a pair of incompletions from Bridgewater. Patriots take over.
15:00: Patriots kick the ball off to Miami.
Inactives, 11:30 a.m.
Dolphins: QB Tua Tagovailoa, LB Bradley Chubb, WR Erik Ezukanma, OL Eric Fisher, WR Tanner Conner, DB Xavien Howard, OL Terron Armstead.
Patriots: DB Marcus Jones, TE Jonnu Smith, WR DeVante Parker, DB Jalen Mills, DB Shaun Wade, RB Kevin Harris, DL Sam Roberts.
Pregame notes, 11:00 a.m.
The Patriots are set to kick off the New Year with a must-win game against AFC East foe Miami.
The Dolphins begin Sunday's contest clinging on to the seventh and final spot in the AFC playoff picture.
With Miami and Buffalo left on the schedule, there's a chance New England could leapfrog Miami and sneak into the playoffs despite losing four of their last five games.
Miami has been struggling in recent weeks too, and the Dolphins will be without staring quarterback Tua Tagovailoa, who will miss the game with a concussion. The Dolphins are 4-0 against the Patriots with Tagovailoa under center.
Miami will start Teddy Bridgewater at quarterback this week instead.
Patriots cornerback Marcus Jones, who has emerged as a scoring threat in all three phases of the game, will also miss the game with a concussion. Tight-end Jonnu Smith and receiver DeVante Parker are also out with concussions.
Rookie cornerback Jack Jones will miss the remainder of the season after being put on injured reserve due to a knee injury.
Will the Patriots grab their best win of the year and end on a positive note in the last game of this regular-season at Gillette Stadium? Follow along for live scores, analysis, and updates.
Sign up for Patriots updates🏈
Get breaking news and analysis delivered to your inbox during football season.