Patriots
We expected the unexpected, and that's what we received — a game-clinching drive that gives Patriots hope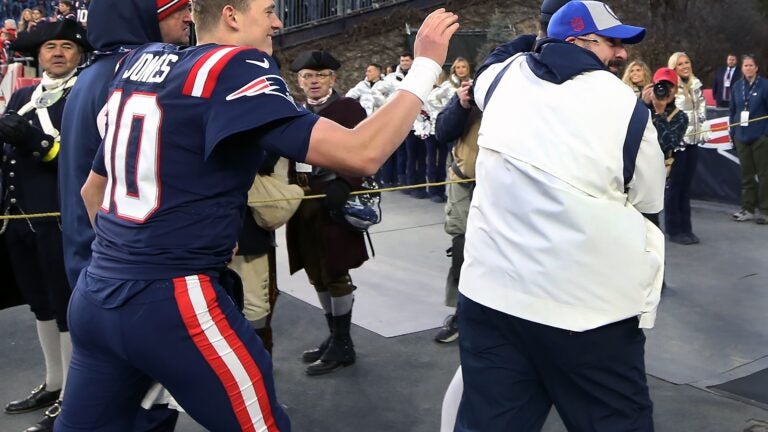 Welcome to the Unconventional Review, an instant reaction to standouts, stats, and story lines from the Patriots' most recent game . . .
It's the whole truth, and perhaps a bit of an understatement, to say the Patriots have specialized in the unexpected late in recent games. The disastrous Las Vegas Lateral, an all-time football folly, two weeks ago. Rhamondre Stevenson's fumble at the 5-yard line just when the Patriots appeared poised to complete a comeback against the Bengals.
Go figure, the Patriots found the unexpected again Sunday late in their 23-21 victory over Dolphins . . . but this time, in all the right ways. Clinging to a 16-14 lead — and their hopes of earning a playoff berth in this uneven season — with just more than nine minutes remaining, Mac Jones and the often inept Patriots' offense went out and put together their longest touchdown drive of the season.
The Patriots drove 89 yards in 11 plays over a span of 5 minutes and 6 seconds. The drive included a 25-yard catch by Jakobi Meyers on third and 5, the most obvious pass interference penalty you will ever see drawn by Meyers on Keion Crossen for 22 yards on another third and 5, and a 1-yard alley-oop from Mac Jones to — yep, Meyers again — on third and goal to put the Patriots up, 23-14.
It was the best drive of the season from the Patriots at the moment when they absolutely had to have it, and who could have seen that coming?
Before all of that unfolded, it was fair to wonder whether the Patriots had it in them . . . and then awfully fun to discover they did. In a related note, I thought this might have been Jones's best game of the season.
Sure, his final statistics fell somewhere short of spectacular — he was 20 of 33 for 203 yards with two touchdowns and no interceptions — but he delivered an assortment of impressive throws, among them back-to-back passes to Tyquan Thornton (for 24 yards) and Meyers (for 17) on the opening series of the game, and a 29-yarder to Hunter Henry on third down on the first possession of the second quarter.
As frustrating as this team — well, its offense — has been at times, there's hope for Jones and the Patriots yet. Rather than finding another weird way to lose, they did exactly what they needed to when they needed to do it to keep their playoff hopes alive. How about that for a shocking development?
Some further thoughts, upon immediate review . . .
Three players who were worth watching
Players suggested in the Unconventional Preview: Tyreek Hill, Kendrick Bourne, Ja'Whaun Bentley.
Kyle Dugger: We've spent so much time focusing on the offense's failings that the defense's successes have gone somewhat under the radar. Dugger made the biggest play of the game, picking off a Teddy Bridgewater throw with 2:51 left in the third quarter and weaving 39 yards to the end zone to give the Patriots a 16-14 lead. It was Dugger's third defensive touchdown of the season — he also scored against the Lions and Raiders, and yeah, he should have made the Pro Bowl — and the Patriots' seventh, a franchise record. The opportunistic defense has provided points when the offense was struggling time and time again this season.
Tyquan Thornton: The speedy rookie played arguably his best game as a Patriot, making a 24-yard catch on the first possession before punctuating it with a 7-yard touchdown reception to give the Patriots a rare early lead. He also had a huge 29-yard catch on a third-quarter drive that ended with a Nick Folk field goal, and finished with three catches for a team-high 60 yards. He did leave a couple of plays on the field, including a juggling act at the back of the end zone in which he stepped out before he could secure the ball, but anyone who suggests this kid isn't extremely promising isn't paying attention.
Myles Bryant: The Patriots did a remarkable job defending Dolphins game-breakers Tyreek Hill (four catches, 55 yards, plus a rushing TD) and Jaylen Waddle (3/52) considering the attrition in their defensive backfield. With the season-ending injury to Jack Jones and the absence of Jalen Mills and Marcus Jones, Bryant got the start opposite steady Jonathan Jones (who had a spectacular interception along the sideline) and performed with aplomb. Bryant's best play was a tackle on Hill early in the fourth quarter, limiting him to 4 yards on third and 7.
Grievance of the game
On the third play of the game, Dolphins running back Raheem Mostert took a handoff, gained 2 yards, got belted by Jabrill Peppers (he's been a very good signing, for what it's worth), and coughed up the football. It appeared Deatrich Wise Jr. recovered for the Patriots, but the officials quickly ruled that Mostert's forward progress had been stopped and the play was whistled dead before the ball came out. Terrible cop out of a call. It was a classic, bang-bang, big hit/fumble chain reaction, and while it didn't ultimately cost the Patriots, it was a reminder that Stevenson's forward progress before his crucial fumble against the Bengals last week had been stopped, but no one got around to blowing the whistle.
Three notes scribbled in the margin
Predicted final score: Patriots 20, Dolphins 16
Final score: Patriots 23, Dolphins 21
Kendrick Bourne didn't exactly help those of us who have howled season-long pleas for him to be freed from Matt Patricia's doghouse when he finally saw some action in the third quarter and immediately got called for a false start on third and 6. But even with that mistake — and in an extremely limited role after last week's hopeful 100-yard performance against the Bengals — he did make one important play, a nifty 16-yard catch-and-run that started the aforementioned final touchdown drive . . . This isn't exactly the top priority for next season, but the Patriots must either get Jake Bailey right or find a better punter than Michael Palardy. Bailey was mediocre before getting hurt, and Palardy punts the ball short way too often . . . The Patriots conditioned us to expect the bizarre the past two games, so if you feared something wacky might go wrong on the Dolphins' onside kick after they cut the margin to 23-21, let's just say you weren't alone. Fortunately, Henry eased any concerns by making a fairly standard recovery. Go ahead and exhale now.
Sign up for Patriots updates🏈
Get breaking news and analysis delivered to your inbox during football season.