Patriots
What experts are predicting for Sunday's Patriots-Bills game
The Bills are favored to win by a touchdown - and many experts predict they'll beat the Patriots by at least that many points.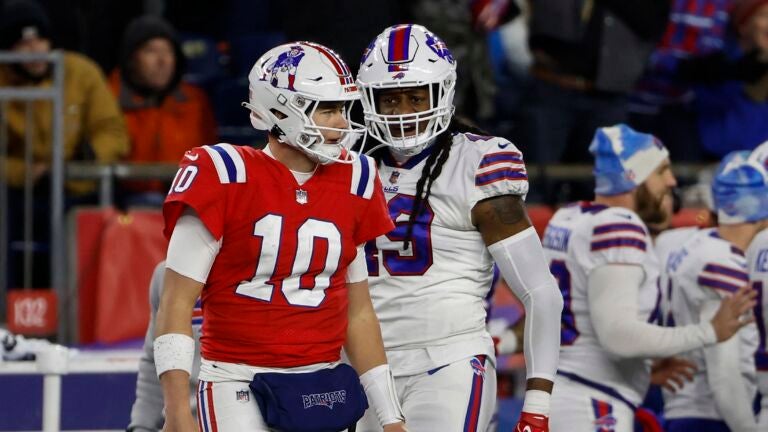 The good news is, Damar Hamlin showed remarkable progress Thursday into Friday, according to doctors, three days after the Buffalo Bills safety suffered a cardiac arrest during the first quarter of "Monday Night Football."
The bad news, at least for the Patriots, is Hamlin was cognitive enough to ask them who won the pivotal game between the Bills and Cincinnati Bengals.
The initial reaction after hearing that news would be to suggest New England not even bother to show up for its season-finale Sunday afternoon in Orchard Park, New York. All that concern, heartbreak, and hope that has been building for their teammate all week, they get that sort of news, and the Bills are going to lose to the Patriots? With playoff seeding on the line? At least there will be bowling on to watch somewhere.
But then I start thinking analytically, where emotions aren't a focus of who wins and who loses. There … the Bills still win. Maybe even more dominantly. Who knows.
Leave it to these Patriots though. With a win over the Bills Sunday, they clinch the AFC's No. 7 playoff seed, which is sort of like scooping the final crumbs from your Christmas cookie package. You get to taste it, even though you know you don't deserve it.
With that unlikely scenario, the Patriots can also lose to the Bills then check the box scores from around the league to see how the Steelers, Dolphins, and Titans did. If all three lose, New England is still in the postseason. They are the villain who just won't die at the end of your average Hollywood big-bang movie.
But here they are, right about to mercifully face the stop sign for the 2022 season.
Let's just not bet on emotion swinging all the tides here.
This week's predictions:
Globe staff: Split (Patriots +7).
Pete Prisco, CBS Sports: Bills 33, Patriots 21. "This is an important game for both teams. The Bills are playing for seeding, while the Patriots can get into the playoffs with a win. That won't be easy. The Bills are coming off the suspended game Monday night and have had to handle the mental part of having a fallen teammate in Damar Hamlin. Getting past that will be tough. But I expect the Bills to play well here and all but end New England's playoff chances."
CBS Sports staff: Four of six pick the Pats (+7).
ESPN staff: Three of five pick the Bills.
Sam Farmer, Los Angeles Times: Bills 28, Patriots 20. "The Bills — and the rest of the sports world — have been consumed by the tragic Damar Hamlin situation. But adversity has a way of galvanizing a team, especially an already strong one."
Greg Cote, Miami Herald: Bills 38, Patriots 17. "[Playoff impact: Very high — Patriots clinch wild-card with win, or if Dolphins, Steelers and Titans all lose. Bills clinch No. 1 seed with win and Chiefs loss.] Dolphins beating Jets in a concurrent game won't matter unless Bills beat Pats — and Buffalo should do its part. Bills have much to play for and they will also be playing for fallen teammate Damar Hamlin, whose reported road-to-recovery progress from his cardiac arrest Monday night should lift spirits on a highly emotional afternoon in western New York."
Jimmy Kempski, PhillyVoice: Bills (-7). "This will no doubt be an emotional game for the Bills, and it's also a crucial one for playoff seeding."
Frank Schwab, Yahoo! Sports: Patriots +7.5. "It's hard to talk about the Bills in football terms this week, for obvious reasons. I don't know how the Bills will react to what happened on Monday. Nobody can know. I'll just take the Patriots, who need to win to get in the playoffs and should keep it close."
Sheil Kapadia, The Ringer: Bills -7. "I see the appeal of taking Bill Belichick as an underdog, and again, I have no idea what this game will be like for the Bills. But the last three times these two teams have faced off, the Bills have won by 14, 30, and 12 points."
Vinnie Iyer, The Sporting News: Bills 23, Patriots 14. "The Patriots are pushing for a playoff spot but they are overmatched offensively and defensively in this road matchup against a motivated Bills team with key AFC seeding still on the line. Josh Allen has been a handful for Bill Belichick's defense of late and that continues here as New England's playoff return plans are spoiled."
Bill Bender, The Sporting News: Bills 28, Patriots 22. "The Patriots still have a playoff shot, but they need a win against Buffalo to seal that final spot in the AFC. After years of being haunted by Tom Brady, the Bills have taken control of this AFC North rivalry by winning five of the last six meetings. Will they knock the Belichick-led Pats out of the playoff here?"
FiveThirtyEight: Bills 83 percent (-11)
Gregg Rosenthal, NFL.com: Bills 24, Patriots 13. "After Damar Hamlin's harrowing incident, it's hard to even imagine what this game will look and feel like from the outside, much less how it will be for Bills players. The score above reflects where these two teams were positioned entering Monday night, and that was not as equals. Buffalo's offensive line and New England's pass rush have changed enough since 2021 to believe the Patriots' defense can challenge the Bills more than it did a season ago, when Josh Allen and Co. dominated the last two of three matchups. There's little reason to think Mac Jones and the Pats' offense can move the ball enough to play four quarters without making a number of big mistakes."
NFL Pickwatch: Ninety-one percent, Bills (-305).
It says here: Patriots 28, Bills 22. Because you just know this team is going to make you watch it offensively bumble through at least one more game.
Sign up for Patriots updates🏈
Get breaking news and analysis delivered to your inbox during football season.