Patriots
Football doesn't seem that important this week, but stakes are there for Patriots and Bills
Everyone's thoughts will remain with stricken Buffalo safety Damar Hamlin when the teams take the field Sunday.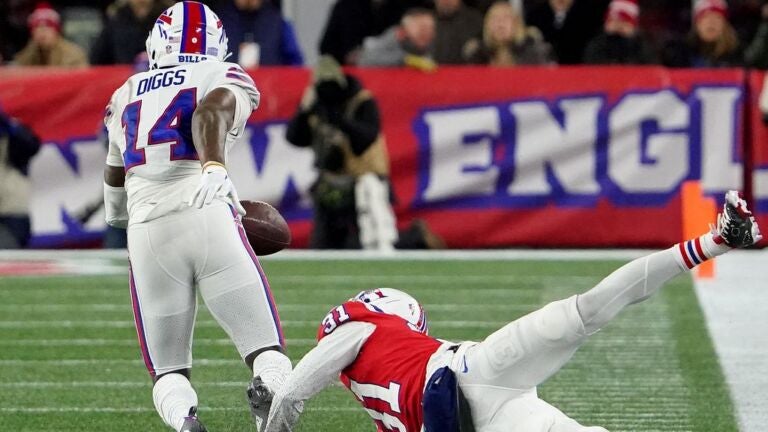 Welcome to Season 11, Episode 17 of the Unconventional Preview, a serious yet lighthearted, nostalgia-tinted look at the Patriots' weekly matchup …
When Bills safety Damar Hamlin collapsed on the Paycor Stadium turf in front of a national audience on "Monday Night Football," it was impossible not to feel like we were bearing witness to a pending tragedy. In real time, it was uncertain what was happening, and any temptation to speculate was held at bay on ESPN's broadcast. But the stunned faces of Bills and Bengals players, some of whom were weeping, told us that this was something that we did not want to see.
Dire details were revealed over the next hours and days. Hamlin, just 24 years old, had required CPR after suffering cardiac arrest on the field. The Bills released a statement Tuesday that Hamlin was in critical condition. It was reported that he was on a ventilator and in a medically induced coma.
It remained difficult not to fear the worst. As a matter of logistics more than anything else, there were conversations about whether the Bills should or would play football this week. No one much cared about that. All rooting interests united in hoping and praying for Damar Hamlin to pull through.
Hopeful news came Wednesday with word from his uncle that Hamlin was breathing on his own 50 percent of the time. Much more arrived Thursday when word came that his brain was "medically intact," he was awake, and the doctors who treated him revealed that he was holding the hands of family members and had asked via writing who won Monday.
His doctors cautioned that Hamlin is still considered critically ill and has a long road ahead, but their optimism in a press conference was palpable, as was the relief of Bills quarterback Josh Allen and coach Sean McDermott when they spoke to reporters later Thursday. And suddenly, so much of what happened this week in the face of potential tragedy began to feel inspirational.
We learned about Denny Kellington, the Bills' assistant trainer who revived Hamlin on the field, the definition of poise under pressure. We were reminded to appreciate science and the medical community. We saw the humanity of people such as Bengals coach Zac Taylor, the real-life Coach Taylor, who recognized in the moment that players should not be asked to play on. We saw empathy in almost every corner, and we learned about Hamlin, by all accounts a gem of a person, with fans and the football community donating millions of dollars to one of his charitable endeavors.
The Bills-Patriots matchup is a meaningful game by the standards of professional football. The Bills could use a win for playoff seeding. A win puts the Patriots in the playoffs. But nothing means more this week than Thursday's welcome news.
Kick it off, Folk, and in Damar Hamlin's honor, let's get this one started …
THREE PLAYERS WORTH WATCHING OTHER THAN THE QBS
Stefon Diggs: Since catching seven passes for 92 yards and a touchdown against the Patriots in Week 13, Diggs has been quiet on the field by his standards; he has a total of 10 catches for 123 yards with no touchdowns over the past three games.
Off the field has been another matter. In the Bills' 32-29 win over the Dolphins in Week 15, in which he had a pedestrian-for-him five catches for 60 yards, his frustrations bubbled to the surface a couple of times, once resulting in him chucking his helmet on the sideline.
But don't be fooled by his recent relatively modest production. He is having his typical outstanding season, with 101 receptions for 1,325 yards and 10 touchdowns in 15 games. He already has more yardage than he had in 17 games last season, when he finished with 103 catches for 1,225 yards and 10 TDs.
While he didn't surpass 100 yards in the previous meeting with the Patriots, he seemed to make a big play every time the Bills needed one, from his 8-yard touchdown catch in the second quarter that put Buffalo ahead for good at 10-7, to a pair of 19-yard catches on a 94-yard drive that culminated with a Devin Singletary touchdown run early in the fourth quarter.
Diggs has averaged 6.3 receptions and 85.7 yards in six career games against the Patriots, and with four Patriots cornerbacks on the injury report as of Thursday, the task of slowing one of the NFL's most prolific pass-catchers won't be easy.
Jakobi Meyers: The Patriots' ability to make plays downfield against the Dolphins was relatively encouraging. (I'll pause here if you want to add "for once.") Tyquan Thornton hauled in 29- and 24-yard receptions. Hunter Henry chipped in with a 29-yarder on a terrific Mac Jones throw. Meyers, who is not exactly the second coming of Harold Jackson, even contributed a 25-yarder.
Continuing to build a semblance of a downfield attack will be more challenging against the Bills than it was against the depleted Dolphins secondary. The Bills allow just 213.3 passing yards per game (14th in the NFL), and have held opponents to 191 or fewer net passing yards eight times, including the Patriots in Week 13.
The Patriots had one big play in that previous matchup, a 48-yard burst by do-everything rookie Marcus Jones that clearly caught the Bills off-guard. Otherwise, they had little going on in the passing game. Mac Jones's other 21 completions, excluding the one to Marcus Jones, totaled 147 yards, or 7.1 yards per reception.
The top pass-catcher in that game was running back Rhamondre Stevenson, with six receptions. Meyers was second, with three. He's had a touchdown in each of the past two games since the Las Vegas Lateral debacle, including a clever audible in cahoots with Mac Jones that led to a short fade and the clinching touchdown against the Dolphins.
With 64 receptions (tied with Stevenson the team lead) for 772 yards (more than 300 more than Henry, who is second with 467) yards, he is the Patriots' most reliable receiver, at least among those that Matt Patricia allows on the field.
Devin McCourty: If the Patriots lose … well, this kind of feels like it might be it for one of the quintessential Patriots of the second phase of the dynasty and one of the classiest Patriots of any era.
McCourty and some family members took a moment to linger on the field after the home finale last week, which hinted at a potential goodbye, and with 13 seasons, three Super Bowl rings, and two Pro Bowl nods to his credit, the Patriots could take McCourty's measurements for a red jacket right now.
At 35, McCourty may have lost a quarter-step, or maybe even a half. But he's still a very good player: smart, instinctive, and still faster than most. He's tied for third with Jahlani Tavai in tackles (66), and his 51 solo tackles are second only to Ja'Whaun Bentley (58 solo among his team-leading 118).
With one interception this week, McCourty would become the active NFL leader; he's currently tied with the Vikings' Harrison Smith at 34, and he must be kicking himself for dropping a routine fly ball that would have been No. 35 last week. With two picks in the regular-season finale, he would tie Ty Law and Raymond Clayborn for the most interceptions in Patriots history (36). If he manages to join that exclusive company, it probably means the game is going well for the Patriots.
GRIEVANCE OF THE WEEK
At the end of Allen's press conference alongside McDermott Thursday, during which they addressed for the first time publicly their emotions Monday night and beyond, the Bills quarterback closed his remarks with a thoughtful acknowledgement of Bengals receiver Tee Higgins, the player who collided with Hamlin.
"I do want to say one more thing," said Allen. "I haven't reached out to Tee but I hope that he got some relief today [when good news came about Hamlin's condition]. I saw some stuff on Twitter and people should not be attacking him whatsoever. I'm glad that Damar's family came out and said [that Higgins was not at fault]. Because that was a football play, and I hope that he doesn't hold that upon himself."
It was a classy thing for Allen to say … but it was a bummer that he felt he had to. People who would scapegoat Higgins — who did nothing wrong and by all accounts was distraught after the game — are the lowest of the low, the human equivalent of that gunk on the sole of your shoe.
PREDICTION, OR HOW LIKELY IS IT THAT THE DOLPHINS, TITANS, AND STEELERS WILL ALL LOSE? …
The Patriots have one advantage in this game: preparation. While Hamlin's circumstances weighed on them too — I thought Bill Belichick's remarks Thursday about Hamlin, which lasted more than 10 minutes, were poignant — they did have a normal week in terms of practice. The Bills, meanwhile, had a walk-through and meetings Wednesday, then practiced for the first time Thursday. That's not a lot of prep.
The Bills, of course, will have the advantage of inspiration. The desire to win this one for Hamlin might seem trite to cynics, but that desire is real. It's going to be interesting to see how it manifests in the game.
When the teams played in Week 13, the Bills prevailed, 24-10, in a win that really wasn't as close as the score. It was the kind of win the Tom Brady Patriots used to pull off time and again.
The Bills could be too fired up, and I think they will be at first. But they are the superior team, and they're one with a personal cause now. The Patriots will hang around for a while and stoke those playoff embers, but they're not beating the Bills. Not this week. Bills 26, Patriots 20.
Sign up for Patriots updates🏈
Get breaking news and analysis delivered to your inbox during football season.