Patriots
Jake Bailey is filing a grievance to fight 'unknown' suspension from Patriots
"This comes as a surprise given his full participation during injury reserve."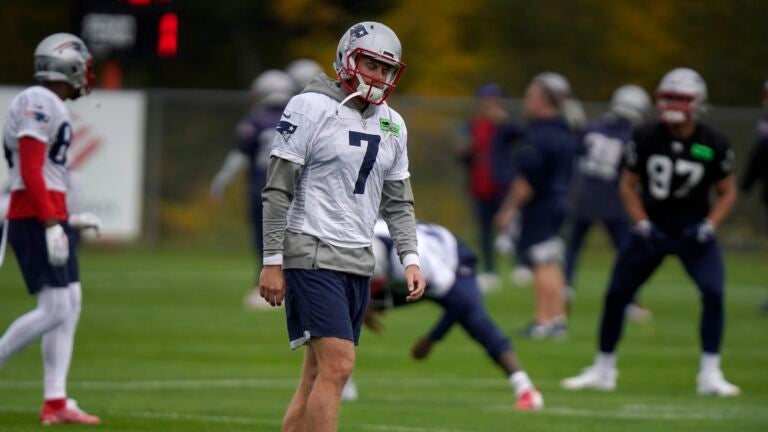 A day after he was surprisingly suspended by the Patriots, Jake Bailey is taking action.
The fourth-year punter is filing a grievance against the suspension, Bailey's agent, Doug Hendrickson, said in a statement to the NFL Network on Saturday while his client is still recovering from a back injury.
"While Jake Bailey was on IR he never missed a single treatment, meeting, or practice," Hendrickson said. "He was hoping to come off IR to play last weekend, but Jake was being informed he was being suspended these last two games. This comes as a surprise given his full participation during injury reserve. We have filed a grievance to fight this unknown suspension."
Bailey was originally placed on injured reserve with the back injury ahead of the Patriots' Week 11 game against the New York Jets. He returned to practice on Dec. 21 and was designated to return to play, opening up a three-week window for the Patriots to either activate him or he'd be out for the rest of the season.
Even though the three weeks didn't expire, Patriots coach Bill Belichick that Bailey's activation time had passed prior to him being moved to the suspended list Friday.
Bailey wasn't the only player the Patriots moved to the suspended list Friday. Rookie cornerback Jack Jones was also placed on the suspended list, with both being retroactive to Dec. 31. Jones suffered a knee injury during the Patriots' Week 14 win over the Cardinals and hasn't played since then and was placed on injured reserve prior to their win over the Dolphins last week.
Jones's agent hinted that the suspension might be related to how his client approached rehab for the injury.
"I'm aware of the situation involving my client Jack Jones," agent Jamal Tooson said in a statement to NFL Network. "Jack is focused on getting back to help the Patriots as soon as possible. Regarding the suspension, it appears to be a miscommunication regarding Jack's rehab process. I'm hopeful we'll reach an amicable resolution for both Jack and the Patriots."
ESPN's Mike Reiss reported that Bailey's suspension was due to differing viewpoints on Bailey's return to play while Jones's suspension is related to being fined by the team due to missing rehab appointments.
The Patriots signed Bailey to a four-year, $13.5 million extension in August, making him one of the highest-paid punters in the league. The suspension could void the guaranteed money on Bailey's contract as he has a $3.415 million cap hit for the 2023 season.
In terms of performance, Bailey and Jones were on opposite ends of the spectrum this season. Bailey was having the worst season of his career prior to his IR placement, averaging 42.1 yards per punt, which was the lowest in the league entering Week 11. Jones, meanwhile, had a solid rookie campaign, recording two interceptions and was one of Pro Football Focus' highest-graded cornerbacks in the first half of the season.
Sign up for Patriots updates🏈
Get breaking news and analysis delivered to your inbox during football season.