Patriots
Bill Belichick disagrees with Jake Bailey's agent, but sheds little light on punter's suspension
"The suspension is a whole 'nother thing."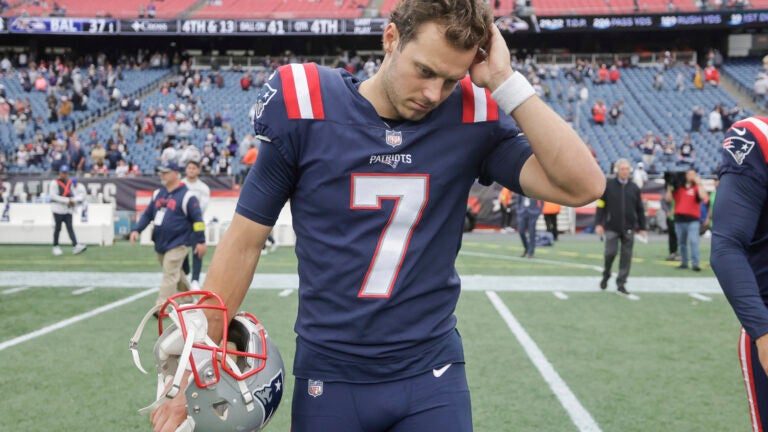 In a far-from-shocking development, Bill Belichick wasn't going to offer much insight into the reasons behind punter Jake Bailey's suspension — especially not just a few minutes after the Patriots' season-ending loss to the Bills on Sunday afternoon.
But Belichick did offer one nugget when pressed about the suspension — noting that he disagreed with the sentiment shared by Bailey's agent, Doug Hendrickson, that the punter did not know why exactly he was suspended.
When asked whether he saw Bailey's current situation in the same way that Hendrickson mapped it out, Belichick kept things brief.
"No," Belichick replied.
And when pressed further, Belichick kept his cards close to his vest.
Q: "Could you elaborate how you see it?"
Belichick: "He's not eligible to play."
Q: "His agent said he felt like he was ready and he was surprised to be told he wasn't."
Belichick: "He was on designated for return and he wasn't able to play. So, the suspension is a whole 'nother thing. But he wasn't able to come back."
Q: "So he wasn't unavailable because of the suspension is what you're saying?"
Belichick: "He was unavailable. That's the bottom line."
Q "Because of injured reserve?"
Belichick: "He was unavailable."
It's been a bizarre end to a lackluster season for Bailey — who was suspended by the team on Friday, along with rookie cornerback Jack Jones. ESPN's Mike Reiss reported that Bailey's suspension was due to differing viewpoints on Bailey's return to play.
Bailey and Hendrickson filed a grievance against the suspension, with Hendrickson noting in a statement to the NFL Network's Ian Rapoport that Bailey was a full participant in treatments and meetings while on injured reserve.
"While Jake Bailey was on IR he never missed a single treatment, meeting, or practice," Hendrickson said. "He was hoping to come off IR to play last weekend, but Jake was being informed he was being suspended these last two games. This comes as a surprise given his full participation during injury reserve. We have filed a grievance to fight this unknown suspension."
Bailey was originally placed on injured reserve due to a back injury ahead of New England's Week 11 matchup against the Jets. Still, even though Bailey returned to practice in late December and was designated to return to play, the Patriots did not activate him for the remainder of the 2022-23 season.
Before landing on IR, Bailey was in the midst of the toughest season of his four-year career — with his 42.1 yards per punt standing as the lowest in the league entering Week 11.
Still, even with his ineffective play, Bailey's leg could have come in handy on Sunday against the Bills. Even though his primary role is punting, Bailey is often given kickoff assignments due to wielding a much stronger leg than Nick Folk.
But with Bailey suspended, Folk struggled to force touchbacks against the Bills – with two of his volleys getting plucked out of the air by Nyheim Hines and eventually taken back for a pair of kickoff return touchdowns.
Get the latest Boston sports news
Receive updates on your favorite Boston teams, straight from our newsroom to your inbox.