Patriots
Bills end the Patriots' season with a pair of kick returns for TD by Nyheim Hines
New England's special teams weren't very special on Sunday.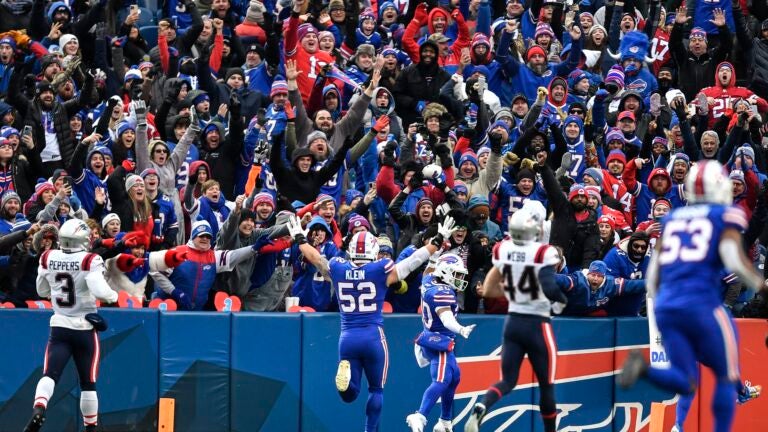 Nyheim Hines opened the game in stunning fashion with a 96-yard kickoff return for touchdown.
Bills safety Demar Hamlin, who collapsed on the field last week due to cardiac arrest, celebrated the play by tweeting "OMFG" followed by several exclamation points from his hospital bed.
Then, Hines snatched the lead for Buffalo with a 101-yard kickoff return for a touchdown in the third quarter. Eventually, the Patriots had to resort to squib kicks to keep the ball out of his hands.
The Patriots squandered their chance to keep the season alive with special teams issues, resulting in a 35-23 loss. The Bills capitalized on an electric atmosphere in their first game since Hamiln's hospitalization.
New England's season is over after Miami clinched the AFC's final playoff spot with a win over the Jets.
Mac Jones had a stellar first half, completing 13 of his first 15 passing attempts and throwing a pair of touchdown passes.
But in the second half, he threw three interceptions. The first one was his worst decision of the game, an overthrow that was picked off on the 1-yard line, killing a promising New England drive. The final two interceptions bounced off of Patriots players' hands, and Buffalo was ready to capitalize.
After Hines' second touchdown return, the Bills broke the game open on a nifty 42-yard touchdown catch from John Brown. Cutting across the field, he briefly slowed down near Myles Bryant and Devin McCourty before turning upfield and sprinting his way open to give Buffalo a double-digit lead.
DeVante Parker had a big impact in his first game back since suffering a concussion in the Arizona game. He brought the Patriots back within five with a touchdown catch in the fourth quarter, winning a jump ball in the endzone.
However, special teams gaffes, too many explosive plays from Buffalo, and a pair of untimely interceptions were too much to overcome.
Here's how the Patriots' season came to an end:
Fourth quarter
0:00: Patriots lose 35-23 and are eliminated from playoff contention.
1:55: Bills kneel and run out the clock.
2:42: A pass that bounces off of Damien Harris' hand results in Mac Jones' third interception of the day.
6:45: Damien Harris picks up a first down, Patriots are in the redzone.
8:22: Patriots get a lucky bounce as a Bills player touches the punt and New England recovers, keeping the football and gaining strong field position.
8:34: A Mac Jones deep pass bounces off of Devante Parker's face mask and falls to the ground for an incompletion.
8:51: Josh Allen hits Stefon Diggs in stride for a 49-yard touchdown. Bills 35, Patriots 23.
11:00: Patriots opt for a squib kick, instead of kicking the ball off to Hines.
11:37: DeVante Parker wins a jump ball in the endzone with an incredible catch for a touchdown. Patriots go for two,and a screen pass to Stevenson is stopped short. Bills 28, Patriots 23.
12:55: A play-action pass to Jakobi Meyers gets the Patriots a first down.
Third quarter
1:35: John Brown burns the Patriots with a 42-yard catch for touchdown opening up the largest lead of the day for Buffalo. Bills 28, Patriots 17.
6:53: The Patriots just can't stop Nyheim Hines. 101-yard kickoff return for touchdown puts the Bills back in the lead. It's his second of the game. Bills 21, Patriots 17.
7:30: Although they started 11 yards away from the endzone, the Patriots are held to a field-goal. Nick Folk nails the close attempt. Patriots 17, Bills 14.
8:34: The Patriots get the ball back after Singletary fumbles on Buffalo's 11-yard line. Devin McCourty makes the recovery.
9:26: Mac Jones overthrows Nelson Agholor and Tredavious White picks him off at the 1-yard line. Bad throw stops a promising drive in its tracks.
10:00: Rhamondre Stevenson picks up a chunk of yardage for another first down.
10:55: Mac Jones' pass is tipped on third-and-1. Patriots go for it on 4th down. Jones completes a short pass to Hunter Henry for the first down.
12:34: The Patriots cross midfield as Damien Harris spins forward on a carry.
15:00: Patriots begin the second-half with the ball.
Second quarter
0:00: Patriots and Bills are tied 14-14 at the half.
0:16: Patriots' defense makes a big play right before halftime. Judon hits Josh Allen forcing a bad throw that McCourty intercepts, preserving the tie.
2:06: Back-to-back first gowns on the ground for Buffalo. One from Singletary, one from James Cook.
3:45: Marcus Jones serves as a decoy, while Mac Jones completes a two-yard touchdown pass to DeVante Parker. Mac is now 13-15 with two touchdowns.
5:00: Kendrick Bourne makes his third catch of the drive, picking up a first down.
8:25: Rhamondre Stevenson tops 1,000 yards for the season on a big gain up the middle.
9:55: Daniel Ekquale wrestles Allen to the ground for a third-down sack. Marcus Jones picks up a decent gain on the punt return.
12:56: Jones has to throw the ball away after Tremaine Edmunds charges into the backfield unblocked. Buffalo receives New England's punt.
14:11: Handoff to Damien Harris goes absolutely nowhere. Six-yard loss. Shaq Lawson celebrates with a shoulder shimmy.
15:00: The Bills cap a 75-yard drive with a touchdown pass to a wide-open Dawson Knox. Bills 14, Patriots 7.
First quarter
0:39: The Patriots bring an all-out blitz on third down and Allen makes them pay for it, hitting Gabe Davis for an 18-yard gain just outside the endzone.
2:25: Jabrill Peppers is questionable to return with an ankle injury.
4:10: Allen finds Diggs again, this time for a 16-yard pass on third-and-2.
5:45: Mac Jones starts the game 6-for-7 and threw a touchdown on drive No. 2. Really solid start for him and the passing game.
The run game is off to a slower start, with 15 yards on 4 carries.
6:04: A strong run from Mac Jones pushes the Patriots forward to Buffalo's two-yard line. Then, Jakobi Meyers gets the tip of his toe in bounds on a sensational touchdown catch as he falls backward in the corner of the endzone. Patriots 7, Bills 7.
6:58: The Patriots are in the red zone after Parker catches another pass near the sideline.
8:38: The Patriots are making use of the play-action on this drive, completing play-action passes to Stevenson and DeVante Parker. It's Parker's first catch since the Arizona game.
9:44: Jakobi Meyers hauls in a first-down catch and jogs off the field with a slight limp.
11:05: The Patriots get a stop, with multiple defenders chasing Josh Allen and Deatrich Wise coming up with the sack. Buffalo punts to New England.
12:26: Josh Allen completes his first two passes of the game to Stefon Diggs.
13:09: The Patriots' opening drive is a three-and-out as Mac Jones is crushed by Shaq Lawson and Greg Rousseau on a third-down sack.
15:00: New England defers after winning the toss, and the opening kickoff is run back for a touchdown by Nyheim Hines. Buffalo 7, New England 0.
Inactives, 11:30 a.m.:
Patriots: DB Jalen Mills, TE Jonnu Smith, DB Shaun Wade, DL Sam Roberts, DB Joshuah Bledsoe, RB Kevin Harris, DB Brenden Schooler.
Bills: DB Jared Mayden, DB Christian Benford, LB Baylon Spector, OL Ike Boettger, OL Justin Murray, TE Tommy Sweeney.
Pregame notes, 11 a.m.
It's win or [most likely] go home for the Patriots against Josh Allen and the Buffalo Bills on Sunday.
As the NFL regular season draws to a close, New England finds itself trying to hang on to the seventh and final spot in the AFC playoff picture.
A win puts New England in the playoffs. A loss could too if both Miami and Pittsburgh lose as well.
The Patriots, whose depth at defensive back has been limited by injuries, will take on one of the top-5 offenses in the NFL.
Then there's the emotion of Buffalo's first game after safety Damar Hamlin collapsed last week against Cincinnati. An episode of cardiac arrest caused him to be given CPR on the field and taken off the field in an ambulance.
Hamlin is awake, but still in critical condition as he recovers. He FaceTimed earlier with the team and has tweeted a message thanking supporters who wished him the best for his recovery.
The Bills notched a convincing 24-10 win over the Patriots in December at Gillette Stadium the last time the teams met. Josh Allen's numbers –22 of 33 for 233 yards and no interceptions — weren't terribly far off from Mac Jones's production (22 of 36 for 195 yards and one touchdown).
But, the Bills racked up more than twice as many touchdowns as the Patriots did and went 3 for 3 in the red zone.
Will the Patriots' defense keep them in the game long enough to give them a shot at scratching and clawing their way to both a winning season and a playoff berth?
Follow along here for live updates, scores, and analysis.
Sign up for Patriots updates🏈
Get breaking news and analysis delivered to your inbox during football season.