Patriots
'I feel like we cost the team the game': Patriots' poor special teams play dooms them once again in Buffalo
There have only been six kickoff return touchdowns scored during the 2022-23 NFL season. The Patriots have given up three of them.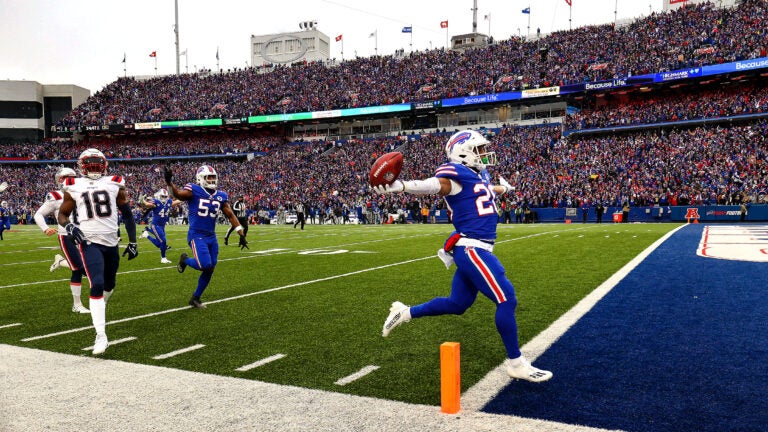 When it comes to identifying the hallmarks of a Patriots dynasty that stretched over two decades, plenty of sentiment tends to start with a certain signal caller — and for good reason.
But an underrated strength of this franchise for years has been its sterling special teams play — with that unit's execution, attention to detail and in-game smarts routinely swinging the momentum in New England's favor when those opportunities presented themselves.
Not only has that group jumpstarted many fruitful drives and chances by way of a much-needed fumble recovery, it also built a reputation as a special-teams crew that made things difficult for the opposition.
Beyond just pinning teams back in their own side of the field on kickoffs and punts, the Patriots rarely relinquished big-play sequences to opponents — with New England only allowing six kickoff return touchdowns from 2000 to 2022.
But this season, the wheels have fallen off for this Patriots special-teams squad — culminating in a season-ending defeat on Sunday in which New England gave up two kickoff return TDs to the Bills en route to a 12-point loss at Highmark Stadium.
"It's hard to process," Matthew Slater said of the Patriots' special-teams play following Sunday's 35-23 loss to the Bills. "I've been playing this game a long time. I've never been a part of anything like that. So it's obviously very disappointing. As a captain of that unit, I feel like we cost the team the game. So it was very difficult."
While lapses in execution are inevitable during the few seconds of mayhem that erupt on the gridiron during kick returns, the Patriots have been burned time and time again this season due to poor tackling, shoddy containment, and an uncharacteristic dearth of situational awareness.
In total, there have only been six kickoff return touchdowns scored all year during the 2022-23 NFL season — and special teams coordinator Cameron Achord and the Patriots have given up three of those TDs.
What was a storybook start for the Bills just minutes after honoring Damar Hamlin looked more like the same tired script for New England's special teams staff on Sunday — with Bills running back Nyheim Hines taking the opening kickoff to the house on a 96-yard score and sending over 70,000 Bills fans into a frenzy.
It was not the only time that Hines energized the home crowd at Orchard Park, N.Y. thanks to the Patriots' lackluster play.
While New England did manage to weather the storm in the early going — eventually taking a 17-14 lead over Buffalo at 7:06 in the third quarter — Hines handed the lead right back to Buffalo on the following play, evading Myles Bryant and taking the kickoff back 101 yards to give the home team a lead that it did not relinquish.
Hines became the first NFLer to return two kickoff returns for touchdowns in the same game since Leon Washington accomplished the feat with the Seahawks in 2010.
Of course, the Patriots' special teams unit was hampered due to injury on Sunday, with Brenden Schooler inactive with a hip injury and DaMarcus Mitchell later ruled out of the game due to a head injury.
But Slater wasn't going to make excuses, not when a sound tackle at critical moments of those sequences could have taken 12 points off the board for the Bills.
"We just didn't do a good enough job using our hands and getting off blocks," Slater said. "It comes down to fundamentals. You've got to be able to shed a block, you've got to be able to diagnose a return and avoid to the ball and we just didn't do it. It was very disappointing that it shows up in this setting. Just you feel like you let the team down, and it was very disappointing."
It stands to be a busy offseason for the Patriots, especially with the multiple cases of regression found in New England's offensive unit.
And yet, while plenty of (warranted) criticism has been doled out toward Matt Patricia and the structure of New England's offensive coaching personnel, one has to think that Achord and the Patriots' special teams unit is also due for a major overhaul.
Sign up for Patriots updates🏈
Get breaking news and analysis delivered to your inbox during football season.