Patriots
5 takeaways from the Patriots' season-ending loss to the Bills
Special teams was once again a problem area.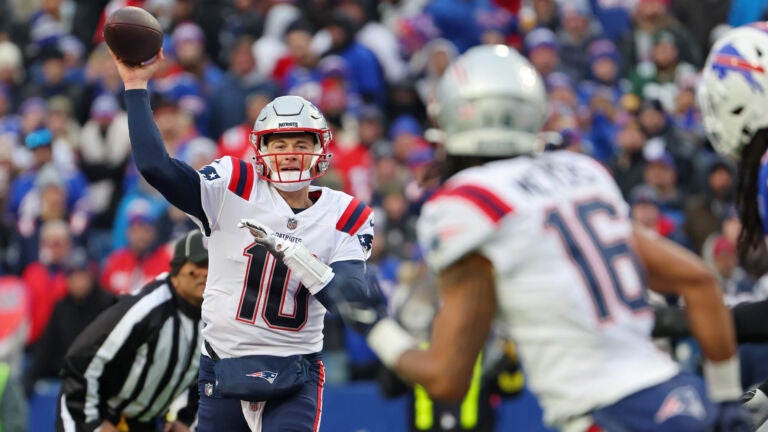 The Patriots lost to the Bills 35-23 on Sunday, ending New England's season in Buffalo for the second consecutive year. Because other results did not work in New England's favor, the defeat meant the 8-9 Patriots will not play in the postseason.
It was a day in which Damar Hamlin — who continues to show signs of improvement — was honored by the Bills, as well as the entire NFL.
And in the game itself, New England fought until the end, but couldn't get the road win that the team needed.
It was also an emotional day for a pair of Patriots legends, who might have signed off on their careers with a couple big plays even amid defeat.
Here are a few takeaways from New England's season finale:
Damar Hamlin was honored by both teams.
Fans and players showed support for Hamlin throughout the day, wearing gear or holding signs that displayed his jersey number. The Patriots were included in this, as were other teams around the NFL.
Hamlin himself was active on Twitter, sharing a pregame picture from his hospital bed as he continues to take steps in his recovery.
Bills fans were expectedly vocal in showing their love for the 24-year-old, who watched the game with his parents:
Special teams once again failed at the worst possible time.
There have been six kickoff returns for touchdowns in the NFL in the regular season. The Patriots allowed three of those.
Two came in Sunday's loss alone, including one on the opening kickoff:
Especially given the context of the second kickoff return touchdown (which immediately followed New England taking the lead for the first time in the third quarter), it was an appallingly bad display from the Patriots' special teams.
Even the fourth quarter punt fumble recovery by the Patriots wasn't enough to rescue what was a disastrous showing.
As has been the case in recent weeks, there were more bad punts (Michael Palardy netted just 28 yards on a third quarter attempt), and Nick Folk — usually reliable — sent a squibbed kickoff mistakenly out of bounds.
In all, special teams coordinator Cam Achord will undoubtedly face scrutiny for a string of poor performances from his phase of the football team for much of the season. Sunday, in particular, showcased a lackluster standard. In a must-win game, the Patriots lost by 12 after giving up 14 points on kickoff return touchdowns.
Mac Jones and the offense showed some quality, but still committed costly turnovers.
After Mac Jones was sacked by Bills defense end Gregory Rousseau to bring a jarring end to New England's opening drive, it looked like it might be a long day for the Patriots' offense.
Yet Jones and his teammates persisted, putting together a pair of 9-play, 74-yard touchdown drives in the first half. When given protection, Jones showed that he could move the ball at times.
It was, in many ways, one of his better performances of the year.
Still, after managing to avoid turnovers for much of the second half of the season, bad habits returned on Sunday. Driving into the red zone on the opening possession of the second half, Jones inexplicably threw a jump ball up for Nelson Agholor near the goal-line. Bills cornerback Tre'Davious White made a skillful interception, ending what appeared to be a promising scoring threat.
Jones also threw two more interceptions in the fourth quarter as desperation to force a comeback effort mounted.
It was a day in which the Patriots offense, for all of its numerous problems throughout the season, was less to blame for the defeat. That said, play-calling issues (which continued on Sunday, though less prominently) will be an ongoing subplot this offseason.
The defense was overmatched, but managed to keep it close.
A year ago, the Patriots defense was unable to stop Josh Allen and the Bills in anything other than a literal blizzard. In two games at the end of the 2021 season (including a wild-card playoff matchup), New England did not make Buffalo punt at all.
From that standpoint, Sunday's game was a much better effort from Bill Belichick's team. New England forced three punts, and created two turnovers, including a clutch Devin McCourty interception in the red zone shortly before halftime.
The problem for the Patriots was that enough of the team's more talented cornerbacks (Jalen Mills and Jack Jones) were still sidelined with injuries, that backup player were forced to try and cover in tough match-ups.
Eventually, Buffalo was able to generate the requisite offense. Allen found both Stefon Diggs and John Brown for long touchdowns:
That, plus the special teams scores, proved to be more than enough of a difference in the game. Despite calling a pretty good defensive game-plan, the Patriots couldn't hold Allen from making timely big plays.
It might have been the last game for Devin McCourty and Matthew Slater with the Patriots.
A pair of Patriots legends might be at the end of their road with the team. Both McCourty, 35, and Slater, 37, have their contracts effectively up at the end of the season (McCourty has extra years that automatically void).
Both players, to their continued credit, made plays on Sunday to remind Patriots fans what they've meant to the team. McCourty delivered a red zone interception of Allen, granting New England a halftime reprieve.
Slater, one of the great special teams players of his generation (and probably of all-time in NFL history), was able to push Taiwan Jones of the Bills back into the football on a fourth quarter punt, causing a fumble that the Patriots gratefully recovered.
If it was indeed the last game for a pair of legends — players who have only ever worn a Patriots uniform during their distinguished NFL careers — they finished strong.
Newsletter Signup
Stay up to date on all the latest news from Boston.com