Patriots
Jakobi Meyers 'proud' of Mac Jones playing through adversity, Bailey Zappe chants
"That's something that's tough to deal with."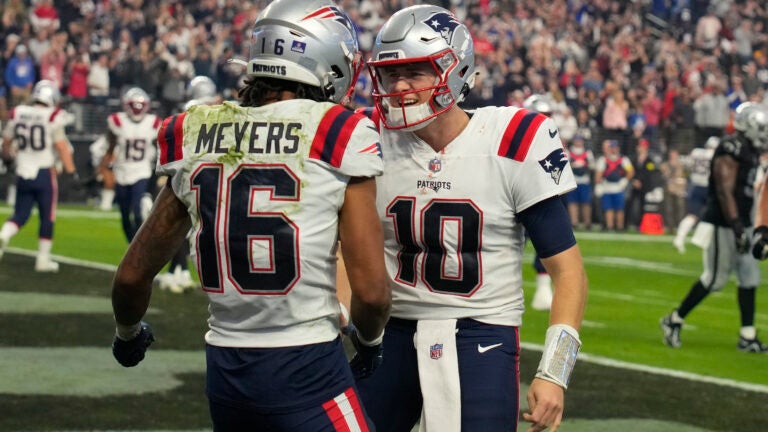 The Patriots' 2022 season was a disappointing outing for Mac Jones, but teammate Jakobi Meyers says he's proud of how the quarterback handled tough moments.
After putting together a rookie Pro Bowl campaign in 2021, Jones and the New England offense regressed this fall, as injuries and poor execution stunted the quarterback's growth.
But even though the season didn't go as planned, Jones seemingly maintained the respect of New England's locker room — especially his trusted target Meyers.
When asked on Monday what he learned about Jones this season, Meyers opted to focus more on the second-year quarterback's ability to battle through adversity, even as some Patriots fans were calling for backup QB Bailey Zappe to play.
"He just showed who he was as a person. Not even just as a football player," Meyers said of Jones after clearing out his locker on Monday.
"One of my memories from the year was just seeing him out there playing while you hear people chanting another quarterback's name. That's something that's tough to deal with, but he didn't really complain. He strapped his chin strap up the next play and went back to work. I'm proud of him."
Of course, Meyers' support of Jones doesn't come as much of a surprise — considering both players have developed quite the rapport over the last two seasons.
Even though Meyers was hampered at times this season due to head, shoulder and knee injuries, the 26-year-old wideout was Jones' most trusted weapon on the field in 2022. Meyers led the Patriots in both receiving yards (804) and touchdowns (six).
"Jakobi's one of the best — if not the best — teammates I've ever had," Jones said of Meyers following Sunday's loss to the Bills. "He's a great person. He comes to work every day, doesn't complain. Does everything right. And he deserves everything that's coming his way. So, hopefully, it's with us. Yeah, he means a lot to me."
It remains to be seen if Meyers will still be in New England next season, especially with the NC State product poised to secure a major payday this spring as one of the top free-agent receivers on the market.
So far, Meyers hasn't given much thought about where his next stop might be.
"Honestly, I haven't even really gotten to that point yet. I've been kind of hurt all year, you know, so I'm just more so just excited to get healthy, get a little rest, see my family. That's probably the biggest thing," Meyers said. "Just go back to my family. After that I'll probably figure out what's next for me."
Newsletter Signup
Stay up to date on all the latest news from Boston.com