Patriots
Football America was hoping Patriots would quit against Bills, but they didn't, and that should count for something
The end has come for the 2022 Patriots.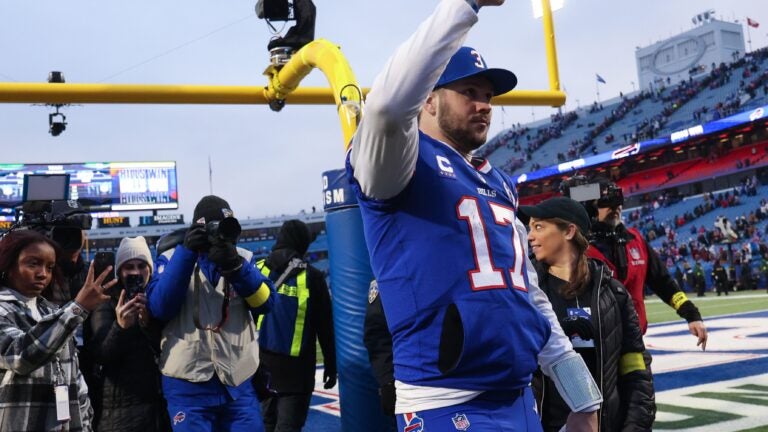 On an emotional day in which most fans around their country were rooting passionately for their opponent, the Patriots somehow managed to be as likable as they have been all season.
Now, that shouldn't be interpreted as high praise, mind you. The Patriots' uneven-at-best season ended at the hands of the inspired Buffalo Bills for a second straight year, and it deserved to. They were beaten by a much better team, and one that captured America's hearts in rallying around teammate Damar Hamlin, who suffered cardiac arrest on the field last Monday during a game, survived because of the poise and expertise of team personnel, first responders, and the medical community, and has become a beacon of astonishing inspiration since.
But the Patriots, for all of their flaws, never quit this season. That counts for something. And Mac Jones, the second-year quarterback who was failed spectacularly by the coaching staff this season, heads into the offseason with the fresh memory of his most confident performance of the season, which included three touchdown passes. He also threw three interceptions, two coming in desperation time in the fourth quarter, but this still counts as progress.
The end has come for the 2022 Patriots. It wasn't a terrible one, leaving some genuine hope for progress next year with certain, obvious changes. Here's to the offseason, and getting this right.
Some further thoughts, upon immediate review . . .
Three players who were worth watching
Players suggested in the Unconventional Preview: Stefon Diggs, Devin McCourty, Jakobi Meyers.
Devin McCourty: It's assumed that McCourty and Matthew Slater, two cornerstone Patriots from the second phase of the two-decade dynasty, will retire. Nothing was confirmed postgame, though Slater's tears — and David Andrews's sad walkoff from the podium while talking about him — suggest goodbye is coming in the special teams ace's case. The emphasis in the build-up to what might have been their final game after 28 combined seasons with the franchise is their leadership and class, and they both deserve such plaudits. But Sunday was a reminder that they're both still outstanding players. McCourty picked off Josh Allen late in the second quarter, the 35th interception of his career and most among active players, and recovered Devin Singletary's fumble — punched loose by Jonathan Jones — at 9 minutes, 26 seconds of the third quarter deep in Bills territory. Meanwhile, on a terrible day overall for Patriots special teams, Slater put a turnover on their side of the ledger, shoving his blocker into punt returner Taiwan Jones to force a muff, which was recovered by Ja'Whaun Bentley. McCourty and Slater, out there making plays, just like they always have, and maybe for the last time.
Nyheim Hines: When the Bills return man took the opening kickoff 96 yards for a touchdown — the team's first play since Hamlin collapsed — I had two thoughts as his teammates rejoiced around him: 1.) This is an instant part of sports lore, and we're going to remember it forever; 2.) The Bills are going to win by 100. When Hynes returned a second kickoff for a touchdown, this one a 101-yarder at the 6-minute-53-second mark of the third quarter to put the Bills up, 21-17, I had another thought: Man, the Patriots really miss Brenden Schooler, who was inactive with a hip injury. I'm not sure who was playing the role of Hason Graham — injured Troy Brown's out-of-position fill-in on Desmond Howard's game-changing kick return in Super Bowl XXXI — but Jabrill Peppers whiffed on Hines on the first return, and Myles Bryant was the only Patriot to get a hand on him on the second one.
DeVante Parker: In his first game since suffering a concussion in Week 12 against the Cardinals, Parker was the Patriots' most effective offensive player, catching six passes for 79 yards and two scores. His first touchdown was a 2-yarder to tie the score at 14 in the second quarter. His second was downright spectacular, a leaping grab of a 26-yard Jones pass to pull the Patriots to within 28-23 early in the fourth quarter. He finished his first Patriots season with just 31 receptions, but the version we saw of him Sunday could be a significant asset next year.
Grievance of the game
There's no gentle way to put this. Tony Romo was awful during CBS's broadcast. It began in pregame, when the network's No. 1 NFL color analyst jabbered incomplete sentences over the intense, compelling images of emotional Bills coaches and players preparing to play their first game since Hamlin's collapse. He took the same quasi-coherent route on Hines's first kickoff return touchdown. I don't believe he was insincere, but the word salad that he offered at a time when nothing needed to be said came as, at the very least, a serious misread of the moment and his role. If you don't have anything to say, don't filibuster in the hopes you might find it. He wasn't much better during the game itself, declaring at least on three separate occasions that "this is the season" when the Patriots faced a third down. When Romo became something of a phenomenon as an analyst in 2017, he made watching the game more enjoyable. Sunday, during a game everyone wanted to watch, he made it less so.
Three notes scribbled in the margins
Predicted final score: Bills 26, Patriots 20
Final score: Bills 35, Patriots 23
Rhamondre Stevenson ran for 54 yards on six carries, eclipsing the 1,000-yard mark on the season with an 18-yard burst in the second quarter. He finishes with 1,040 yards, becoming the Patriots' first 1,000-yard rusher since LeGarrette Blount in 2016. Good for Stevenson, the best thing about this Patriots offense this season . . . Stefon Diggs torments the Patriots like they did him wrong and he's dedicated his life to revenge or something. He finished with 104 receiving yards on seven catches, including a spectacular 49-yard touchdown with just under nine minutes left in the game in which he left Jonathan Jones — one of the fastest Patriots — in his rear-view mirror, an object that was not closer than it appeared . . . Jakobi Meyers scored the Patriots' first touchdown on a nifty toe-tapping catch in the first quarter. He doesn't have the legacy of Slater or McCourty, of course, but if this was his last game as a Patriot — he's a free agent in the offseason — it was a run to be proud of for the former undrafted free agent.
Sign up for Patriots updates🏈
Get breaking news and analysis delivered to your inbox during football season.